In 2019, global eCommerce sales passed $3.53 Trillion. By 2022, this number is expected to double. Pandemic or no pandemic, eCommerce is on a roll. It has become a necessity for our generation — almost like electricity. The comfort of having anything and everything from safety pins to airplanes (yes, you can!) bought from the comfort your home or anywhere you are is akin to an old sci-fi tale coming true.
What makes eCommerce striking is its ability to withstand any untoward market event. Take, for instance, the ongoing pandemic crisis.
While most other industries came to a standstill due to COVID19, e-retail sales have been on a steady rise. During the pandemic it accounted for around 14.1% of all retail sales globally. As per eMarketer, it is estimated to reach up to $29.763 trillion by 2023. And it doesn't stop there; Statista has predicted that these numbers will keep going up and reach 22% by 2023.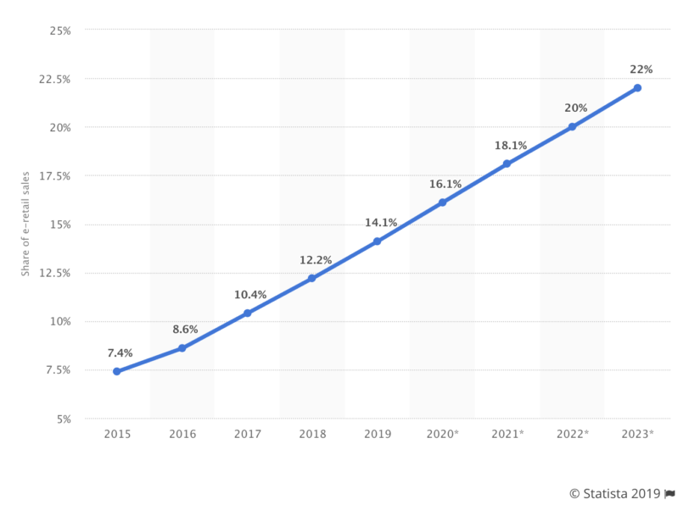 Well, this makes the understanding of eCommerce process both vital and complex — vital due to growing stats even amidst a global pandemic and complex because online buyers now have access to abundant information and resources. Hence, chalking out a business plan, finding your USP, and having a customer-first mindset will help you lead a successful eCommerce business.
That said, we have come up with a guide to help you understand the buyer's journey and lead a successful eCommerce business.
What is the Buyer's Journey?
Let's understand the buyer's journey better with an example. Let's say you want to pick up a new habit of running every morning. To begin with, you will need good running shoes. There are umpteen models of running shoes from a long list of global brands.
How will you identify the right one that suits you as a beginner, gives the right amount of comfort, and is well within your budget? A shoe selection guide from an online retailer, from a renowned shoe brand, or even an offline shoe retailer, will help. The preliminary research that you do to understand how to select the right running shoes is known as creating awareness. Those brands that are able to make you aware of a product will be able to convert you better.
This is known as the buyer's journey.
The buyer journey can be best defined, according to HubSpot, as thus: "The buyer's journey is the process buyers go through to become aware of, consider, and evaluate, and decide to purchase a new product or service."
For sellers, this means to project themselves at such a place that the buyers are enticed to buy from them.
Having said that, without acknowledging a buyers' journey in purchasing your product, the gap between the buyer's expectation and their experience with retail would only increase. As per PwC's research, this gap in the retail industry is around 21%. The lesser the gap, the greater your conversation rate. As a business, we understand that you want to make those numbers grow.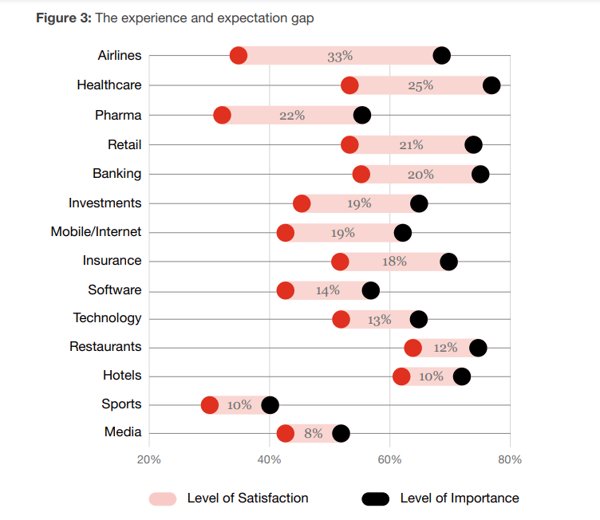 So, here is a perfect eCommerce buyer guide backed with research and statistics to show you what your customers expect at each stage of their journey and what action you need to take to fulfill those expectations.
Let's begin the journey!

1. Awareness
In the awareness stage, either the customer faces problems in their daily life and feels the need to purchase your product or the customer, while randomly browsing through the internet, comes across content that provides information about your product. Awareness is the stage where the customer knows they have a problem and are actively looking for a solution to solve it. They may not be aware of the product or the service your business offering.
Awareness starts when the prospect comes to know about your product for the first time. Here, the first case is termed as active eCommerce activity, as the buyer on their own looks for a product. The second case is termed as passive eCommerce activity, where they were made aware of your product. It is usually more likely that the first lead has a higher chance of being your potential customer than the second one.
2. Interest
Research from CSO Insights shows that 70% of buyers fully define their needs on their own before engaging with a sales representative, and 44% identify specific solutions before reaching out to a seller.

Now, in both cases mentioned above, when a buyer acquires enough information about any product and shows that your product can solve their problem, they develop an interest.
Interest in your product can be garnered by showcasing marketing collaterals that define how you tackle their problems in a unique manner. This is not the stage where you compare yourself with competition, but instead nudge the customer one step ahead from the awareness stage.
Now the question is, how will you do that?
Leverage YouTube videos, free webinars, live events, free eBooks, Instagram carousels, website blogs, question-and-answer platforms to educate them and make them aware how your product can help them.
3. Consideration
In this stage, your target audience would be comparing different competitors and alternatives to arrive at a purchase decision. They would search the internet for reviews from existing customers, ask friends and family for recommendations, and visit both your website and your competitor's website to understand what product best suits their needs.
Having said that, you need to understand that the steps up until now were a part of the lead nurturing process. The companies that excel at the lead nurturing process can have 50% more sales-ready quality leads at a cost as low as 33%.
While in the consideration stage, customers already know their needs or problems. All you need to do is build trust and reduce the gap of lack of familiarity with you or your online brand.
For this, you can use videos to demonstrate your product and what they can expect to experience. You may also showcase videos that tell why you are better than the rest.
Focus on customer satisfaction aspects such as on-time delivery, user experience, after purchase support, etc. You can also give them a sneak peek of your team and office life. This helps them gauge the culture and values you believe in. Often, people like to do business with those who have the same values. So, this can be a deal-breaker for you.
Besides, you can generate social proof in the form of testimonials and recommendations to instill a sense of trust in them for your business.
4. Purchase
Did you know a whopping 77% of B2B buyers claimed that the last purchase they made was tough and complicated? Well, if you're one of those sellers that makes buying your products like "finding a needle in the haystack" for your customers, then that is definitely hurting your business. At this stage, you shouldn't do anything that makes you lose your customer as the customer has decided to buy your product.
After going through the process of identifying the problems and finding solutions, all a customer is looking for is swiping that card and finishing the transaction quickly and easily.
You should now focus on making the checkout process seamless for them. And there you go. Bravo, all that struggle behind creating a leak-proof sales funnel and solid product has paid off! It feels satisfying, right?
5. Post-Sale
The post-sales relationship is as important as the previous stages. The customer still holds power to sway the decision of future prospects. Also, you want to retain your existing customers from churning. This calls for extensive post-sale relationship nurturing.
At this stage, your customers want a quality experience with the product and excellent customer support. They want to feel a sense of security that you and your team will be there to help them whenever they're stuck.
To help forge trust and get repeat business, you need to stay in touch with your client through email, newsletters, phone calls, feedback forms, and chat support. Ask them to share feedback and make sure they're satisfied with your product as well as post-sales service.
Your agenda should be to provide such an experience that your customers become your brand advocates.
6. Re-Purchase
The repurchase is the wish of every seller. And I'm sure it's your wish too!
That said, once you do all the steps mentioned above, you can easily expect your customer to buy from you. But to do that, you need to communicate with them continuously. You need to make them aware of the discount offers, festive sales, schemes, etc. that you're offering through newsletters, emails or phone calls and your website. Your idea should be to make your product valuable for your customers and stay at the top of their minds. If they find your product valuable enough, they will buy from you again.
In marketing parlance, this is also referred to as the delight stage. The idea is to maintain a constant connection with the customer even if their prospects of an immediate purchase is less. The relationship will pave way for referrals or their own repeat purchase in the near future.
How Would You Map the eCommerce Buyer's Journey?
To understand how you can map the customer's journey, you need to understand what a customer's journey map is.
It is a visual representation of the sequence of experiences a customer would experience in your store. It comprises of how they first came in contact with your brand and how they ended up purchasing from you. It is the process of stepping into the customer's shoes, understanding how they would react to your brand when they first encounter it, and then chalking out customer-winning strategies.
Let's see the 5 key steps of mapping the eCommerce buyer's journey.
1. Identify hooks/triggers.
As a business, you need to find triggers that will make your target audience interested in your product. For this, either you can use tools like SE Ranking and SEMrush to get a detailed analysis of where your target audience is or chalk out a buyer persona according to demographics, age, and the buyer's pattern. You can also conduct keyword analysis to figure out what kind of search phrases (potential customers' pain points) your target audience use to find products similar to yours.
2. Think from their perspective.
Suppose you are a footwear brand that creates funky and trendy shoes. Who do you think will be your potential customer? More than likely, it would be Millennials and Gen Z'ers.
Where are they most of the time? Typically, they're scrolling through social media platforms such as Instagram, Facebook, Pinterest, and so on.
So, where should you be? The answer is: on all such platforms where they are.
It's important to note that Millennials and Gen Z'ers are a generation of instant gratification. They need quick and easy solutions, so in place of blogs, using video ads would be a better option.
To get insights into your customers, have them take surveys. Ask questions to find out who your customers are, how they think, and how they spend their time.
3. Analyze different contact points.
Customer touchpoints are your business's points of customer connection, from beginning to end. For example, a customer may find your business in any ad or post, visit your website, read reviews and watch ratings before going to purchase online or in-store. Now, these are your touchpoints. Your ads, social media posts, website, physical store, and your online or offline presence of any sort is your brand's touch or contact point.
To identify them, ask yourself where you would go, if you were a customer, to:
Solve a problem that your product addresses?
Find the product or service that can solve that problem?
Make your buying decision?
Contact the brand after the buying process?
4. Understand consumer behavior.
In order to sell better, businesses like yours must understand their consumer behavior — how long are they staying on your website? Why are they staying in your article? Do they prefer information presented visually? Why are they bouncing off from your website?
When you analyze these parameters, you'll understand what actions you must take to convert the visitors into consumers.
5. Define stages with a roadmap.
Once you understand how your customers are interacting with your website, it's time for you to map the stages of your customer's journey. You need to identify which channels lead them to your website, what stages they went through to complete a purchase, and the steps they will take before purchasing your product.
There are several ways of building a roadmap — you can either use project management software, flowcharts, use a template to map the customer journey, or simply write down on a piece of paper. Whichever way you chose, make sure you sit and analyze the potential gaps and brainstorm strategies to overcome it.
What Steps Will You Take to Foolproof Your Buyer's Journey?
Even before you understand what your customer expects at each stage, you must get an eCommerce website developed. To find the best eCommerce website development companies, you can research and read reviews for platforms like Capettera, GoodFirms, Clutch and so on or simply search "top eCommerce development companies" and choose your desired partner.
Overexposure to information has made it incredibly difficult for businesses to pinpoint and properly convey their USP. But if you walk a few miles in your customer shoes, you'll realize their needs and struggles. Hence, it'll help you create a strategy to serve your customers in a better manner.
As stated by Google: "The future of retail lies in the smallest moments. It's no longer critical for a shopper to be present in-store, but rather for the store to be present wherever the shopper is."