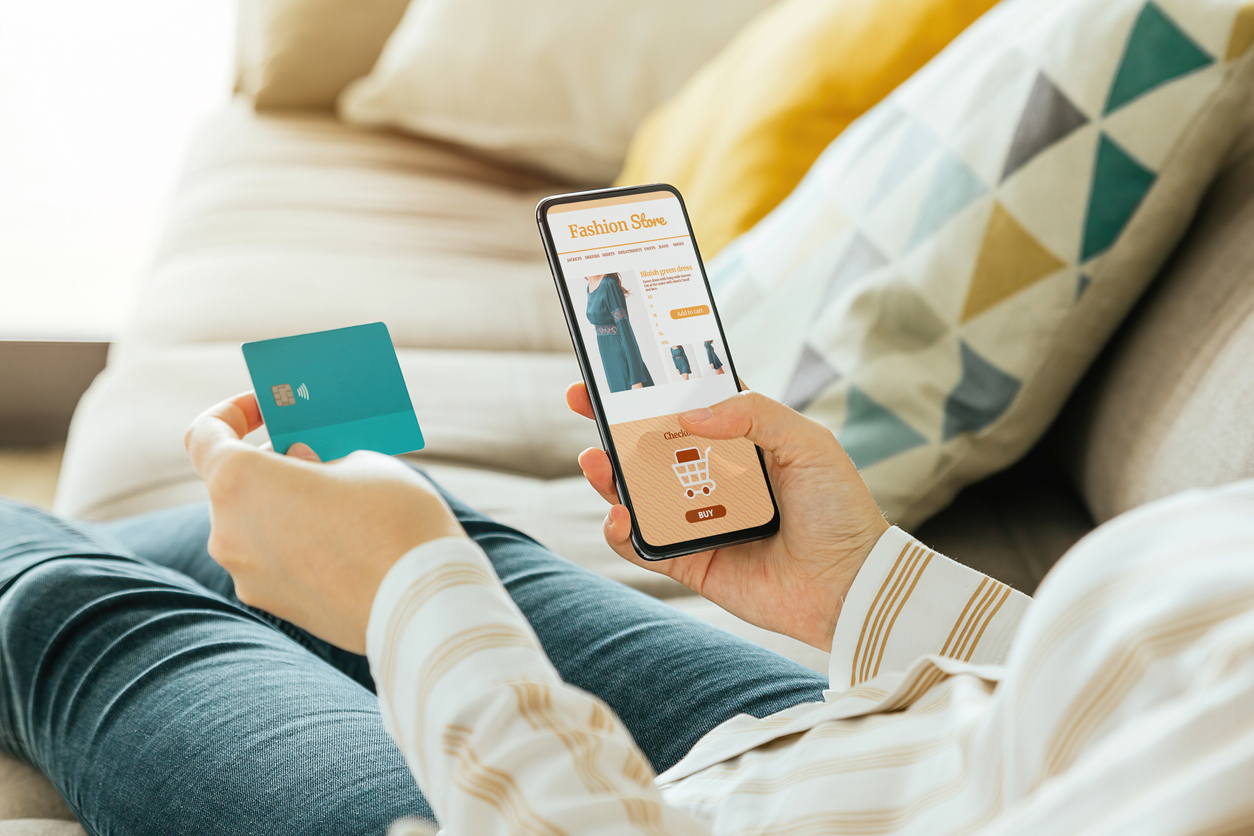 Roughly 91% of all online customers are more likely to purchase from a company that gives them a personalized experience – and customers today know it. When surfing the web or looking for their preferred product or service, you may find that people actively look for websites that speak to them. Ecommerce personalization is the way to do that.
Think about it; one of the biggest concerns of the 21st century for you and users is privacy, yet roughly 83% of customers agree to personalization data collection and cookies to improve their shopping experience. This 'better experience' should ideally include:
Finding relevant products quickly and within the price range they are looking for
Getting recommendations about what would go better with the product
A smooth checkout
Limited to no ads
Quick support, if needed
In this article, we will take a closer look at how you can create an eCommerce personalization strategy based on your industry to help you get up close and personal with your customers.
What Is eCommerce Personalization?
After you set up your eCommerce store, you may want to start working on SEO and PPC to attract more customers. Although crucial, SEO and PPC aren't all you need to get the ball rolling.
Instead, you need to focus on creating buyer personas and start personalizing your eCommerce store according to them by dusting off your online personalization tools, studying trends, and devising a strategy accordingly.
The whole idea of eCommerce personalization is to help your customers feel special.
When you tell customers you are working hard to understand them and offer personalized deals, it can potentially turn one-time shoppers into long-term, loyal customers! It also helps you increase your average order value (AOV).
In Q4 of 2020, 67% of B2C companies responded that they would invest more in e-commerce personalization tools, while 26% said they would keep their investments the same. Just 5% suggested that they wouldn't invest or reduce their personalization spending.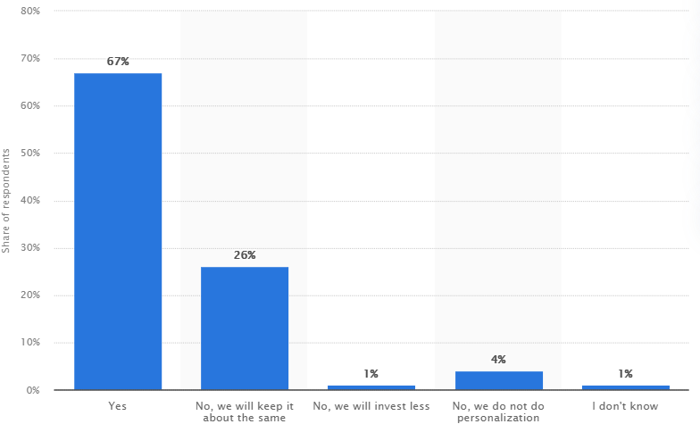 Source: Statista
When you personalize your eCommerce platform, you deliver a 'tailored' experience to clients by dynamically updating your website according to visitors' behavior, searches, geographical location, purchase history, and more.
By engaging with customers their way, you can enjoy improved conversion rates, better pricing opportunities, and increased repeat purchases. The best way to create an eCommerce personalization strategy is to focus on the buyers' journey, but that's just the tip of the iceberg.
Benefits of eCommerce Personalization
A survey conducted in 2020 asked B2C businesses what they thought were the benefits of creating an eCommerce personalization strategy. It started a tug of war between different benefits, but the survey showed how crucial the concept is to attract more customers.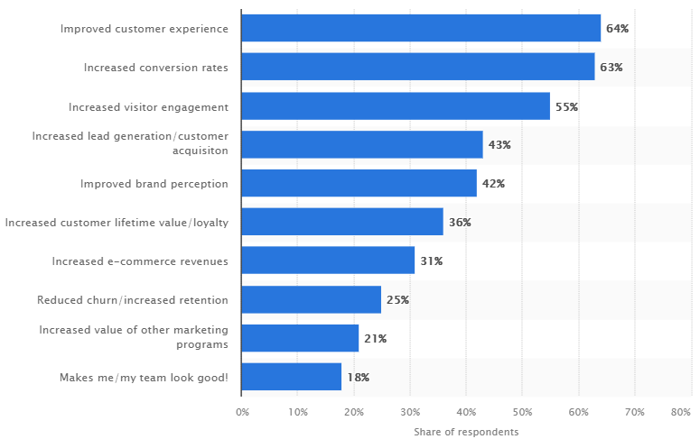 Source: Statista Research Department
A majority agreed that the benefits of an eCommerce personalization strategy revolve around increased business opportunities by improving customer experience and journeys. The strategy has long- and short-term benefits and can be a crucial element to shaping today's online customer behavior.
It's not just that personalized content improves customer experience; offering completely random recommendations and offers to potential prospects can frustrate them, severely impacting your return rates. Google also takes the bounce-back ratio into account when ranking your website, hence making eCommerce personalization even more important.
The key benefits of eCommerce personalization include, but aren't limited to:
Improving customer experience and buyer journeys (which can increase word of mouth marketing opportunities)
Building a rapport with customers by giving them the benefit of choice
Increasing conversion rates via better engagement, hence highlighting your online eCommerce presence
Giving you a chance to upsell customers
Improving brand perception and creating goodwill
Reducing customer hesitation and bounce-back
Adding value to other marketing campaigns
You must keep an eye on the latest personalization trends for this, though.
How Does eCommerce Personalization Compliment Other Marketing Campaigns?
Customers expect certain relevancy when on any eCommerce website. Whether a client Googled you, came in from Facebook, or any other form of marketing, when they come to your website, they want to know that you have what they are looking for, and then some.
Simply listing all your products in front of visitors will only confuse them, which will lead to cart abandonment.
Via eCommerce personalization, you can understand three crucial elements of successfully converting customers:
The where, i.e., which locations should you personalize?
The how, i.e., how the personalization tools will help customers make better decisions, and
The what, i.e., what data points you will need to use, what tools to employ, and what to do with the data collected.
By showing care regarding these three elements, you can help visitors on your website cut through the clutter and give them a reason to return.
Note: Ecommerce personalization strategies are often called hyper-personalization strategies, but the terms aren't interchangeable. Hyper-personalization can be classified as a degree of e-commerce personalization.
Let's take a look at an example.
Examine the three statements below and see if you can identify which one is not personalized at all, slightly personalized, and hyper-personalized.
Buy chocolates for your loved ones today!
Spend over $10 and get 15% off, today only!
Jane, buy your favorite chocolates today!
15% off on purchases of $10 today only!
Jane, you liked white chocolate ganache truffles.
Buy them or try other chocolates from our store at 15% off!
A Step-By-Step eCommerce Personalization Walkthrough
You now know about eCommerce personalization and the personalization tools at your disposal. Move ahead by thinking about how you can create a strategy and implement it into your business. Before we begin, you should understand there is no one tactic or strategy through which you can offer personalization.
Instead, the strategy may vary as per personalization trends, geographical location, demographics, and industry. While the common practices may remain the same, you cannot use the same intricate details for a clothing line website as you would on an electronics website.
Every eCommerce store works its unique angle and, therefore, requires a unique approach as well. A graphic representation of this concept can be seen below.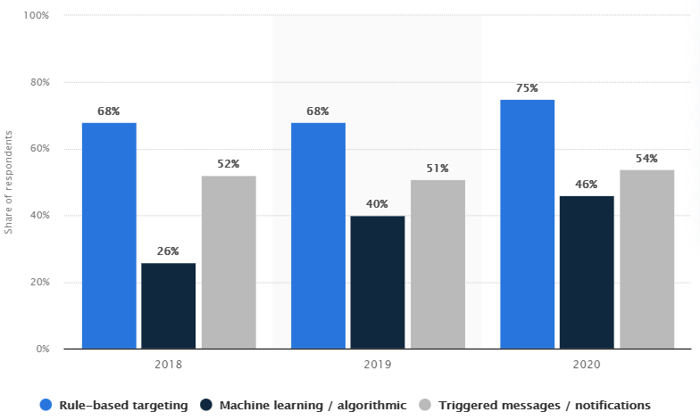 Source: Statista
Over the years, different approaches have been taken to website design personalization, with three of the most prevalent ones being:
Rule-based targeting
AI/ML algorithms
Personalized messages and notifications
No single strategy is enough, so you must combine different approaches to create a robust framework. The primary component of all these strategies, however, is customer segmentation.
1. Segment Your Audience
The idea of eCommerce personalization boils down to a very simple yet extensive rule: understanding audience behavior and preferences to segment them and then customizing the experience according to their needs.
The best way to do that is by creating different buyer personas. Every business should have 3-5 buyer personas, which can include:
New visitors
One-time buyers
Regular buyers
Loyal customers/potential delegates
Browsers or "tourists"
The above personas are just examples. Feel free to create personas that reflect your industry's personalization trends.
2. Use Data to Analyze Potential Segments
From user behavior to search engine data (external and on your eCommerce website), both these elements can play an important role in highlighting customer segments. If a user is searching for something particular on your website or arriving at your digital doorstep from a search engine by searching for a specific keyword, it shows an intent to buy.
Is the customer looking specifically for white chocolate ganache truffles? A KitKat, perhaps? A query in your search bar means that is what they are looking for. Instead of showing related items on the results page, you would fare much better by showing the product that closely matches the user's query.
The customer data you gain by analyzing search patterns can help you identify potential audience segments clearly and categorize the type of audience your website attracts.
Also read: What is Customer Segmentation & How Can It Help Grow Your Business?
For example, when creating and analyzing different segments, you can start by understanding the different festivals your audience celebrates to push products AND CONTENT accordingly.
3. Create an Audience Personalization Test
Now, it's time to create an audience personalization test. We suggest creating a 1:1 eCommerce personalization strategy. Here, you leverage the audience data collected in the previous step and digital channels together to improve the shopping experience for customers.
1:1 personalization is one of the easiest frameworks to implement. Examples include:
Email marketing allows you to communicate promotions to your audience, suggestions, and other personalized content specifically according to their history.
Retargeting clients with a personalized message is an effective tool for bringing back potential prospects.
Using algorithms that use cookies to analyze past behavior segments the audience into a specific buyer persona and creates a compilation of suggested content, products, and services to showcase for the customer. This is a new method of product discovery.
You might have seen 'you might like' or 'others also purchased' sections on different sites? Add those sections to your site and observe their impact over a set period. Try not to move on to more complicated eCommerce personalization strategies yet.
4. Tweak & Repeat
Marketing is an interactive process, so be ready to make changes to your buyer personas, audience range, and incremental results. You may even need to discard buyer personas or start testing from scratch.
Look at the following key elements when tweaking and repeating:
Consider whether there is an impact on revenue because of the tests.
Check the bounce-back ratio and see what you may be doing wrong.
Try to broaden your audience segments and see if it impacts your personalization adversely or for the better. Create long-term goals.
Consider macro and micro strategies and make changes accordingly.
You may even have to scrap out an entire strategy if it's not working – just make sure you give each strategy enough time to manifest.
5. Add Trigger Behavior
The tweaking and repeating part of the job will never really end, so while you continue to analyze and make changes to your eCommerce personalization strategy, focus on stimuli and responses as well.
Trigger-based personalization is a relatively simple method that can get complicated as more factors are introduced. The process involves analyzing trends in the data and implementing changes according to what you are trying to serve to the audience.
For example, if a user has signed up for a newsletter or mailing service, you will need to make sure that the message to subscribe doesn't show up even without signing up to your website. By understanding the trigger, i.e., signing up, you will need to change the behavior of your website.
This type of behavior should be implemented throughout the sales funnel to improve the shopping experience altogether.
From eCommerce Segmentation to Personalization
After creating buyer personas and perfecting them, you will need to identify what each person needs and how your website will be able to distinguish between traffic types.
Remember, if you have your algorithms analyze your traffic's cookies and browsing behavior as they make their way from your social media or the search engine to your site, it will increase your site's loading time and customers' frustration.
This is where your website's design comes into play.
Pro-tip: You can use website design software to take your website to the next level.
For example, let the top banner and promotions load as quickly as possible, while the product and service recommendations below or the 'customer experience' still loads. AliExpress has been using this practice for some time and has been particularly successful.
It takes about two to three seconds for algorithms to analyze customer preferences, place them in a specific segment, and start making recommendations accordingly. If it is an existing customer, finding out who the person is and addressing them by name becomes easier. You can assign a specific website behavior to each member. For new customers, the website can wait for their first search query.
You can segment your audience according to:
Demographics
Location
Psychology
Technology
Behavior
Needs
Values
Once segmented, your eCommerce personalization strategy should be able to:
Tailor content
Target marketing campaigns to their preferred mode
Analyze behavior and find the best time to send emails
Help you understand and tackle challenges customers experience
Understand and separate valuable customers from the crowd
Find the most effective channel for communication
Identify new prospects for upselling
Use targeted referral marketing
Remember, when moving from segmentation, you can create numerous eCommerce personalization strategies to help you attract more customers. Make sure you keep on updating your audience analysis semantics and create buyer personas smartly. The more personas you have, the more effective your personalization will be.
Moving Towards a New Frontier – Getting Up Close with Your Customers
Personalization is the next step in eCommerce evolution. Yes, other marketing methods are also key to attracting more customers. Still, all of your marketing efforts will be for naught if you cannot improve their shopping experience with eCommerce personalization.
Pro-tip: New to personalization as a marketing tactic? Consider working with a marketing mentor to get guidance directly from experienced professionals.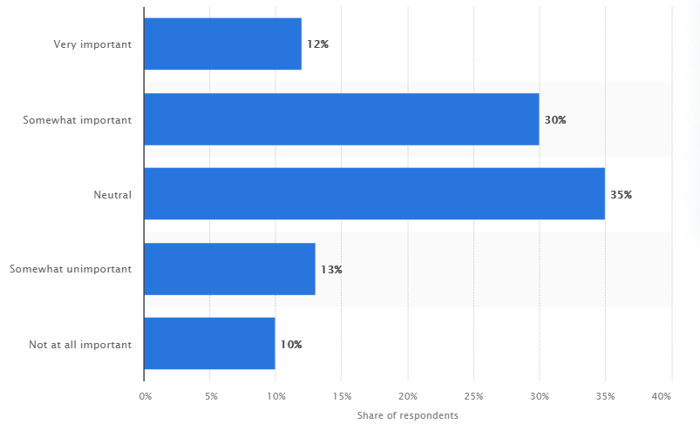 Source: Statista Research Department
42% of customers in the UK and US want personalized content and recommendations, 35% are neutral, and only 23% suggest it isn't that important. To appeal to the majority, you need to get up close and personal with your customers.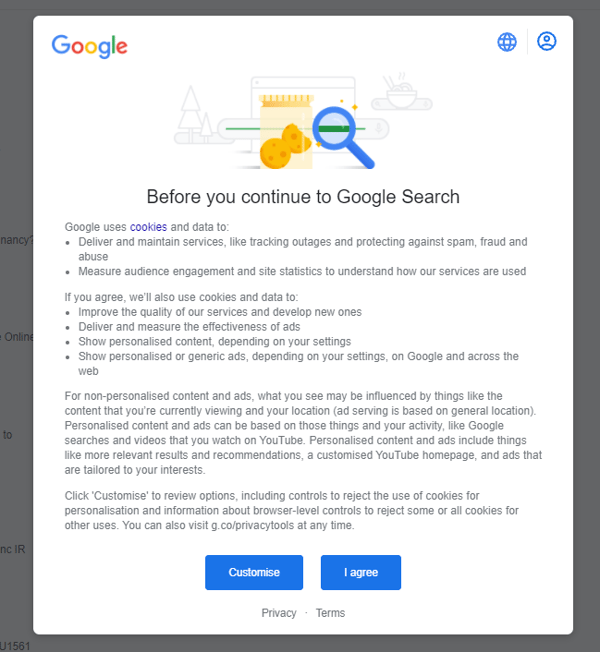 Even Google is doing it to create brand-specific journeys, because after all, in today's digital world, the results aren't as crucial anymore as the journey is. If you have to choose between amplifying digital marketing and improving the shopping experience via eCommerce personalization, we recommend you start creating a personalization strategy right away.