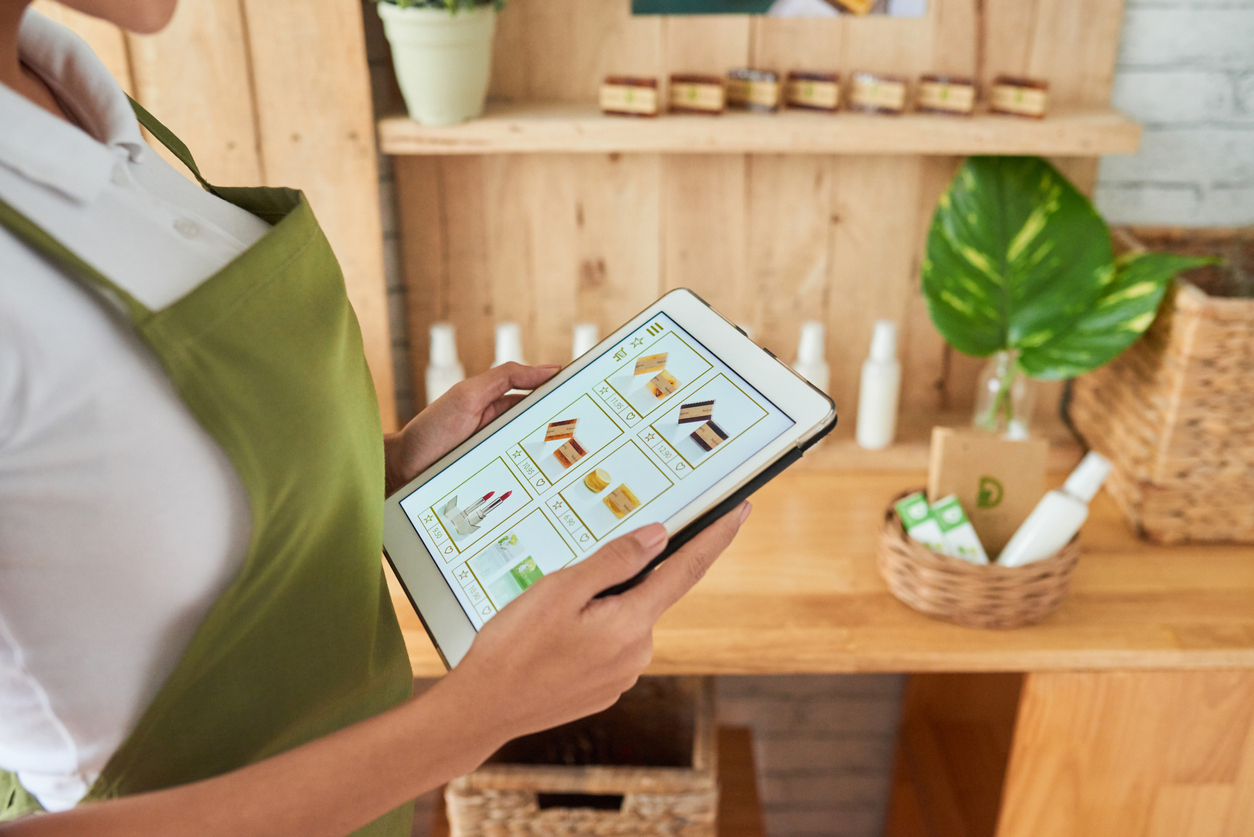 Building an eCommerce business isn't just about selling your products online. It's also about providing an enjoyable, agile consumer experience. As the merchant, you should also be enjoying a variety of tools that can help bring your store to the next level, and marketing it in such a way that brings in new and old faces alike. It is important — after all — to be able to stand out from the crowd.
Of course, improving your customer experience isn't necessarily all about fancy new products or eye-catching marketing campaigns. Providing a wide variety of simple yet effective product options is one of the best ways to improve your customers' shopping experience. Discounts for bulk orders, customized items, personalized touches, and a variety of packaging options (just to name a few) are all excellent ways to improve customer satisfaction and retention.
To help you get started, here are 10 amazing product options that you should consider adding to your online store.
1. Quantity Pricing
Sometimes, you just need a higher quantity of an item than what is typically available. There are plenty of consumer bases that may need to buy an item in bulk, and they are hungry for competitive deals. From the local law firm looking to buy supplies in bulk for its employees to people looking for a ton of balloons for an event — customers everywhere are looking to save a bit of money by looking for group or bulk deals.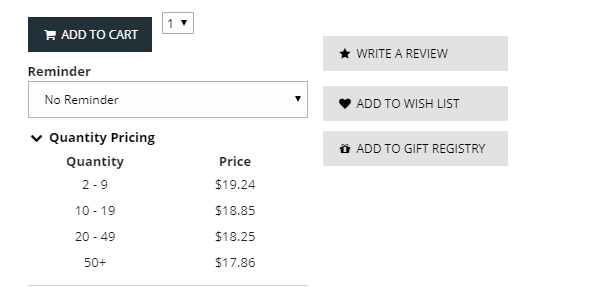 While certainly not everything is bought this way, some products that may be commonly ordered in bulk include:
Diapers
Spices
Event supplies (e.g, party favors, baked goods)
Paper towels
Toilet paper
Pet food
Coffee
Hygiene items
Craft supplies
Some questions that you can ask yourself to assess if you need quantity pricing for a certain product are:
Is the item non-perishable?
Does this item need to be consistently, frequently used?
Is this item going to be used by a large group of people?
With the right eCommerce platform, you can simply specify both the minimum and the maximum number of items with the corresponding discount percentage. You'll immediately see the new prices, which your customers will likewise be able to view.
2. Fractional Quantities
Not every item can (or should) always be sold by the unit. Sometimes, you need to sell your item in what's called fractional quantities, or specified portions of each unit. Customers may need to order by weight (cooking ingredients, wood), length (fabric, wire), or a variety of other fractional measurements. This is typically done because people may not be able to use a whole unit of a certain item.
A good eCommerce platform allows merchants to set up fractional quantities to the appropriate items in their store, and for customers to easily make their purchase based on that amount.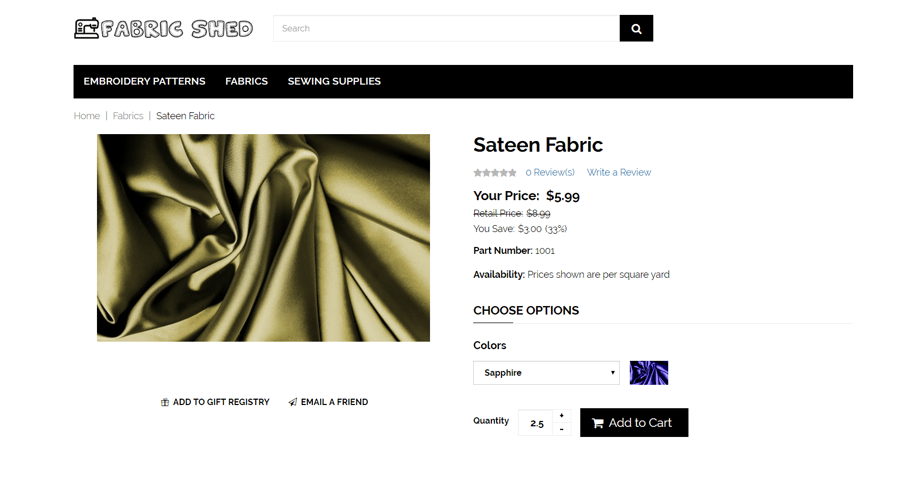 Tip: You can certainly apply bulk pricing to an order that goes above a certain quantity, or if they're asking for a whole unit. You never know who's looking for a lot of a certain material or supply.
3. Gift Registry Guide
Gift registry guides are typically used in weddings or baby showers to help the people that the party centers around communicate to their guests what they want and need as gifts. With a built-in gift registry, you can allow your customers to easily create and update their list without ever having to leave your store. They will then have a convenient repository of every photo, name, and description of what they need.
Some items that are frequently put on gift registry guides are:
Kitchenware
Kitchen appliances
Cleaning appliances
Furniture
Diapers
Diaper containers
Baby clothing
Art
Plants
Of course, not every product is appropriate for a gift registry. Do you believe that your items would be appropriate for a gift registry? Ask yourself the following questions:
Is it something a baby consumes in large quantities?
Is it an expensive item that may be necessary for a new home?
Do people use it constantly?
Would it be a hassle to live without it for an extended period of time?
If you see that your products would be appropriate for anyone looking to start their lives in a different setting, you may want to consider providing a gift registry option.
4. Wish Lists
Somewhat similar to a gift registry, a wish list allows someone to make a list of what they would want from your store, making it easy for their friends and family to purchase something that they know they would want. It also makes it easy for returning customers to go back and purchase something that they may have had their eyes on, but could not purchase at the time for whatever reason. People can even organize what they want by price or theme, allowing them to seek out a further customized shopping experience.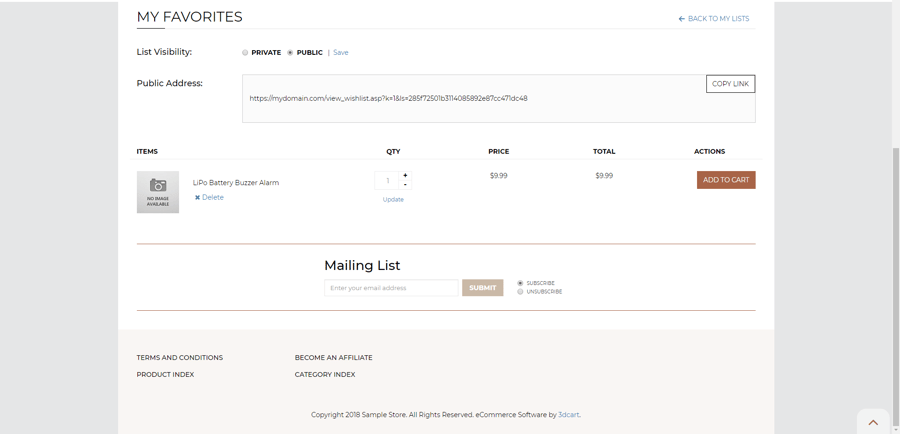 Either way, wish lists are an excellent tool for making your store's shopping experience as convenient and organized as possible, and retaining customers through different situations in which they may not be able to purchase something immediately.
5. Gift Message Options
Many people do their gift shopping online these days, especially if they're sending something to someone that's far away who they can't and don't typically see very often. This is when you may want to implement a feature that allows for people to enter in a custom message to attach to their gift. It's a small, yet important touch that your customers will love. You can even implement this message on a custom card that comes with the package. It's a great way to allow your customer to give a personalized touch to their gifts that only they can provide, while also providing you with a way to expand your branding to a wider audience.
Of course, if you want your gift to be a surprise, you are going to need...
6. Gift Wrapping Options
If people are sending gifts long distances, they are naturally going to want it to be nicely and neatly gift wrapped. This not only provides a special, personalized experience that both the buyer and recipient can enjoy, but leaves you with an extra revenue stream by charging for this service. If you opt for gift wrapping to be a free service, your customers will still greatly appreciate such a feature and will come back for it. If you want, you can even spring for high-quality theme/branded paper that will make a good impression on your customer or whoever receives the gift.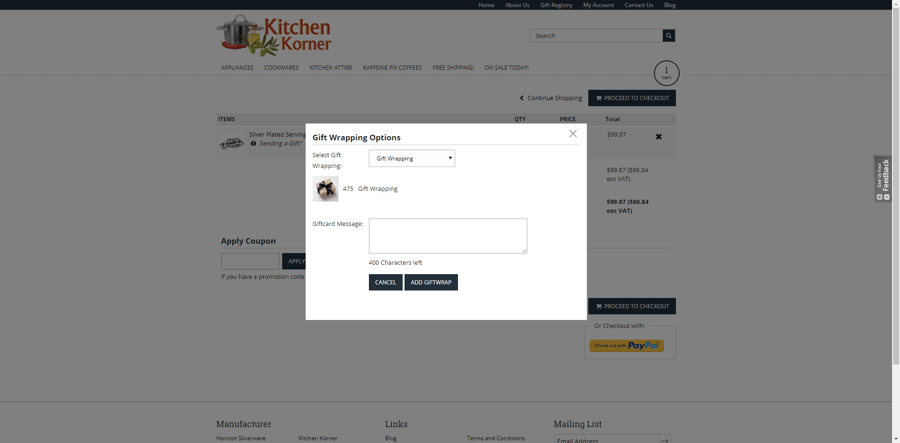 At this point, you can even add different "tiers" of wrapping that you can upcharge as you see fit. For instance, you can have a free basic wrapping option and a deluxe option that may cost a bit more, but includes more elaborate packaging. Make sure that you communicate this to the customer when they're choosing their wrapping so that they're aware of all of their options.
7. Gift Certificates
Gift certificates are common presents for a variety of occasions. From birthdays to random celebrations, these certificates are a great way to give someone a tangible gift while allowing for them to choose what they want and that is completely to their specifications. By setting up gift certificates in your own store, you are opening up a whole new customer base of people who are shopping for others that love what you sell, and keeping those who already love your products coming back for more. We recommend having a variety of gift card price points that can be accessible for all (as well as a custom option), and cute, attractive designs that will grab the attention of wandering eyes.
8. Custom Price Setting
Some businesses (especially non-profit) may benefit from not setting specific price points for certain products. This is especially true if you are selling certain items for charity, or are simply looking to get rid of inventory. With a price-setting feature, you can easily give all or some of your items able to be price-adjusted by the customer themselves. Price setting is also a valuable feature for any gift-card setup. If you so desire, you can simply set a specific time that this deal is active.
9. File Uploads
There are plenty of reasons as to why someone may need a custom design on an item. Maybe they're trying to spread branding for their business, awareness for a cause, or just want to have a physical object with their own unique artwork or phrase on it.
Stores that provide custom items based on specific designs that the customer provides are becoming increasingly popular. From shirts to hats, mugs, and even puzzles, there's no limit to what you can sell when you give your customer the option to customize it. Simply put, if there's a product that can have a specific design put on it, there's a market for custom ones that the customer can provide the design for.
Just give your customers a variety of blank slates in the form of your products (be sure to provide a few different base colors), an "upload here" button, and they'll take care of the rest. Implementing restrictions on certain images or words that they can upload is entirely up to you, and can be accomplished by an approval process. You can even implement a preview feature on your product's page that will allow your customer to see their design on your product before purchasing.
Tip: People often want customized designs to provide specific items to a large group of people, such as a school club, work event, or family reunion. Make sure that you provide the option to buy in bulk (and the subsequent bulk pricing).
10. Make an Offer
Similar to price setting, "make an offer" deals are extra special, rare promotions where businesses are more flexible with their pricing, and customers can name a price for less than what the item is typically worth. While these offers typically only apply to one person and product, you can limit or expand it however you want.
This is often used in auctions, which your company may want to host for a variety of reasons. It's a great way to build up excitement for an event or special product drop and will keep people returning for more.
Wrapping Up
There's no need to settle for your store's default setting. With an eCommerce platform like Shift4Shop, you can find all of these features built in and ready to add to your store. Whether you're looking to improve your customer's shopping experience, or simply bring eyes to an exciting product or event for your company, there are a variety of tools available that can assist you in reaching your goals. Before you know it, you'll see the rewards of your efforts, and enjoy the benefits as your business soars to the next level.