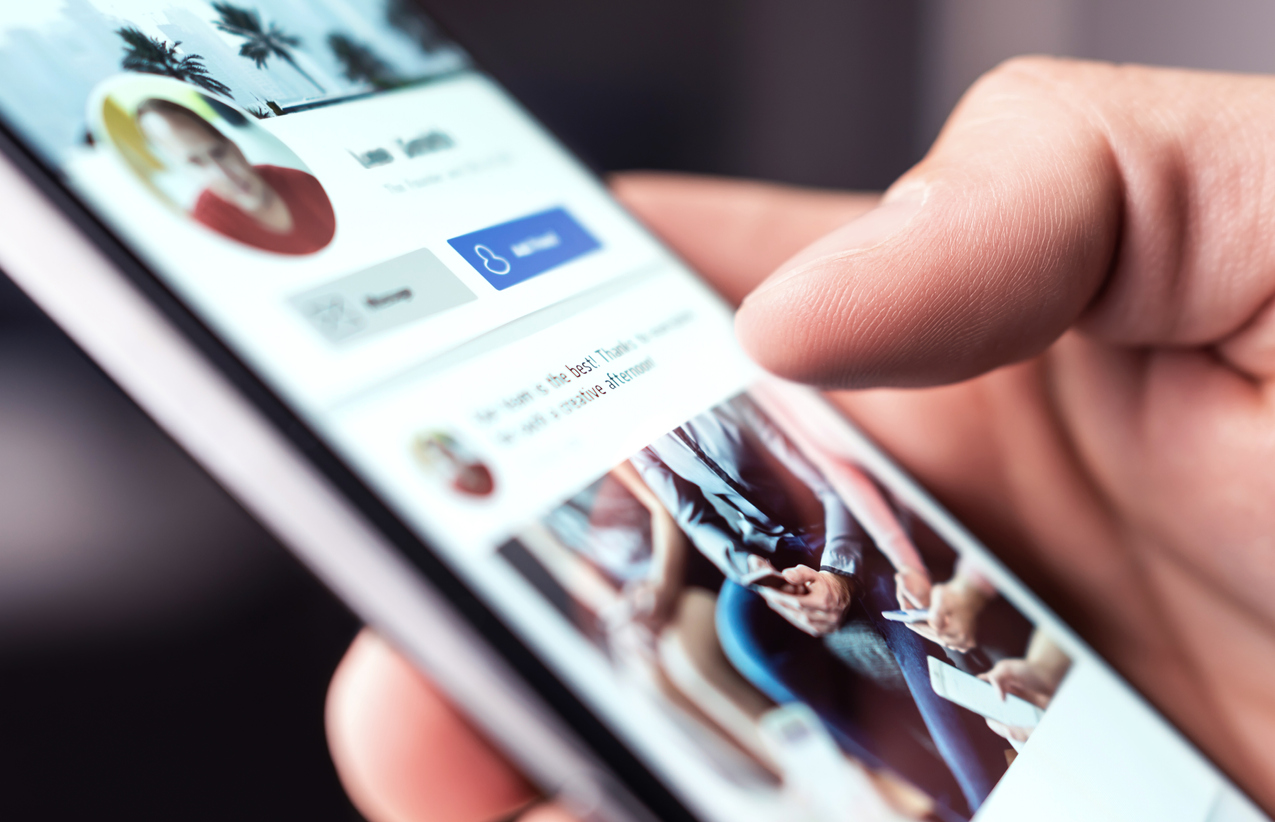 Facebook has become a central part of eCommerce. Between Facebook Business Pages, public reviews and other engagements, Facebook Shops, and Facebook ads, what began as a niche social media platform has expanded to become a crucial business tool.
Businesses often view Facebook advertising as a necessity. This is true for brick-and-mortar businesses looking for local customers, but it applies even more to eCommerce businesses that are already attempting to grow through the internet. Facebook's almost-worldwide reach makes it the perfect complement to a business that's already reaching out to find customers online.
Shift4Shop's built-in Facebook Ads manager allows you to set up your Facebook advertising campaigns and evaluate their performance without having to leave your Shift4Shop dashboard to go to the Facebook Ads Manager. Let's take a look at how it works.
Why Use Facebook Ads?
If you're new to Facebook advertising, you might wonder if it's really worth it. After all, any paid advertising comes with the risk of losing money without getting any return on your investment. However, if you use Facebook ads properly, they can be very effective.
Even though Facebook fluctuates in popularity, it still has almost 3 billion users, and most of its userbase visit every single day — often multiple times a day. This means plenty of potential exposure for your ads, especially if you set them up well and target them properly.
Our guide to Facebook advertising can get you started on the right foot. For more information, you can also check out some of the best Facebook ads for eCommerce, and the top Facebook Ad creatives for conversions. These articles will give you a good foundation for understanding Facebook ads and how to get the results you're looking for.
Why Use Shift4Shop to Manage Your Facebook Ads?
Shift4Shop's eCommerce software is built to make selling online easier. This includes integrations with marketplaces like Amazon, eBay, and Facebook Shops so you can sell on multiple channels while managing all your orders from a single admin panel.
As for our Facebook integration, it includes numerous tools built into our platform to help you sell on Facebook. For example, we have a built-in quick installer for the Facebook Pixel and offer a custom Facebook Connect plugin to let customers log into your site using their Facebook login information. Our Facebook Ads Manager is another useful addition to this toolset because it lets you accomplish even more without having to leave your Shift4Shop dashboard — and as a busy eCommerce business owner, the more you can do from one dashboard, the better. Nothing saves time like a streamlined workflow.
How the Shift4Shop Facebook Ads Manager Works
The Shift4Shop Facebook Ads Manager allows you to create Facebook Ads, set your budget allocation, and track ad performance from within your Shift4Shop Online Store Manager. Its usage can be divided into 3 major steps: onboarding, ad creation, and reporting.
Onboarding

Onboarding refers to the process of setting up the Facebook Ads Manager in Shift4Shop. Before you start, you'll first need to prepare your business's presence on Facebook (if you haven't already done so):
Set up your Facebook Shop and add your products to Facebook
Once you've completed these steps, you're ready to activate the Facebook Ads Manager. Navigate to Marketing > Facebook Ads in your Shift4Shop dashboard. Click the Get Started button and follow the prompts to connect your store for Facebook Ads management.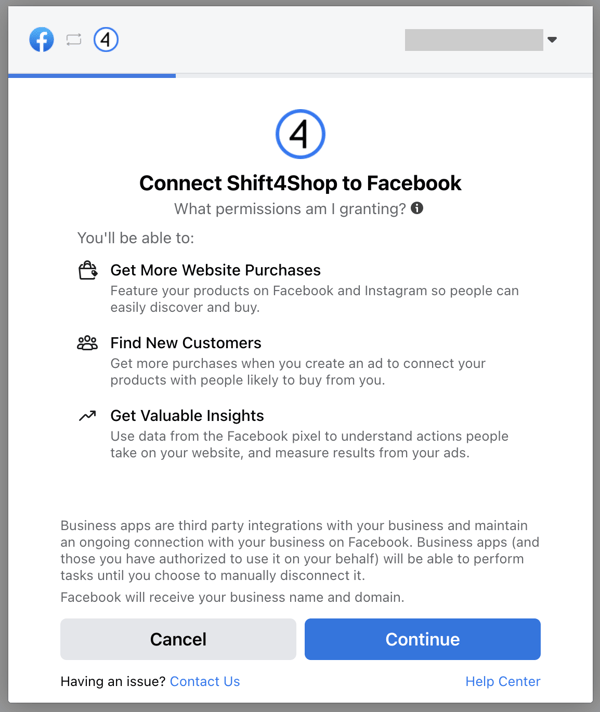 The onboarding process only takes a few minutes, and then you'll be ready to start creating Facebook ads from your Shift4Shop dashboard.
Creating Facebook Ads in Shift4Shop
If you've ever created a Facebook ad before, you'll recognize the ad creation interface in the Shift4Shop Facebook Ads Manager. It's pretty much identical to the ad creation interface you'd normally access through Facebook itself.
However, if this is your first time creating a Facebook ad, you'll need to familiarize yourself with the interface. Starting at the top of the page, you'll see these sections: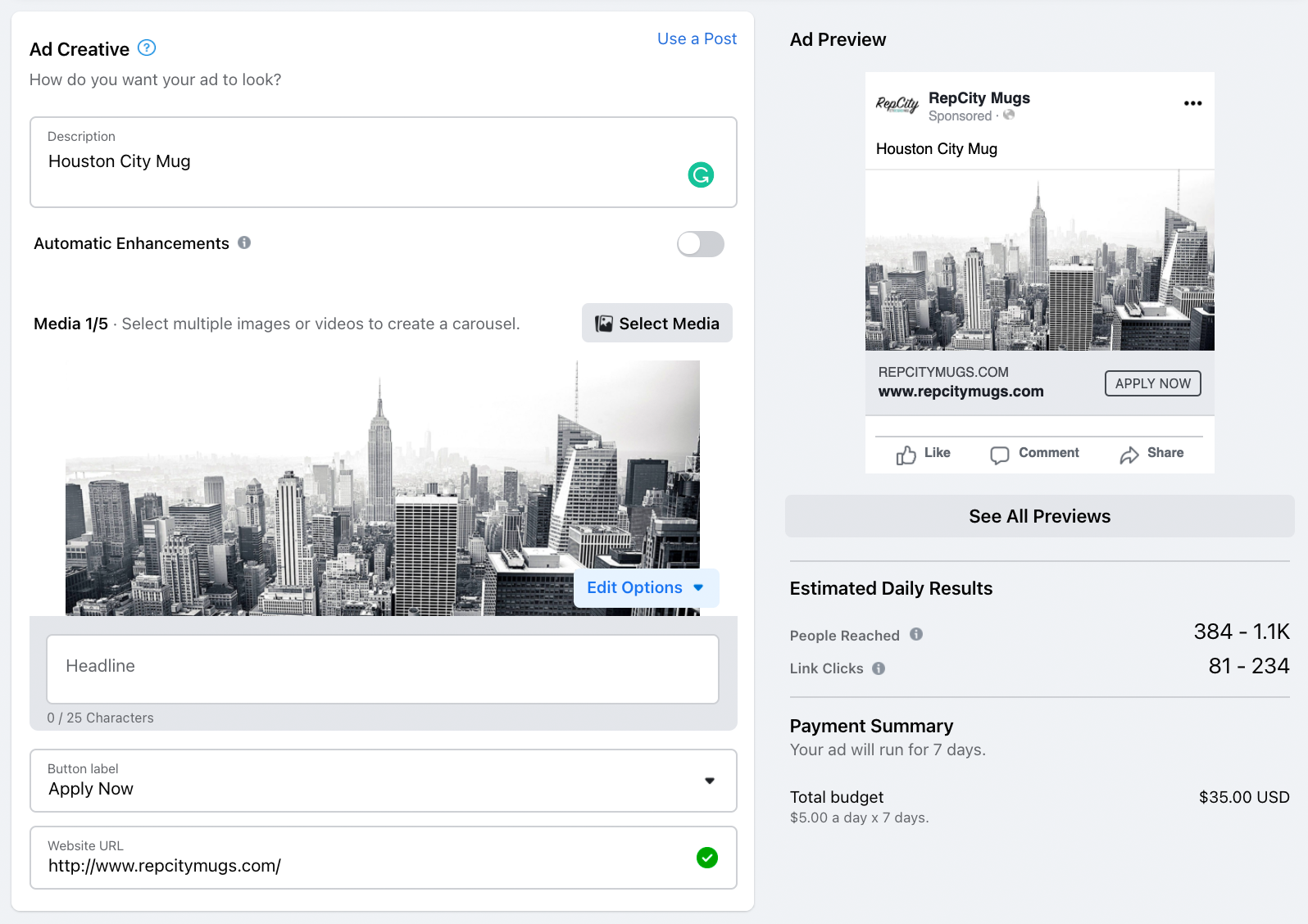 Ad Creative
This is the section where you build your Facebook ad. Choose an image and enter the text you want to use. Character limits are displayed to help you fit your wording within the allotted space.
Keep in mind that you shouldn't go into the process of creating a Facebook ad without some preparation. First, learn about Facebook's Advertising Policies (and make sure you keep up to date on possible changes). Next, visit Facebook's own ad creation guide for basic instructions. The guide explains all the options you'll find when creating an ad, which will come in handy as a reference while you learn the interface.
Ad Preview
This section is just what the name would imply — a preview of the ad you're working on. It appears exactly as it will look when it's live on Facebook.
Payment Summary
This section displays the budget you've set for displaying this ad on Facebook, with a breakdown of your total budget and how much it will cost you per day. (You can set these options in the Duration section, which we cover shortly).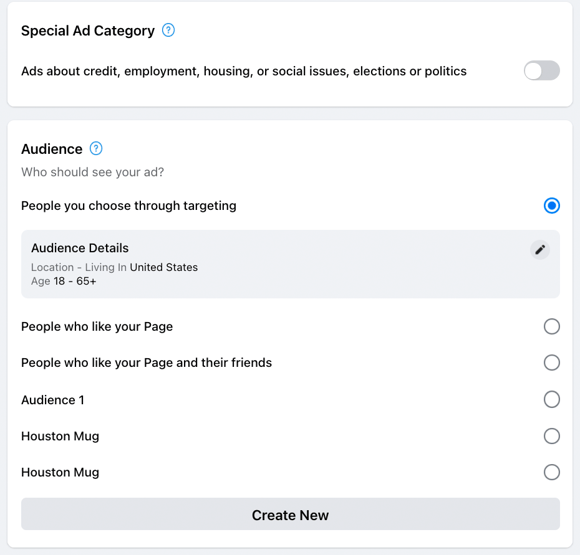 Special Ad Category
A special ad category covers any type of ad that is subject to additional rules or disclaimers in some countries. You can learn more about special ad categories and the logic behind them by reading Facebook's Choosing a Special Ad Category guide.
Since you're most likely creating an ad for an eCommerce product, you probably won't need to choose a special ad category. It's still worth learning about them just to be safe, but if your product isn't related to the categories listed, just leave the switch toggled off.
Audience
Facebook Audiences define the demographic of people on Facebook who you want to see your ad. The Website visitors and lookalike audiences option is recommended because it covers people who have visited your website and other people whose interests are similar to those of your website visitors. To learn more, read about Facebook Audiences.
On a side note, this is the most powerful aspect of Facebook advertising — the ability to target very specific people. It's worth your time to become as familiar with Facebook Audiences as possible, starting with the linked article. Other useful resources include Facebook's Core Targeting guide index and the other articles we linked in the "Why Use Facebook Ads?" section.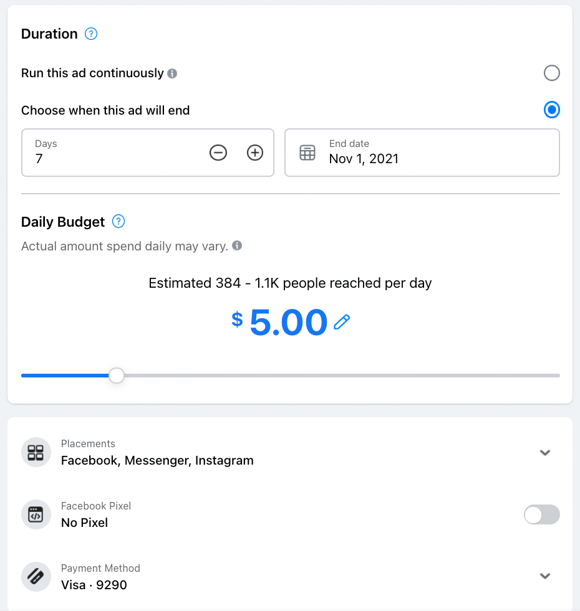 Duration
This is where you choose how long to run this ad and how much you're willing to spend on it each day. You can choose either to run it continuously (until you turn it off), or select how many days the ad will run. Below those options, you can choose your daily budget.
The amount shown is just an estimate because it doesn't include tax. The amount shown in the Payment Summary section (above) includes the estimated tax, but also shouldn't be misinterpreted as the final "set in stone" amount, but it will be very close.
Placements
This section lets you choose where your ad will be displayed across Facebook's network, with options such as Facebook itself, Instagram, and Facebook Messenger.
Facebook Pixel
This section is for the Facebook Pixel ID this ad will pull audience information from: the pixel ID used on your website. This ensures information is properly shared between your website and this Facebook ad, so you can show it to people who have visited your website.
Payment Method
This section is for choosing how you are going to pay for this Facebook ad.
Once you're done setting up the ad and selecting your options, click the Promote button at the bottom of the page to submit your ad. You'll see another box appear summarizing your ad and explaining that it's in review. Click Done to close this box.
Now, let's go over reporting.
Viewing Your Facebook Ads' Performance in Shift4Shop
As soon as you've created at least one Facebook Ad, the homepage for the Facebook Ads Manager in your Shift4Shop dashboard will display an Advertising Summary section below the ad creation and management section.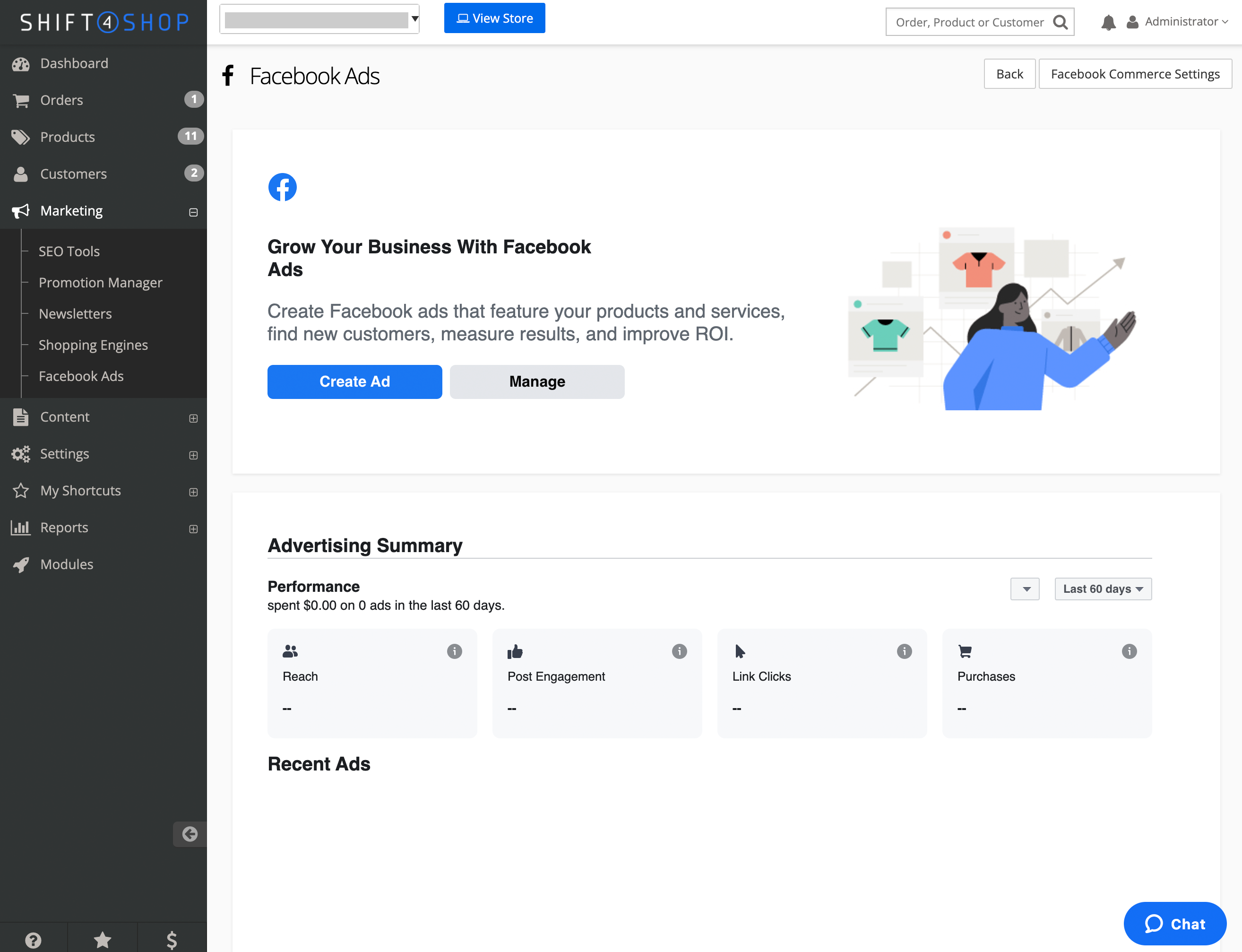 Advertising Summary
The Advertising Summary shows the following:
Reach: How many people viewed your ads
Post Engagement: How many people engaged with your ads (e.g. by Liking them, clicking on them, etc.)
Link Clicks: How many people clicked your ads to visit your site
Purchases: How many purchases resulted from your Facebook ads
At the top of the Advertising Summary, you can also select a timeframe from which to display these results.
Below the summary, you'll also see a list of your recent Facebook ads with their own summaries. Each of these has a View Results button which will open up a panel with more detailed information on the performance of each ad.
View Results
This screen shows the in-depth results about the Facebook ad in question. It also allows you to edit the ad or run it again by clicking the buttons at the top.
Ad results include purchases, reach, and cost per purchase so you can determine whether or not this particular ad is worth it. Additionally, it shows other information similar to that in the Advertising Summary only in regard to the specific ad you're viewing.
Between the summary results, and the per-ad results, you'll be able to get a solid overview of the effectiveness of your Facebook advertising campaign and fine-tune it for better performance — all without leaving your Shift4Shop dashboard.
Ready to Streamline Your Facebook Advertising?
Advertising on Facebook can produce incredible results. But only if you know what you're doing — and it also helps to have customized tools to make the process easier.
Here's a quick breakdown of the Shift4Shop Facebook Ads Manager and what we've covered:
Facebook ads need to be targeted and constructed properly, both to ensure they meet Facebook's guidelines and to improve their performance (fortunately, plenty of guides are available, some of which we've linked to in this article.
Having a more streamlined method of creating Facebook ads can save time for your business and improve your workflow.
Shift4Shop's Facebook Ads Manager serves this purpose well by allowing you to go through the full process of Facebook ad creation, and view reporting and results, without needing to leave the Shift4Shop Online Store Manager.
The Shift4Shop Facebook Ads Manager includes the full range of tools from Facebook's own Ad Manager, so you won't miss out on anything by using it instead of leaving your Shift4Shop dashboard for your Facebook dashboard.
Once you're confident with creating Facebook Ads, you'll be able to cut down on the time it takes to implement new campaigns (and fine-tune existing ones) while you work on other aspects of your Shift4Shop store, such as order processing.
At Shift4Shop, our mission is always to make it easier for you to run a successful online business, and the set of tools you have at your fingertips is a huge part of that. We're pleased to introduce you to our Facebook Ads Manager, and we can't wait to see the results you achieve!