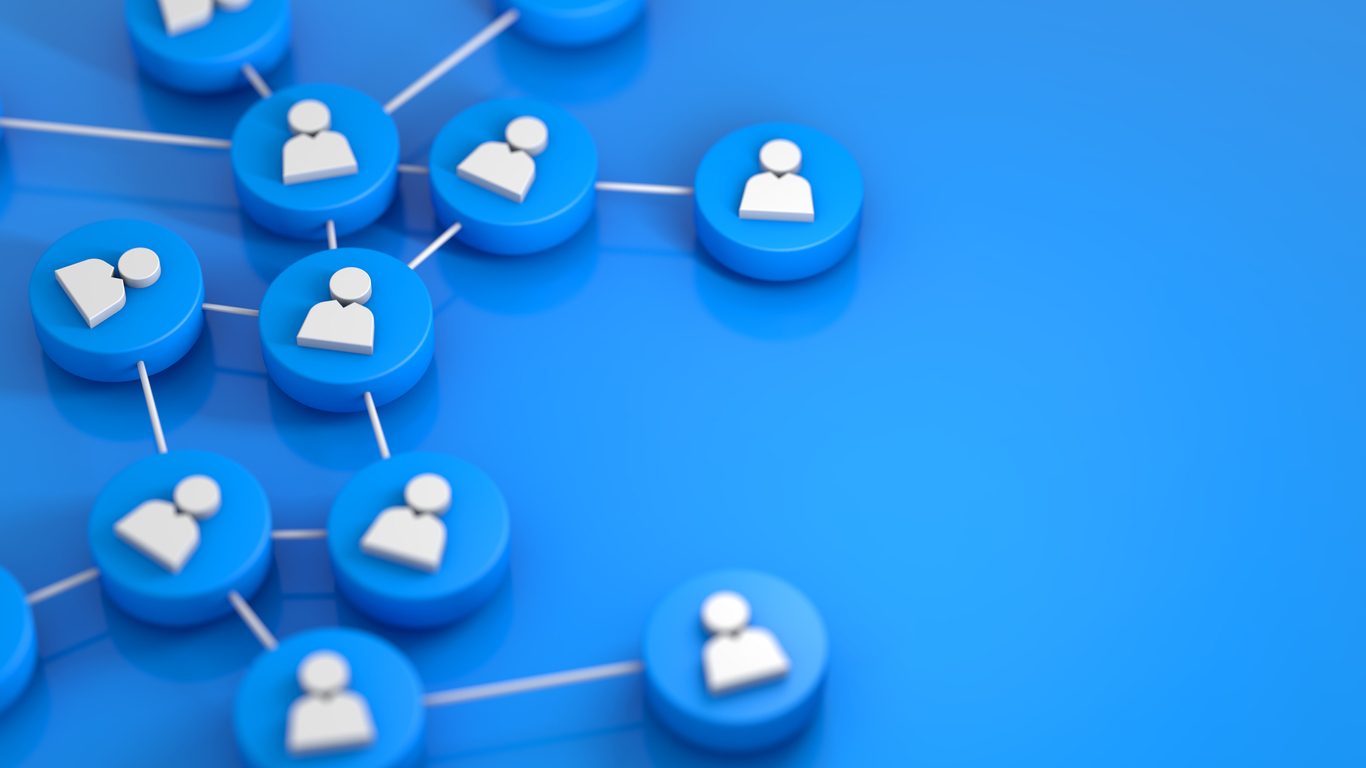 While it's easy to make a Facebook ad, it's not easy to turn that ad into something profitable for your business. Without any type of campaign optimization, you may end up wasting your ad budget on Facebook posts that don't perform. Even if you don't invest in paid ads, posting organically on Facebook without any strategy can lead to low engagement and poor results.
In this blog, we'll be going through the best Facebook Marketing tools that you can use to optimize your campaigns. From contest builders to performance analyzers, there are a variety of tools out there that can meet your social media marketing goals.
Top 10 Best Facebook Marketing Tools
The most effective tools for Facebook advertising typically fall into three categories: all-in-one tools, analytics tools, and engagement tools.
An all-in-one tool combines a long list of features to help optimize your social media marketing, while analytics tools and engagement tools have a single purpose – reporting metrics and fostering engagement, respectively. For example, an engagement tool may focus on building contests – one of the most popular ways to encourage engagement on Facebook. The tool that you choose will depend on your specific campaign needs and goals.
Let's get into the best tools in all three of these categories that you should consider using for your Facebook marketing campaigns.
1. Agorapulse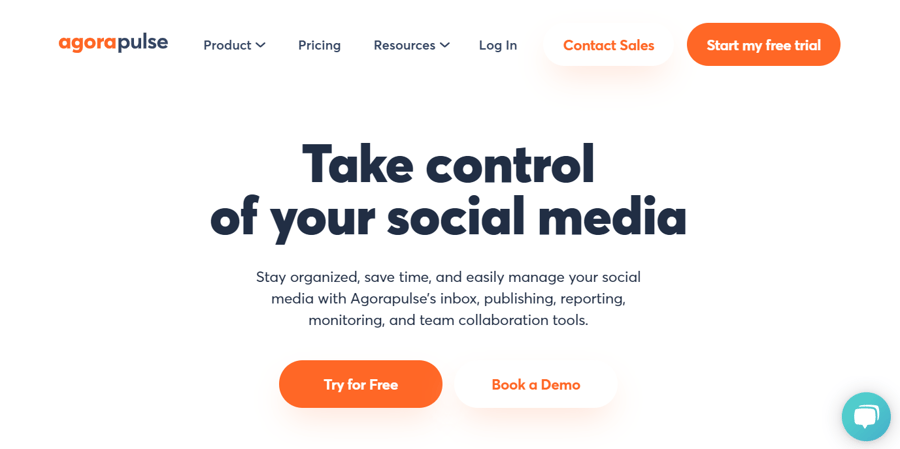 Agorapulse is an advanced social media tool that combines publishing, monitoring, and reporting into one solution. However, what makes this solution unique and beneficial for Facebook campaigns is its feature called the "Facebook Timeline Contest." Essentially, this feature allows you to run free contests on your Facebook page's timeline. Contests can be sweepstakes, quizzes, and photo contests.
Also offered for free by Agorapulse is their Facebook Page Barometer. This tool shows your Facebook page's performance and how it compares to average page performance.
Pricing: Agorapulse offers a free plan with 3 social profiles and 1 user. Paid plans start at $79/month (billed annually) for an increase of 10 social profiles and 2 users. They also have a free plan available, allowing you to test out their tools before investing.
2. Qwaya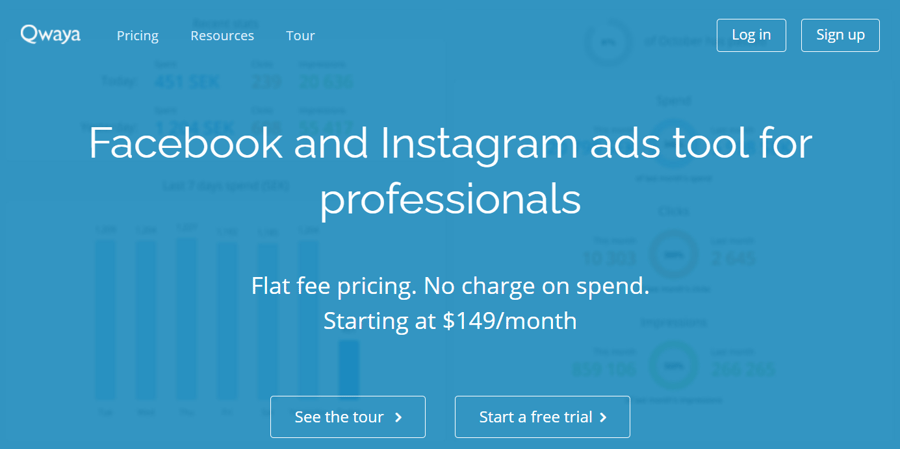 A true Facebook ads manager, Qwaya comes with a variety of tools to help optimize your social campaigns. First and foremost, Qwaya comes with a built-in ad scheduler for scheduling campaigns to run at specific times set by you. You can also define ad campaign rules based on performance, pausing ads at the right times to save your budget. Qwaya also helps you to automatically rotate ad variation for the best ROI.
Qwaya also comes with built-in tools for customization and collaboration. You're able to build URLs, automate URL tagging for Google Analytics, collaborate with multiple users, share assets between team members, and use ad templates to build effective ads. Stay organized with the campaign organizer, which allows you to drag and drop campaigns into folders. Split testing is also available for both creatives and audiences, helping you pinpoint the perfect ad.
Pricing: More expensive than other solutions, Qwaya plans start at $149/month for 1 user, unlimited ads, and unlimited Facebook users. There is also a 14-day free trial available if you'd like to test it out before taking the plunge.
3. Shortstack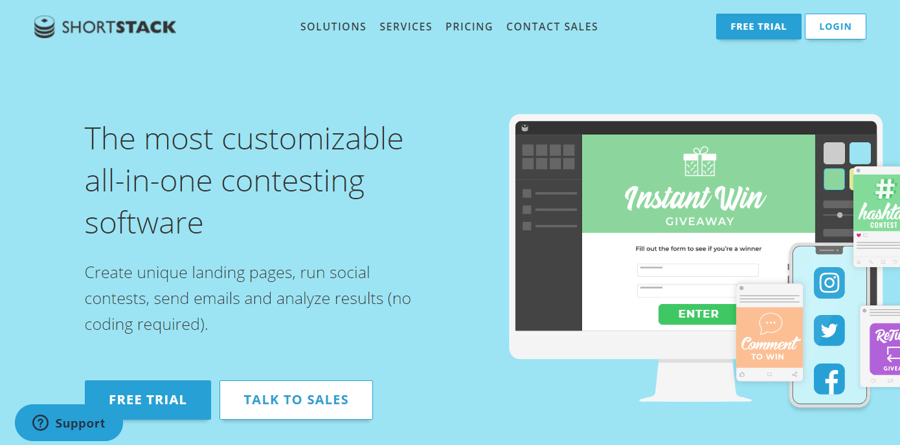 Shortstack is considered an all-in-one contesting software, giving you the ability to run social contests on your Facebook page. There are several types of contests to choose from with Shortstack, such as hashtag contests, "comment to enter" contests, retweet contests, and more.
You can build campaigns for those contests and giveaways within Shortstack, based on templates or built from scratch. Shortstack also has a landing page builder, which you can use to create custom landing pages for new leads. Analytics are available as well, helping you to track campaign performance.
Pricing: Shortstack plans start at $99/month, which allows for 10,000 entries, 50,000 views, and features like random winner selection and entry form transfers. For more features, entries, and views, higher-prices plans are offered as well. You can sign up for a free trial to test out Shortstack, limiting you to 20 entries and 100 views.
4. MobileMonkey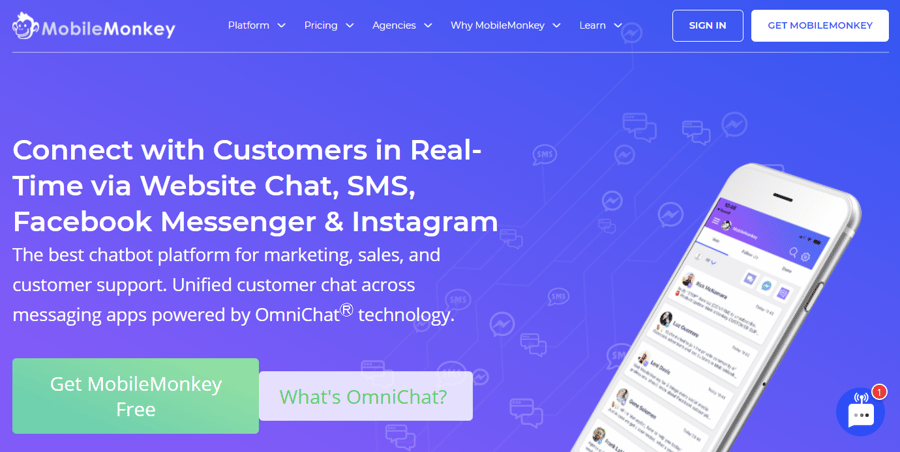 Unique from most other entries on this list is MobileMonkey, a chatbot platform for social media. MobileMonkey provides chatbot solutions for marketing, sales, and customer support via website chat, SMS, Instagram, and, most importantly, Facebook Messenger. According to Facebook, 53% of customers are more likely to make a purchase if they can message the company. With this in mind, you may want to consider utilizing chatbots like MobileMonkey for your Facebook campaigns.
MobileMonkey helps you create Facebook Messenger ads and track their metrics. Monitor likes, impressions, reach, cost per conversation, spend, link clicks, CTR, and more with their tools. You can also sync your Facebook Ads Manager account to your MobileMonkey messenger ads to keep your campaign consistent.
Pricing: To use MobileMonkey, you'll need to sign up for a paid plan. Starting at $21.75/month, their Pro plan comes with 2,000 monthly send credits. For more credits and features like API access and Facebook Ads integration, you'll need to upgrade to a higher-priced plan. They do also offer a free trial.
5. Pagemodo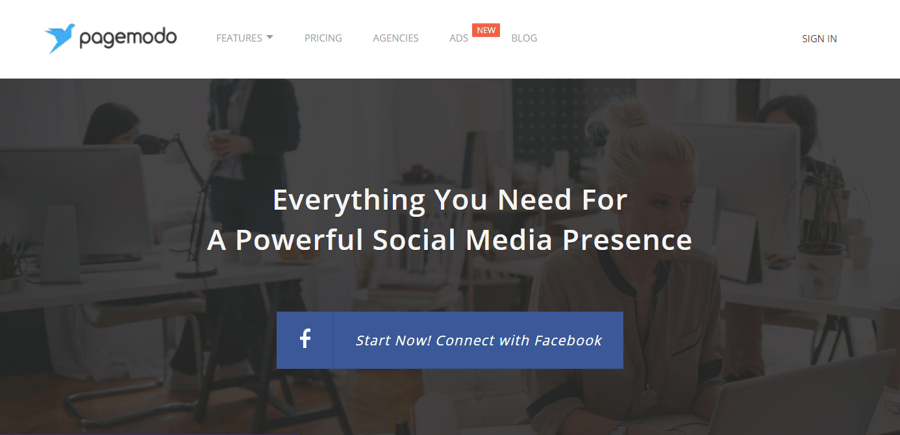 Pagemodo is a Facebook marketing tool meant to help you develop your overall social media presence. To accomplish this, it provides you with a variety of features that can turn your blank Facebook page into a fully-branded experience. Create custom cover photos using their available templates, setting you apart from other pages. You can also run social contests on your Facebook page to boost engagement and add custom tabs directly to your page for lead collection.
With Pagemodo, you're able to schedule organic posts and create Facebook ads using their design studio as well. There are even targeting tools and analytics available, allowing you to reach the right audience and optimize your ads.
Pricing: Starting at $9/month, you can sign up for Pagemodo's Basic plan. Higher plans allow for more Facebook pages on the same account, more custom tabs per Facebook page, and features like contests or the Facebook Ads tool.
6. Post Planner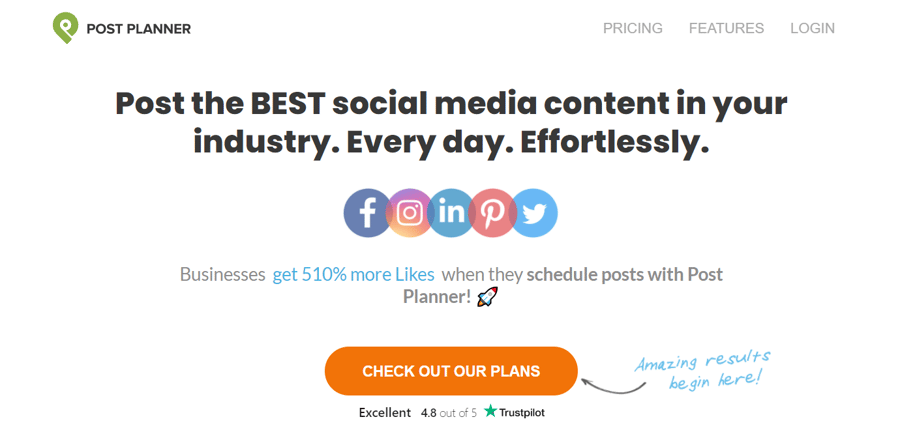 As a social media content tool, Post Planner focuses on boosting engagement and reach on your target platforms. The tool comes with a variety of features designed to create great social content. To help you gain authority through content in your industry, Post Planner helps you find viral content within your niche and applies star ratings for quality. You can also use their tool to promote your own content by uploading branded and owned media, syncing your blog articles, and more.
Post Planner can be used to schedule social media posts as well – it makes this even easier by allowing for bulk uploads from a spreadsheet. You can then analyze their performance and re-schedule the top-performing posts.
Pricing: Relatively inexpensive, pricing for Post Planner starts at $4/month with a limit of 3 social profiles, 300 scheduled posts, 12 posts per profile per day, and 1 user. Plans increase up to $79/month for more monthly posts, profiles, users, and media library storage.
7. SocialBakers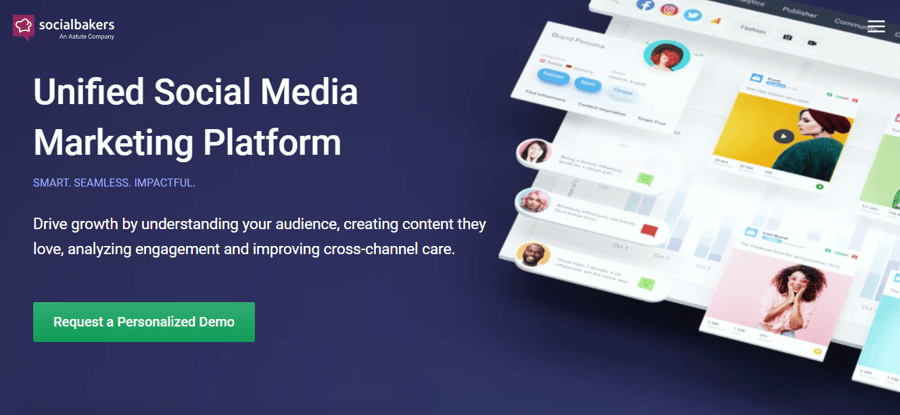 Referring to themselves as a "unified social media marketing platform," SocialBakers works to provide a multitude of built-in social media features. With SocialBakers, you can discover new content, uncover trends, monitor your audience and competitors, and manage your social media accounts. Once you post, you can also measure and performance and create reports.
SocialBakers carves out their space among social media content tools by providing something unique: AI features. Their artificial intelligence tools are meant to help you find marketing personas, the content they want, and how to achieve optimal campaign results. This AI can also assist in publishing, helping you find the perfect time to post, the best content to share, and even your competitor's campaign strategies.
Pricing: Starting at $200/month, SocialBakers is one of the pricier options on this list. They break their offering up into two plans: "The Essentials You Need to Start" and "The Complete Socialbakers Platform".
The first comes with 10 profiles and doesn't include features like social media listening, audience analysis, access to influencers, community management, or their social AI chatbot. To obtain these features, you'll need to sign up for the more advanced plan – pricing is only available via consultation.
8. Buffer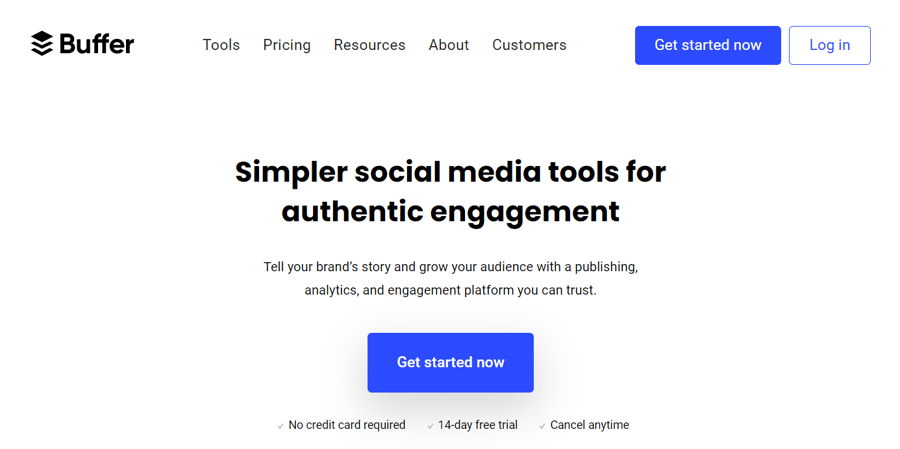 Buffer is, by far, one of the most popular social media tools for Facebook marketers. It offers a variety of social media features for both publishing and analyzing posts in an easy-to-use interface.
On the publishing side, you can schedule and plan out social media campaigns with an emphasis on collaboration. Your team can create draft posts, refine them with built-in feedback, and approve them to be published before they go out to your channels. Buffer even makes content discovery easy with their browser extension, helping you find, save and distribute content to share on your Facebook pages.
From an analytics standpoint, Buffer provides metrics on post reach, mentions, and likes to track post performance. Using these metrics, you can refine your Facebook campaigns and find out what really works.
Pricing: Buffer splits their publishing features and analytics features into two separate services. Their publishing tools are available for free, with a limit of 3 social channels, 10 scheduled posts, and 1 user. Paid plans for publishing start at $15/month, increasing the amount of channels and posts. For analytics, pricing starts at $35/month for 8 social channels.
9. Fanpage Karma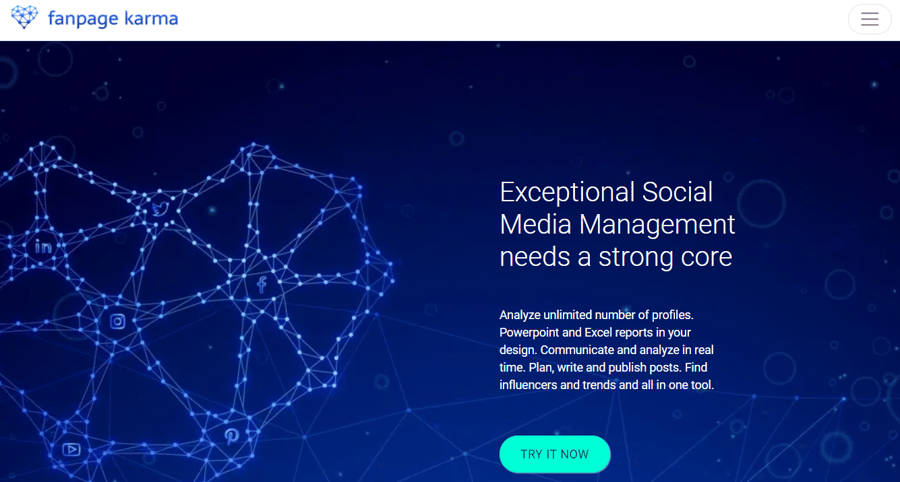 Fanpage Karma is a Facebook page analytics tool, entirely focused on providing you with useful metrics for optimizing your page and posts. Analyze your page and competitor pages, create reports automatically to track performance, and design custom reports as data sheets, slide presentations, or charts. Trends, industry topics, and influencers on both Facebook and Instagram can be monitored with this tool as well.
You can also use Fanpage Karma to engage with fans and customers by answering messages, comments, posts, and emails – manually and automatically. Moderation can even be automated for when you team isn't available. Speaking of automation, Fanpage Karma also offers post scheduling with an editorial calendar.
Pricing: Fanpage Karma has a free plan available for Facebook use only. Their free plan includes analytics features, but nothing for engagement, publishing, or discovery. Paid plans start at $69/month for less limits and more features.
10. Facebook Ads Manager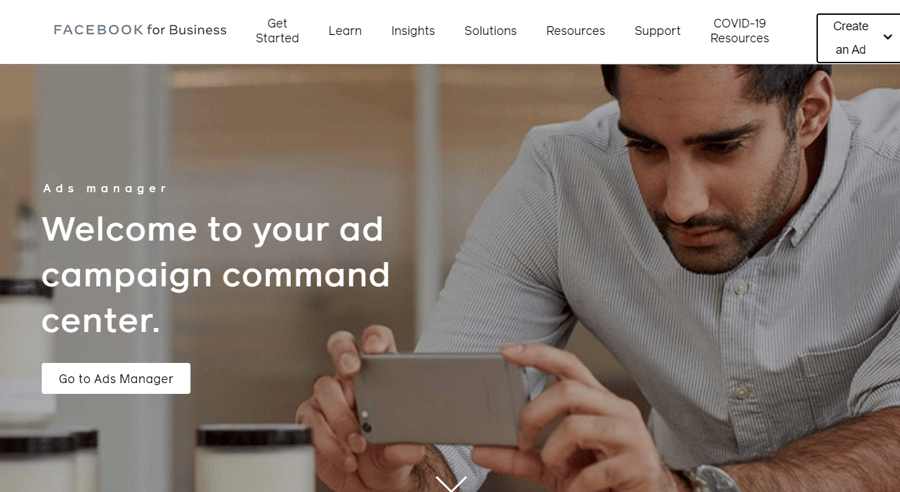 Last, but certainly not least, is the Facebook Ads Manager. Built into Facebook, any social media marketer will need to use the Facebook Ads Manager to post paid ads and create campaigns for their pages. But, don't underestimate this as a tool – you'll find that there are a lot of features already available that can help you to optimize your campaigns.
Facebook Ads Manager can help you to find target demographics for your ads and set your budget to what you need. You can also track ad performance with built-in reporting tools. If you find that an ad isn't performing how you'd like it to, it's easy to pause ads within the Facebook Ads Manager for quick campaign optimization.
Facebook offers several other free tools to businesses using their platform to advertise, such as the Facebook Business Inbox for engagement and page monitoring. For organic posts, Facebook Creator Studio allows you to schedule posts on your page for free.
Pricing: Facebook Ads Manager is completely free to use, but you will need to pay for individual Facebook ad campaigns. Pricing will vary.
Wrapping Up
At the end of the day, the tools you use for your Facebook marketing campaigns will only amplify quality content. Of course, many tools offer the ability to help you create that quality content – but no tool can replace the creativity involved in crafting a powerful campaign. So, before investing in an expensive tool, work on your social media goals and determine the story you want your campaign to tell. Then, a truly effective tool can amplify that message tenfold.