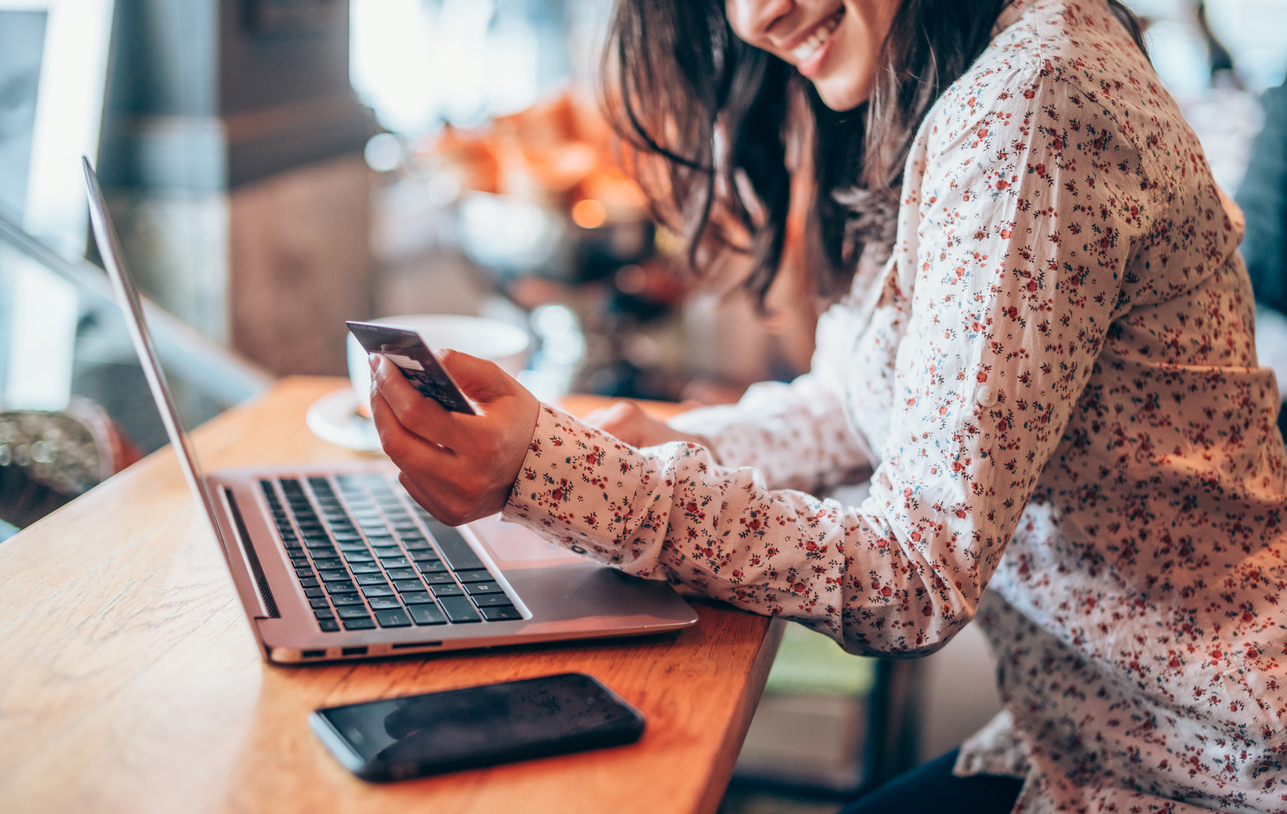 If your online store has a large inventory of products, it's important to do everything you can as an eCommerce merchant to help customers find what they need from your site. Each customer shops differently, has unique needs and is coming to your store for a specific reason; one of the best ways to cater to customers on a personal basis is through faceted navigation and faceted search features.
By applying filters and attributes to category pages and on-site search results, customers will have a much easier time finding what they want on your online store. Naturally, a customer that finds what they're looking for quickly and easily is more inclined to follow through and make a purchase. So, let's dive into how faceted navigation can increase conversions and make your store a better place to shop.
What is Faceted Navigation?
Faceted navigation refers to search result refinement options that customers can use to find what they're looking for easier. This can include a variety of attributes, such as sizes, colors, price ranges, etc. that help customers narrow down what they need from an online store. Or, if a shopper isn't focused on a specific product, they can use faceted navigation to better visualize what the store has to offer and explore its inventory on their terms.
Typically, faceted navigation on an eCommerce websites manifests on the side bar of category pages (where it can actually boost conversions by 20%). Within the faceted navigation sidebar, customers will have the ability to refine your inventory by any filter you choose, whether it's brands and models or price ranges and specifications. If your online store carries a large inventory that would be difficult to navigate without any filtering or refinements, then you and your customers may benefit from faceted navigation.
Benefits of Faceted Navigation
So, how exactly can faceted navigation translate into higher conversions? It all comes down to user experience – if a customer feels comfortable shopping on your site and is easily able to find what they want and need, then they'll be more likely to make a purchase on your site. If your store's navigation is confusing and cumbersome, they may end up going to a competitor's site instead for a smoother experience. Here's exactly how faceted navigation manifests into a better user experience, thus boosting conversions on your store.
Makes Exploring Intuitive
By enabling shoppers to navigate your products based on what's important to them, like price, color, brand, size or ratings, it'll be easier for them to find what they need and make a purchase. This also puts your inventory into an order that makes sense to the customer; they may first select price range, then rating, and then color while arriving at the same products as a different shopper who uses those filters in a different order. Your shoppers won't be limited to pre-determined path if they use faceted navigation, which puts the power in their hands and makes shopping a more personalized experience.
Helps Shoppers Visualize Paths
When shopping for a specific product, there's nothing worse than receiving the dreaded "No Results" page. By adding faceted navigation with relevant filters that update dynamically with each selected filter, customers will never encounter such a page. Their chosen refinements update instantly and appear visually on the page after each click, making their remaining choices clear. With functional faceted navigation in place, shoppers won't be misled into selecting a combination of attributes that fails to bring them any results.
Makes "Backing Out" Easy
Some customers may try to refine their search with a long list of filters, only to come up with a small selection of products that doesn't match what they're looking for with that final filter. Through faceted navigation, a user can "back out" without affecting previously selected refinements. In fact, stores have found that they receive more multi-item orders with faceted navigation because shoppers have an easier time navigating to accessories after purchasing primary products.
Allows for Customization
With faceted navigation features, merchants can strategically place relevant refinements for any search query or product category. Add color palette selections, pick grids, price sliders, and shopper-provided social navigation (like ratings, pros, cons, etc.) to the navigation menu to extend its effectiveness even further. You can even test out different layouts with A/B testing to determine which order brings the highest conversion rate. For example, putting price brackets as the first filter option may yield more purchases than a color selector – it all depends on what your customers want and how they want to get to those products.
Faceted Search vs Category with Facets
There are two main forms that faceted navigation can take on your online store: faceted search and faceted categories. While both work with filters meant to refine a selection of products, the difference lies in where they appear and how they're used.
Faceted search uses the website's search bar, as the name suggests. When a customer enters a search query, the faceted search functionality gives them options to add filters to those search results that will refine them even further. Search terms are usually more specific that entire categories and can help customers get closer to the exact product they're looking for.
In the below example, we searched "black dress" and arrived at this result page that comes with relevant facets like size, color, and categories to further refine the search: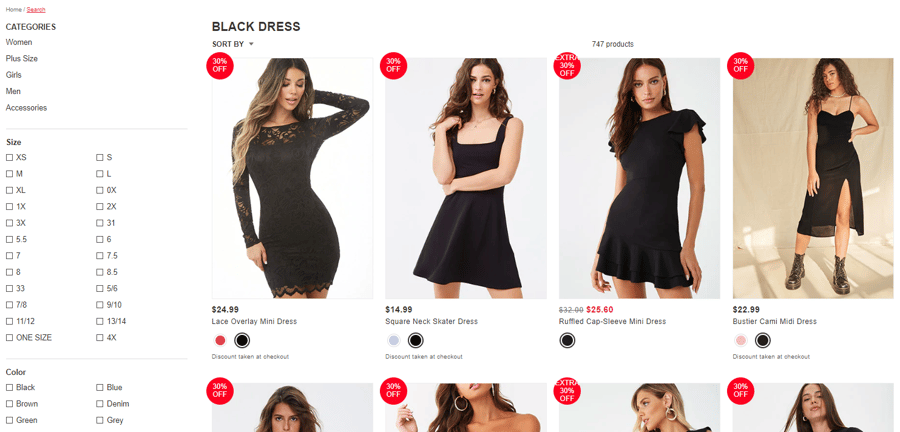 When enabling faceted search, you should keep in mind the following:
Enable spelling correction, synonyms, "did you mean?" and autofill. These settings help customers find what they're looking for and avoid the "No Results" page by serving results for any variation of their query.
Determine which search terms on your site have high engagement vs. weak engagement. By narrowing down the queries with the highest engagement, you can optimize those search result pages and turn them into landing pages designed for conversions.
Utilize site search merchandising, which is a form of advertising that places specific promotions on certain search result pages on your site. This serves extremely relevant on-site advertising to high-intent customers and personalizes the shopping experience.
Categories with facets, on the other hand, are navigated to by clicking on a category within one of your site's menus. This category will then have relevant filters built-in that customers can select to refine the products in that category. With faceted categories, customers will be looking at a broader selection of products, meaning they will most likely need to have more filter options available to them.
A great example of a faceted category is Home Depot's bedroom furniture category, which comes built-in with filters on color, style, department and more: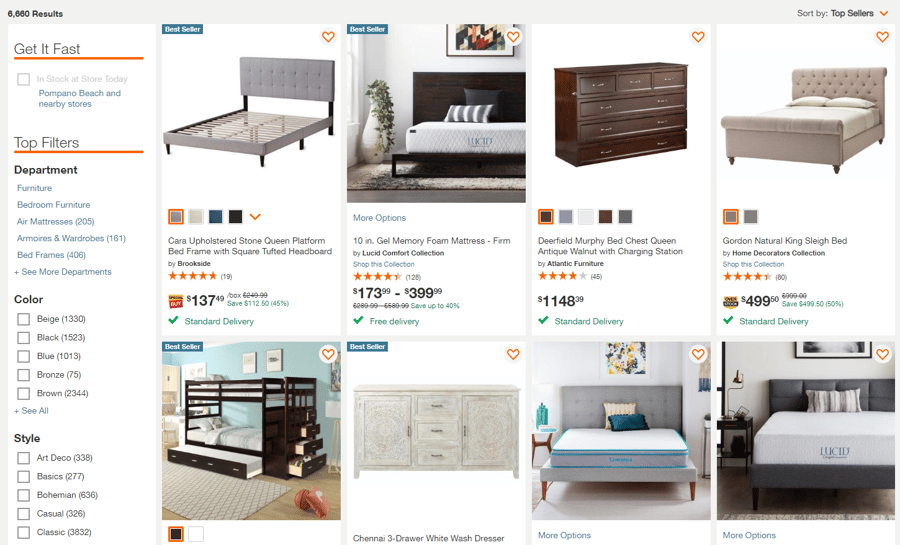 When a Faceted Navigation Isn't Necessary
Adding faceted navigation functionality can be a great way to help customers easily find what they're looking for on your site – especially if you have a large inventory. But, if your online store doesn't carry a wide variety of different products that requires faceted navigation in order to parse through your selection, then faceted navigation may not be necessary for you to have. In fact, it may even make navigation more complicated.
Faceted navigation is a perfect fit for clothing stores with multiple colors, sizes, and types of garments. It's also perfectly appropriate for an online technology store that might sell laptops, tablets, and accessories with different specifications and compatibility features. Most of all, faceted navigation comes in handy for big-box department-store style eCommerce websites with a wide variety of categories and products that may add up to the thousands.
However, if your online store only has a few dozen products that all fit neatly into their own categories without the need for further refinement, then you most likely don't need to add faceted navigation to your site. This is especially true for online stores that sell art or one-of-a-kind products; each product is unique, and inventory is not likely to be large enough to warrant advanced search refinement. If your store is selling a small number of products that are mostly unique and don't share many features, or if you only sell a few variations of a single product, then your customers won't need to use faceted navigation to find what they need.
How to Implement a Faceted Navigation
If you've decided that faceted navigation is right for your online store, whether it exists on your on-site search, category pages or both, then it's time to start implementing it. To get started, you'll first need to ask yourself the following questions:
Where do I want to implement faceted navigation? (Search, categories, etc.)
Do I want faceted navigation on every category, or specific categories?
Which search terms do I want to add relevant filters to?
What filters would my customers most like to see added to my online store?
Once you've answered these questions and established what you need to accomplish with your navigation, you can then move forward with adding that functionality. One of the best, and easiest, ways to get this done is by utilizing an eCommerce site search solution that comes with a variety of advanced navigation features. These solutions can not only add faceted navigation to your site, but they can also introduce on-site search functionality that further simplifies the shopping experience for your customers. Here's some of the most popular eCommerce site search solutions:
FusioNBot
FusioNBot is a fast, easy and customizable search solution that can be implemented to any website, including eCommerce. As a SaaS eCommerce search solution, FusioNBot comes with a long list of advanced navigation features that can be customized to fit your specific needs. Some of these features include:
Filters to refine search results and/or browse by categories
Sort results by any custom database field (relevance, price, stock, etc.)
Synonym keyword matching
Spell-check (Did You Mean?)
Customizable ranking
Pricing for FusioNBot starts at $60/month and can work with any website builder or eCommerce platform that you're using; if there's no direct integration for your website then they can work with you to create and parse any feed.
Convermax
Convermax is a site search solution that boasts a wide variety of features and tools designed to optimize your website's navigation. Of course, this includes their Advanced Filtering Options, as pictured below: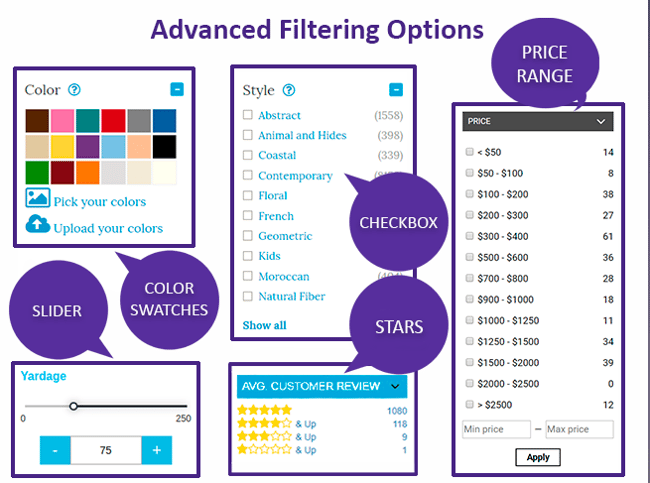 In addition to their advanced filtering, Convermax also gives merchants:
Contextual filters displayed as checkboxes, ranges, slides, color swatches, or hierarchical trees
Filter panels that show or hide certain sections based on any condition
Facets that reorder dynamically based on the product
Spell checking, autocomplete, and natural language search
To use Convermax on your online store, you can sign up for a pricing plan that starts at $150 a month. Their solution supports 3dcart, Shopify, BigCommerce, WooCommerce, Magento, AmeriCommerce, OpenCart and PrestaShop.
Doofinder Site Search
Doofinder Site Search is an affordable and scalable site search solution with advanced capabilities for simplifying your website's navigation. Their smart search engine software comes built-in with facet navigation that allows users to refine product searches with filters like price, color, brand, size, and more. Doofinder also comes with:
Autocomplete and synonyms
Custom results
Search algorithm boosting
Geo-located search
If your site only expects 1,000 requests per month, then you can use Doofinder's free plan. Built-in integration and easy installation are available for a long list of platforms, including 3dcart, but Doofinder states that you can integrate their software on any bespoke website using a product data feed and JavaScript.
SearchSpring (and Nextopia)
Formerly two separate site search solution companies, Nextopia has now merged with SearchSpring to become one advanced solution for websites looking to add navigation software to their online store. SearchSpring delivers relevant facets and results to each shopper based on smart automation & user-friendly manual control, among other features like:
Manually set facet order
Auto Eliminating Empty Facets
Sorting (by price, date, size, etc.)
Only Show Relevant Facets
Facet Types (multi-select, grid-boxes, palette options, sliders, images)
Drag + Drop facet order
Smart Sorted Facets
Pinned Facets
SearchSpring pricing starts at $499.95 per month, making it one of the more expensive options. You can integrate with SearchSpring on any platform, including 3dcart, due to being platform agnostic.
Wrapping Up
Faceted navigation isn't for every store. But, if you find that your customers are having a hard time finding what they need with the basic categories and search navigation that your online store uses, then it may be the right solution for your business. There are several different ways to add category filters, search facets and all other forms of faceted navigation to your site, so do some testing and find the one that works for your industry and your customers.