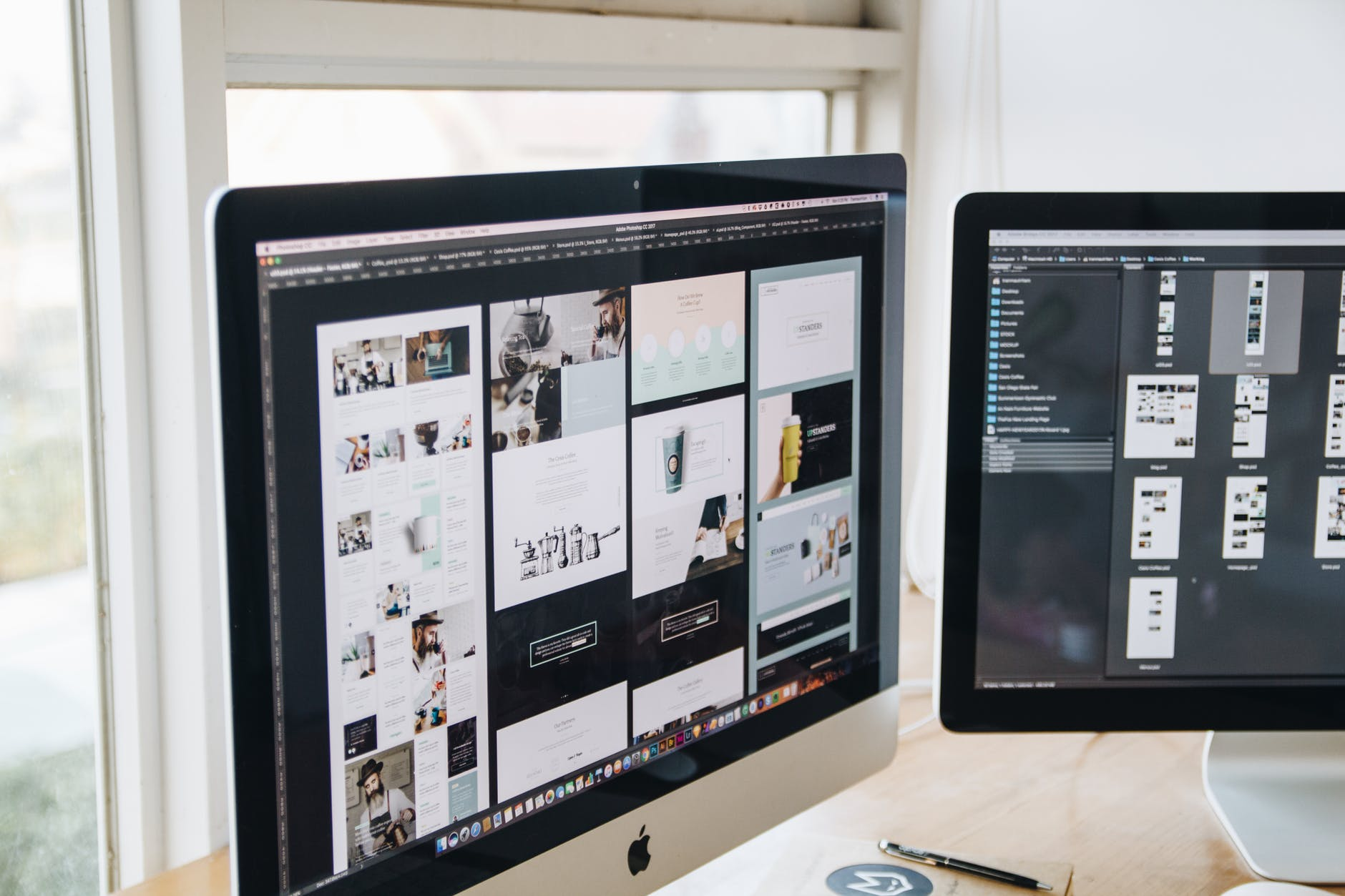 There is a whole host of issues that can happen to your startup if you aren't mindful of the graphics you're using on your website.
Do you think that statement is an exaggeration?

Well, think again.
If you go to Worldometer to check how many blog posts are written, you'll see that there are about 4.5 million posts written today — and the number continues to rise fast, really fast. With that much noise, what do you think your chances of catching your audiences' attention are?
What's more, some of the statistics uncovered about graphic design revealed that 94% of consumers will leave a website with poor graphic design.
Can you see the pattern here?

Graphic design is crucial. If you don't take the time to give it it's due attention, your startup can suffer irreversible loss. To help you get a better understanding of how graphic designs can help your growing startup, let's check out the benefits.
Increase Your Sales
Graphic design holds the power to sell your products if you leverage it correctly. A compelling image can help convert your web visitors into paying customers because images can evoke compelling emotions. Because people buy based on emotions and justify their decisions based on logic, graphic design can do wonders to help increase your sales.
For one, visually appealing graphic design can capture your customers' confidence in the quality of your products, services, and brand. They exude professionalism and give an overall positive brand impression on their first visual encounter with you through your site, business card, social media posts, or other channels.
As an example, here's a gift card by Kate Spade New York: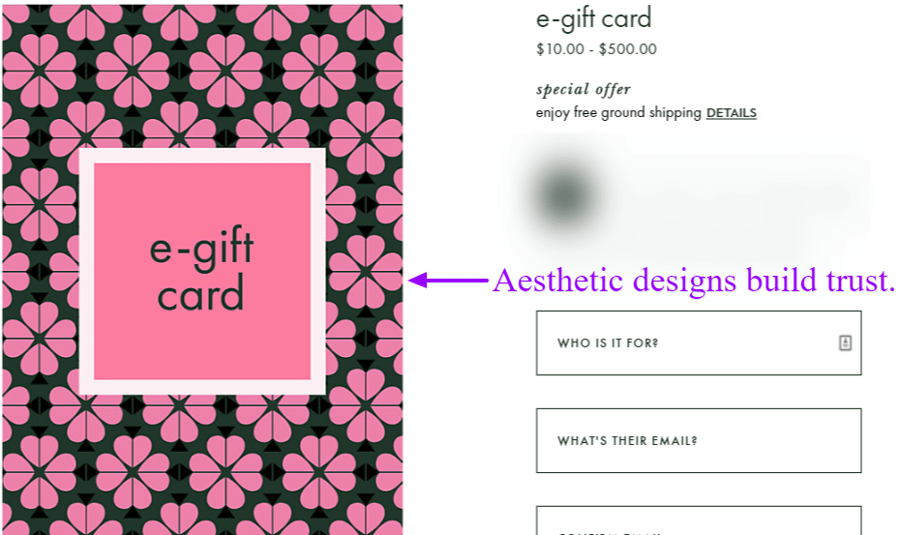 Kate Spade New York has designed a simple, yet classic and lovely, digital gift card. Its professional design and layout assure you that the items you purchase from them, whether, for yourself or your loved ones, have the same high quality and style as their exquisite e-card.
More than captivating your audiences, graphic design can also make them want to grab your products right away.
See this example by Havaianas: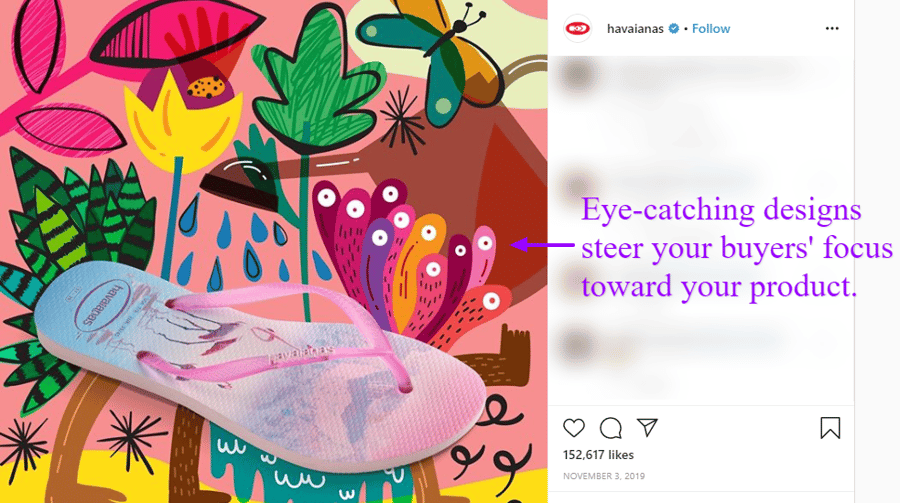 Havaianas surrounds its new sandals with eye-catching designs to grab your attention and steer it toward the item. It's a smart tactic that attracts you to check out the post without distracting you from the main thing. It highlights the beauty of the slippers' design and compels you to buy one for yourself.
Attractive graphic designs work excellently as well when selling food items and beverages.
This is how Krispy Kreme did it:
The donuts are highlighted in the design to make the viewers hungry and motivated to buy something from their nearest Krispy Kreme branch.
Can you see how powerful graphic design can be?
The above example uses a feature in graphic design programs called a clipping path, which is used to outline the focused subject (in this case, the donuts) to place them on any fun background. This strategy may seem foreign to you if you're not a graphic designer. Rather than try to learn this process yourself, you can employ the help of reliable clipping path services and photo editing companies to create professional graphics like this one using your products.
Establish Brand Image
Graphic design is beneficial in establishing your startup company's brand image in your industry.
An effective campaign with professional designs can boost the memorability of your company, which is the ability of your audience to recognize your brand immediately when they see your logos and other designs. There are plenty of successful examples of this. Just think of Nike, Starbucks, McDonald's, Lacoste, and many other prominent brands. Their logos help you recall that these enterprises sell shoes for athletes, great-tasting coffee, fast food, perfume, apparel, and other products.
The tone of your graphic design even reflects your brand image and communicates a similar message to your audience.
Take this example by Frank Body: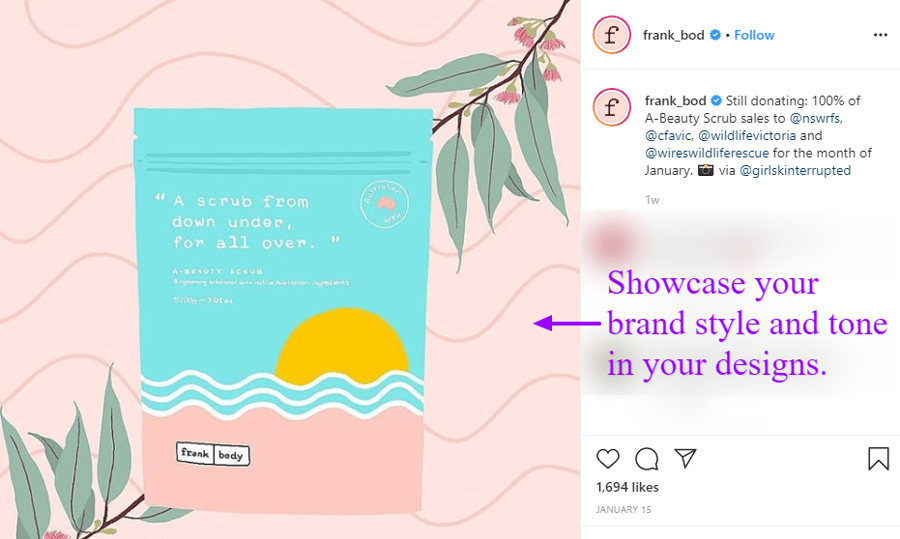 This visual evokes a sense of modern beauty through thin strokes and lines, pastel colors, and vintage typewriter font styles. It makes you feel light, happy, and relaxed, which is what the brand wants to convey to its young audiences.
Graphic design also helps establish your brand image through visual elements, like colors, that align with your identity. The colors you adopt in your designs mirror what you want your audience to feel when they encounter your brand.
If you're a nutrition company, your visuals can have shades of green to represent health and well-being.
If you want to target young audiences, yellow hues can be in your dominant palette to showcase warmth and energy.
Barbie, for example, shows off its creative and playful vibe through pink and violet primarily as well as other vibrant colors: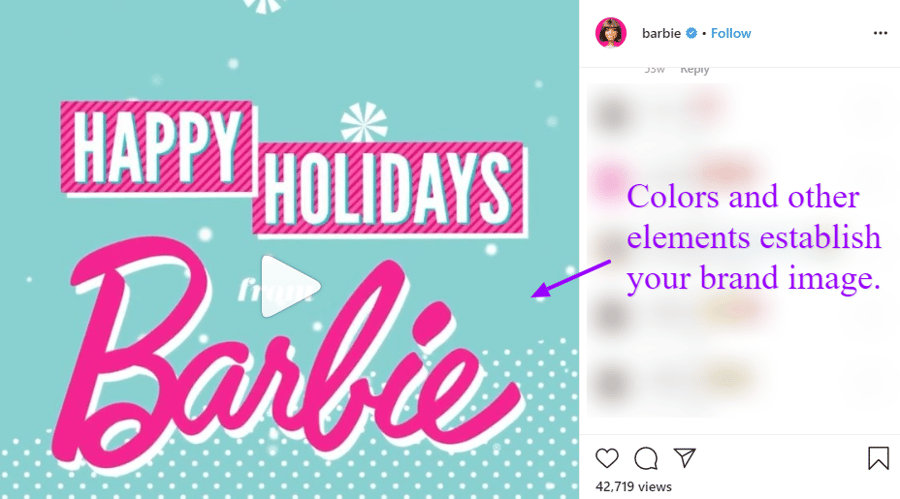 Therefore, it's essential to ensure that your designs accurately represent your brand so you can draw in the right audiences.
Generate Audience Engagement
When you create eye-catching graphic designs, you can engage your followers effectively and meaningfully. As a result, they take the time to like and comment, share your posts, and more. That is why, for the most part, you should avoid using only stock photos on your posts. You need something eye-catching, unique, and personalized.
Considering how there are image editing companies online that offer their services at such affordable rates (while producing exceptional results), you won't have a problem with publishing exceptional design.
There are several ways you can use graphic design to interact with your audience, such as posting questions and inviting them to answer.
Here's an example by Starbucks: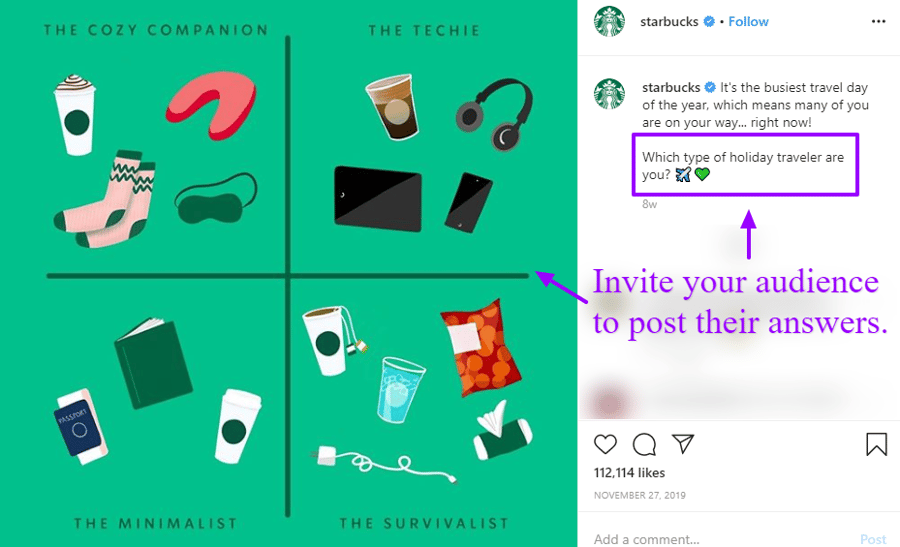 Starbucks asked its followers what type of holiday travelers they are, pointing them to refer to the created image for their answers.
This technique spurs your audiences to ponder on their personality types, share a bit of themselves through their answers, and even invite their friends to compare and contrast.
You can even stir more fun interaction among your followers, as shown in this example by M&M's: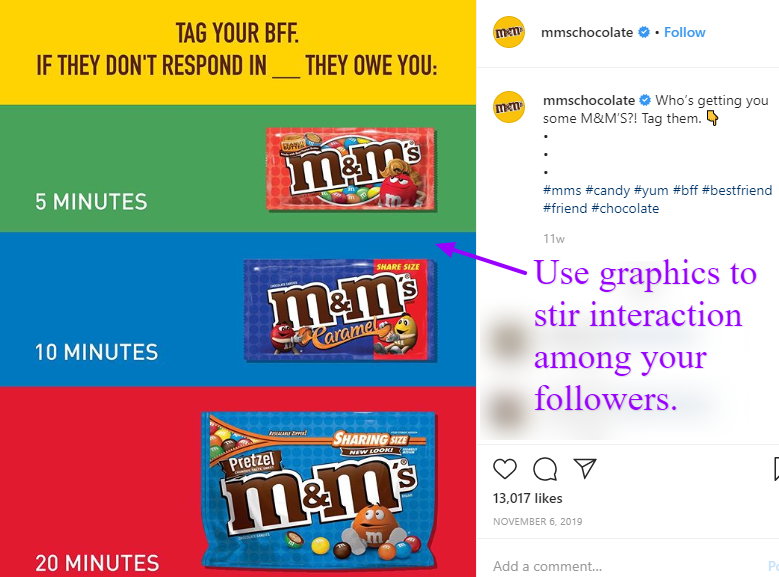 M&M's invites its followers to join the game, tagging their friends who need to respond within a specific number of minutes. If these friends don't, they get to treat the person who mentioned them with the corresponding kind of M&M's chocolate.
Graphic design can also build a sense of connection with your audience, sending messages that resonate with their values, interests, and others.
Dick Moby, for instance, targets buyers who love being stylish and support environmental conservation. Besides photos of their sunglasses and eyeglasses, the brand connects with its buyers through its graphic design. You can see that in this example below:
Dick Moby's message to its readers is that they can be fashionable, look good on Instagram, and save the planet at the same time. They infuse fun and creativity in their cartoons to resonate with their advocate buyers' feelings toward fashion and the environment.
Whatever approach you may take with your graphic design, whether minimalist, dynamic, or something in between, remember to keep it consistent. Brand consistency with your identity and throughout your visuals is key to building your audience's trust in your brand.
You can be diverse in your styles but still keep your values and branding identity evident and consistent.
Moving Forward with Graphic Design
If you haven't yet leveraged the power of graphic design for your startup business, it's high time you do that now. The sooner you build your image through professional designs, the faster your audience can perceive your brand correctly. Graphic design's influence on growing your startup company can go a long way in enhancing your performance and reaching your business goals in time.