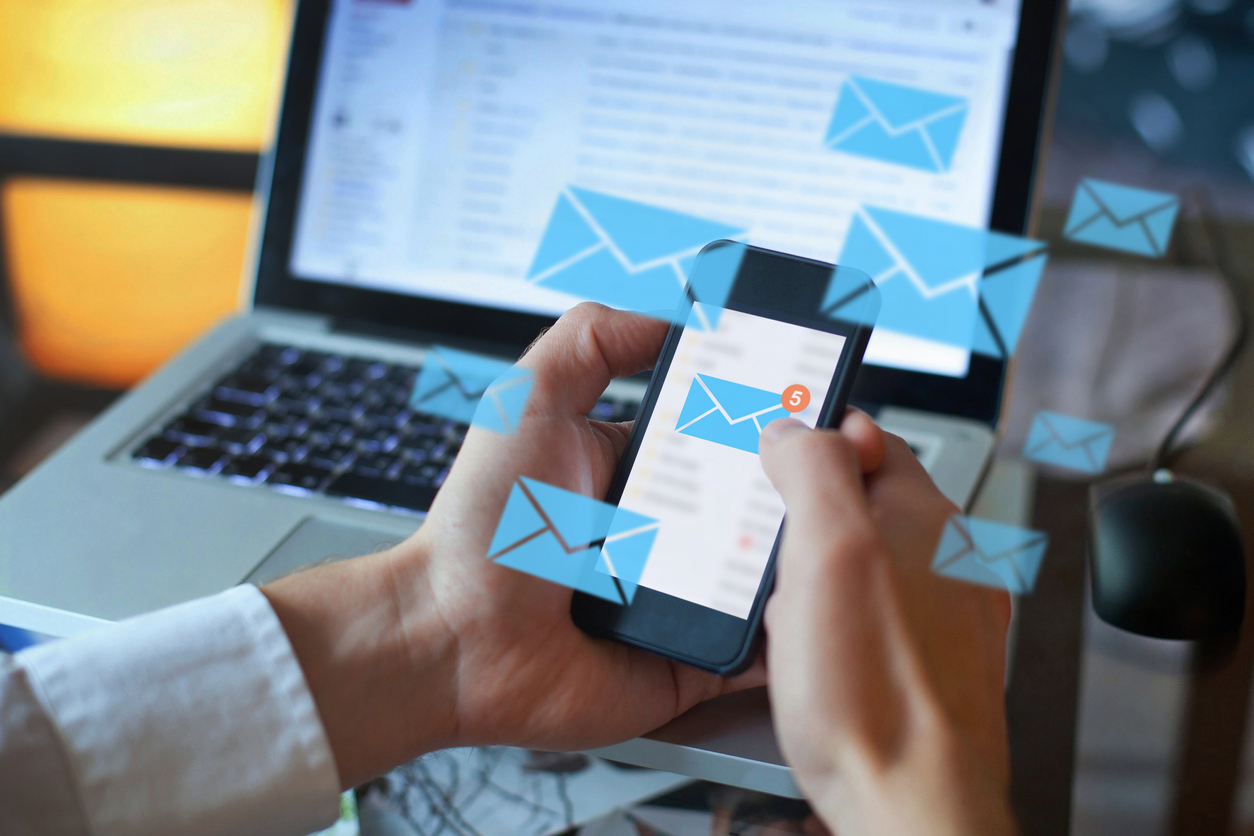 Already gaining traction with budding eCommerce entrepreneurs, the dropshipping business model promises low start-up and operating costs. This model's low-stakes approach makes it an excellent way to test your entrepreneurial skills.
If done right, you'll be able to sell tons of valuable merchandise, set your own prices, and build your brand without ever managing inventory and the substantial costs associated with it.
But, for your dropshipping business to take off, you first need a virtual storefront, where you know what to sell, and more importantly, how to market your merchandise! And, this is where email marketing comes to the rescue.
Email marketing offers you premium one-on-one time with your prospect, and it's incredibly cost-effective. So, even though email marketing doesn't link directly to the very act of dropshipping, it facilitates the growth of your eCommerce store, which leads to accelerated sales. All of this eventually boosts your dropshipping business.
The Dropshipping Model: A Quick Look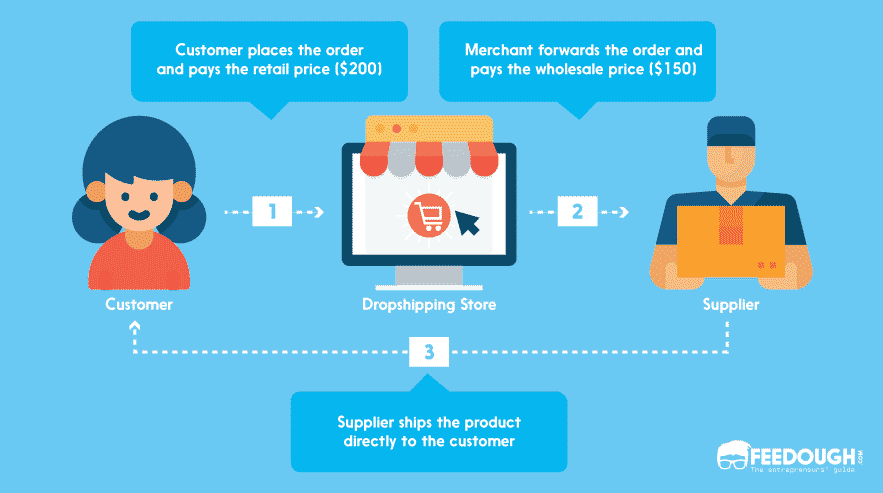 Source: Feedough
Suppose an eCommerce store you often shop from displays shoes from multiple brands. Now, you might think that they are a shoe seller, but they're actually into the dropshipping business. This doesn't mean that all eCommerce shoe sellers are in the dropshipping businesses, but many may be.
So, what is dropshipping? Simply put, it's a retail fulfillment model where an online store doesn't actually stock the products you see on their website. As a matter of fact, they keep zero inventory and, instead, have a partnership with the original product seller who stores the item you want. These original sellers are usually wholesalers or manufacturers.
Even if the dropshipping company doesn't have an official commitment, they place or forward the order they receive on their eCommerce website to the original seller, who then ships your item directly. In return, the dropshipping company takes a cut for facilitating the sale.
Think of dropshipping businesses as third-parties who have the technical know-how to set up an online store, market the right products on them, and facilitate communication between potential customers and sellers in exchange for a fixed percentage fee.
As mentioned before, for the dropshipping model to work, you first need to identify your product niche, what you want to sell, and where. After which, you must market your web store through effective digital mediums like email marketing so that more and more people buy from you.
Dropshipping businesses have been a real game-changer for small companies that had little to no digital presence. They can now sell more by listing their products on eCommerce websites in collaboration with dropshipping suppliers.
Why Does Email Marketing Work for Dropshipping Businesses?
Presently, 4 billion people worldwide use email, out of which 90% check their inbox every day. And, this is despite the prominence of social media, which is considered another potent digital marketing channel.
Email marketing is also a cost-effective and permission-based medium that lets you personalize content delivery. Here, you can study your target audience, segment them into various categories based on demographic and psychographic data, and pitch the products you think they'll like.
All of this will boost traffic to your eCommerce website. More traffic means more orders, which means more dropshipping revenue.
Therefore, email marketing works for any business, including dropshipping. However, you must know how to wield this medium.
Fortunately, with the right strategy and armed with an email marketing tool, this isn't too hard to do.
Actionable Email Marketing Tips to Power Your Dropshipping Business
Now that you know the 'why' of email marketing, let's learn the 'how.' How exactly can you leverage email marketing to scale your dropshipping business? The following best practices make for a fine blueprint for a starter email marketing strategy for your dropshipping business.
1. Nothing Can Happen Without a Robust Email List
Even before you start thinking about the products you want to pitch, or discounts you want to give to your prospects, you need to identify them. By identifying, we don't just mean studying their previous purchases and general likes and dislikes.
You need their actual email addresses to build your email list. Once you have it, you can begin strategizing about content delivery, which includes product pitches, send frequency, and time.
Tips to Build Your Dropshipping Email List
There are many ways to build your email list. You can buy them, compile them through social media, or create a lead magnet. What is a lead magnet? These are incentives you offer to your target audience through your eCommerce website or social media channels in exchange for their name, email addresses, etc. in return.
For example, you can provide freebies or special coupons on your eCommerce store, but to claim the reward, they must fill in their email address on a pop-up form.
Alternatively, you can also drive sign-ups through social media or your blog if you have one. Once you've got email addresses pouring in, segment them into different categories. You can base these categories on location, occupation, age, etc.
After getting your email list ready, it's finally time to start sending emails to your prospects.
2. Personalize, Personalize, and Personalize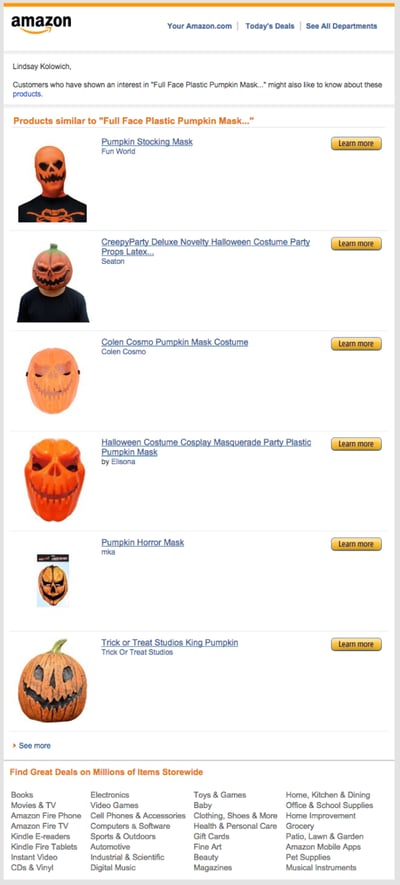 Source: HubSpot
Always remember the three rules of email marketing – personalization, personalization, and personalization. And, guess what? Your leads are also expecting it.
Sure, your eCommerce store might sell numerous categories of products, from baseball bats to boats. But, not everybody is interested in everything. So, you must know what to pitch to whom in your emails.
Even if your eCommerce website only specializes in shoes, you must not make the mistake of pitching high-heeled stilettos to a female prospect who is 80 years old! Here, go with the assumption that pitching comfy orthopedic shoes will bring them to your eCommerce site, thus boosting your dropshipping revenue.
Personalization is possible if you have a clean, updated, and segmented email list, as it allows you to draw educated inferences about your prospects. You can also plug segmented email categories into email marketing software to automate personalization.
Tips to Personalize the Body of Your Emails
When communicating over emails, use the prospect's name in subject lines and the email's body.
Keep them engaged by providing special discount emails on their birthdays or anniversaries.
Send emails based on a customer's activity. For example, if a prospect has items in their abandoned cart, send them a reminder email to complete their purchase. This email can also carry more related product options at the bottom.
If they've purchased something off your website, send them one or two educational videos on how to use that particular product until the product is dropshipped. This tip works exceptionally well if you market and dropship gadgets and electronic appliances.
Tips to Personalize Your Email Subject Lines
Your email subject line is responsible for making an excellent first impression. In fact, this concisely scripted sentence determines whether a prospect will open your email or move it to the trash folder. Therefore, personalizing your email subject lines is crucial when sending out marketing emails.
Here is how you can write compelling and personalized email subject lines:
Your subject line must always indicate that your email carries a personalized message. For example, if your prospect is fishing for winter overcoats, a subject line that says "Do you have a sec?" will most likely land your email in the bin. Instead, write, "Hi Jane, here are 10 suede overcoats at 15% off." This line has instantly usable information that compels the reader to open your email.
Always try to insert the prospect's first name in the subject line.
Remove filler words and phrases like "Nice to meet you" and "Thanks." Remember, this is premium space, and you should only fill it up with information your prospect is looking for.
Never write the entire subject line in capital letters. It looks spammy that way!
Do not use big words, and make sure your subject line is short enough to appear in one sentence on a smartphone screen. Doing this will make it mobile-friendly, and your viewer will read the entire sentence when they receive an alert.
Personalization, if done right, can boost your dropshipping email marketing revenue by 760%. Never forget that you have to stay relevant, or 'they' (your prospects) will delete you (your email). Only personalization can rescue you from this fate.
3. Keep Your Email Body Crisp & Mobile-Friendly with Powerful CTAs
Writing a high-performing email to boost your dropshipping business can be challenging. So, here's a mantra: Don't write your email body using wishy-washy words and, surely, don't use too many words. Write an easy-to-read, non-wordy, and benefit-focused email to drive people to your website.
Also, make sure your email can be easily read on smartphones. Therefore, design a separate email for smartphones and preview it in a mobile format. When you use a mobile-responsive template, the end-reader does not have to zoom in and out to read the email, making it easier to spot and click on the CTA.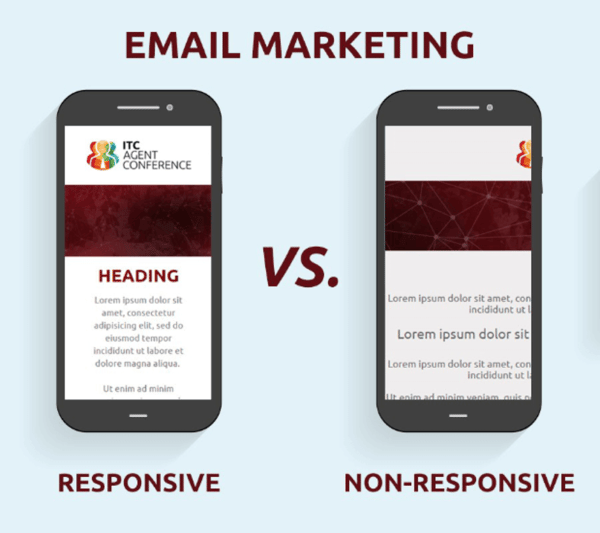 Source: optionmonster
Tips to Write a Crisp Email Body
Don't use unnecessary jargon or big words here.
Make the benefit of the email crystal clear to the reader. Remember, they don't care what your eCommerce store sells. They care about what your eCommerce store sells for them. So, don't start your email body announcing your previous successes. Let them know what the email is about and how it will benefit them.
Use the Before-After-Bridge (BAB) formula. Meaning, start your email by showing what your prospect's world is like without your solution and finish the email by showing them what it would be like after your offering.
Try to add relevant images to your email. For example, if you're pitching golfing gear, put a close-up, high-quality shot of your golfing clubs. You can also add or embed a short "how to use" video with the body content.
Do not write an email with less than 50 words and more than 125 words. Studies show that this email length has a high response rate of 50%.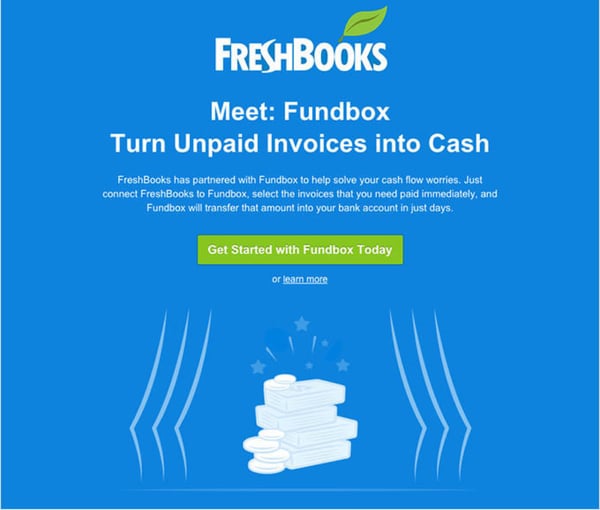 Source: Campaign Monitor
Tips to Add Powerful Calls to Action (CTA)
CTAs, or calls to action, feature prompts for email recipients to take the desired action. These are buttons located in your marketing email that take leads to your website for making a purchase or other functions. So, make them catchy and easy to find. Here's how to nail CTAs in your email.
Keep CTAs short and precise. They should inform the readers of the next action you want them to take.
Use a contrasting color and make them look like a button.
Place them either at the top center or the top right side. Marketing experts believe this makes it easier to spot them.
Do not make the image in your email your CTA. CTAs must always be distinct as that compels readers to click on them.
Avoid using too many CTAs in the same email. In fact, use a singular CTA as that doesn't distract your reader.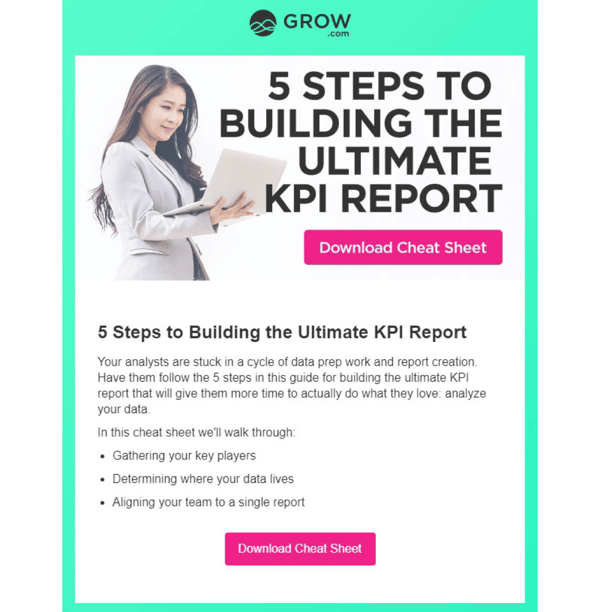 Source: Grow
4. Link the Right Landing Page with Your Email
Your email CTAs must always link to the right page on your eCommerce website. For example, if you send an email pitching a powder blue handbag with a CTA that says "Buy at 10% Off," the recipient must click through to the page that contains this product.
If you send them to your eCommerce store's home page when they click on the handbag's picture, they will quickly drop out of your website, and you can say goodbye to dropshipping this particular order.
The logic here is simple: your marketing email and the landing page it connects to must remain consistent, and the latter should feel like a continuation of the former.
5. Bring Repeat Business Through Upsell and Cross-Sell Emails
Don't think your job is over the minute you receive an order through your eCommerce store and forward it to the supplier for dropshipping. You must keep these new customers engaged by sending them cross-selling and upselling emails. Doing this will generate repeat business for you.
Along with the purchase confirmation email, recommend a few products at the bottom that are similar to the one your lead just bought. This is called cross-selling. You can also send them similar products with higher quality materials on your site that costs more. This is called upselling.
You don't have to merge the purchase confirmation email with upselling and cross-selling, but we recommend you do since these emails have a whopping 70% open rate.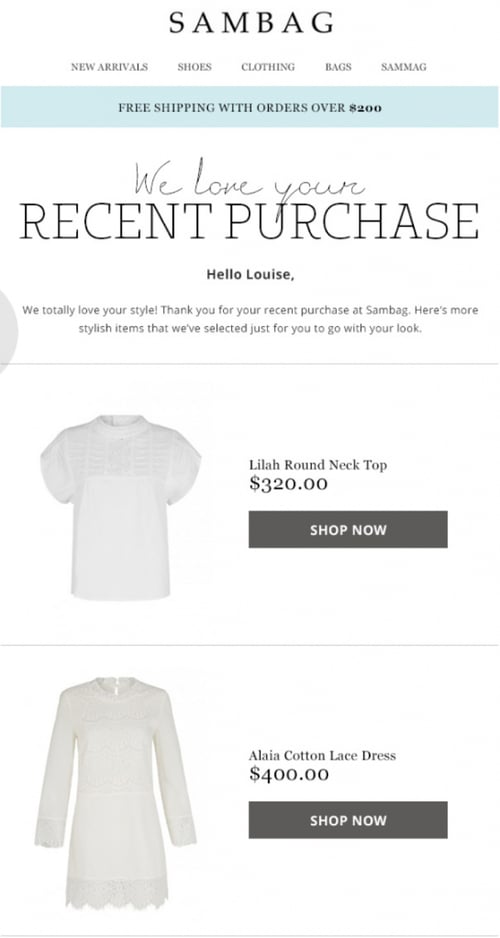 Source: Sale Cycle
Parting Thoughts
Of course, you want to dropship as many orders as possible from your eCommerce store. But, this is only possible when you utilize email marketing to its full potential.
So, use our motherlode of email marketing tips for marketing your store and indirectly promote your dropshipping business.