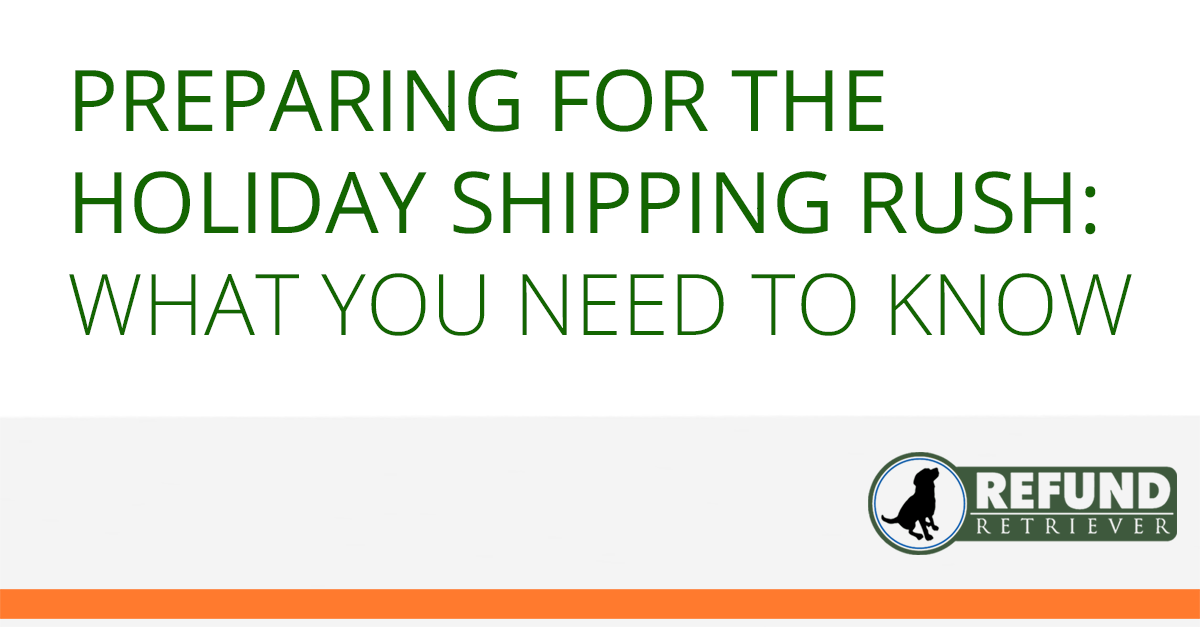 As the days get shorter and the nights get cooler, there is one thing that inevitably begins to take over retail operations… and that's planning for the holidays. As online sellers in particular, it's important to consider how shipping can help or hurt your business this upcoming holiday season. If you're not ready for the shipping rush that will soon take over both the streets and skies alike in the months ahead, your business risks not only late, damaged or even lost deliveries – but also lost money.
Keeping the above in mind, consider the below holiday shipping tips to help your business thrive despite the hustle and bustle that will impact retailers, customers and shippers this holiday season.
#1: Understand Variations in Shipping Fees, Delivery Times & More
Popular carriers UPS and FedEx each provide detailed updates to the changes in their shipping guidelines for the holidays. These are important for online sellers to consider, particularly as you factor in meeting customer expectations for shipment arrivals and the variations that often impact shipping fees.
Some of the key details to keep in mind include:
Both UPS and FedEx apply peak surcharges during the holidays that will impact your bottom line, though each takes different approaches.
Some zip codes do not qualify for Saturday deliveries depending on the shipping carrier.
FedEx and UPS will not apply additional residential surcharges during the holiday season.
The UPS Ground service modification goes in effect for packages from November 25th to December 27th. During this time, a limited number of UPS ground packages with transit times of three or more days, and with certain origins and destinations, may see additional time in transit. Many shopping cart tools are already tied into the UPS calculate time and cost tool, so it will automatically be reflected. If not, update your time in transit estimates accordingly.
UPS recently announced plans to hire 100,000 seasonal employees again this year to handle its expected increase in package volume throughout the holiday season. UPS delivers about 20 million packages each day; this should double during the peak season.
#2: Track Your Holiday Shipping
Tracking your shipping is a best practice to incorporate all year round. The increase in shipping spend during the holidays for online sellers, traditional brick and mortar stores, and manufacturers alike makes it even that much more important you make sure not to miss a beat (or a shipment, for that matter). But, let's face it – the holidays are busy and it's often tough to keep up with your seemingly never-ending to-do-list. To avoid this added stress, plan ahead by incorporating parcel auditing into your shipping strategy today.
Thanks to automation and analytics, parcel auditing allows 24/7 monitoring of your shipping efforts. Ultimately, this eases the frustrations that come with old-school shipment tracking management. Through automation, shippers are able to gain clarity on immediate issues such as unexpected over-charges being applied to shipments, late deliveries that may be made, damaged packages that could result in shippers gaining money back and much, much more.
There are countless details when it comes to shipping. The naked eye alone cannot manage each of the touchpoints that impact their shipments. Thus, having a parcel auditing strategy in place is essential to incorporate. The best part? This is a no-risk strategy that costs you nothing upfront. The only fee is a percentage of refunds from UPS and FedEx errors, overcharges, and other identified refunds. Explore more about auditing services here.
#3: Understand What Extra Fees May Be Applied to Your Shipping Overhead
FedEx and UPS have a way of sneaking on extra surcharges, much to the surprise of many of their customers. It's critical for shippers to confidently understand what surcharges will be applied during the holiday season.
Let's start with UPS. The carrier announced on August 16th that it will not be applying additional peak surcharges for residential deliveries during the 2019 holiday season. UPS applied a residential peak delivery surcharge last year of $0.28 for ground and $0.99 for air shipments.
However, UPS will increase the normal cost of three surcharges, with some of the changes taking place as early as October 1, 2019. A Peak Surcharge will apply to Large Packages, packages that are Over Maximum Limits, and packages that require Additional Handling.
Large Packages – $31.45 per package more, could cost as much as $146.45

Peak Period Effective Dates: October 1, 2019 to January 4, 2020

Over Maximum Limits – $250.00 more per package, $1100 per package

Peak Period Effective Dates: October 1, 2019 to January 4, 2020

Additional Handling – $3.60 per package more, could cost as much as $26.60

Peak Period Effective Dates: November 24, 2019 to January 4, 2020
FedEx has yet to announce the peak season surcharge increases for 2019. Last year, they also increased the fee for additional handling, unauthorized packages, and oversized packages, just as UPS did.
#4: Prepare Top Inventory & Shipping Supplies
Be sure to have adequate inventory on hand for your top-selling items. You can solve this problem by estimating stocking needs for the holidays using data from the previous year and sales forecasts for 2019. Lack of proper inventory can cause delays in shipping that might force you to use a more expensive service level than ground shipping. Or, even worse, you could lose the client completely.
Pre-pack your top-selling products during downtime. Fulfilling orders for commonly shipped items is a great use of time. In addition, write package weights on the surface of boxes. This makes it easy to ship products the same day the order was placed and keeps customers happy.
Lastly, ensure you have the right materials for shipping, including boxes, labels, tissue, tape and more. Identify what your current stock levels are of these products, then order what you will need to get your business confidently through the holidays. It's better to over-order vs. under-order to help avoid shipping delays, or worse, losing a sale in general.
#5: Identify If You Waived Your Rights for Refunds… Even if Unintentionally
While the holidays may be known as the 'season of giving', this isn't always the case with carriers like UPS and FedEx. In fact, many shippers unknowingly waive their rights to receive refunds in response to contract terms not being met. This means that shippers do not get the money they deserve back when this occurs. Due to this reality, it's more important than ever for shippers to review their carrier contracts to ensure they are not missing opportunities to gain money back when money is due.
In preparation for the holidays, shippers should review and react to their existing carrier contracts. This will help allow them to confidently embark on the busiest shipping season of the year.
When was the last time you benchmarked rates among carriers and service levels?
What are your most commonly used accessorial fees charged to your shipping spend?
How many packages will be hit with a dimensional weight?
Did you waive your rights to gain refunds on your current contract?
These questions can help give you clarity to the importance of reviewing your shipping carrier contracts. However, the reality is most shippers lack a complete understanding of shipping terms, opportunities, strengths and weaknesses among contracts. There are experts who help businesses revise their contracts or create new ones from scratch that will best support these businesses – not the carriers. Remember, the carriers do not want to give you refunds, even they are due.
#6: Know the Last Days to Ship for Delivery Before Christmas
Whether you ship exclusively with one carrier or offer a multi-carrier shipping strategy for your business, it's important to know the holiday service schedules of both FedEx and UPS this peak season. For customers, the key date you should identify is if the shipment will arrive by Christmas Eve.
Friday, December 13, 2019: Last day to send some UPS Ground packages for delivery on Tuesday, December 24.
Thursday, December 19, 2019: Last day to send UPS 3 Day Select packages for delivery on Tuesday, December 24.
Friday, December 20, 2019: Last day to ship via UPS 2nd Day Air for delivery on Tuesday, December 24.
For marketing purposes, include this data on your website. This lets your customers see hard deadlines and encourages sales throughout December. As of writing these tips, FedEx has not yet released the last days to ship. But, they will be very similar to, if not exactly the same delivery dates as, UPS.
USPS should release shipping deadlines at the beginning of October. In 2018, December 14th was the last recommended day to ship USPS ground and December 20th for Priority Mail packages. Remember that. with all shipping, delays will occur. Weather delays will come and customers will experience issues, so prepare to address them.
Finally, Thanksgiving is taking place on November 28th this year. This means that the holiday shopping and shipping season is a week shorter than usual. This, however, does not diminish customer expectations. It's important to remember that, as a business, you do not want to over promise and under deliver. Prepare your holiday shipping strategies now to avoid letting down your customers and your business alike by using these tips.
For a more comprehensive view of holiday charges applied by FedEx and UPS, click here.