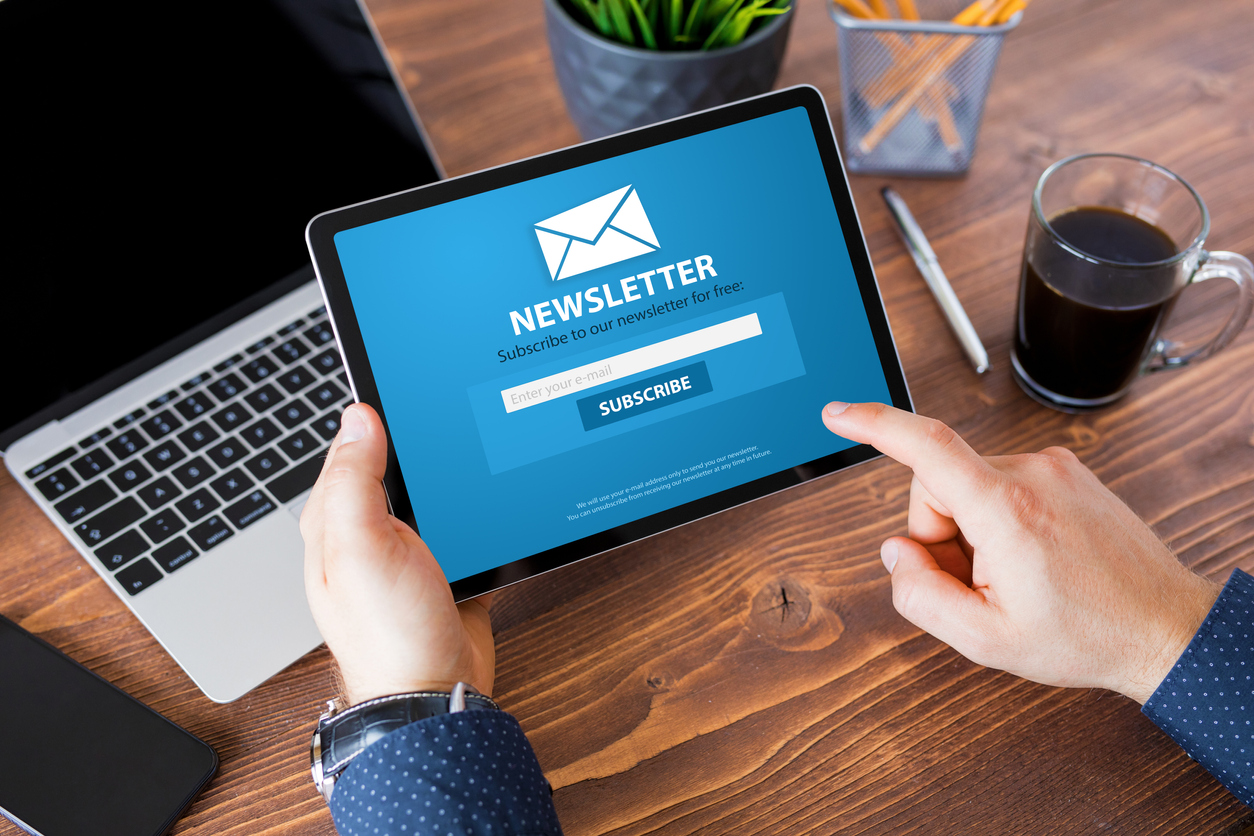 In eCommerce, a great deal of work goes into getting that first conversion: turning a casual visitor into a paying customer. Email marketing plays an important role in this process, as emails are one of the marketing methods most likely to get engagement — especially if they're useful to the reader. One of the best forms of email marketing is the newsletter.
Newsletters serve to remind customers about your brand on a regular basis. Just like other types of email marketing, they also attract and entice readers to visit your online store and make purchases. But before you start creating newsletters, you should know that email marketing can be extremely effective in general, but if done improperly, can have poor or even negative results. Before you start creating newsletters, you should know what you're doing!
As an eCommerce merchant, it's vital for you to understand how to build a strategy for your newsletters. This guide will get you started.
Why Newsletters Matter and What You Should Write
Once a visitor converts into a customer, we often consider it a success. We've done what we wanted to do — we've made real money.
But while a conversion is always a great thing, your efforts shouldn't end there. After all, if a customer buys from you once and they're happy with your product, why shouldn't they buy again (and yet again)? The lifetime value of a regular customer can be measured in thousands of dollars — just from that one loyal customer coming back time and again to buy at your store. Not to mention the other customers they can attract by word of mouth.
Customer retention and loyalty is a huge, multi-faceted subject. It consists of excellent customer service, great prices, a keen understanding of your own product, and many other factors. But one important aspect of it is simple: maintaining a relationship with the customer, and keeping them informed and excited about your business, brand and products.
After all, if a customer makes a purchase at your store, only to never hear from you again, they may well forget about your store within a week or two. But what if you had an awesome newsletter that continually reminded customers why shopping at your store is a great idea?
Let's look at some of the components that go into crafting a fantastic newsletter.
An Exciting Subject Line
The subject line is the first thing most users see, before they even decide whether or not to open your newsletter. Your subject line can't be something dull like "Newsletter 41." Come up with an exciting, compelling subject line that you think will really get a click out of the user, and lure him into the full newsletter.
One technique is referring to the content of the newsletter briefly. Let's say you're offering holiday packages: Instead of "May Newsletter", why not go with "Holiday News: Sunsets in Maui, Festivals in Europe"? The trick is to be creative! If you're stuck, take a look at some examples of the best newsletter subject lines for conversions.
Product News and Special Offers
Got a great new product? Slashed prices on some of your hot-selling items? Throwing a big sale? Your newsletter is the perfect place to announce it to the world. You should open the newsletter with a large, inviting banner sharing the best you have to offer.
A Personal Approach
Avoid overly commercial writing. Each business has its own voice, and you know your voice better than anyone else, but don't go for slick marketing clichés. The customer reading your newsletter is giving you their time — make it worth their while by being humble, succinct, and to the point.
Customer Stories and Tips
Your newsletter can be a fantastic venue for product information that doesn't fit in your catalog. Did you get a great testimonial from someone using your product? Make that person famous on your newsletter! They would be thrilled (people love seeing their name up in lights), and your newsletter's subscribers would get extra value out of the story.
You can also share tips and tricks for your product, invite users to provide feedback, and generally foster a sense of community. These people are already on your team — they are paying customers, so give them extra value (not just empty marketing talk, as we just covered under "A Personal Approach").
The Right Frequency
Don't exhaust your customers; sending a newsletter biweekly or once every month is usually enough to stay in their minds. Sending a newsletter daily or multiple times a week can easily become too much for customers, and may cause them to unsubscribe. Or worse: they could mark your newsletter as spam, which can cause problems for your business's ability to send out emails.
But since you're trying not to overwhelm your customers with newsletters, you're going for quality over quantity. That makes planning your newsletter content all the more important. Let's talk about that.
How to Better Plan Your Newsletters
All right, so you're ready to put together a newsletter. It should only take about 10-15 minutes to assemble some company news, right?
Well, that's a myth — and a bad strategy. Would you, as a customer, subscribe to a company newsfeed? Any PR professional will tell you that digging up multiple instances of engaging company news over the course of a month is nearly impossible. Besides, just because customers enjoy doing business with you doesn't mean they're interested in all the goings-on at your company, unless it's something that can affect them — like a big upcoming sale or a new product.
But if you want a captive audience, you'll need to think outside of the box. Brainstorm on the purpose of your newsletter. Who is your audience? Are you sending the newsletter to potential customers, current customers or both? How often will you send it out?
It's best to focus your newsletter efforts on creating return customers and building your brand among your current customer base. Ask yourself these five questions to better plan your newsletter.
1. How does my content fit into our overall marketing strategy?
The best marketing campaign leverages five different touch-points. If you want your strategy to be fully integrated, you'll want to share your marketing resources across different channels. Are you running a promotion? Did you recently add a new feature or product? Have your readers heard about your social media channels? Are you attending a conference? How about a convention or trade show where they could meet and greet you?
These are all newsworthy topics! Your newsletter and the rest of your marketing strategy should always complement each other. Make sure to use every channel available to you for your campaigns, including your newsletter.
2. Should I distribute company news or relevant and engaging content?
A lot of merchants get the idea that they should create a newsletter solely focused on company news — but the best newsletters also include relevant and engaging content. If you have a blog, feature a post somewhere in the body of the newsletter. Include promotions and coupons. Feel free to work in some company news, but feature your most interesting content at the top of the newsletter.
It's up to you to know what your readers consider "interesting," but remember, this is most likely to be things that could affect them directly, like a big sale or new release.
3. Can I use shared content or should I focus solely on original content?
While you want your newsletter to include mostly original content, including a link to a relevant article from a renowned media outlet is another great way to boost readership. It conveys thought leadership and industry knowledge and saves time spent on creating original content.
If a large outlet has actually written an article about your business or products, that's a must-share!
4. How long should our newsletter be?
In general, your newsletter should provide short descriptions and links to most of the featured content. Sometimes marketers don't predict how far customers will actually read; a great rule of thumb for developing a newsletter is to keep your content above or slightly below the first fold of the email. That way, readers are presented with all of the content without having to scroll down. You may only have a split second to grab a reader's attention, so take advantage of that second!
5. How can I syndicate my stylized newsletter to a large mailing list?
Services like Mailchimp help you blast out stylized emails and deliver analytics on your readers so you can tweak your newsletter to be more effective based on reader response. Other newsletter solutions are also available, and each has its pros and cons. Consider your budget, the size of your mailing list, and the other needs of your business when looking for a Mailchimp alternative.
Wrapping Up
Hopefully, this guide has improved your confidence in writing high-quality, engaging, and overall successful newsletters. Let's take a look at some of the topics we covered:
The benefits of retaining existing customers rather than relying on attracting all new ones.
How email marketing keeps your store in customers' minds.
How to write newsletters your customers will want to read.
What to include in your newsletters and how often to send them out.
How to keep your newsletters fresh and interesting for your subscribers, whether they've purchased from you yet or not.
Our final lesson is one of the most important: always look for ways to improve. Newsletter email services nearly always include analytics tools to help you see how your readers are interacting with your newsletters. How many of your subscribers are actually opening them? How many are clicking on a link inside? And how many are continuing beyond that, and converting on your online store by buying a product?
Keep track of this information and you'll start to notice patterns. If one of your newsletters was far more successful than the others, analyze what you did differently. And don't be afraid to try something new if you aren't getting the results you're aiming for. If you constantly evolve and develop your newsletters to get closer to what your customers want, you'll get better results. Eventually you might find your newsletters have become one of your most effective tactics for pulling in sales.
A high-quality, monthly newsletter can do wonders for your image, customer retention, and sense of community. Try it out and see!