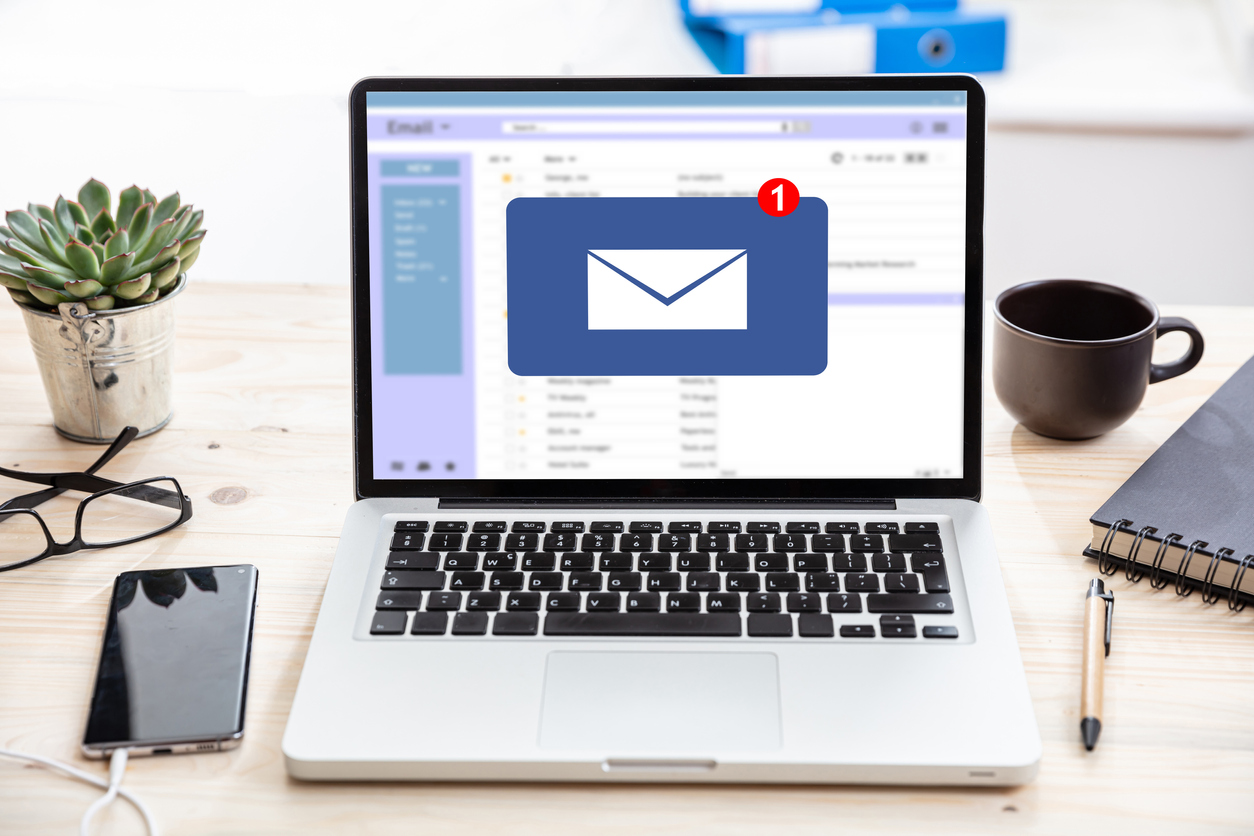 Over the years, emails have become a powerful channel where brands can closely engage and effectively communicate with customers without the digital distractions brought by social media.
At this point, seemingly everyone has a newsletter program that is eyeing the ever-narrowing attention span of readers.
How do you get a piece of that? Write appealing and catchy subject lines.
Catchy email subject lines inspire readers' curiosity and provide them a reason to open your email and explore the rest of it.
Why You Need Catchy Subject Lines
More than two decades after its invention, email is set to reach 5.6 billion users sending over 293 billion messages daily.
It's not enough to have the perfect newsletter template and design. When inboxes are flooded to capacity, it becomes more challenging than ever to grab readers' attention. Dull and drab subject lines don't provide any incentive as to why they should pause their scrolling and open your email.
Attention spans are shorter than ever, and that's why brands need to get crafty with subject lines to pull readers in with as many as six words.
Pro-tip: You can maximize the reach and effectiveness of your marketing campaign by choosing a powerful email marketing service that offers more than simply writing emails and hitting send. A few must-have features to look for are automation, A/B testing, and CRM integration capabilities.
Best Subject Line Strategies to Boost Conversions
A perfectly balanced subject line falls somewhere between 50 to 100 characters. Since most users check emails on mobile devices, it pays to keep it short and sweet (KISS). Here's a roundup of real-world subject lines that have proven to boost conversions and click-through rates for brands.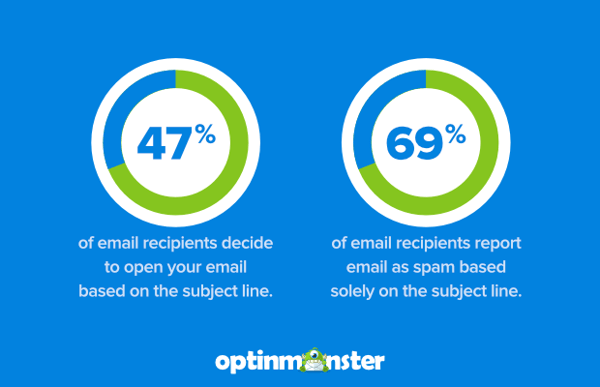 1. Shocking Subject Lines
The secret to an astounding subject line that makes people click is the one that grabs the attention of your subscribers. Something that shocks them enough to open your email and read what you've sent necessitates such a stop-in-your-tracks email subject line. Here are a few examples:
"You Can't Put a Band-Aid on a Damaged Reputation"
"If Your Business Is Unprofitable, Selling More Won't Help"
The subject lines above maintain a proper balance of shock value and positivity without bordering on sensationalism. For instance, "If your business is unprofitable" would most definitely catch the attention of someone who's running a struggling small business. However, the latter part, "Selling more won't help," would also reel in people who think they have a successful business simply because their sales are off the charts.
2. Top 'X' Subject Lines
Is your goal this year to boost readership for your weekly newsletter program? You can never go wrong with listicles! Including numbers in your subject line is an effective way to prompt subscribers to open emails.
While usually, it is a sound idea to stick to numbers less than 10, email read times have increased by 21% over the past few years, so brands have started to push the limit to numbers as high as 30.
Here are some examples of top 'x' subject lines:
"27 jobs that pay well and get fewer applicants"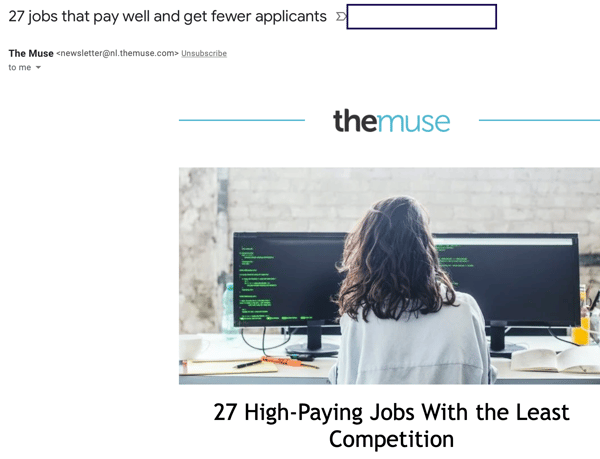 "10 habits to make your workday more enjoyable"
In the example pictured above, subscribers are more likely to open that email because it concerns careers and employment; more is always better. People would want to know where these well-paying, yet less competitive jobs are located.
3. Going Local in Your Subject Line
Small businesses that operate out of a brick-and-mortar location or provide services based on region should definitely be specific in the subject lines. It can help bring up the location, especially if it's highly relevant to the email contents. Here are two examples:
"Re: A mega-highway through the Greenbelt"
"Save the Church and Wellesley Village"
For instance, the subject line "Save the Church and Wellesley Village" catches a reader's attention because it alludes to saving a popular and busy neighborhood in Toronto. This style is more in tune with local business aggregators, community-based organizations, local eateries, restaurants, non-conventional schools, etc.
Pro-tip: Are you a small business with many hyper-local chapters? It may get overwhelming to build several email campaigns that need to be deployed in a day, increasing the likelihood of slip-ups. You don't want Manhattan to receive something that was meant for Brooklyn. Consider using a mind-map tool to keep track of all email components, so you know what is going out and when.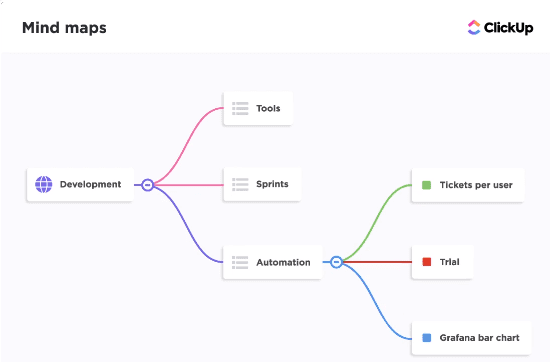 4. Praise and Compliment in Subject Lines
Feeling valued and appreciated are basic human needs. Brands can build upon this foundational need to motivate customers to continue to use the product or service. A research study found that paying compliments lights up the same part of the brain when paid a monetary reward.
Praising customers for how well they have been using the product and reminding them how much they have achieved and reached so far can help boost brand loyalty and improve customer retention over time.
Grammarly does this incredibly well in their weekly usage reports. Instead of using something mundane like "Weekly report" or "This week so far," they got creative with their subject lines and personalized them to include notable milestones. Take a look at a couple of them below:
"Your grammatical accuracy was 🔥 last week!"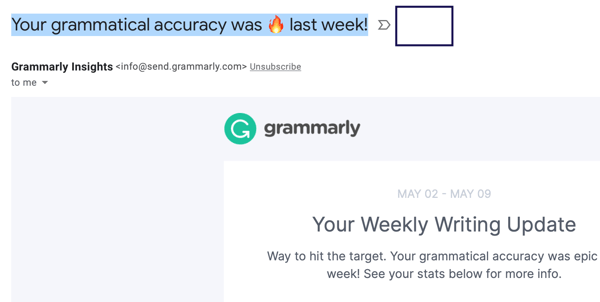 "You set two new personal records!"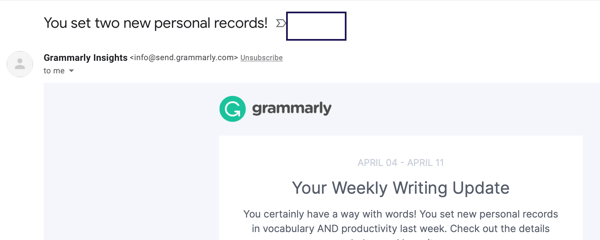 Businesses that function in areas where encouragement and motivation are critical in retaining customers, such as gym clubs, schools, SaaS (software-as-a-service), etc., will align perfectly with this style of crafting subject lines. It makes people excited to open the email to learn what they are being complimented for!
5. Call-to-Action Subject Lines
Immediately conveying the action readers can take in the subject line is a classic tactic to convert subscribers to loyal readers. In both examples below, readers are urged to act by using action words like "fast-track" and "attract."
"Virtual networking tips that will fast track your career"
"6 Actionable Ways to Attract Business Investors to Your Startup"
Including calls-to-action in subject lines is quite versatile and can be adapted by many different businesses as part of their marketing plan because it is a universal need.
6. Incentives in Subject Lines
If you have ever signed up for Old Navy marketing emails, you know what we are talking about. Discounts and incentives are plentiful in their emails. Right off the bat, you should tell readers what they have to gain in tangible terms, providing them with a fear of missing out and a good reason to open the email.
":) NOT A TYPO! You've unlocked up to FIFTY PERCENT OFF storewide"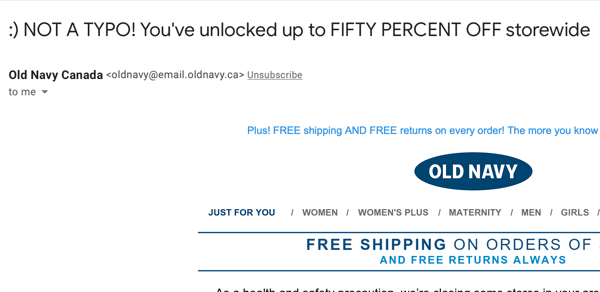 "We're treating you to a major discount storewide (styles from $12)"
You can play around with emojis and conversation kick-starter ideas like in the first line above. It plays on the idea of a text message being sent that looks like a typo. It is attention-grabbing yet fun and light.
To supercharge the likeliness of readers opening your email, shift focus to improving your email deliverability. You can have the catchiest subject line, but it's of no use if people can't see your email due to poor deliverability.
7. Curiosity Inducing Subject Lines
A tried and tested trick to tempt subscribers to open is by promising to share a 'secret.' Tabloid publications are masters of using mystery to pull readers into buying magazines off the checkout stands. People love a good mystery and the question – what it is about – gets them to tap on the screen and open the email.
"Pssst – Want to Know the Secret to Hire a Superb Marketing Agency"
"Want the secret to glowing skin?"
The wonderful thing about using a subject line that piques readers' curiosity is that it can be adapted to any industry. Are you a local pre-owned car dealership? Adapt the subject line above easily to something like this: "Want to know the secret to getting the best price for a pre-owned car?"
In the quest to pique reader curiosity, avoid using spam trigger words and text styles like lots of exclamation and all caps. People are more intelligent now and can detect spam on sight. Moreover, it diminishes your domain reputation putting it at risk of being blocked.
8. Vanity Subject Lines
Appealing to subscribers' vanity in both positive and negative ways can have an outstanding effect on your campaign open rates. Small businesses that are purveyors of material themes such as wealth, fitness, and beauty bank on vanity to get people to convert into customers.
Subject lines reflecting those spur readers to open the email because they want to learn how they can achieve that certain lifestyle and feel amazing about themselves.
You can either choose to play on a subject that's less talked about …
"Do you feel insecure at the gym?"
… or arrive at the point without beating around the bush. In the example below, the reader is invited to get to know more about the life of Bernard Arnault – a luxury goods mogul – in a way that might provide some valuable insight about how to achieve a level of similar success.
"What you can learn from the life and career of Bernard Arnault, the luxury goods mogul who owns brands like Louis Vuitton"
Pro-tip: If you have been using all the tried and tested tactics to boost open rates, but you're not seeing any results, the issues might run deeper. Get your data management team to check for inactive or "dead" subscribers and push to remove them. These are the people who are not opening your emails and have been doing so for a while now. They won't buy from you, and it's best to kick them off the list, politely so.
Send them one last email like "We haven't heard from you in a while … ", asking them to re-confirm their consent and remove them once and for all. If they consent to continue to receive emails from you, work on a reactivation plan to get them to engage better with your brand.
9. Pain Point Subject Lines
While most popular methods of subject-line writing go for either shock-value or a healthy dose of positivity, picking at pain points to address why something should not be done or why someone should expect negative results is also a great way to bait your readers.
"I ate like Warren Buffett for a week — and it was miserable"
In the above subject line, the idea that pulls people in is that someone ate like Warren Buffet, and the negative result is that it was "miserable."
"3 Reasons Why You Shouldn't Become a Data Scientist"
In this next example, the sentence prompts you to think about why someone "shouldn't" become a data scientist. Data science and analytics have been attractive career options for several years now. An email subject line like this makes people interested in switching to it want to know why they shouldn't.
10. Humorous Subject Lines
A little perspective, like a bit of humor, goes a long way. Picture this: you check your inbox for emails at 7 AM and read one of the subject lines listed below. You would be curious enough to open them, right?
They don't have to be Kevin-Hart-on-the-nose funny. Depending on who your target audience is, you can be cutesy, funny, or take the sarcasm route and begin the day with a witty one-liner.
"Feeling cheeky? These pinks will make you blush."
"What Do You Hate More Than the Annual Performance Review?"
Subject lines should be click-love and not clickbait
Many brands and publications follow a formula when writing subject lines which is very self-serving, to say the least. Subject lines ought to be written keeping the readers and customers in mind. They need to pique their curiosity and engage their emotions enough to get them to open your email.
With email marketing being adopted far and wide by every brand – personal or corporate – as the primary vehicle to reach and convert their most high-value customers, subject lines become the first touchpoint of brand engagement.
However, they are short, and people forget them as soon as they tap to open that email. What you need to do is stop overthinking whether it fits your brand voice and, instead, jump into the deep end and start having fun with them.