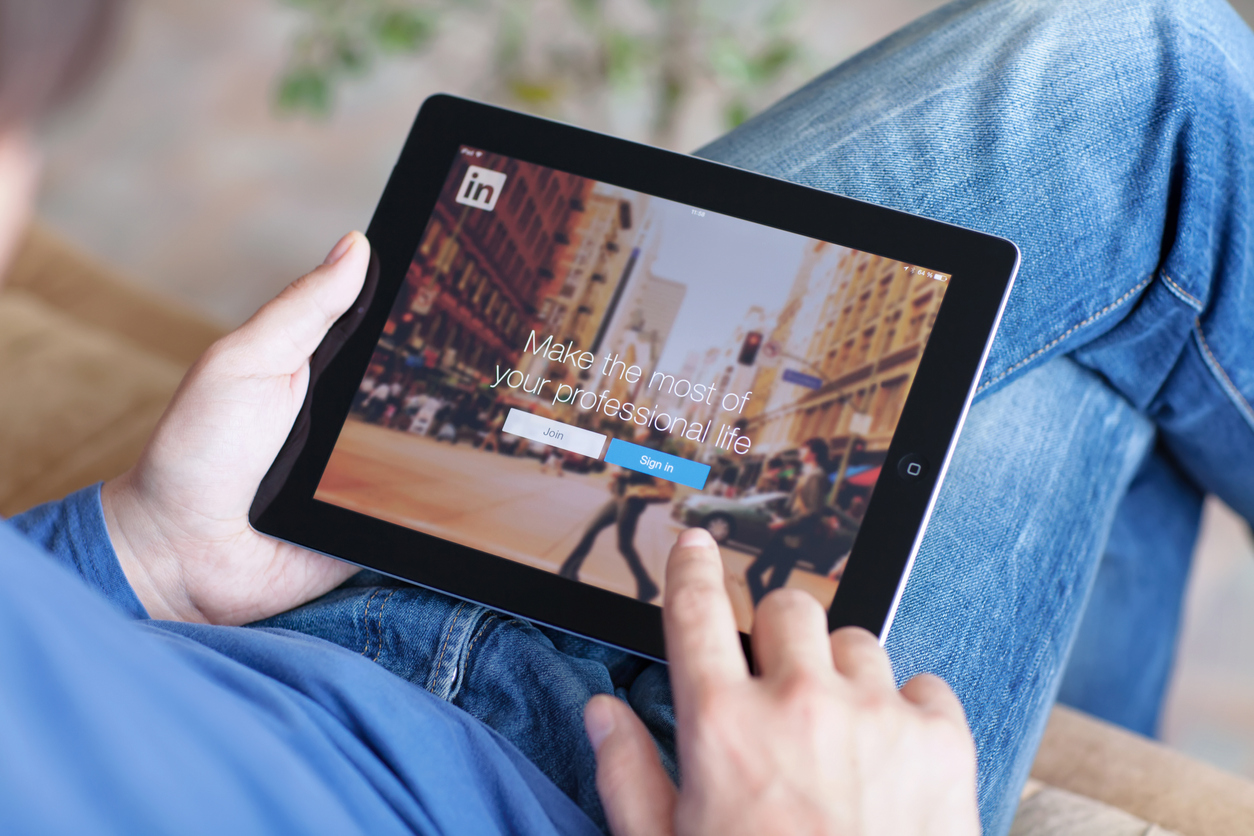 With over 810 million registered users today, LinkedIn is an essential social media platform to leverage for marketing. Compared to Facebook, it generates leads 277% more effectively. In fact, according to Kinsta, LinkedIn accounts for 80% of B2B leads.
LinkedIn is the biggest platform for exchanging professional or work-related content. No wonder 91% of executives prefer it. From humor posts and industry news to infotainment videos and AMAs, LinkedIn is a great platform for content marketing.
If you haven't used LinkedIn to its full potential, it is time to change that. The right LinkedIn marketing strategies can do wonders for your business. Here are the top seventeen strategies you can use.
1. Define your business goals and target audience.
Before commencing your LinkedIn activity, you need to decide your goals for the platform. Are you looking to enhance brand awareness? Do you want to sell your product/service online? Do you want to set up a pipeline of qualified leads?
Closely related to this is your target audience. What demographics, industries, designations, and interest groups do you want to attract? Take some time out to have these in place, whether you are starting from scratch or seeking to build upon an existing foundation.
Depending on your goals and target audience, you can prepare a suitable content calendar channeled in the right direction.
2. Build an attractive company page.
Your LinkedIn company page is where other users will come to learn more about you, possibly after their interest was piqued by one of your posts. It is a precious asset and needs to be optimized for information and interest.
Add your company banner, logo, motto, website link, industry, size, locations, date founded, product/service categories, and other pertinent information, ensuring that all colors and fonts are consistent with your company's branding.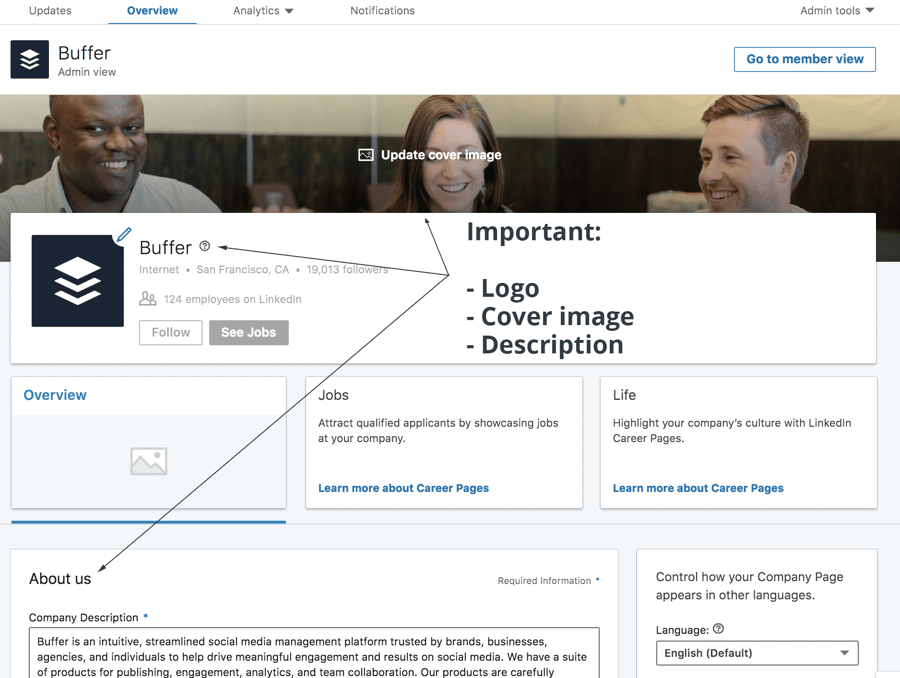 Your company description should be concise yet compelling and represent the values that you stand for. In addition, claim a URL for your page that includes your company name and is free of random letters and numbers.
All of this serves to enhance your credibility and increase the likelihood of users following you or reaching out to you. Do not forget to use relevant keywords to improve your page SEO.
3. Use the Content Suggestions tool.
The handy Content Suggestions tool lets you see the topics your target audience is demonstrating the most interest in. It is an excellent place to start when you are planning your content calendar and lets you decide which ongoing conversations you can contribute best to.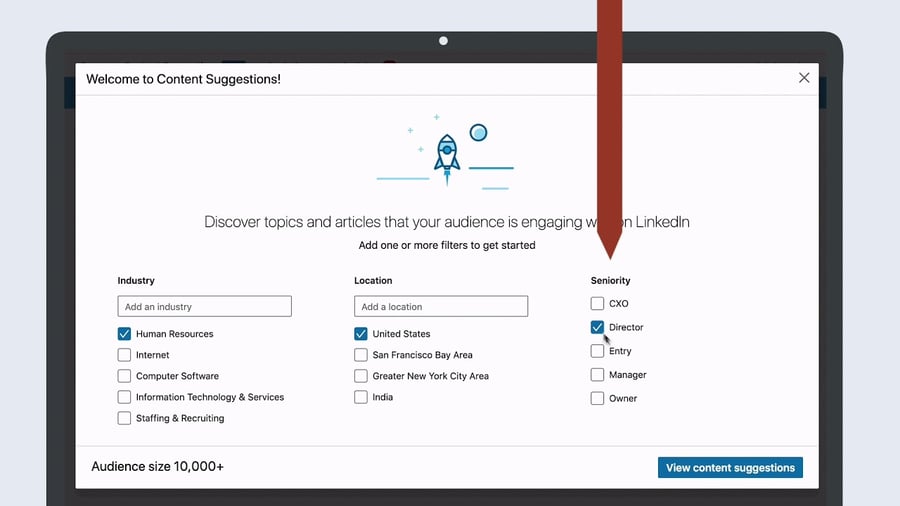 A good starting point when going through content suggestions is to see where you can ask pertinent questions that advance the conversation or spark debate.
4. Post relevant and engaging content.
This should be at the heart of your LinkedIn marketing strategy. To get people to engage with your LinkedIn page, you need to create a steady stream of insightful, original, and well-written posts.
Choose topics that you're an expert on with sound advice and supplement your content with visuals and/or statistics wherever appropriate.
For more in-depth insights, share articles via the LinkedIn Publishing Platform along the lines of an industry report, a how-to guide, or a thought leadership piece. It is okay to talk about your product occasionally, but avoid filling your entire LinkedIn feed with promotional posts.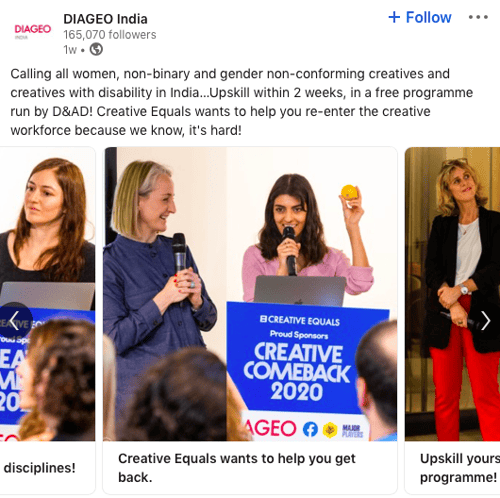 Instead, weave your product features into intrinsically exciting posts, such as a challenging customer problem you were called upon to solve or essential lessons you have learned over the years. Give that personal touch.
Besides using LinkedIn's Content Suggestions tool, use BuzzSumo and Ahrefs for identifying the most popular or trending topics in your industry. Build a proper content calendar on an Excel sheet or solutions such as ContentCal and CoSchedule.
5. Remember to use the 4-1-1 rule.
This is a marketing rule that says that you need to share an update from a different source plus four posts written by other people for every piece of content you share about your company.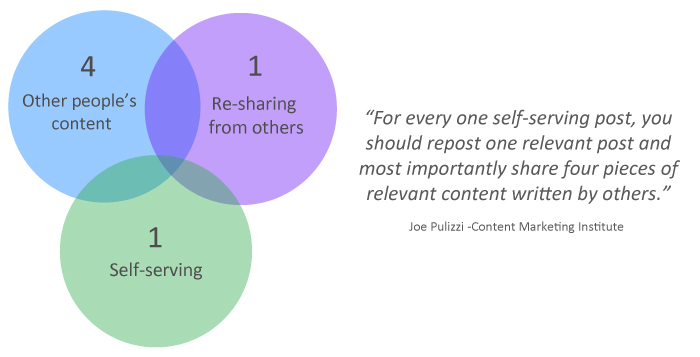 This ensures that your feed is not just about yourself but about what your audience might find interesting. It keeps your feed centered on your target audience's needs instead of making it a hub for your organization to talk only about itself!
6. Post at an appropriate time and stick to a frequency.
The truth is that there is no one 'golden time' for publishing on social media that works for everyone anymore. When you should share LinkedIn posts depends largely on your audience, what their habits are, what time zones they are in, and so on.
In general, it is ideal to post either before the workday starts or during the lunch hour, as those are the times your audience members will be likely to scroll through LinkedIn and engage with the posts they like.
Be sure to use a scheduling tool like Buffer or Hootsuite to have your posts for the week sent out on time every day. Also, remember not to post too often, or you could see your engagement rates fall. Anywhere between three times a week to once a day on LinkedIn is enough.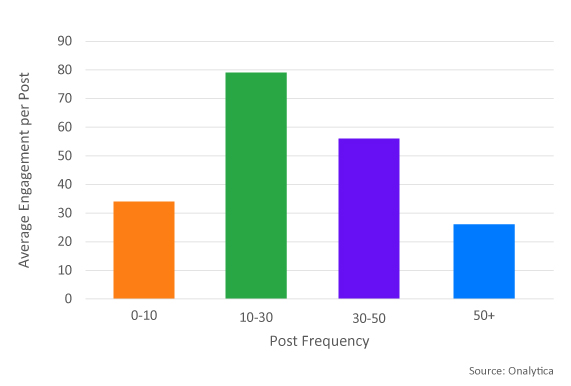 According to Onalytica, those who post 50 times a month on LinkedIn see an average of 26 engagements per post compared to those who see an average of 56 engagements on posting between 30-50 times a month. Maintain a consistent posting process but do not hurt your presence by posting too much!
The best possible solution to this issue is to automate the process using software that allows you to schedule LinkedIn posts. Once you've decided on the time and consistency, then create a batch of content and let the rest take care of itself.
7. Tag people.
A quick way to get your post out to a larger audience and spark more engagement is by tagging another user in your post. Be sure to only tag people whose presence is relevant and not tag too many people at a time. You can even tag influencers in your industry to attract users who might be following that influencer.
8. Upload images and native videos.
The best way to maximize audience engagement is by using images and videos along with text-based articles. This is the age of rich media. LinkedIn reports that images result in a 2X higher comment rate on the platform.
In addition to publishing static images, upload SlideShare presentations, PDFs, and GIFs to make your content more attractive. Easily store and distribute all your social media content assets with a proper Digital Asset Management solution.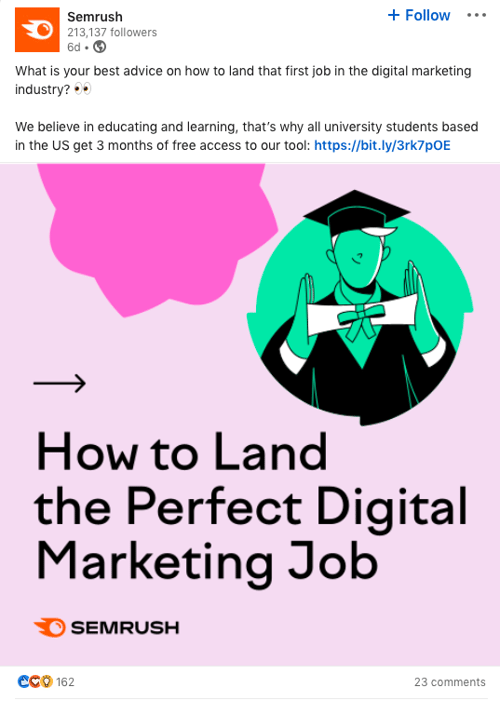 Video content is key to any marketing strategy on any platform. Studies demonstrate, in fact, that LinkedIn videos are five times likelier to start a conversation than any other type of content.
Plus, LinkedIn now lets you directly upload videos onto the platform and will, in fact, prioritize native videos such as explainer videos in the feed over videos shared from YouTube or other platforms.
Keep your videos short and sweet — about one to two minutes long is perfect — and make each one engaging with some valuable tips or an opinion about a currently trending topic. Be sure to add subtitles to make your content more accessible and also more SEO-friendly.
And do not worry too much about your video quality either — phone videos these days have a natural feel to them that will help you score high on relatability.
Just try to have some element of consistency that reflects your brand, such as the company logo along the side of your office wall in the background when you are talking.
9. Join LinkedIn groups for network expansion.
LinkedIn groups are a great way to connect with other users in your industry or with whom you share interests, and they are also an ideal platform to share your content on.
While a business page cannot join a group as a member, you can still showcase a group that you are an active part of (individually) on your page by visiting the 'featured groups' tab.
Again, even when you engage in a group as an individual, it is an excellent opportunity to observe and understand your target audience's interests, aspirations, and pain points. After all, you represent your company in those groups.
Reach out to relevant profiles personally and offer them the solutions your company provides. Messages of this kind will meet with a more positive reception than cold reach-outs, and it is an excellent way to expand your network consistently without any expenditure.
10. Create your own LinkedIn group.
In addition to the groups you participate in, you can choose to create your group (again, as an individual) if you want more control over the kind of discussions that happen and who you are engaging with.
Search through the member lists of the groups you are part of and your own contact list and add the ones who are the most likely prospects. As the group owner, you can share appropriate content and moderate discussions as you see fit.
It is also an excellent way to keep competitors out of the group, so you can pitch your solutions and market your business freely without fear of prospects getting poached.
11. Make your employees part of your strategy.
You have probably heard this before, but your own employees are your company's biggest brand ambassadors, as they have an insider's perspective on all the fantastic things you are doing or planning to do.
Therefore, ask them to reshare company posts, blogs, videos, and other content on their individual pages and make it fun by offering monthly or quarterly incentives for the most active employees on LinkedIn.
Ask them to update their current place of employment by mentioning the company name and designation, including their role in your organization and how they help. You could even call in a professional photographer and get headshots taken of everyone for their profile pictures.
The more people there are with your company in their profiles, the more searchable your company is and the more brand awareness you benefit from. Therefore, promote a culture of employee amplification on LinkedIn.
12. Use LinkedIn hashtags.
You have seen hashtags underneath every influencer post on Instagram, but what is their significance, really? Hashtags, simply put, allow users to search for the types of content they are most interested in.
When you upload a post, LinkedIn will automatically suggest some topical hashtags for you, or you can discover on your own by using the # symbol. You can also check out the Recommended Hashtags section to see which ones have the most number of followers.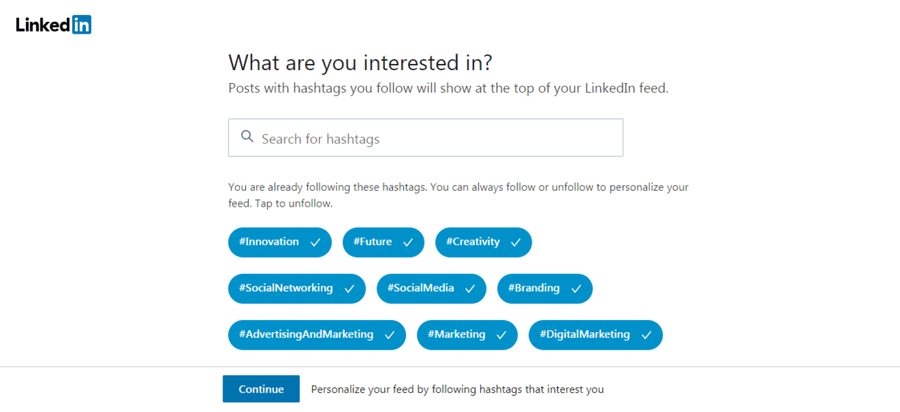 These help your post become searchable for people following the hashtags you've used. We'd suggest adding a maximum of five hashtags, though — too many, and your post loses its specificity. Click on "Discover more" under "Followed Hashtags" at the bottom left of your LinkedIn homepage to see a recommended list of hashtags related to the ones you follow.
13. Be meticulous about data collection.
Speaking of data, marketing on LinkedIn without keeping track of performance analytics will mean that all your efforts are in vain.
Luckily, LinkedIn has its free Analytics tool to help you track vital metrics on how your posts are performing, who your most regular visitors/commenters are, the top geographies and profiles you are engaging with, how your company page is performing compared with those of your competitors, and so on.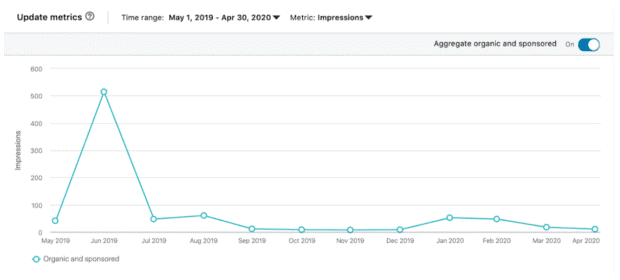 Regularly checking these will give you ideas on what is working and what is not to tweak your content strategy as needed. Plus, track website traffic. Many LinkedIn users who visit your page might click on your website URL to check out what you do in more detail.
Add a tracking code to the end of your links using a tool like Bit.ly or TinyURL. By doing this, you can properly attribute traffic to your site that originates from each update.
14. Use LinkedIn marketing tools.
Particularly when you are new to LinkedIn marketing and do not want to hunt around too much for external marketing software, opting for LinkedIn paid and free marketing tools is sensible. Pair your marketing efforts with these tools to raise your brand's engagement.
Amplify your post reach by promoting them through LinkedIn Ads, create a stronger organic presence with LinkedIn Company Pages, and optimize your marketing activities for improved impact by studying data via LinkedIn analytics.
For instance, LinkedIn has a nifty new Matched Audiences tool that lets you retarget people who have previously visited your company website. These are people interested in what you do and are thus likely prospects.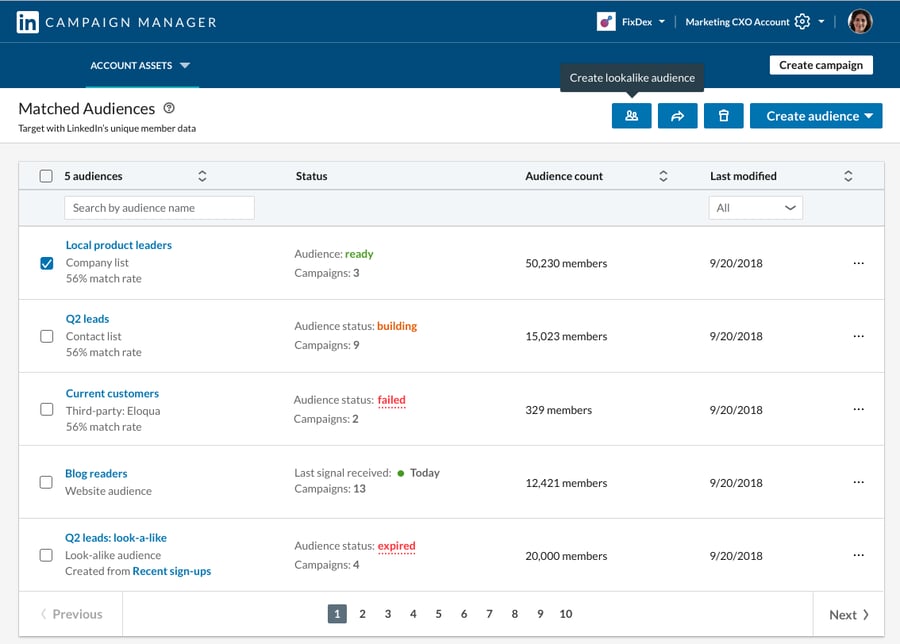 That makes it worthwhile to invest in reaching out to them through LinkedIn retargeted ads. By running retargeting ads on LinkedIn, you can increase CTR by 30%.
15. Use sponsored updates.
Sponsored content on LinkedIn lets you share your post with your preferred demographics, job titles, company sizes, and other relevant filters. The critical thing to remember here is not to promote posts randomly.
Users who click on sponsored content will usually want something valuable in return. Use sponsored ads to boost your thought leadership eBooks or industry opinion pieces, along with a suitable call-to-action, so that you can point your audience towards something specific you want them to do.
16. Do not forget about InMail.
Did you know that LinkedIn InMails get 3X better responses than traditional emails do? Invest in InMail and reach out to any LinkedIn user directly. You also get access to analytics on your InMail response patterns to help you target users better.
The only drawback with InMailing is that a free LinkedIn account does not come with any InMail credits at all. Company Pages cannot send InMails. A LinkedIn Premium account credits you with five InMails every month. A LinkedIn Sales Navigator Professional account allows you 20 InMails per month. Weigh the pros and cons of using InMail if you do not have a paid account yet.
17. Add to your email marketing list.
Despite the astonishing response rate that comes with InMails, the traditional way of sending emails remains the best way to share tailored content to a set of close contacts who have opted in to receive the content you create.
Use the bulk message feature on LinkedIn (for up to 50 people at once) to thank your followers for their support of your content and to invite them to sign up to your email list.
Clearly mention what you will be emailing them about and how frequently your emails will be going out so that they do not need to worry about being spammed and subscribe to receiving your content happily. Enrich your email marketing efforts via LinkedIn.
Consistency is vital to succeeding with LinkedIn marketing.
All too often, companies build their LinkedIn page and think it is a one-and-done effort. As a matter of fact, users who visit your page and see content that has not been updated in months will be less likely to trust you.
To keep things fresh, keep rotating your banner image every six months or so and match it to whichever event you are promoting at the time. And, of course, update any changes to your logo, location, or leadership personnel as soon as they happen.
Have trouble seeing traction on your posts even with the right hashtags? There are several ways to fix this: including an image, shortening your copy, and naming your target audience (such as "this one's for the freelancers").
Tagging relevant pages and/or people, leading with a question, or creating a multi-choice poll can also boost your engagement numbers. Keep experimenting and tweaking — you will soon find your winning combination on LinkedIn. Good luck!