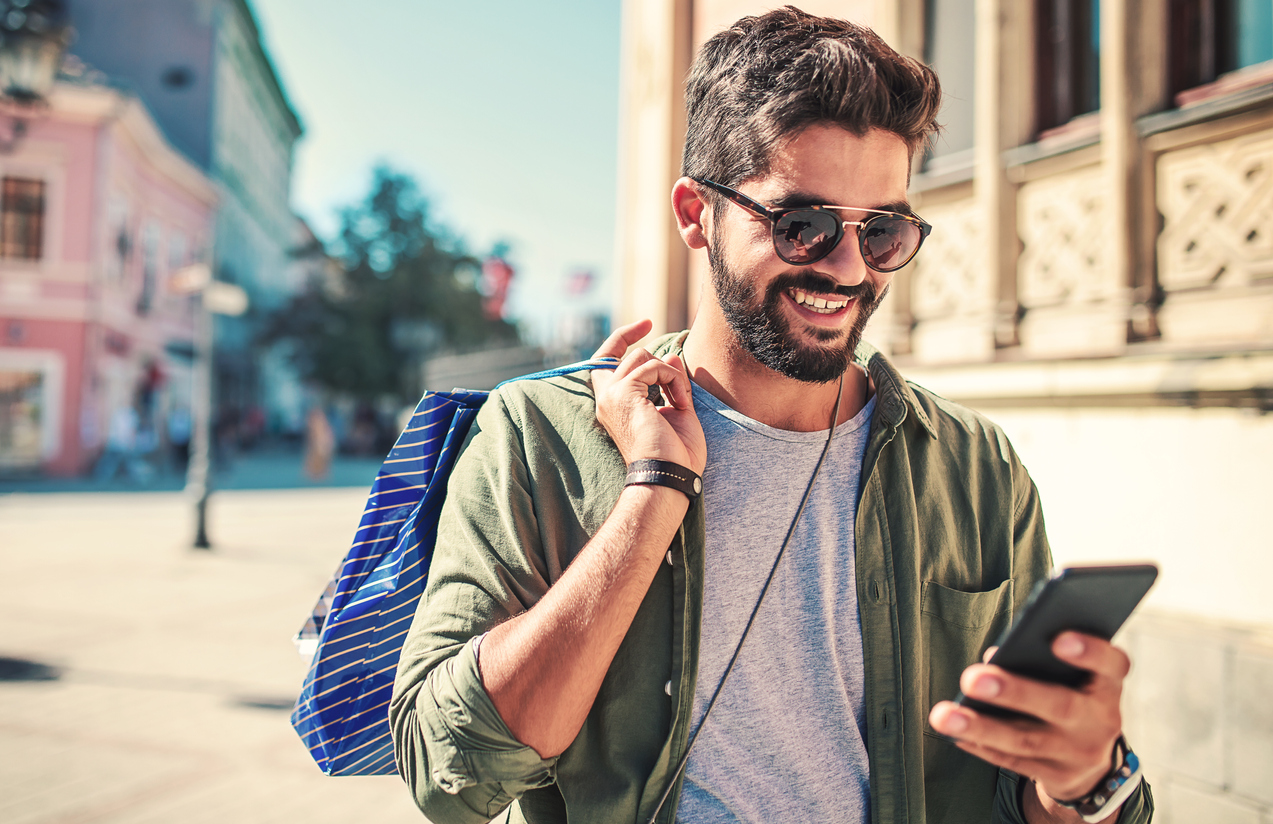 Search engine optimization (SEO) is important for any business operating online. From multinational corporations to small businesses, a good SEO strategy will increase online visibility. This means more people searching for your services and visiting your pages.
The exact value of SEO ROI can be difficult to quantify. Marketing experts agree, though, that every position you gain in SEO rankings is an increase in potential income.
Even with a good SEO strategy, it can be difficult for smaller or more local businesses to compete. Larger and better-recognized brands will often overshadow you in search results. This is where local SEO can help you reach the most relevant customers.
What is Local SEO?
Think about what happens if you search for a restaurant on Google. You'll get a list of nearby businesses that match what you searched for. If you take a holiday to Madrid and search for restaurants there, the same search will show you businesses in that area instead.
That's local SEO at its most basic level. What we're talking about here is optimizing the data and content on your site to make it locally focused. For a small retailer or local service provider, this can be the best way to get your potential customer's attention.
If you're looking for a dentist in Birmingham, you don't want to travel to the next city to find one. Search engines like Google are aware of this. So, when you search for a service like this, the algorithm automatically looks for the highest-ranking local results to show you first.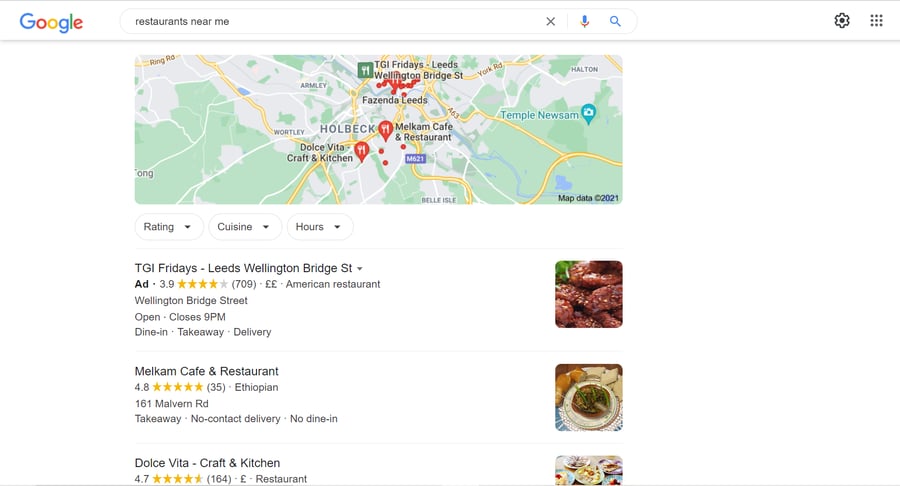 Local restaurant search results.
How do you climb those rankings and make sure your business is one of these results? There are a few different areas where you'll need to optimize or change your site content. Let's start with the basics.
Checking Your SEO Basics
You'll need to make sure you have the fundamentals of SEO down before you can optimize for a local focus. If these basic requirements aren't taken care of, your pages won't rank no matter how well you approach local SEO.
The first thing to consider for a good SEO strategy is the experience of browsing your site.
Is your site easy to search & navigate? Make sure customers can find what they're looking for with as few clicks as possible. Use keywords to make your pages visible in searches.
Do all pages load correctly and quickly? Broken links and slow loading times will hurt your page rankings.
Does it work on mobile? The mobile experience is as important as the browser experience to search engine crawlers ranking your pages.
Secondly, you'll need to consider your site content.
Is your content meaningful and useful to customers? Having informative content that's relevant to users is vital for SEO. Regularly updated blog posts are a simple way to achieve this.
Do other sites link to your content? Links to content from other sites can add authority. Check this guide to link building for more in-depth information.
Maybe you struggle with the technical side of SEO. Maybe you just can't manage it effectively as a small business. If this is something you can relate to, a SaaS SEO agency may be best placed to manage your digital marketing strategy.
How to Use Local SEO to Boost Your Business
Now you know the basics, it's time to focus on what you can do to tailor your content to a local audience. Think about what your local area is and how far customers will travel to visit your physical location. Then consider the steps below and adjust your site data to reach that audience.
Use the Google My Business Tool
First and foremost, claim your Google My Business listing. This free tool lets you add information like your name and location, website, opening hours, and more. Make sure any information you enter is accurate and kept up to date.
These listings are what show up when you appear in Google search and map results. Over 90% of all global searches go through Google. Claim your listing as soon as possible, as this is the number one source for organic search traffic.
Importantly, this tool lets you set a business category, which helps you appear in more specific search results. This means the traffic you get consists of those already looking for what you sell. I'm sure we don't need to tell you why this is the ideal kind of web traffic.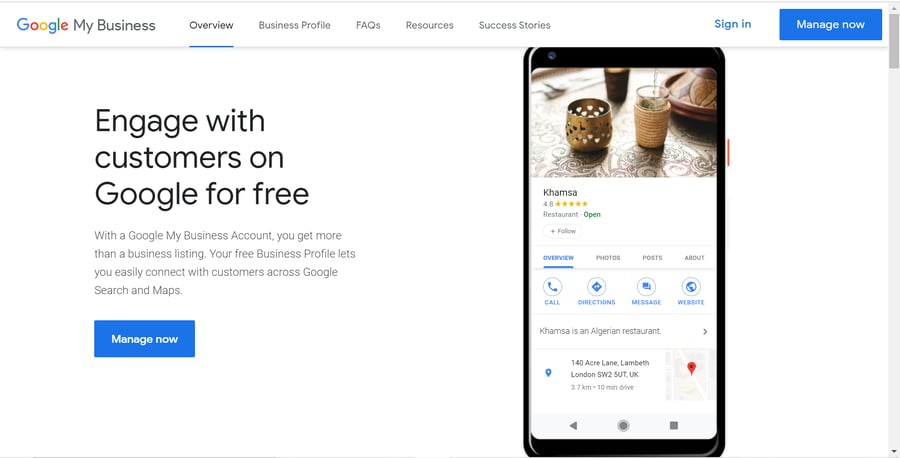 A typical Google My Business listing. Image source.
Utilize Keyword Research
Keywords are a basic part of an SEO strategy. These are the terms people search for when looking for something using a search engine. Your SEO plan probably already involves using terms that relate to your business area within your content.
Optimizing this for local SEO means finding a balance between the most popular search terms for your business and locally relevant variants. For example, let's say you're an SEO company in St Louis. Your keywords could be just 'SEO company" or 'keyword research service.' Give this a more local focus by adding your area e.g. 'St Louis SEO.'
To find the best keywords to use, there are several handy keyword research tools available. For basic information, start with Google Keyword Planner. This tool is free if you have a Google Ads account and gives basic information about keyword popularity.
For more advanced users, SEMrush is the most popular choice. More detailed information from this tool includes trending data for keywords and suggestions on keywords to use. It also lets you see information about your competitors' search term rankings.
The most important thing to remember about keywords is to incorporate them naturally into your content without overstuffing. Include them as part of a sentence that makes sense and feels natural (if you can). You can also utilize them in page titles and metadata.
Generate Authority with Local Backlinks
Backlinks are another core part of any SEO strategy. Adjusting for local SEO is not as difficult as it might seem. You can start with a simple Google search to find the most authoritative businesses in your area.
Once you've identified these businesses, look for opportunities to build relationships. It starts with generating content these sites will want to link to. In some cases, you can generate backlinks simply by having locally relevant content.
You can also look for more specific backlinking opportunities. Creating a guest post for a local blogger is a good way to insert backlinks into other authoritative content. Participating in local events will also help you gain attention and build connections with other local businesses.
Sponsoring a charity can help generate backlinks from their site. It also creates goodwill in the local community, which can be highly beneficial for your brand. Gaining visibility, brand recognition, and web traffic while helping your local area - what could be better?
Create Content with a Local Focus
Creating locally-focused content does more than just generate backlinks. Google and other search engine bots analyze your expertise on a topic to determine page rank. The more content you have focused on a topic in your area, the more of an expert they'll think you are on it.
Blog posts are an important tool to use for this. You can fill them with informative content and focus on the local area. Then you can insert those all-important keywords we talked about earlier.
Remember, the content should be locally relevant. For example, you might be selling SaaS software to Boston businesses. In this instance, you could write a blog post about the returns management process. So, a title like 'How Boston Businesses Handle Returns Management' would be more locally relevant.
Collect Customer Feedback and Reviews
Search engines bots look for customer reviews as a good gauge of your business' quality and reputation. Customers also tend to check out reviews when deciding on a product. Recent surveys suggest 87 percent of customers read online reviews for local businesses.
For a business just starting out, it can be tempting to purchase reviews. This is a strategy you should avoid at all costs. Customers can generally tell genuine reviews from fakes. Search engine bots will also see this, causing your page ranking to go down.
Don't be afraid to request reviews from customers. Post-purchase review requests have proven to be effective, whether they're delivered in emails, in-app, or in person. Not only can you boost your SEO with positive reviews, but you can also collect valuable customer data and feedback.
Make Use of Structured Data
Making use of structured data is a good way to appear in SERPs. These include the featured search results you see on Google, like answer boxes and carousels. They're a way to provide information on a topic that can be easily digested by users.
Try searching for a specific product on Google. The top results don't just show website links, but also product images, average customer reviews, and prices. These are called featured snippets. A featured snippet is very useful to a customer and is more likely to be clicked.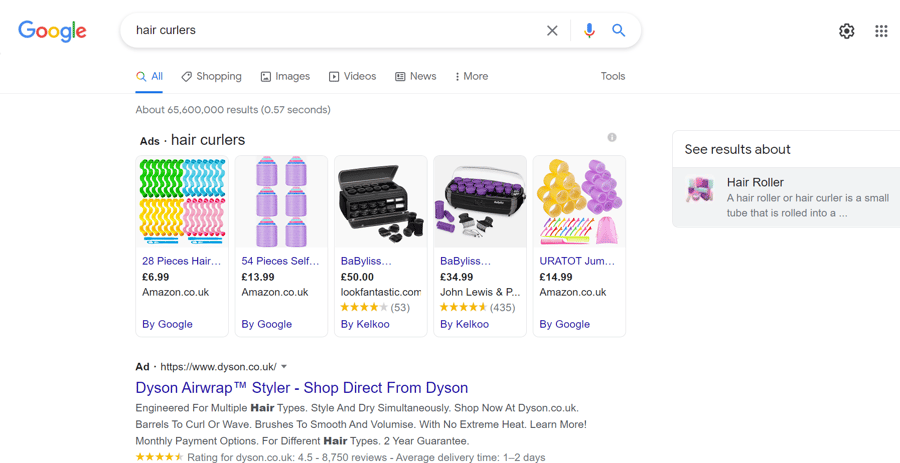 An example of SERP results from a product search.
There are many types of featured snippets. Try searching in your product or service areas to see what results you get. Getting structured data to feature can be quite complicated, but there are tools you can use to make it easier. Yoast SEO and Schema Pro are two of the most popular solutions available.
Location & Visibility
If you have multiple locations, it's worth setting up separate landing pages. You can then follow the above steps for each of them. This includes creating individual Google My Business listings and different local content.
This is useful for more generic online stores too. Let's say you're selling video conferencing software, a globally useful product. You could gain an edge over larger competitors by narrowing your focus to specific target areas.
Premium features for the analytical tools mentioned previously, like SEMrush, can help you track your SEO performance based on search locations. Setting up separate tracking for however many locations you have lets you monitor SEO performance for each area.
Creating heat maps of search activity with these tools can help you generate SEO reports and adjust your strategy as you go.
Conclusion
A good SEO strategy is a long-term strategy. These methods won't bring overnight success to your business, but they will help you to grow your organic traffic over time. Cover your SEO fundamentals, follow the steps above, and you'll see steady growth.
Getting your pages to rank locally will put you in front of the customers who are most likely to engage with what you're offering. It's up to you to convert those potential purchasers into real-world sales.