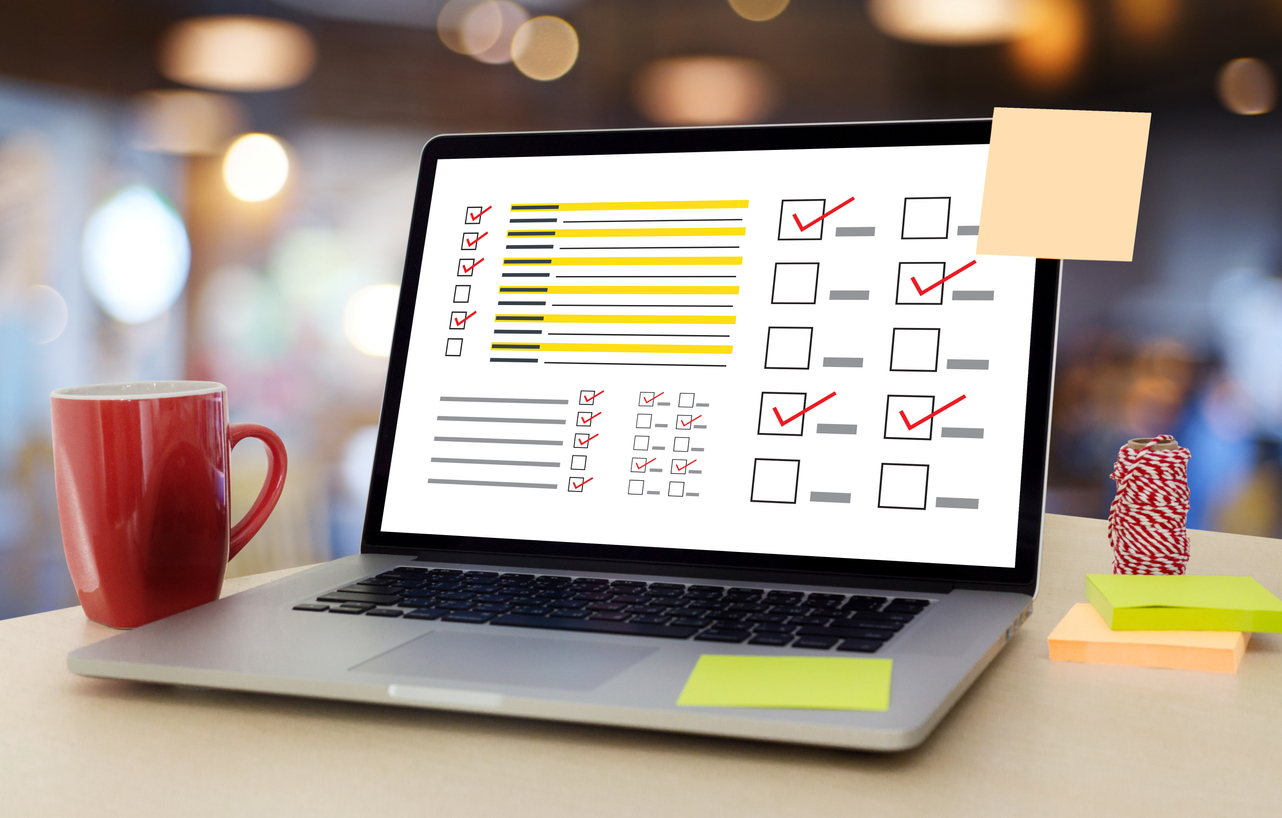 Is your online store not as visible as you'd like? It could be that you haven't optimized your on-page SEO properly just yet. But, don't worry; this is where an audit can help you out.
Ecommerce SEO can be pretty demanding and time-consuming. It can also be really complex, and working on it takes time away from managing your store and making sales. But, SEO is important and a lot harder when you don't perform a regular audit.
An SEO audit ensures you stay on top of things. It gives you insights into what's working and what isn't, as well as what's out of date now so that you can make the necessary improvements and keep ranking. And, when you rank higher, your store will be more visible to more people.
There are actually two types of SEO audits you'll need to perform:
On-page SEO audit
Technical SEO audit
In this article, we're going to focus on the former, which is centered around the information on your individual pages. If you can optimize these properly, then you'll show Google exactly what your pages are about, which will help you to rank better.
Crawl Your Website
Whether you're doing an on-page SEO audit or a technical SEO audit, you need to crawl your website first so that you know how well it's performing for the end user in terms of user-friendliness. A crawl will also show you what you need to change.
You'll need to use a tool to help you with this, such as Nightwatch, an SEO tool that comes with a site audit feature that lets you crawl your website. This feature gives you a simple overview report that shows you what you're dealing with – specifically content that needs sorting out as soon as possible due to weak tags, meta descriptions, duplicate content and poor internal linking. This is all on-page SEO that can make or break your website. Let's take a closer look: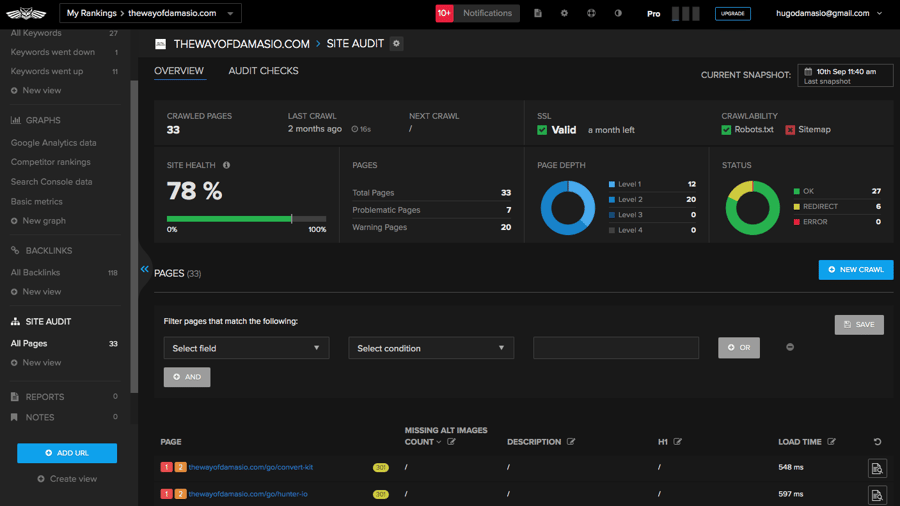 Tweak Your Metadata Descriptions
First, take a look at your Google Search Console to find out which pages are driving most of your traffic. When it comes to meta descriptions, it's a good idea to focus on clicks. Why? Because a meta description is essentially there to encourage more clicks. If your click-through rate is down, despite your website being on page one of the SERPs, it could be that your meta description isn't hitting the spot. Click-through rate is a ranking factor, and it also boosts conversions.
Meta descriptions don't actually influence your ranking by themselves, but because they show up in the search results and encourage or discourage clicks, they need to be right.
For your pages where visibility is good but clicks are down, consider rethinking your search query analysis strategy. A good meta description begins with solid search query analysis. Think about why potential customers would click on your page. What are they looking for? What do they want to gain? For example, an online store called "Tom's Shoes" answers the query "Tom's shoes," but it also answers the query "online shoe store" and "men's shoe store."
Once you've got a few keyword ideas from your keyword research, pop them into your Google Keyword Planner tool to see if people are actually using them. High competition means marketers just like you are already spending lots of money on ads to drive traffic to their website, while low competition means there aren't as many marketers competing for a particular keyword. The key here is to balance competition with search volume, which is to say you optimize for low competition and high search volume.
Once you've got keyword ideas for your meta description, the next step is to write a meta description that compels users to click. Remember, click-through rate is a ranking factor and you need your description to stand out on Google.
Take a look at the image below.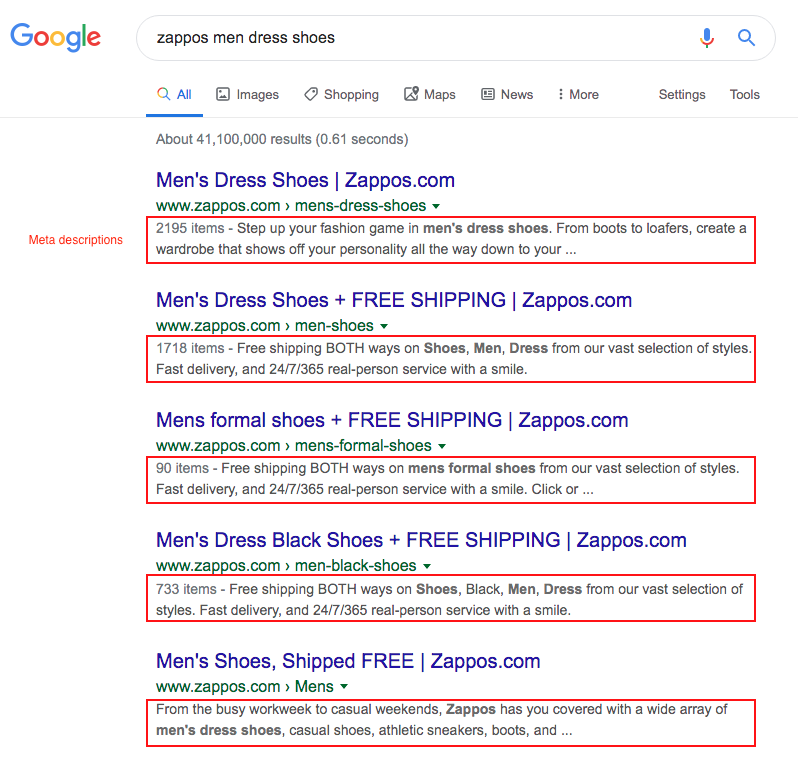 This is a meta description done right for an online store that's selling men's dress shoes on this particular page. However, even that description could do with a boost by adding a bit of an incentive. Remember, online stores need to sell and to that end you can give your meta descriptions a bit of finesse by adding commercial terms. Here are a few examples:
Buy (insert product) today and get free shipping
Get X% off if you purchase today
Take advantage of our (insert product) mega sale today
Once you've done this, refer back to your crawler tool and take a look at your meta description length data. You can use Nightwatch's site audit feature or other crawler tools to check if metadata is too lengthy. The last thing you want is a badly truncated meta description that doesn't get to the point. If there are URLs that are too long or too short, they will need to be tweaked.
It's also a good idea to check in with Google Search Console (head over to the HTML Improvements section) to make sure there are no duplicate meta descriptions.
Tweak Your Title Tags
Title tags are arguably one of the most important on-page factors when it comes to SEO. If you don't audit your title tags and make poor ones better, Google will pick a title it thinks is best.
Unlike meta descriptions, title tags do influence ranking directly because they tell Google what a page is all about. They also compel users to click. Take a look at your crawler tool and identify title tags that are too lengthy and don't include keywords. Single them out and add them to a spreadsheet.
Title tags shouldn't exceed 70 characters, and they should always include your target keyword. They need to be unique, too, so head over to the HTML Improvements section in your Google Search Console (it's under the Search Appearance section) and check to see if you've got duplicate titles.
Commercial modifiers are well worth adding to your online store's title tags as they can boost visibility and encourage more conversions. Here are some terms you should consider adding:
Free shipping
Discount
Sale
Cheap
Bargain
Deals
Here are some more tips, which you can also apply to your meta descriptions:
Make your titles understandable.
Make sure your titles match the page content especially when you use keywords.
Make sure each title tag is 100% unique.
Make your titles compelling enough so as to be "clickable."
Meanwhile, here are some examples of solid title tags: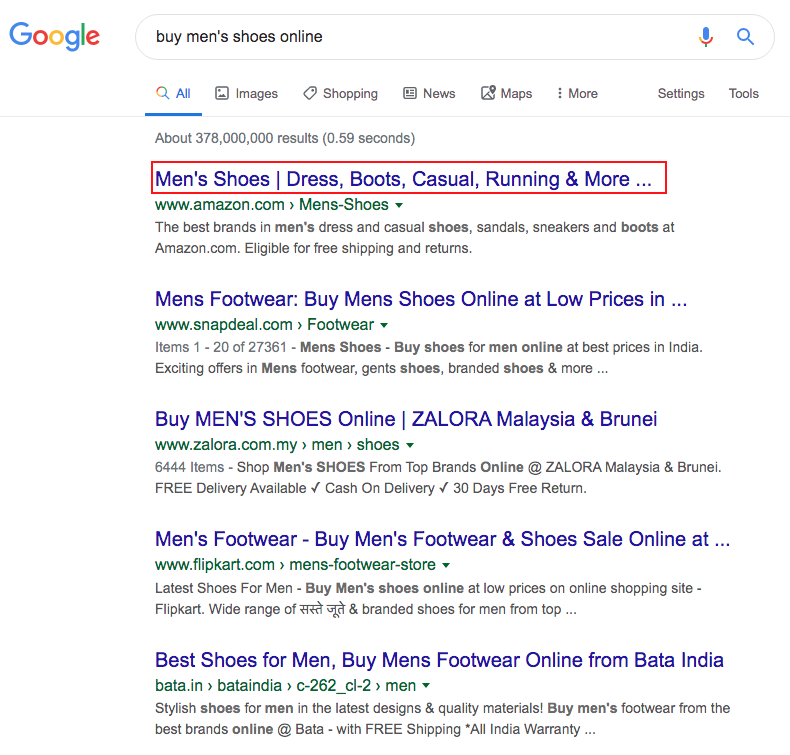 Improve Your Page Content
One of the main things online stores need to bear in mind when it comes to page content is that duplicate content is very common because there are so many product pages. Because Google penalizes duplicate content, it's a good idea to use a tool like CopyScape to make sure your pages are unique. Writing new descriptions for each product you add takes time, but it's well worth it. A good product description should include your target keyword at least three times, as this will tell Google what your page is all about.
If you've created various product pages for different versions of the same product (for example, different colored versions of the same product), you might have copied and pasted the same description. In this scenario - and because writing unique product descriptions for the exact same product is tricky - consider bringing the various versions together on a single page. Then, give the end user the chance to flit between different versions of the product via a drop down menu.
Reviews
For online stores duplicate content is just one part of the problem. The second biggest issue is that Google is on the lookout for valuable, long-form content from websites just like yours. Research has shown that long-form content consistently drives more traffic, but the conundrum is that product pages, by definition, are generally short-form. So, what can you do? Add reviews.
Online reviews are good for two reasons:
They give your products (and store) more credibility, which increases sales.
They act as a ranking signal.
Since most online reviews tend to contain between 75 and 100 words, they also bulk up your word count on your product pages. This means that, if you aim to generate at least 5 reviews for each product, you can easily turn your product pages into long form content.
To encourage more reviews from your customers, simply send them a polite email a few days after they've purchased your product to ask them if they'll kindly leave you a review. Make sure you show them exactly what they need to do.
Other Page Content
To get the most out of your long-tail keywords so that you rank higher, it's a good idea to branch out and add more pages, such as resource pages and FAQs. Pages like this often provide more long-tail opportunities, in addition to useful information for the end user.
During your audit, you should also identify opportunities for pages about returns and delivery terms and conditions, as well as a blog. An eCommerce blog is super important because it adds value to the end user by advising and educating them about your niche and products. You can use a blog to engage customers, position yourself as the expert and nudge them further towards a sale. For SEO purposes, a blog presents more keyword opportunities, as well as more link-building opportunities.
Analyse Your Existing Content
Using Google Search Console, you can discover which keywords are bringing the most traffic to your site. Head over to your Search Console, open up Search Traffic and take a look at your Search Analytics report. You can filter your reports so that you learn which keywords are driving the most traffic to particular category pages. The most popular keywords are the ones you should double down on.
You can also filter your reports so that you discover which mobile keywords are most popular. This will help you to optimize your pages for mobile content.
Take a look a closer look at the pages where most searches are coming in on. What can you learn from them? Why are people drawn to these pages more than others? What can you take from these pages and transfer onto others that aren't performing so well? If there are pages that aren't driving a lot of traffic, optimize them so that they're targeted better for search queries (you should know by now which keywords are driving in the most traffic).
Check Your Internal Linking Structure
If you want to improve your websites ranking, you need to link your pages together. An internal link is a link that directs users from one of your pages to another. For SEO purposes, it helps to show Google your website's hierarchy, and it also helps Google to understand the relationship between your pages, which is really important.
As an online store owner, internal linking might not be something you've given much thought to in the past. However, it's now a good idea to go through your content and improve this aspect of your website. Here are some tips:
Link between different product pages. Take a look at how Amazon presents their "people also bought" feature. What they're doing is encouraging more sales, but they're also smartly linking internally.
Add links to your product descriptions. Product descriptions are awesome places to link to other products, but make sure that any product you link to is relevant. It could be a cross-sell or an upsell, for example.
Link from your blog to your product pages. As you've got a website, you'll need a blog. So, use your blog as a chance to link to your product pages, and even your category pages.
Conclusion
Once you've carried out your on-page SEO audit, give Google two weeks to re-crawl your website.
Other than that, there's no magic bullet for when it comes to how often you should perform an on-page SEO audit, but a good rule of thumb is to carry one out every quarter. As long as you use tools to help you along the way and don't fall behind, each audit should get a little bit easier.