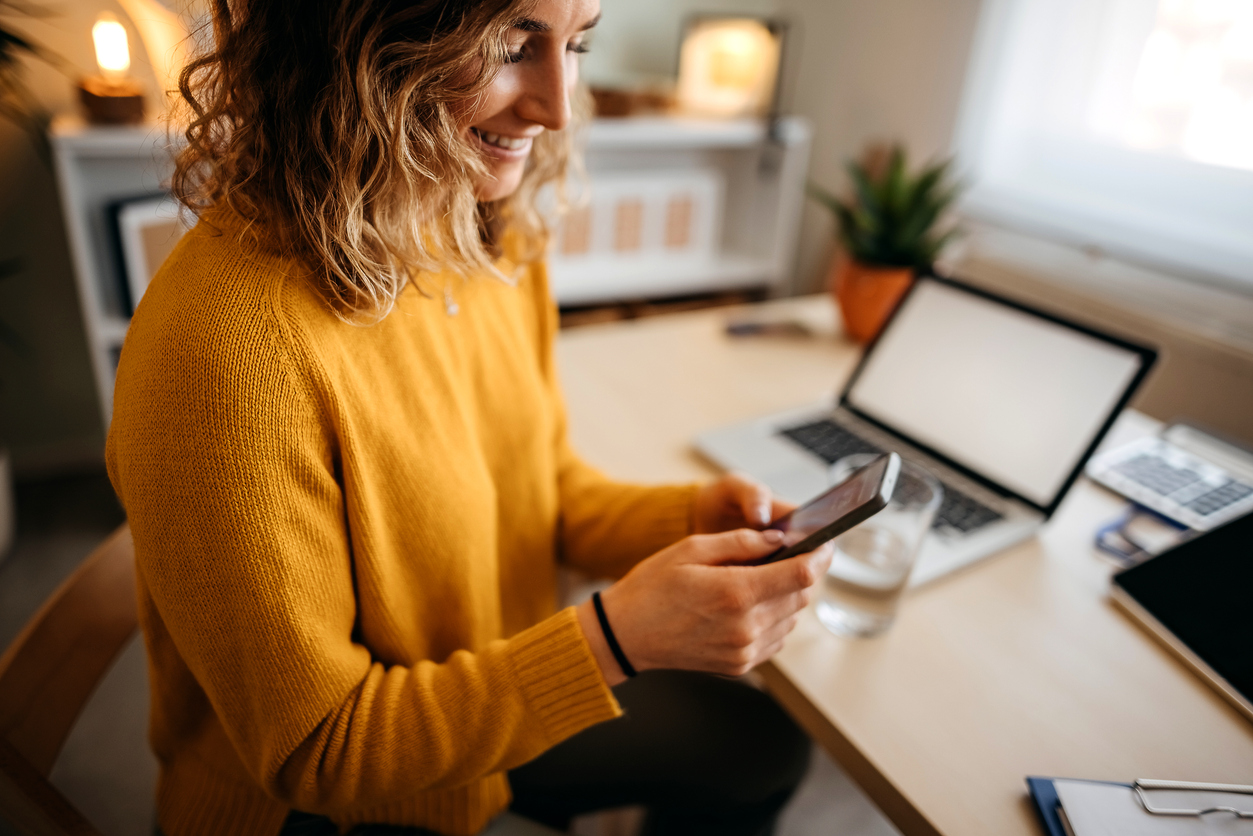 Despite the rise of social media and video, email remains the #1 channel for marketing and sales. That's why it's still the most preferred medium for customer retention and onboarding strategies.
Onboarding emails are one of the most common marketing techniques many companies use. They consist of persuasive content designed to turn new customers into long-term paying users.
When you need to convert your first-time customers or visitors to lifetime loyal brand ambassadors, the need for a good first impression is critical.
Do you want to learn how to create powerful onboarding emails? The following onboarding email examples and tips can help maximize your email effectiveness and open rates.
Let's get started!
1. Video Welcome Email
This type of onboarding email includes a short introductory video about the product or the service. Sometimes, a representative or CEO introduces himself, the service, the product, or the brand to the audience. Many people love video content for the simple fact that it's entertaining and easy to digest.
Furthermore, onboarding introductory videos allow you to stand out from your competitors by taking your message on a personal level. Consumers are more inclined to trust a brand that tries to talk to its consumers. Furthermore, videos can convey messages quickly, making them powerful ways to engage prospects.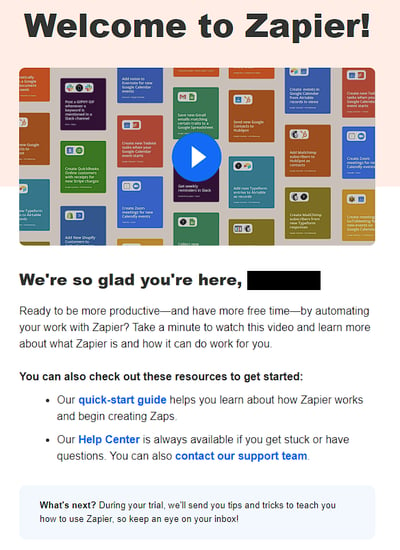 Source: Zapier
Zapier's video welcome email is clear and straight to the point. They start by highlighting the product's benefit to users, which is productivity and saving time. Because of how the email was crafted and segmented, you can understand it clearly. The video attached is also only a minute long, which can be helpful for customers who don't have the time to spend in their inboxes.
This onboarding email works great for several reasons. First, it expresses acknowledgment and appreciation for the user. Next, it gives the user a valuable guide — specifically, the video helps them navigate the product: Zapier. Lastly, it directs the consumer to a help center if they ever need further assistance.
2. The Thank You Email
The importance of thank you onboarding emails can't be overstated. As a brand, you should strengthen your relationship with your customers by thanking them via onboarding email. Thanking your customers is always a good idea, no matter how big or small your brand is.
Thank you emails are designed to give appreciation and acknowledgment to customers who took the time to subscribe. Just the simple act of extending your gratitude to customers who invested or took a risk to use your product will make their experience more positive.
Thank you emails don't have to be boring. You can be as creative as you want and use images, GIFs, and even video content to amuse your new subscribers. You can also add links to tutorials, contact pages, or even content on your website that you want to share. Just remember one thing: be genuine. You want your consumers to know that there are people behind the brand.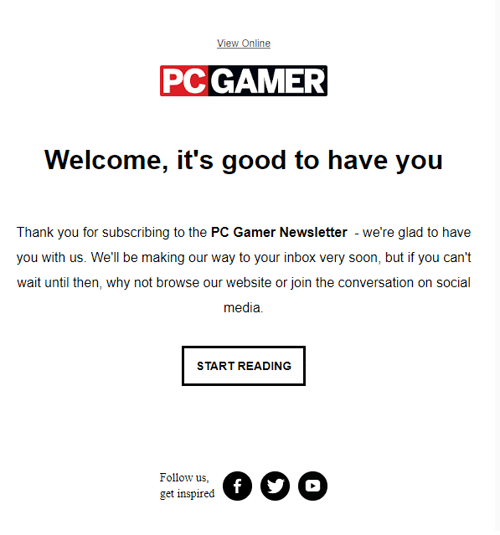 Source: PC Gamer
PC Gamer is a website for gaming news and gadgets. They use their welcome email to thank subscribers after signing up. Welcome emails don't have to be long and can be as simple and short as the one above. After an introductory message, you can direct your customer to your website and then end the email with links to your social channels.
Today, the best customer support tools often have email marketing tools already included. You can automate thank you onboarding emails like this one. You can also create several types of emails for every consumer and every part of the customer journey.
3. The Product-Focused Email
Product-focused welcome emails have one simple objective: to help users learn more about the product or service. The more the customer learns the benefit of the service or the product they're using, the more likely they'll keep using it. This onboarding email is solely focused on supplying the customer with information about the product or service.
It gives customers a basic step-by-step guide about the service they signed up for or a full explanation of the features and benefits of the product they've purchased. A lot of brands opt for a product-focus email for their onboarding strategy because it's the easiest and most effective.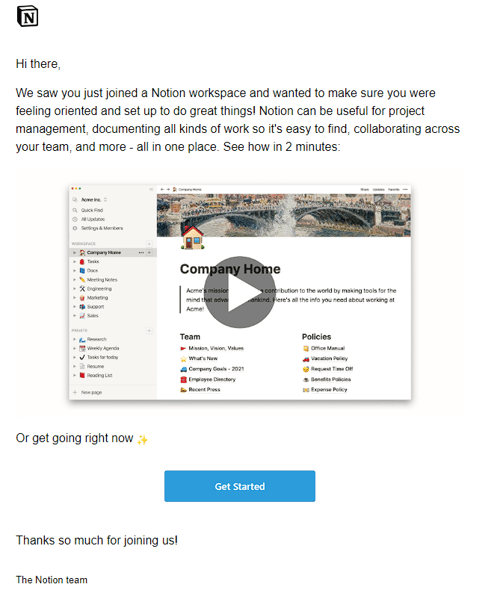 Source: Userlist
This welcome email from Notion is a perfect example. It simply did a great job presenting Notion to a new customer who probably hasn't used the software before. After a user joins a workspace or creates their own, Notion sends an email with a video example of how to use the app in less than 2 minutes! Since users mostly don't have the time to read long emails or watch lengthy videos, this short video can be useful and necessary for providing the information they need.
Aside from teaching customers how to use their app, Notion also highlights the key benefits of their product, which is a great first step to customer retention. This welcome email is a great way to make your brand stand out. It signifies that you care about your customer experience and are willing to lend a hand whenever they need it.
4. The Discount or Free Gift Email
If you truly want to have a great first impression on your new customers, then give them a gift. Gifts in the form of discounts or items will help you nurture your leads and turn your new customers into repeat customers. Discounts and gifts can also be used to increase engagements or boost revenue through upsells.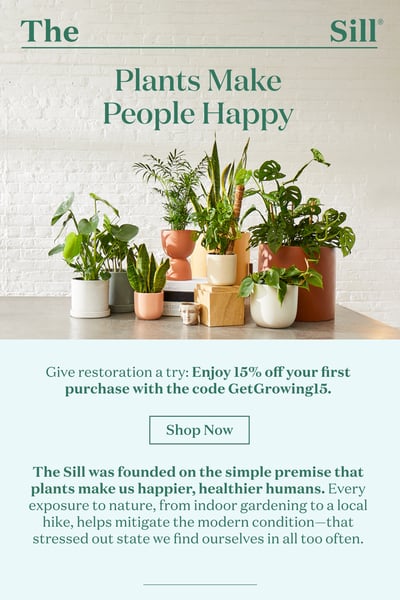 Source: The Sill
This discount email from The Sill is a great example of how discounts and deals can be attractive ways to encourage purchases from your new consumers. After signing up on their website, The Sill sends its customers a welcome email that gives them a 15% discount on their first purchase.
In the end, a short paragraph about the website's mission is stated to remind customers what their service and brand are all about. Customers love freebies and discounts. If you want a reason for a new subscriber to start their purchase, a 10-15% discount can do the trick.
The Sill's onboarding discount email isn't only great for discount-loving individuals. Anyone will agree that The Sill's beautiful imagery, font, and overall website theme make it hard not to explore their website. By the end of reading the email, you'll agree with them that plants do make people happy.
5. Welcome To Your Trial Email
A short and sweet welcome trial onboarding email is another great way to engage your new customers. These emails may be simple, yet they're very impactful for new consumers who aren't sure how to proceed or have no idea about how your service works.
The reason why welcome to your trial email works so well is that most consumers want that extra nudge to take action. They also need to be directed to a goal that will result in a positive experience.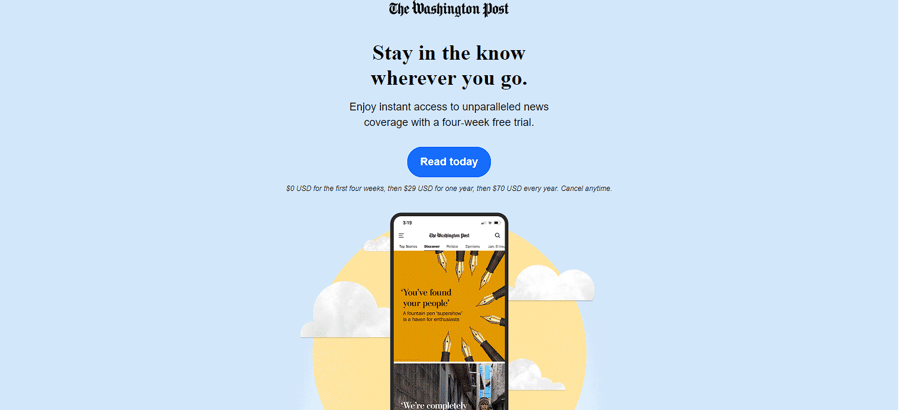 Source: The Washington Post
Here's a great example from The Washington Post. The online daily newspaper gives anyone a four-week free trial of daily news coverage. The email is simple and doesn't provide much information about the newspaper. Sometimes, you don't have to explain the features and benefits. Sometimes, it's better to let people see for themselves by giving them a free trial. It goes straight to the point that users can get a free four-week trial and enjoy access right away.
Contrary to what we know, newspapers aren't dying. They've just moved their businesses online. If you're a business that offers an awesome free trial and you know how valuable it can be, take advantage of this in your customer onboarding email.
6. Our Story Email
A good founder story can sometimes make or break your brand. Everyone loves a good underdog or success story, and if you have a good one, this is certainly a story you shouldn't miss telling. An onboarding email that tells the story of your brand or how your company was founded is arguably the most important if you want to capture the hearts of your customers.
You may not have a good founder story, and that's okay. You can simply choose to tell your journey as a brand and how your company grew from one employee to a thousand-staff team. Anything is possible!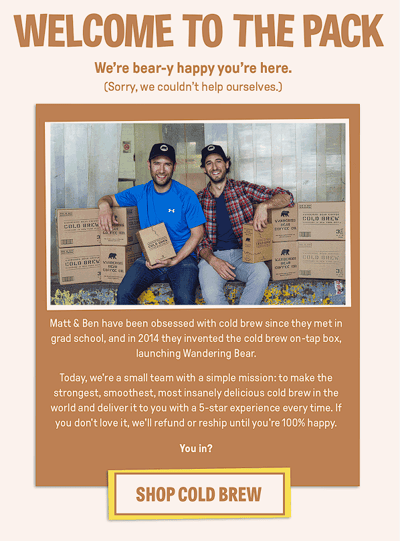 Source: Wandering Bear Coffee
This welcome email from Wandering Bear highlights the story of founders Matt and Ben. It talked about the friend's journey from grad school and in 2014 when they launched the company after inventing the cold brew on-tap box. It's not a sob story or a rags-to-riches experience, but it certainly is inspiring. The best stories are the ones that are inspiring and tell the truth as it happened.
Also, because a company's founding story is such an important moment, sharing it with your customer can be an excellent foundation for your relationship. Your founding story can also offer a valuable lesson that can inspire consumers. It can also build hype for your product. Overall, it's a good email onboarding strategy that companies should use.
7. Customer Story Email
Customer stories are another powerful content strategy for onboarding emails. Telling a customer story of success or a case study about your service or product is a brilliant way to showcase your amazing brand. If done right, it can have a huge potential to affect your brand in a positive way. Highlighting these stories in your onboarding email can prove to be striking and effective when it comes to showcasing social proof.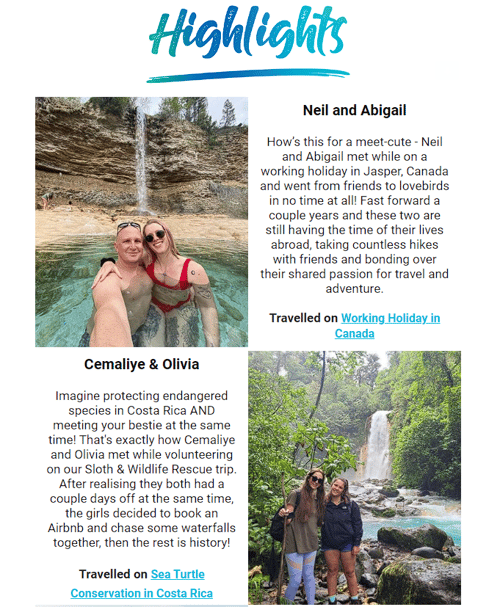 Source: Global Work and Travel
Global Work and Travel's customer travel stories are a big reason why many new customers are booking trips with the travel brand. By simply looking at the wonderful travel stories, readers feel the excitement of traveling abroad. Aside from sharing these stories, Global Work and Travel also added links that direct to the website. From here, customers can book the same trip. You can use your onboarding emails to direct your users to important parts of your website.
What we can learn from this onboarding email is that real stories count the most. Many new prospects visit your website to learn more about your service and product. Still, it's customer reviews and actual stories that help them see you as a trustworthy and reliable company.
Wrapping Up
Onboarding emails are a major part of any email marketing strategy. Since onboarding is the first step in the customer's journey, it's important to have a really good first impression. Onboarding emails should be actionable, clear, and focused on your company's goal. The onboarding email examples above should help you maximize your customer onboarding efforts.