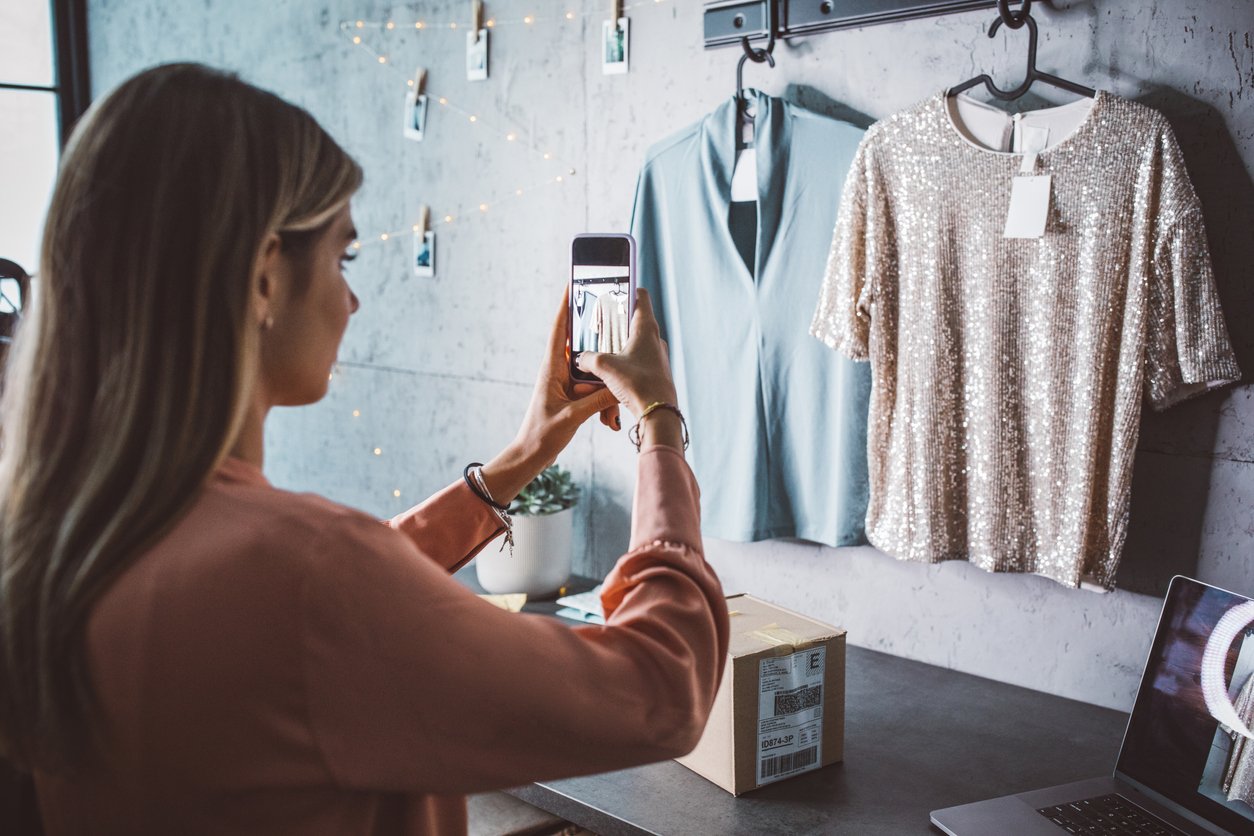 The eCommerce world presents numerous options for products and services. Everyone has an online platform that sells one thing or another.
The impact? This makes marketing harder, forcing online businesses to find creative ways to remain relevant.
That's where personalized eCommerce visual content can help.
Visual content presents its share of perks when it comes to eCommerce marketing. According to a recent survey, marketers believe over 63% of businesses will rely heavily on visual content for marketing in 2022.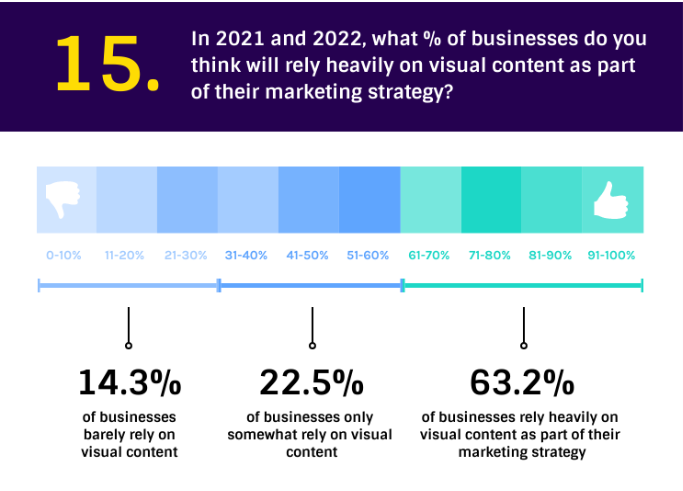 Source: Venngage
However, visual content is even more impactful if it can appeal to individual users.
So, what makes personalized eCommerce visual content crucial? Let's find out.
Why is Personalized Ecommerce Visual Content Powerful?
First, you don't want to be the seller that showcases generic images that every other online store uses on their product page. You want to connect directly with your site visitors and appeal to their specific needs and emotions.
This may sound like a lot of work, but it isn't, as there are tools that will help you personalize your content. Such tools monitor user behavior, collect data and automate marketing campaigns.
Let's get back to why you need personalized eCommerce visual content.
Visual content engages audiences more, considering the low attention spans that most people have now. When personalized, it becomes relevant to individual customers.
Besides relevance, personalizing content makes customers feel valued. This ensures customer satisfaction, which every eCommerce store owner strives to achieve. And this is important, especially when trying to:
Increase conversions
Boost revenue
Build customer loyalty
Types of Visual Content for eCommerce Marketing
There are different types of personalized eCommerce visual content that marketers can use for their online stores. Here are some examples:
Static Images: These are mainly used on eCommerce websites to showcase products, promotions, and ads. Product images are effective if they can capture products from different angles. Similarly, banners are effective if they're captivating.
Images with Text: This refers to using images with text to explain the images and give them more meaning. An example of this would be infographics.
Videos with Text: The most common marketing videos have animations and written text. For this, you could use animated video services. You could also create how-to videos or informational videos.
3D Images: 3D images go beyond just traditional photography. They're digitized images that use three dimensions to give a more realistic view of a product.
Live Video Marketing: This is a live stream session where vendors, influencers, and other sellers present products for sale. To accomplish this, you may find the Video Interviewing Software offered by third-party companies helpful. Live videos are more effective when they have transcribed captions, much like most YouTube videos. Amazon Live is an example of such a platform.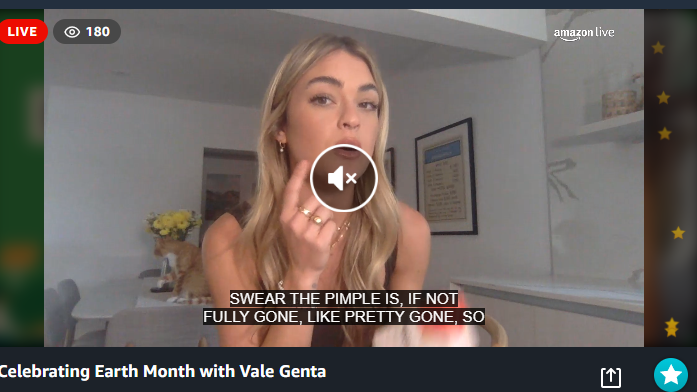 Source: Amazon
You can have your in-house team produce your visual content, hire experts, or work with freelance graphic designers. It depends on what your marketing budget is.
How can you create personalized eCommerce visual content for your store?
Let's find out.
How to Make Personalized eCommerce Visual Content
You need to keep in mind several things before coming up with a personalization strategy. Here's a simple three-step process to follow.
Identify Your User Segmentation Method
First, you need to categorize your visitors by their traits. This can be based on many aspects, including:
Their purchasing behavior
Whether they are new or repeat customers
Their past behavior on your site, like the items they view more
Their demographics, like gender, age, etc.
Their location
Based on the criteria mentioned above, you'll know which objectives to pursue.
Set an Objective for Each Criterion
For each segmentation criteria you select, identify a goal you wish to pursue. This could be a metric or an essential eCommerce KPI you would like to track.
For instance, are you personalizing your audience based on demographics to reduce bounce rates? This could be one way to go.
More objectives to look out for include:
Increasing revenue
Promoting upsells and cross-sells
Increasing site conversions
Reducing cart abandonment rates
Encouraging repeat customers
Having viewers spend more time on your website
Encouraging buyer referrals
Choose Your Marketing Channels
Marketing channels are where your audience views your personalized eCommerce visual content. These channels should be based on relevance and effectiveness.
For instance, you should be adding embedded to your landing pages and adding photos to your product page. Or pop-ups would be more effective on your site than your social media pages.
These channels include:
Your eCommerce website
Push notifications
Advertisements
Emails
Social media
Now, let's move on to the importance of personalized eCommerce visual content.
Creating Personalized eCommerce Visual Content for the Buyer's Journey
Personalized eCommerce visual content can play an essential role in eCommerce strategy. It can help you attain multiple goals at various stages of a buyer's journey, whether you want to increase conversions, retain clients, or boost sales.
This section discusses each of these stages in a buyer's journey and how personalized eCommerce visual content can be used at every stage. Eventually, you'll see what impact that has on key marketing metrics.
An eCommerce customer's journey to buying products involves four main stages:
Awareness
Consideration
Purchase
Loyalty
Different visual content, if optimized right, can have maximum impact at each stage. Here's a deeper look into each phase, how to use visual content, and what the impact would be.
1. Awareness Phase
At this stage, prospects are just getting to know your products. They've just landed on your eCommerce page and are checking your products out.
Here, the main objectives you want to achieve with your visual content include:
Ensure they spend time on your website
Reduce bounce rates, perhaps by having them visit more pages
Engage them as much as you can
Some of the criteria you could explore at this stage include your user behavior on-site, location, as well as their demographics.
What personalized eCommerce visual content would best suit this stage of your customer journey?
Here are a few to consider.
Introductory Videos
As the name suggests, these videos introduce the products or services you offer and how they can help your user.
Take this video from the Semrush landing page, for example. Besides making a user spend more time on the website, it persuades the users to consider their product.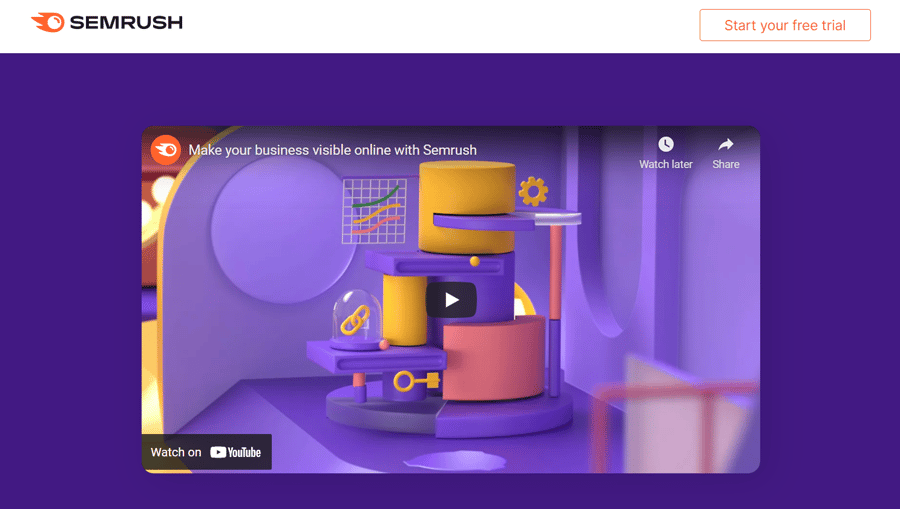 Source: Semrush
Images of Special Offers
These images may be based on seasons or other business-related factors such as clearance sales. If based on seasons, personalized information such as location and demographics would help.
For instance, you may have special coupons and discounts for Halloween or Thanksgiving. You can use your product page, emails, or push notifications to market such images.
Take these spring weekly offers by Michaels as an example.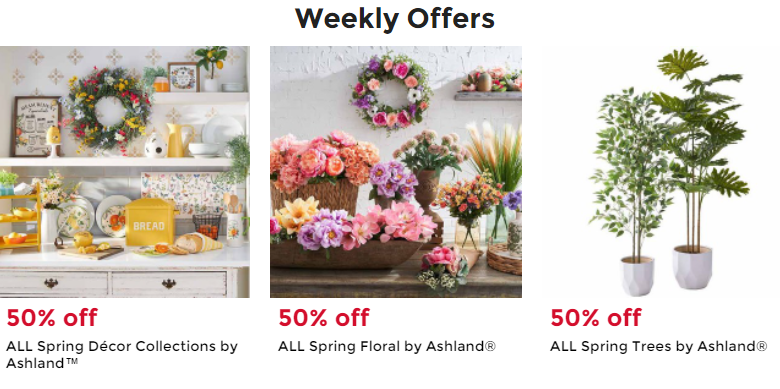 Source: Michaels
Product Comparisons
This type of content gives your prospects a look into their options and helps them decide what they want. It could be in the form of a product comparison table, like Amazon's below.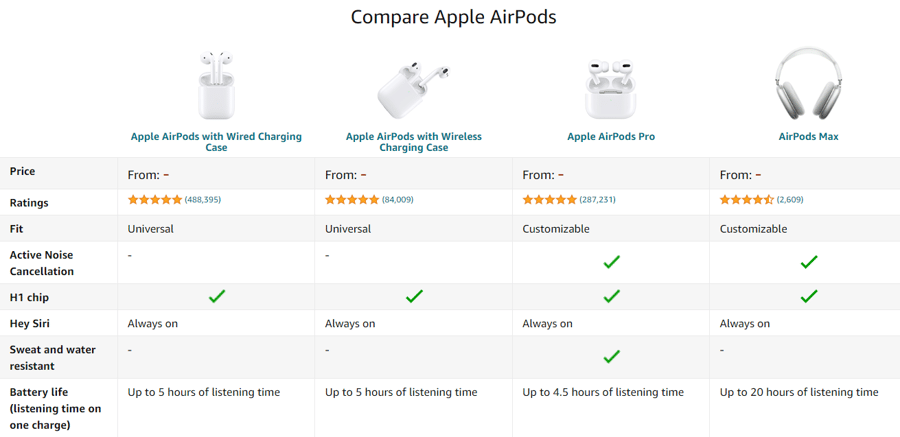 Source: Amazon
2. Consideration Phase
At this point, your potential customer is already thinking about buying your products. The goal of personalized eCommerce visual content at this stage is to drive them to make the decision.
Therefore, your visual content needs to be compelling to reduce bounce rate and, most importantly, increase the add-to-cart rate.
Content that helps at this stage includes:
Reviews and Feedback
Most buyers hold off from purchasing products that no one has bought before. Reviews have the impact of validating products because they are objective opinions from the users themselves.
Including images of product reviews and client testimonials are effective ways to get your viewers to consider purchasing your product.
For instance, with 39,437 ratings averaging 4.8 stars, this product most likely has high conversions.

Source: Amazon
Product Recommendations
With this type of content, you can increase sales by giving personalized product recommendations. If shoppers don't like a particular product, they can look at other similar products.
This is mainly effective if displayed on product pages. Here's an example of Sephora giving product recommendations to its customers.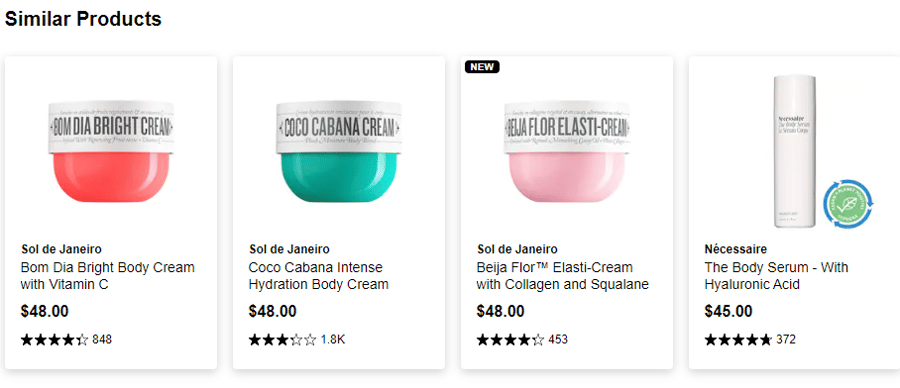 Source: Sephora
Showcase Other Buyers
You could use banners or pop-ups to showcase other people buying the same products. This gives your viewers confidence in your product. It could be in fin the form of social proof pop-ups, like this one from OptinMonster.

Source: OptinMonster
3. Purchase Phase
In this next phase, you can use visual eCommerce content to convince prospects to purchase the products they've already been considering.
Here is some personalized visual content that would fit this phase of your customer's journey.
First-Time Buyer Offers
This is a great way to land new buyers on your eCommerce site. First-time buyers will relate to the message in your content and, if that's compelling enough, they'll make a purchase.
Besides having these offers on your product page, you could send them to your prospective buyer's email.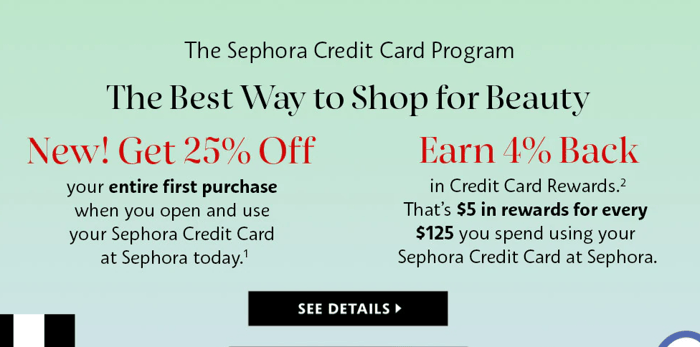 Source: Sephora
Promotions Based on Categories
Find out what product categories different customers prefer and segment them accordingly. Once you do, you could use personalized content such as banners to push these specific preferences to relevant target consumers.
Free Shipping Offers
Shipping costs may be the reason many of your customers abandon their carts. Therefore, whenever possible, reducing shipping costs will increase your revenue. If the customer's location is provided, this offer can be even more personalized.
Using clear visuals will help your visitors identify the offer on your site. You could place it at the top of the page, as Nike has done in the example below.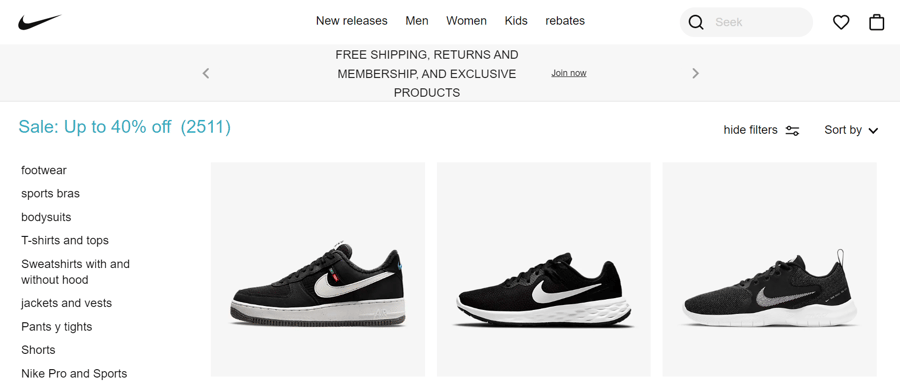 Source: Nike
4. Loyalty Phase
Repeat customers are more valuable than one-time buyers in the long run. This is an important stage for every online store — and personalized eCommerce visual content can help.
Here are several ways you could use visual content at this stage.
Holiday Content & Sales
Personalized seasonal greetings and holiday sales offers are great ways to create lasting relationships with your customers.
And what better way to do so than to use images, GIFs, videos, or popups to wish them a happy holiday on your webpage? Or, better yet, send these greetings right to their emails.
You can create personalized content for events like birthdays or national holidays like Mother's Day and Valentine's Day. Such occasions have an emotional appeal to customers, and personalizing content and sales for those days make them that much more meaningful.
Here's an example of effective holiday-based content:

Source: Michaels
Offering Product Replenishments
This applies to products needed for recurring use, such as ink cartridges or subscription-based services.
You can send reminders to customers to order replenishments or renew their subscriptions using visual content.
This is one effective way to use personalized content to retain customers.
Personalized Marketing is the Way to Go
Ecommerce marketing is visual-heavy. As such, you have the choice to spare your audience the trouble of going through numerous images. And you do so by providing them with only what's relevant.
People want to feel valued. They want to feel like you're addressing them directly. What's more, there are tools that automate these processes for you.
Personalized visual content marketing is the future of eCommerce. With technology, automated personalization tools will get more precise and more automated in the foreseeable future.