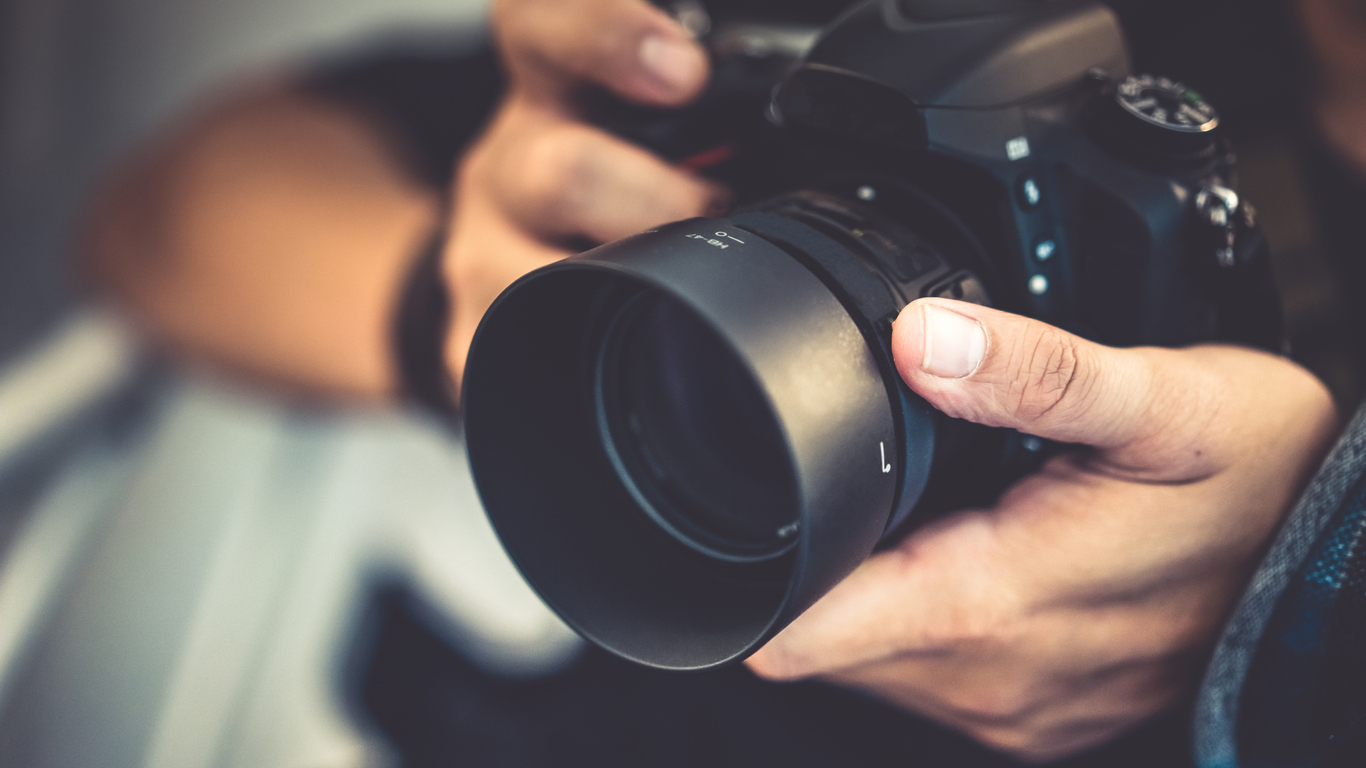 The images you use on your website provide a number of benefits — for yourself as a business and, of course, for your customers. Not only are they an excellent way to break up text, creating a stronger flow in your copy and making it more digestible, but they also combine textual communication with visual communication, which improves the ability of your content to convey an idea. Not to mention, many people like being able to see a product before making a purchasing decision, which means that those photos matter too.
The problem, however, is that finding the right quality images for your website isn't as easy as it sounds. Not only do professional images taken specifically for your website cost money and take time, but many of the other available images on the internet are either of poor quality or, even worse, illegal to use.
And that's exactly where stock photo websites come in.
Companies recognized this need for businesses creating an online presence and developed an entire industry around creating "stock photos". Specific, high-quality, and with millions to choose from, stock photo websites offer a range of options for you to choose from when it comes to using photos, including free photos and ones that require a monthly membership.
Why Do Image Copyrights Matter?
Simply taking images from the internet, including stock photo sites or from other websites, puts you at risk of a lawsuit. Licensing fees are required on almost every stock image website in order to protect the work of the photographers being displayed. And images just "found" online also cannot be used anywhere on your website or in your business (think social media profiles and email newsletters) because you have to receive permission from the owner of the content.
According the federal law of the United States, copyrights exist in order to protect original work, including images, whether photographed, drawn, or created digitally. While most people believe you have to file for a copyright in order to protect your work, the truth is that copyright law protects original work as soon as it's created, which means finding a "random image" online and using it on your website is just as illegal as using a "famous" or "well-known" image where the name of the author/creator is obvious.
Because copyright law is strict, it's a bad practice for any business to not take image copyrights seriously. Even if your business is small and relatively unknown to most of the world, that still doesn't make using someone else's work without their permission okay. (And it definitely does not protect you from a lawsuit down the road.)
And, remember, acknowledging someone's work (such as an attribution on a website or a tag on social media) doesn't automatically make using that image okay. While some creatives will be fine (if not ecstatic) to have their work shared, it's still technically illegal without their express permission. Again, this is why you have to pay attention to image copyrights in order to be sure that every single image you use is fair and legal.
What Are Royalty Free Images?
As you start to look around at your stock image options, you'll likely hear the term "royalty free". And while anything "free" sounds great, it's still good to know exactly what a royalty free image is and how it works. In general, royalty free images carry a unique license which allows you to use the image as many times as you want and however you want (within the terms explained on the specific website). This means that, unlike other images where you only by the license to use one time, royalty free images can be used again and again without you having any obligation to make future payments.
Even with royalty free images, however, you are not purchasing the copyright, which means the creator of the work is still technically the legal owner and protector. By keeping the copyright (and not selling it, which you can find on some websites), creatives are able to continue generating income from the same image, selling the rights to use the image — not the rights themselves.
Where Do You Find Great Royalty Free Images for Your Website?
There are a lot of great places you can find quality royalty free images for your website. Like anything online, you just have to know where to look. Depending on what your business does and sells, you'll need to do a little hunting to find the right stock image website that matches your vision, brand, and overall aesthetic. Thankfully, there's no shortage of options these days.
Below are eleven of our favorite royalty free image options for websites looking to stand out online without paying a fortune…
Unsplash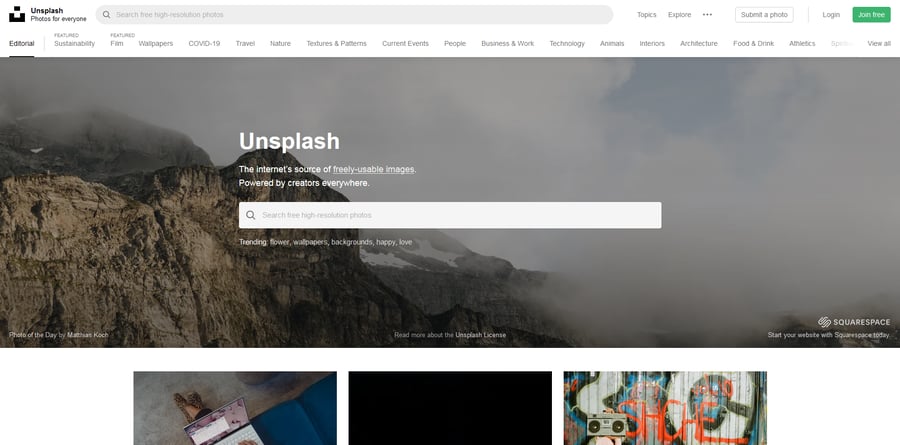 Unsplash boasts about having "the world's most generous community of photographers," and that may not be much of an exaggeration. Each and every one of the site's hundreds of thousands of photos are not just completely free to use, but also rendered in high resolution.
Unsplash's model is an artistic and idealistic attack against the stock image industry mentioned in the introduction. No copyright licensing is necessary, no royalties need to be paid, and no permissions need to be given. All they request is a quick credit to the photographer, which is completely optional but only fair.
Pixabay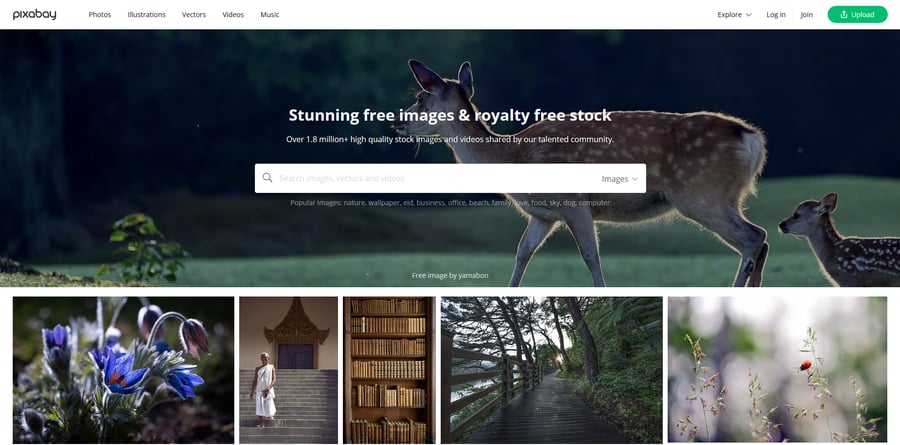 Since its founding in 2010, Pixabay users have uploaded more than 1.5 million free stock photos onto their site. This astonishing number beats that of most competitors, but it is not the only draw to the site. Unlike many of their competitors, Pixabay also offers free illustrations, vector graphics, and even videos.
They do have a few licensing guidelines — for example, "Don't sell copies of an image or video," and you cannot use them for commercial purposes. Still, Pixabay's quality guidelines ensure that everything you see in this gargantuan selection is useful and aesthetically appealing.
Pexels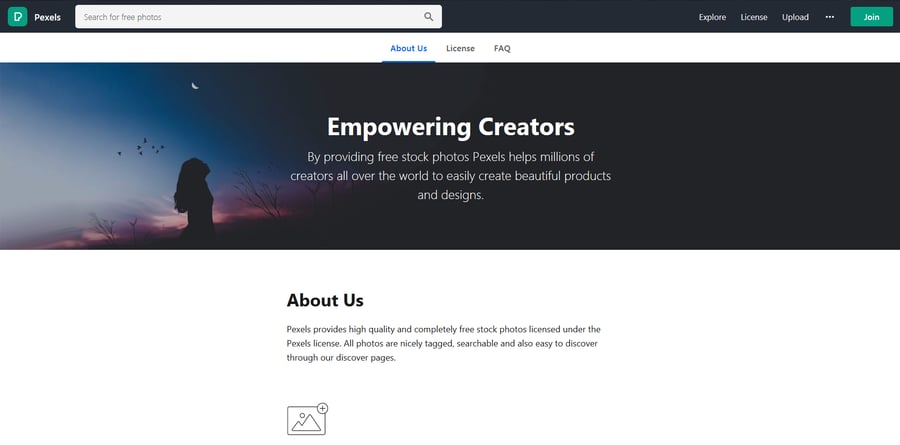 Pexels offers hundreds of thousands of high-resolution images, with new ones appearing every day. The "About Us" page claims the photos are "hand-picked" based on certain quality standards, and they are sourced from user uploads and other websites with free stock images.
You can use them however you want, even for a commercial project. Of course, you should avoid using any photos containing trademarked or copyrighted content for such purposes or risk facing a lawsuit. On the flip-side, they are open to partnerships with companies and brands.
Superfamous Images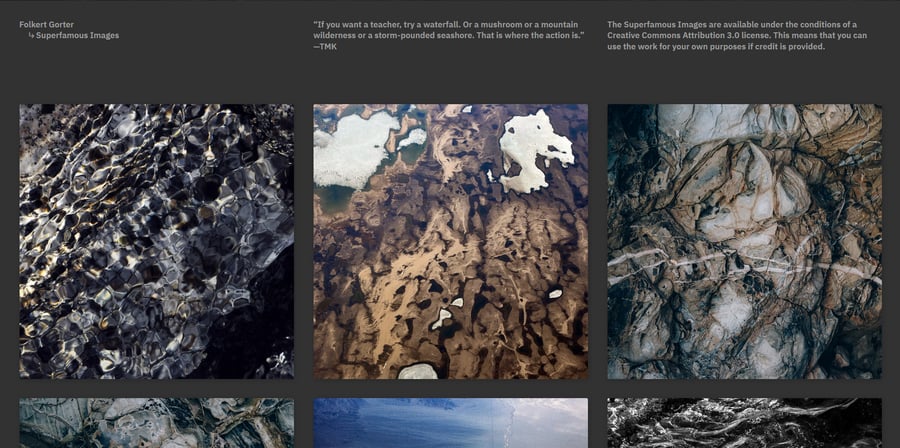 The aforementioned stock image sites are extremely general and have something for everyone. Superfamous Images, on the other hand, fills a far more specific niche. If its wide collection of dazzling environmental images and striking abstract compositions fits your site's content, you can really make your visual style stand out.
Superfamous Images is a project from Superfamous Studios, which is itself the brainchild of Dutch designer Folkert Gorter. This artist believes greatly in artistic freedom, and practically all of his work is available through a Creative Commons Attribution 3.0 license. That means you are free to use anything from Superfamous Images for any purpose, but only if you give credit where it is due.
Startup Stock Photos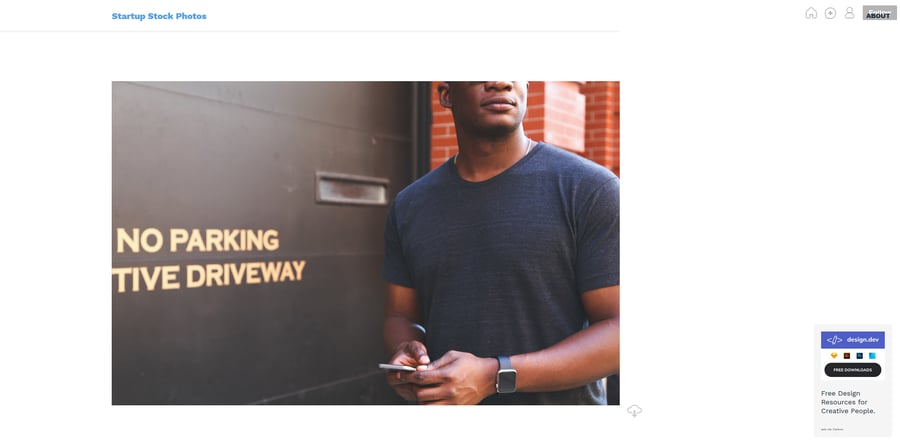 Filling a different niche than the nature-worshipping Superfamous Images, Startup Stock Photos proclaims itself to be "for startups, bloggers, publishers, websites, designers, developers, creators, and everyone else." To this end, most (if not all) of their professionally shot photos depict office environments and technology.
Startup Stock Photos was created in 2014 by Sculpt, a social media marketing agency based in Iowa. Taking inspiration from Unsplash, they wanted to support start-ups by providing un-copyrighted and un-pixelated stock images. No attribution is necessary, but any links to either Startup Stock Photos or Sculpt will get a "hat tip to your content" from them.
ISO Republic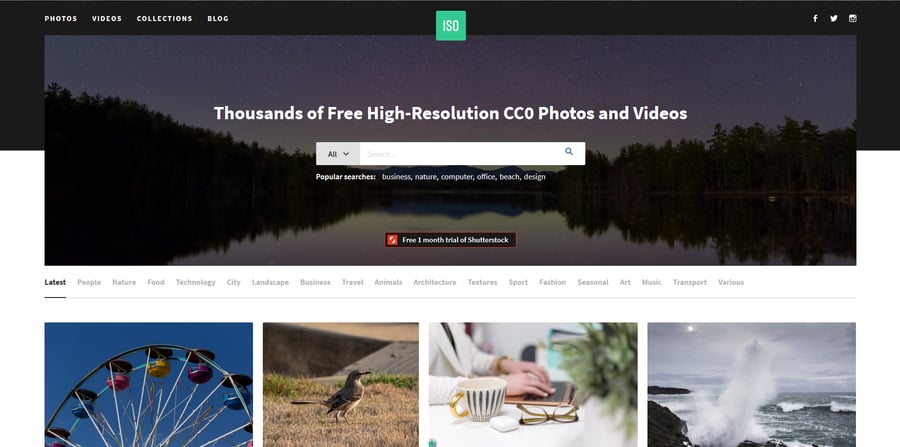 ISO Republic's selection of 3000 stock images seems scant compared to other websites. However, the young independent website is steadily growing, and they maintain high standards of quality, which you can see in every image they provide. They even offer 40 stock videos — a small number, perhaps, but still higher than many competitors. Everything on the site is CC0 licensed and free for commercial and personal use.
More recently, ISO Republic created an offshoot website for food and drink images, called Foodie Factor. This spin-off is still rather new, and at this time, their selection is limited to more than 1200 photos. With that said, this site has far more pictures than the "Food" category on ISO Republic. Like its parent site, Foodie Factor makes sure that everything they offer is high-resolution, high-quality, and completely un-copyrighted.
Magdeleine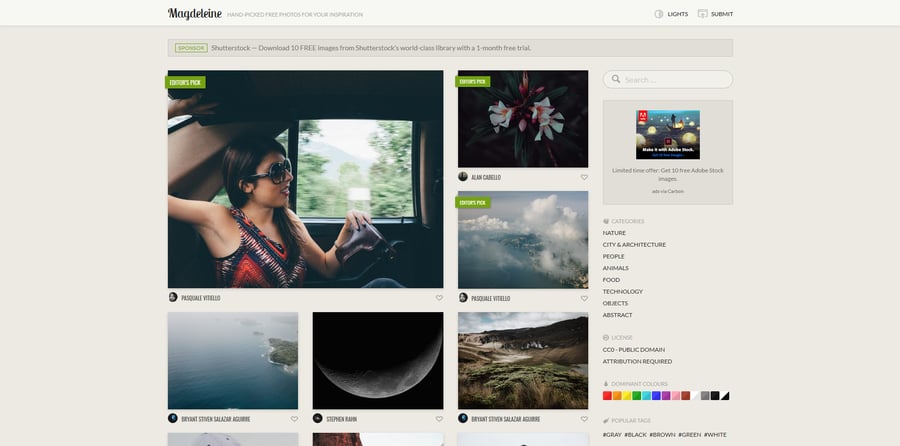 If Magdeleine has one key principle (beyond its tagline, which states, "Hand-picked free photos for your inspiration"), it must be classification. This website strives to aid people in their search by assigning photos to general categories and utilizing specific tags. They even give the option to only see images with a specific dominant color. All of these tools should help site visitors find high-quality photos that match their vision.
Magdeleine also catalogs their stock photos under two different licenses. Anyone can use their selection of public domain photos (under the Creative Commons CC0 license for any purpose, with no actions or transactions required. Certain photos fall under the "Attribution Required" label, so no matter what one chooses to do with the picture, they must credit the photographer responsible. If you casually browse the site, make sure to see the symbol on the picture's top-right corner for its licensing information.
Rawpixel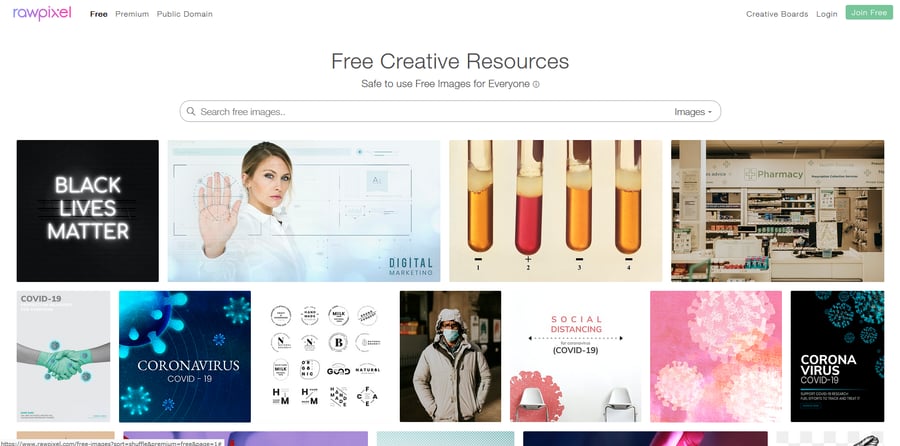 Meanwhile, the mission that guides Rawpixel seems to be diversity. According to the "About Us" page, they seek to "create design resources that reflect today's society as it really is" and pride themselves on "having the most diverse stock photos in the industry." Rawpixel's founders take advantage of the popularity of free stock images to spread their ethos, and conscious people can diversify the faces on their website more easily.
You can see this principle at work in a number of Rawpixel's projects. In addition to mainstay categories like "Flowers" for flowers eCommerce websites and "Food and Drink," they also have categories specific to certain groups, including "LGBT," "Seniors," and "Body Positivity" (featuring plus-size models). Rawpixel is currently working on a project called World Face, which seeks to take pictures of people from every country on Earth and make them available for free.
StockSnap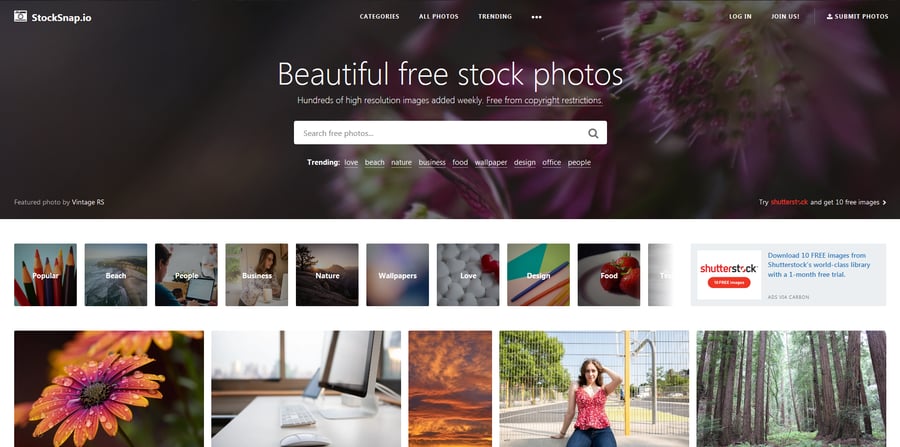 Many stock image websites have categories, but few have as many as StockSnap. Of course, their selection includes staples like "Nature," "Food," and "People." They also have groups for specific examples of those general genres — for example, "Spring" and "Flowers" may fall under "Nature" but have their own sections. They even have categories for moods, such as "Happy" and "Love."
Due to StockSnap's quality standards, all of these photos are rendered in high resolution. They're also free for anyone to use, per their Creative Commons CC0 license.
New Old Stock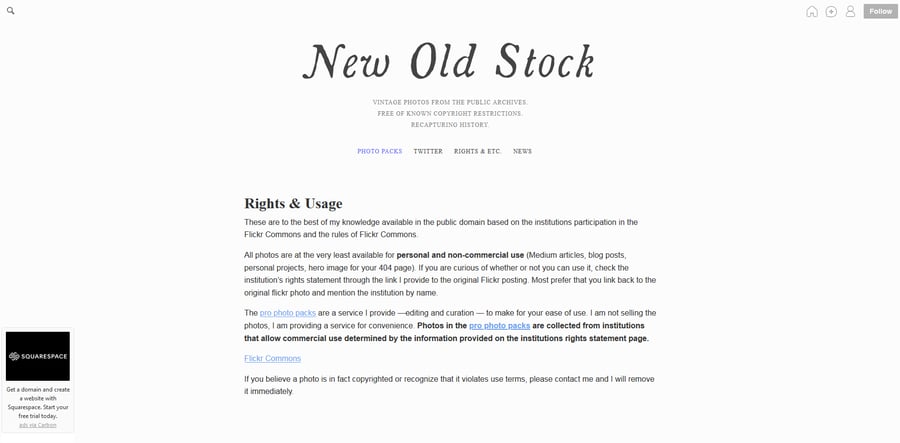 Almost all of the stock image websites covered thus far place an emphasis on the new. This means that one way to make your own website greatly stand out from the competition could be to use older photos. New Old Stock, a Tumblr blog created by product designer Cole Townsend, collects vintage photographs from Flickr Commons.
The images found on the collections span the history of photography. There are also plenty of posters for variety, including iconic propaganda prints from the World Wars. Not every website would benefit from this, but anyone within this niche will certainly find New Old Stock a blessing. Plus, because these images are so old, they have no copyright restrictions — at least, none of which Townsend is aware.
Creative Commons Stock Images Search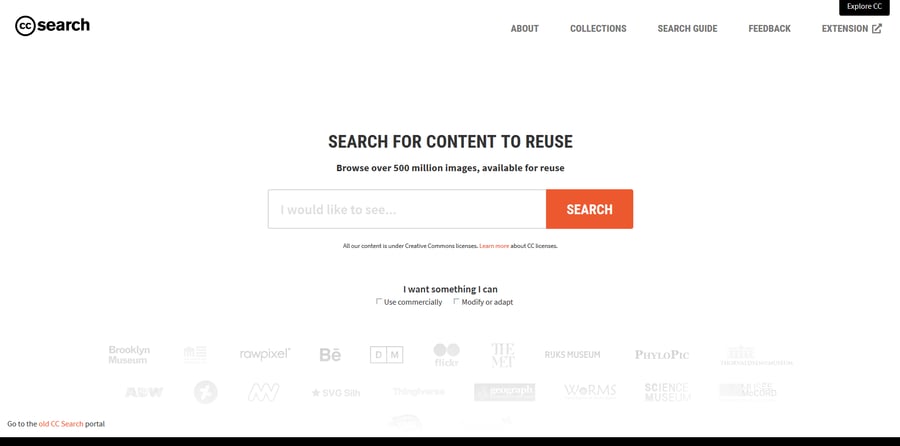 As you have seen, many of these free stock image websites utilize Creative Commons licenses. Creative Commons is a non-profit organization that gives creators in various fields the ability to waive some or all rights for their work. In a time when corporations strongly protect their grip on copyrights and intellectual properties, this group seeks to make more art available that other creators can use or even build upon.
To help people find un-copyrighted works, Creative Commons has a website, Creative Commons Search, which gives people easier access to all the public domain content on a number of websites. For images specifically, you can type a term in the search bar and click on links to the aforementioned Pixabay, as well as Google Images, Flickr, Wikimedia Commons, and Europeana Collections.
Conclusion
With so many great options available to websites, it's critical that you follow copyright laws and protect the work of artists and creatives by not illegally using images on your website or for your business. You can easily find unique and relevant photographs without even having to compromise on quality and image resolution, which means there's no need to settle for dull, widely-used, pixelated pictures that come with a price.
While it might seem like a small "oversight", copyright lawsuits can get ugly, and tend to hit right as you begin to make more money. Whether you use one of our favorite royalty free sites above or find another source, you'll be glad knowing that your website looks and performs so great without any of the grey area that comes from using unauthorized images.