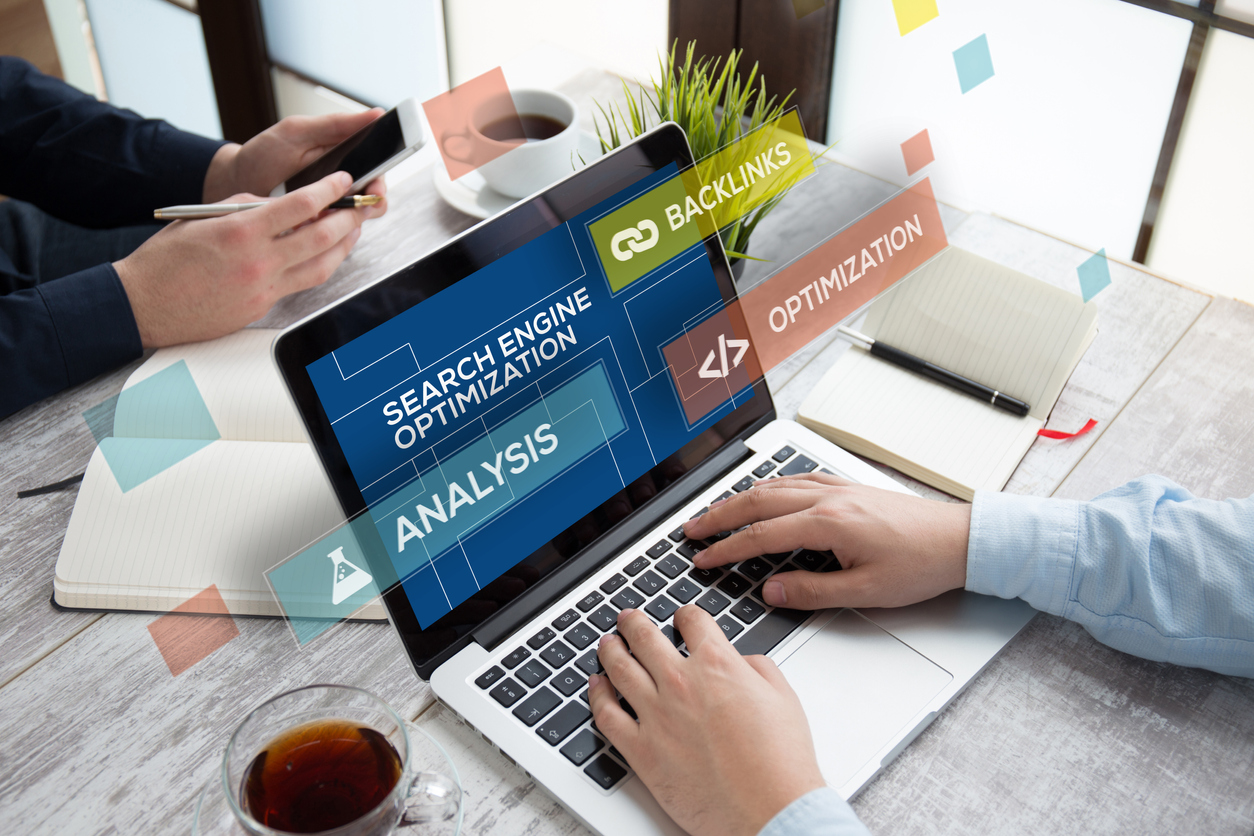 Ecommerce has been a growing sector in the global economy for decades, but eCommerce adoption and spending has increased dramatically in the past few years. And, due the pandemic, eCommerce became a backbone of the modern global economy due to limited in-person shopping. Amongst this growth, many eCommerce companies saw increased organic search and profits from utilizing SEO.
If you're looking to boost the organic traffic that your eCommerce business is getting, then follow along as we go through seven of the best tips for scaling SEO. Let's get started.
Major eCommerce SEO Statistics
Before we jump into these tips, let's first set the stage with some key eCommerce SEO statistics.
48% of people start their online shopping with a search engine.
Even with the rise of voice search, mobile shopping apps and new eCommerce platforms, 48% of online shopping starts with search engines. Search engines play a crucial role in discovery, providing information about a product and helping buyers make educated purchase decisions. Without utilizing search in your eCommerce marketing strategy, you are leaving a significant portion of customers alienated on search engines.
23.6% of all eCommerce purchases are directly linked to organic traffic.
BusinessInsider found that nearly 24% of all eCommerce purchases are related to organic traffic, or "free search results." This is a sizable portion of eCommerce sales and the companies getting these organic sales enjoy less advertising spend and better brand awareness. Adding SEO to your eCommerce marketing strategy is a great way to boost your organic visibility and build a lasting brand.
70-80% of people ignore sponsored ads.
The modern customer has become used to seeing ads on virtually every platform: desktop, mobile, etc. This has led to a phenomenon called "ad fatigue," which happens when an audience is used to seeing your ads. This results in your conversions decreasing significantly. Research found that 70-80% of users ignore sponsored ads.
With this phenomenon occurring, continuing to invest in paid ads can lead to diminishing returns. Ecommerce SEO provides another avenue to get engaged visitors seeing your content and sales pages. This ultimately results in better conversions and organic sales for your business.
Many eCommerce companies rely on paid ads for the majority of their lead generation. Although this is effective for some niches, SEO gives companies a new avenue to generate organic traffic and sales for their business.
7 Strategies to Boost Organic Traffic with eCommerce SEO
Although many eCommerce companies know the importance of SEO, they don't know exactly how to start or improve their SEO operations. In this post, we'll explore the best strategies to scale your eCommerce business' organic traffic with SEO.
1. Perform proper keyword research.
The first and most important step to improve your eCommerce SEO is to perform thorough keyword research. Keyword research is the backbone of SEO and without it, all of your other efforts will be less effective. Proper keyword research allows your website to target keywords that you can rank for competitively. Without keyword research, you're just guessing — this will likely yield little to no traffic for your website.
To perform keyword research correctly, you need an adequate understanding of the process and different types of keywords. There are four main types of keywords, including:
Informational Keywords
Informational keywords refer to keywords that are looking for answers to specific questions. An example of an informational keyword is "What is eCommerce?" The intent of this search is to get more information about a keyword or answer a specific question.
Transactional Keywords
Transactional keywords are keywords that indicate an intent to purchase. These keywords typically include terms like "best" or "review." An example of this type of keyword is "best eCommerce website builder." The intent of this search is to gain more information to make an educated purchase decision.
Navigational Keywords
Navigational keywords are keywords related to finding a specific page or website. An example of this type of keyword is "Shift4Shop blog." The intent behind this search is just to find the blog archive or specific blog posts for Shift4Shop.
Commercial Keywords
Commercial keywords refer to keywords that indicate a searcher is learning more about a brand or product. An example of this would be the keyword "Shift4Shop reviews." The intent of this search is to learn more about Shift4Shop and the different services offered to customers.
Getting a good understanding of the different types of keywords is essential to inform your keyword research strategy. By doing this, you will be able to prioritize which keyword you should focus on, ultimately helping you rank faster and higher.
2. Reduce page speed.
Page speed is a crucial element of eCommerce SEO. In general, users will bounce off of a page if the page speed is slow, but this can be even more complicated with eCommerce. It may take the average customer 2-5 pages to go from Google to completing an order. Each new loading page is an opportunity to either retain or lose the customer.
Some ways you can reduce the page speed on your site include:
Caching your web pages: Caching lowers the time to first byte (TTFB), which results in less resources needed to load the page.
Optimizing your images for the web: Large and bulky images often increase load times. Compressing these images or removing them altogether can improve page speed.
Using better hosting: Oftentimes, eCommerce sites run on hosting providers that have poor page speeds. Switching to a different provider can accelerate your page speed significantly.
3. Prioritize product pages.
Many businesses use email marketing tools to promote their product pages, but they don't prioritize them in their SEO. Although general SEO is great, you need to drive traffic to your product pages in order to increase revenue. The best possible pages to point traffic to on your eCommerce site are your product pages. A few ways you can optimize your product pages include:
Writing thorough descriptions of each product: Each product page should have a detailed product description that includes the materials that make up the product in addition to different functionalities.
Adding videos of the product: Including videos of your product in action is a great step towards differentiating your products from competitors. This helps the user get a better idea of the product in addition to improving the user experience.
4. Improve link building.
Link building is often a differentiating factor between eCommerce sites. Many online stores have decent product pages and content, but few have strong links pointing to their site. Links are an important ranking factor used by Google to help rank sites and specific product pages. Some practical tips in improving your link building include:
Aim for relevant links.
Relevancy is a crucial factor in determining the strength of your links. Getting links from sites in your niche or industry is far better than getting links from random sites that have nothing to do with your eCommerce store. For example, if you're in the IT niche, getting a link from a computer repair blog is much better than getting a fashion industry blog. These links are more relevant to your audience and content, which increases your site's knowledge graph.
Get authoritative links.
In addition to relevance, you should aim high-quality links with the best authority. Getting one link from an authoritative site is equal to dozens, if not more, from weaker sites. You can use tools like Ahrefs or SEMrush to find lists of authoritative sites.
5. Enhance the UX of your site.
Content and backlinks are often regarded as the most important parts of SEO, but the user experience (UX) is just as important for eCommerce sites. The UX for an eCommerce store includes the navigation and structure of a site. A few tips to improve your UX include:
Enable guest checkout.
All of the SEO work you've done for your eCommerce site won't matter if your customers are bouncing at the checkout. You need to remove friction by allowing easy guest checkout for your site. Sites that require users to create accounts can lose a vast amount of sales due to this unneeded extra friction to buy products.
Improve the URL structure.
It's very common to see messy URL structures on eCommerce websites. This looks unprofessional and can lead some users to distrust your site. You should clean up your URL structure by having simple words that indicate where the user is on the site.
As an example, ending your blog's URL with "/blog" is much better than a string of numbers and letters. This is simple, yet so impactful on the UX of the site. With a clean URL structure, the user experience can be improved significantly and conversions can be increased for affiliate links on your website.
6. Optimize internal linking.
A commonly overlooked aspect of eCommerce SEO is internal linking between relevant pages. Internal links indicate to Google that two pages are related and they help in ranking for related terms. Additionally, it's great for the user experience because customers can read a related blog post that can help solve their needs.
One best practice to follow when optimizing internal linking is to use descriptive anchor texts. The anchor text is the highlighted text that leads to the linked page. The more descriptive and accurate the anchor text is, the more effective the internal link will be both for users and for search engines. For example, if your eCommerce store is linking to a page on Lenovo laptops, you can use anchor texts like "Lenovo laptop," "black Lenovo laptop," etc. This helps users know which page they're being directed to in addition to improving on-page SEO.
7. Write high-quality product descriptions and reviews.
Although having content like blog posts is essential to improving eCommerce SEO, the most important content on your site is your product descriptions. Your product descriptions will have a direct impact on how well your users convert to paying customers. The better your product descriptions are, the better you will rank on search engines and make organic sales.
In addition to product descriptions, you should have an ample amount of reviews. Reviews are great for eCommerce SEO because they provide social proof to your online store. Additionally, Google loves to highlight reviews when users search for a specific product.

In the snippet above, you can see Google lists the amount of reviews and the average rating for a product on the search results. Make sure your users are able to leave reviews because this will help significantly in improving SEO for your site.
Wrapping Up
Leveraging the above eCommerce SEO strategies can help your business gain more organic traffic, conversions and sales. With strategies like improving the UX of your site, building links and creating relevant and targeted content, you can start increasing the organic traffic for your business. To learn more about how to improve your eCommerce SEO, check out our guide here.