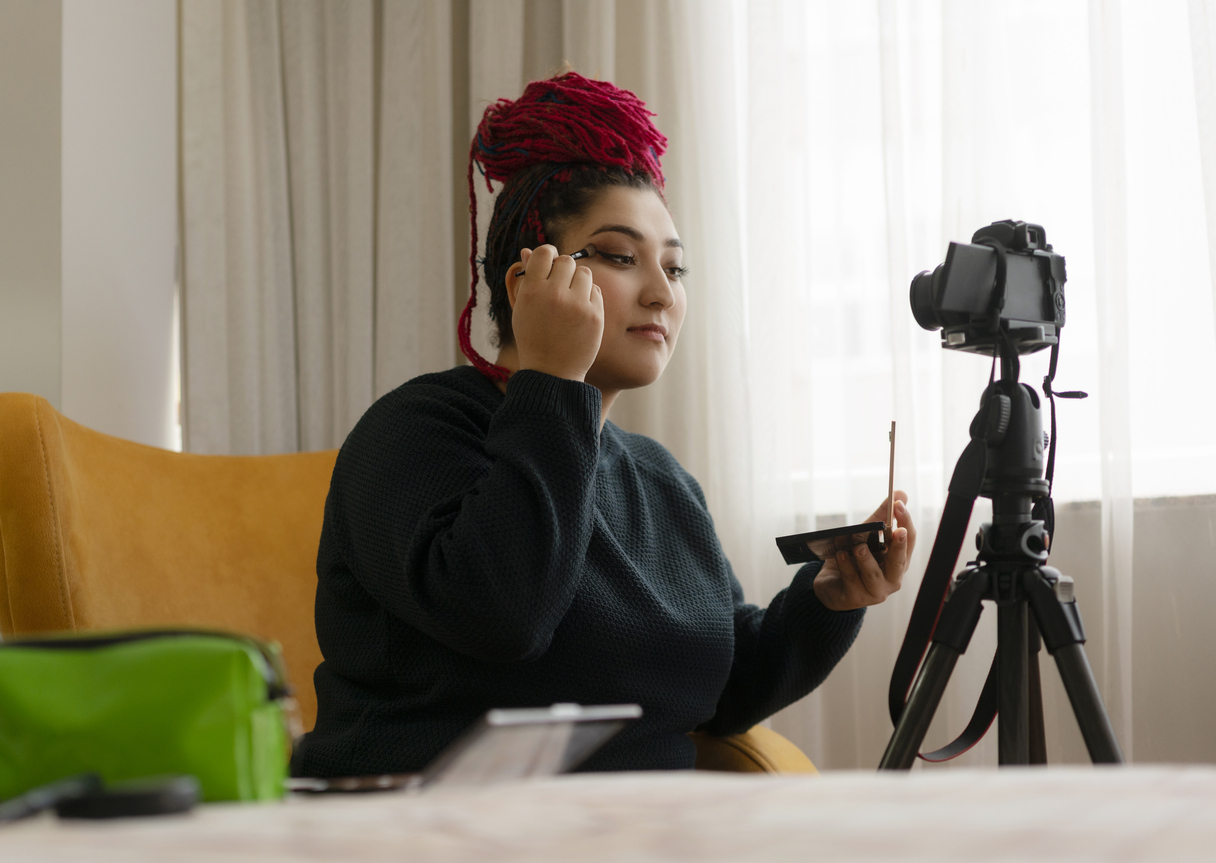 Whether you play video games or you model high-fashion clothing brands, you're an influencer if you have an audience that loves your content. Being an influencer introduces a wide variety of opportunities to make a living, from brand deals to advertising revenue. But, one of the most popular ways that influencers monetize their following is through branded merchandise.
So, how do you sell branded merchandise as an influencer or YouTuber? Let's guide you through the in's and outs of selling custom branded merchandise online.
Why Should Influencers and YouTubers Sell Branded Merchandise?
If you're not convinced that you should be selling branded merchandise to your audience, let's go through the exact benefits you'll see when you do so.
1. Your monetization goes beyond your platform.
While you may be managing a profitable, successful brand solely through your platform, that doesn't mean it's permanent. Whether you're on YouTube, Instagram, or even TikTok, that revenue stream isn't always reliable. On each of these platforms, influencers have been demonetized, halting that revenue stream in its tracks.
By creating a line of branded merchandise, you'll be able to diversify your revenue stream. If you're temporarily unable to earn revenue from the platform you're big on, you can still have money come in from merchandise sales on your own website. This allows you to take control over your brand and business.
2. Loyal fans will buy your merch fast.
Branded influencer merchandise hits a unique sweet spot for eCommerce. Not only can your brand be incredibly niche, but if you have an enthusiastic fanbase, there's also high demand for it. That's the perfect recipe for a profitable product.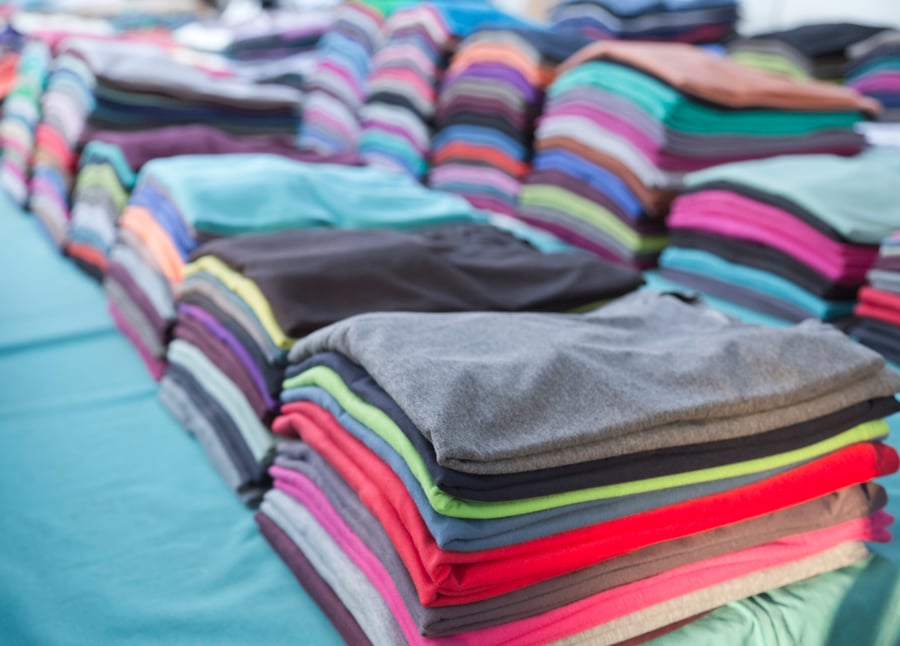 As an influencer, the launch of your merchandise can be a huge event and an opportunity for content. Hype up your audience between your merch announcement and launch to get your fans excited about it and ready to buy. When your merch launches, be prepared to sell out fast – your site may even crash if your platform isn't prepared for the demand.
3. You get a chance to expand on your creativity.
As a content creator, your craft is defined by your creativity. But, whether you create hour-long YouTube videos or 10-second clips on TikTok, you may be itching to get creative in other avenues. By creating custom merchandise for your influencer brand, you have a chance to show fans a whole new side of what your mind can create.
Through custom branded merchandise, you can craft unique designs that expand your brand. Indulge in your interest in fashion, design accessories that you would wear, or even create a makeup line that you know your audience would love. The sky is the limit with merchandise, so get creative!
4. Merch can create a sense of community.
As an influencer, you're fostering a community of loyal fans that all have one thing in common – they love your content. Amp up that community by creating merchandise that they can get excited about on social media and share when they receive it. At events and meet & greets, fans can even wear your merchandise and recognize it on other fans.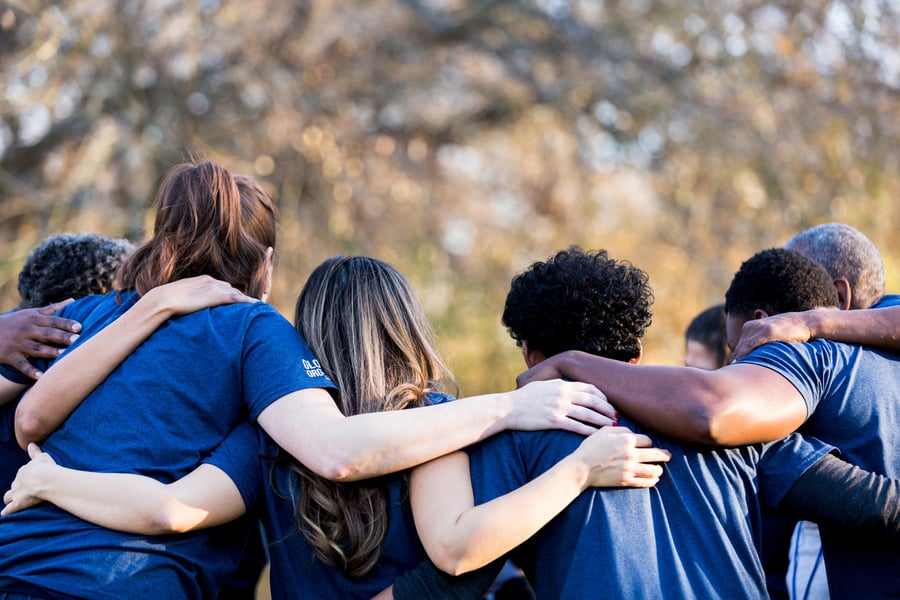 Creating a sense of community translates into profits too. According to Convince&Convert, 53% of American customers who are part of social brand communities are more loyal to those brands. With merchandise, you can profit off of and maintain that loyalty at the same time.
How Can Influencers Use Their Platform to Sell Merch?
As an influencer, you have the unique ability to reach a large audience of people that care about what you have to say and trust your opinion. This audience will be a key asset to successfully selling your merchandise.
1. Gauge your audience.
Before you even create your merchandise, communicate with your audience. You need to be sure that they even want merch to begin with before trying to sell it to them.
Get them involved by polling them on different design options, asking them what they'd like to see, and staying engaged with their desires. This not only ensures that you're giving your audience what they want, but that you're getting them invested in the process.
2. Create relevant and unique products.
You don't want your branded merchandise to look like something that could be bought at a local department store. This is your brand, so it should be unique to your online personality and be recognizable to your fans.
One go-to approach for influencers creating merch is to use inside jokes as inspiration for their design. This could be a slogan that you always say, or a joke that was made that become a popular reference among your online audience. For example, gaming YouTuber Jacksepticeye recently released hoodies and t-shirts that don a joke phrase relating to the game Among Us, which he plays frequently.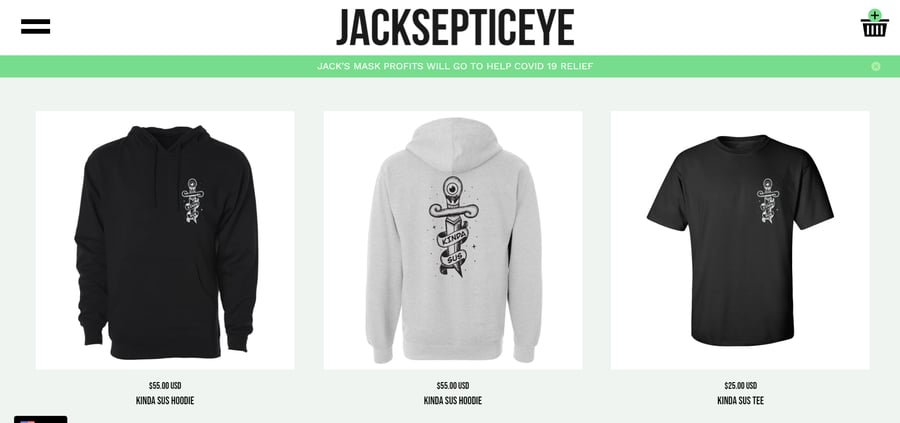 Many influencers also gain inspiration from the overall theme of their content. That way, they're creating relevant and unique merchandise that also speaks to a larger message that their fans already relate to. A great example of this is Nathan Zed, who is a YouTuber that creates videos of him talking about a variety of topics. His merchandise takes a different approach and shares the sentiment of positivity with the slogan "Good Enough."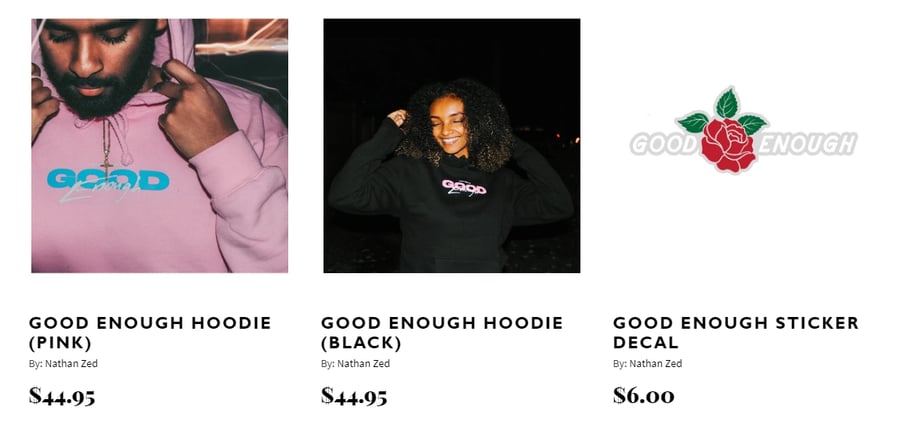 3. Use your merch in your content.
The best way to market your merch, once you've actually created it, is by wearing it yourself in the content that you make. While this may feel narcissistic, it's a great way to let your audience know that you have merchandise. This is especially effective if your merchandise features more subtle designs, such as a simple logo or a graphic that doesn't include your name.
What Branded Merchandise Should Influencers and YouTubers Sell?
You're not limited to selling t-shirts to your audience. There's a wide variety of merchandise types that you can add your custom branding to and sell to your followers. Let's go through the most popular options for influencers and YouTubers.
Clothing & Accessories
By far, clothing and accessories are the most popular types of custom branded merchandise for influencers to sell. It's easy to design a shirt or hoodie with your brand's logo, a custom design, or even just text. They're popular products for a reason – 63% of customers actually keep their shirts for 14 months on average. Throughout their lifetime, they can even generate 3,400 impressions.
Rosanna Pansino, a YouTuber who specializes in cooking, sells this sweatshirt that calls back to her dessert branding.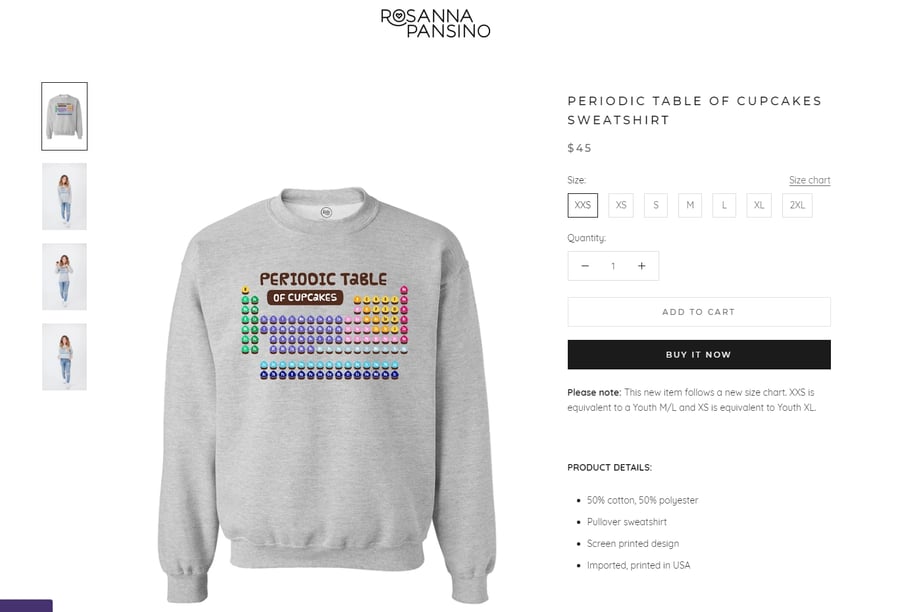 Tech Accessories
From phone cases to laptop stickers, accessories for tech is a popular choice for branded merchandise. Your fans can attach a custom phone grip to the back of their phone, use it wherever they go, and represent your brand daily. If your niche is in the tech industry, this type of merchandise is especially relevant. One YouTuber, LinusTechTips, took an interesting approach to this type of product. He created custom cable ties for computers, which is within his demographic.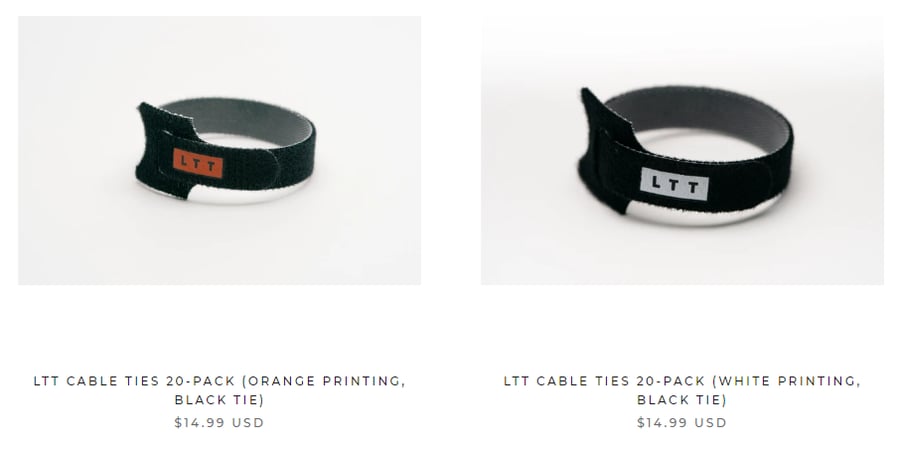 Home Goods
Your fans don't just want to wear merchandise – they also want to decorate their homes with it. Products like coffee mugs, cushions, blankets and notebooks are easy to customize and brand with your own design. Here's a great example of how versatile home goods products can be from the YouTuber TheOdd1sOut, who sells plush toys of his original character.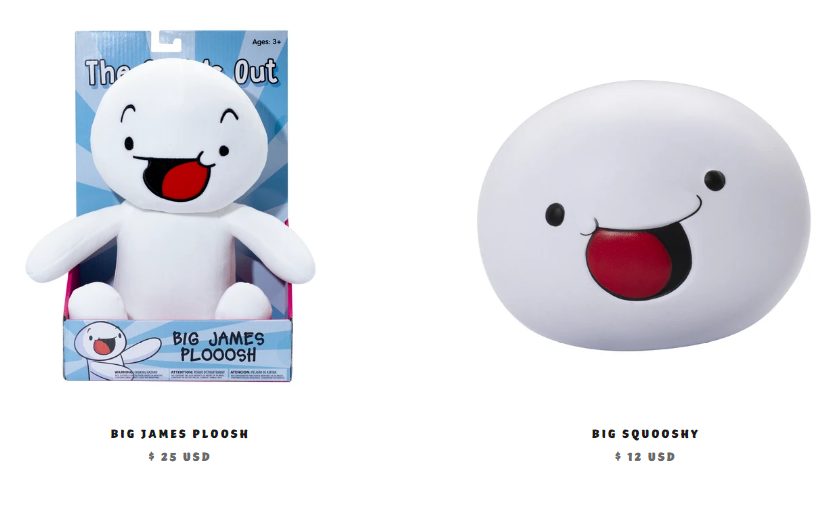 Cosmetics
It goes without saying that one of the most popular types of influencer is the beauty influencer. If you specialize in beauty, you may have thought about starting your own line of cosmetics. While this can be a great way to be creative with your merchandise, it's also one of the most difficult types of merchandise to create for influencers. That's not to say there isn't success – it all comes down to working with the right manufacturer and supplier.
Beauty and nail polish YouTuber SimplyNailogical excelled in this market. She launched her own line of nail polish called "Holo Taco" that lined up with her unique fascination with holographic nail polish.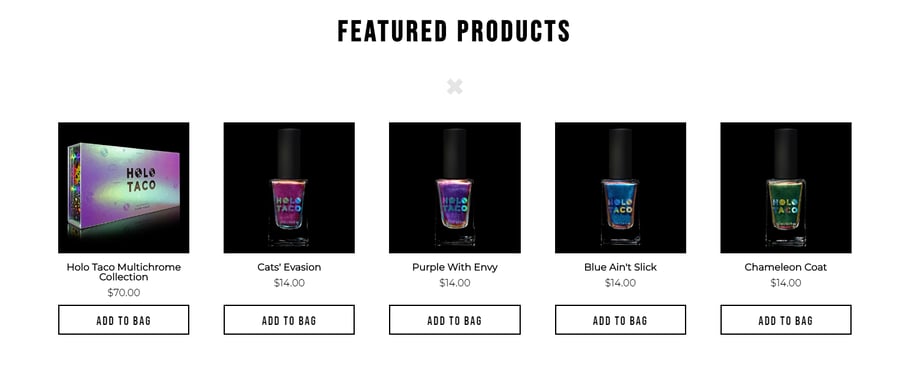 Where Can Influencers Get Branded Merchandise?
When you think of creating branded merchandise to sell, you may worry about the set-up costs. While you can buy your own printing equipment and blanks in bulk to create your own merchandise, this may be costly and time consuming for most.
Today, there exist several third-party services that can create custom branded merchandise for you. Let's go through a few of the most popular options at your disposal.
Printful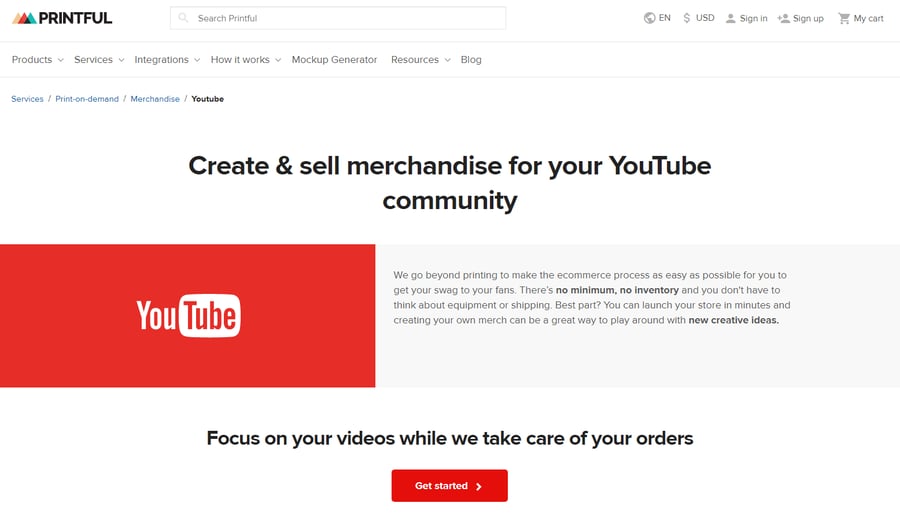 If you'd rather take all of the work out of selling your merch, print-on-demand dropshipping may be the choice for your brand. Printful is one of the more popular options for print-on-demand. Their service allows you to upload your design, choose your product type, and sell it on your online store. From there, a customer can buy your product and Printful takes care of the rest. That product is printed, stored, and shipped directly from their fulfillment centers to your customer.
Icon Printing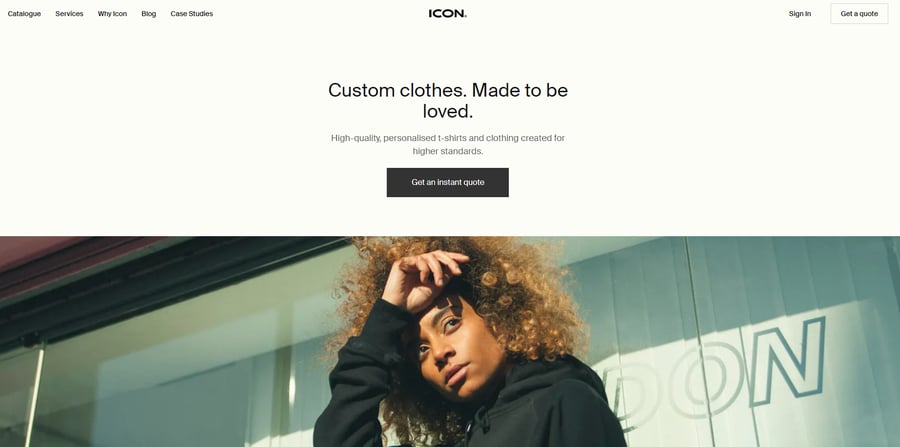 If you'd like to ship out your products yourself, but still want a third-party to take care of printing, then you can use a service like Icon Printing. At Icon Printing, you can order merchandise that's screen printed, DTG printed, transfer printed, and embroidered. Simply order the products you want, provide them with your design, and you'll receive your merch to send out to all of your followers.
LogoUp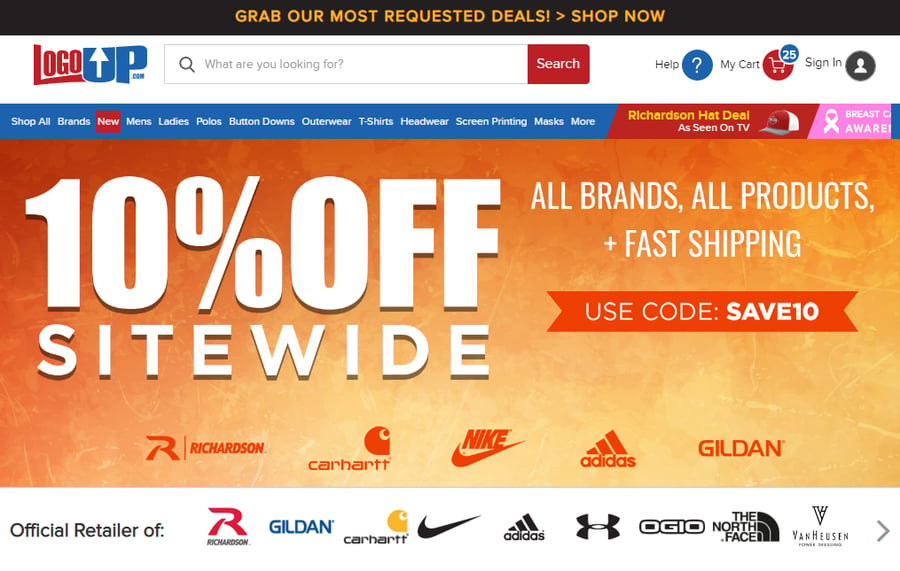 For a wide variety of custom printed promotional products, check out LogoUp. They custom print a long list of merchandise types, from apparel and accessories to technology and drinkware. LogoUp offers several different printing styles, including screen printing and embroidery. To order from LogoUp, pick out the products that you want, provide them with your custom design, and wait for them to fulfill it.
How to Use 3dcart to Sell Branded Influencer Merchandise
While there are free marketplaces available to sell your merch on, you'll have little control over your products and profits. By selling your merch on your own online store, you'll have total control over your products. Let's go through exactly how you can start selling branded merchandise with an online store built on 3dcart.
1. Sign up for 3dcart.

Before you get started, you'll need to sign up for a 3dcart account. You can test out the software before you commit by registering for the 15-day free trial. This lets you understand how 3dcart works and help you decide if it's right for you.
If you like the software, you can sign up for a paid plan. For print-on-demand dropshipping sellers, the Dropshipping plan is the best option at $9.99/month. For more features, you can sign up for any of the normal plans offered starting at $19/month.
2. Build and customize your website.

Now that you've created your account, it's time to get into building your website. First, choose from one of the many themes available to start with a base for your online store. With that theme, you can upload a logo and customize the colors, fonts, and content to create an online store that matches your brand.
3. Upload your products.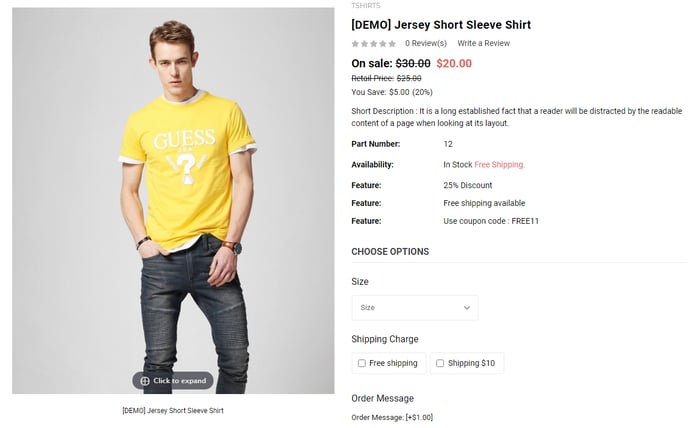 If you're integrating with a print-on-demand service like Printful, you can start synching up your inventory and uploading your products to your 3dcart store.
If you have your own products and are fulfilling orders on your own, you can upload your inventory yourself. There are two options when it comes to uploading inventory. You can either manually upload each product one-by-one or bulk upload with a CSV file. Make sure that all of your product pages have necessary information on them, including size charts and materials.
4. Add shipping and payment methods.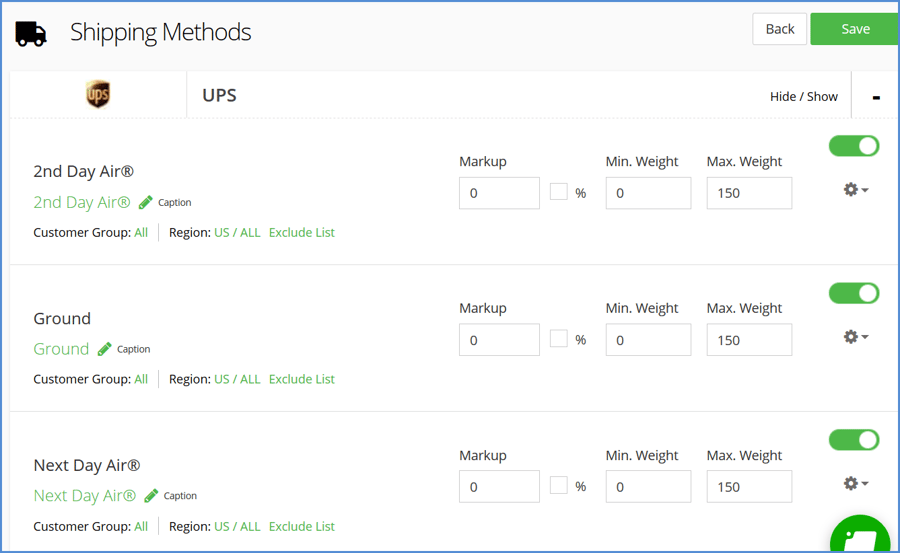 With your product pages ready, you need a way for customers to actually buy and receive your merchandise. Choose your desired shipping methods that you'd like to use to ship products out to customers. Integrate with the payment methods that best fit your needs and your audience's preferences. For example, if your audience is into the latest technology, you may want to have Bitcoin available.
5. Integrate your site with your platforms of choice.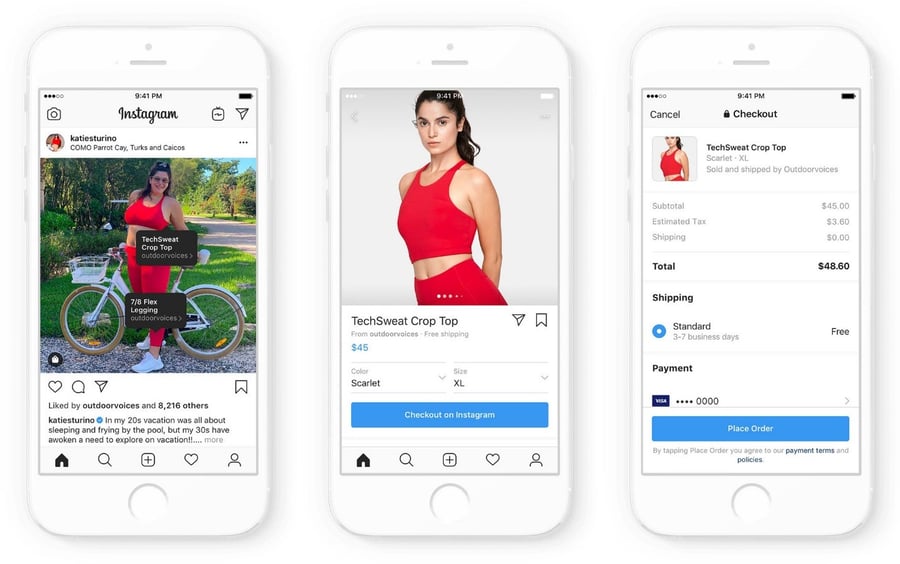 You're not just stuck selling on your online store if you choose to build one. If you have an audience on Instagram or Facebook, you can integrate your 3dcart store with your page. This allows customers to buy your merch directly within those platforms. This utilizes the new Instagram Shop and Facebook Shops, making it convenient for your audience to get your latest merch.
6. Start sharing your merch with your audience!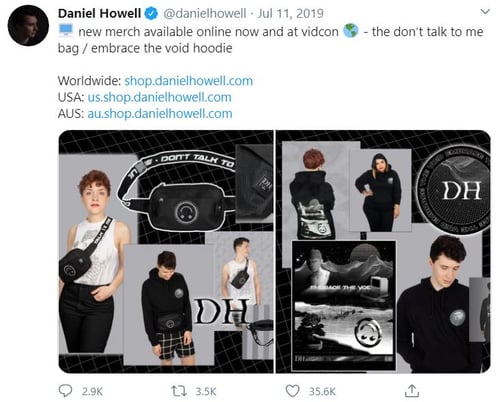 Once your merch is launched, you'll want to let all of your followers know that it's ready to buy. Use your platforms and start promoting! Post stories on Instagram, record promotional TikTok clips, and create videos announcing the launch of your new merch line. Ask your followers to take pictures with their new merch once it arrives – this serves as useful social proof later down the line.
Wrapping Up
Creating and selling custom branded merchandise as a content creator benefits both you and your audience. On your side, you'll have a new revenue stream that you can control and customize to any level you desire. On the side of your audience, you'll be providing them with fun, unique products that they can buy to represent their interest in your content. Above all, branded merchandise can be a great extension of your brand and an effective way to take your content from digital to physical.