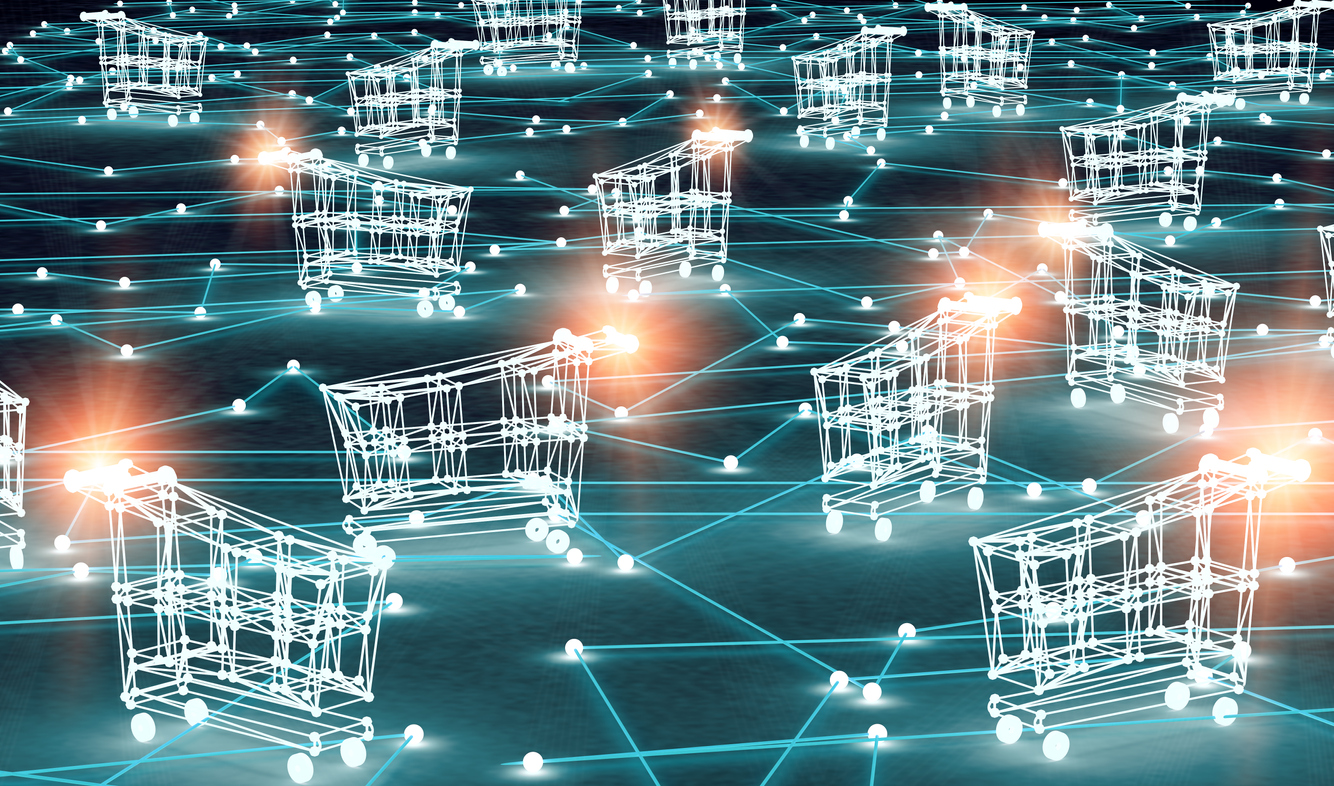 Shopify Plus alternatives are growing increasingly popular in the realm of enterprise eCommerce. While millions have flocked to Shopify to host their storefront, this popularity has also exposed the shortcomings of Shopify Plus.
On the one hand, it lacks the deep, advanced functionality of platforms such as Magento Enterprise. While Shopify Plus sells itself on ease of use and lower cost, the $2,000 starting price point is still imposing for growing businesses and even larger brands may understandably wish to avoid it.
What Is Enterprise eCommerce?
eCommerce is the field of digital retail, with small merchants encompassing everything from your aunt selling hand-knitted socks to a welder selling metal wall art. Small merchants can make do with simple, affordable solutions to support their side-hustle or hobby.
However, when a large, existing brand seeks to establish an eCommerce storefront or when a digital-native retailer outgrows these entry-level eCommerce options, it needs something more. It needs to keep its website on servers that can handle high levels of traffic and also requires various forms of advanced functionality. Customer relationship management (CRM) software, Return Merchandise Authorization, and dedicated marketing features are all essential.
This is where enterprise eCommerce comes into play. It scales up from entry-level eCommerce options in accordance with the needs of larger operations, providing reliable cloud storage and many new tools that a growing merchant needs. At the time of writing, Shopify Plus is the most popular enterprise-level software.
What to Know About Shopify Plus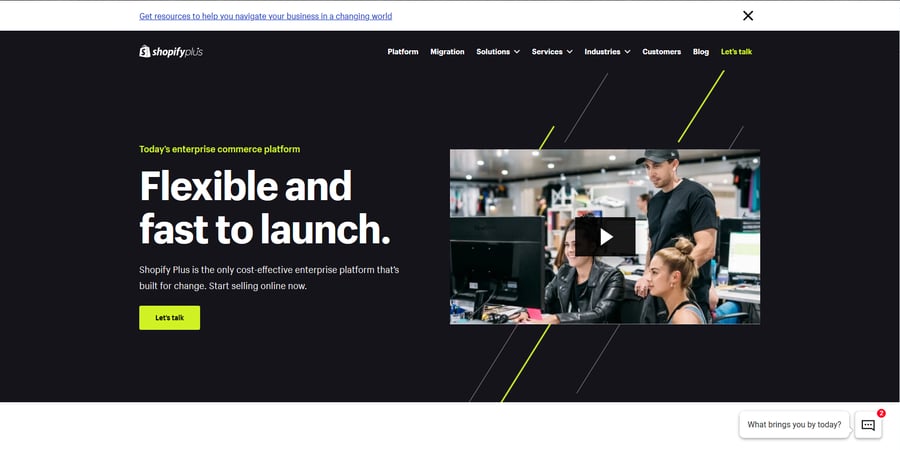 Shopify Plus isn't popular without reason, as it offers large businesses a more affordable, usable alternative to more expensive forms of enterprise eCommerce software. Most features are effectively universal, which leaves the merchant less to worry about while making the move to Shopify. A unique advantage that Shopify holds is that its high popularity has drawn many technology partners who build their entire business model around supporting Shopify.
On the other hand, Shopify Plus can still be terrifically expensive. While standard versions for small merchants include several options where licensing fees are under $300 a month, the starting price on Shopify Plus is an imposing $2,000. However, the real price will end up being higher if you need any add-on services. There comes a point where your business outgrows entry-level eCommerce solutions but still can't bear an increase in licensing fees that's well over 500%, and Shopify doesn't have a good option for these small businesses. Revenue tiers are relatively low, and Shopify requires businesses that are making over $800,000 a year to upgrade to a $2,500/mo version of Shopify. At $55,000 a year, that's over 5% of all revenue going into licensing fees alone.
Another cause to seek out an alternative to Shopify Plus is the lack of customization options and built-in tools. Third-party plugins and apps aren't free, which can erode much of its cost advantage over other alternatives. You have very little ability to customize your storefront or checkout page, and SEO is also locked-down for the most part.
Shopify Plus Alternatives
While Shopify Plus is well-rounded, there aren't many areas where it's exemplary. If your priorities lay with affordability, advanced functionality, or customization, then you're better off looking into one of these Shopify Plus alternatives.
1. Shift4Shop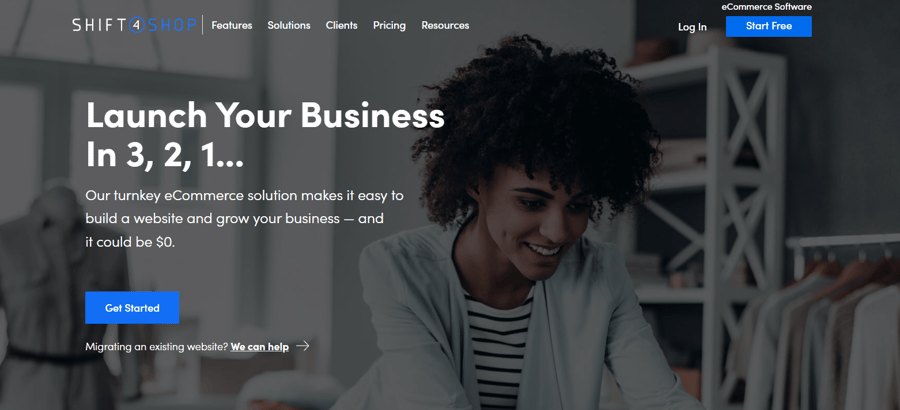 A lack of scalability for small businesses is a key shortcoming of Shopify Plus, and this is where Shift4Shop shines. It homes in on the key features of enterprise eCommerce and offers them in a package that's more accommodating to the actual journey of a small business.
Shift4Shop's End-to-End eCommerce plan is available for $0 when processing at least $500 per month with Shift4 payment processing. This makes it one of, if not the most affordable enterprise eCommerce options available.
The End-to-End eCommerce plan doesn't skimp on features, either. It automatically upgrades your server status to an extremely secure, reliable, cloud-based network. There's no single point of failure in this advanced infrastructure network, which means that it's extremely unlikely that your storefront will ever be down. In fact, the Service Level Agreement includes 100% guaranteed uptime, the highest possible guarantee.
Besides the infrastructure capable of supporting a large eCommerce platform, Shift4Shop's End-to-End eCommerce plan comes with a number of built-in apps and unlimited staff members. Address verification, custom-product emails, inventory stock buffer, automated recurring orders, and many other apps with a cumulative value of around $1,000 are complementary on the End-to-End eCommerce plan.
Shopify Plus' principal advantage over Shift4Shop is its world-beating third-party support, but Shift4Shop certainly does not lack for features nonetheless. It's worth looking into a deep Shift4Shop vs. Shopify Plus comparison.

2. BigCommerce Enterprise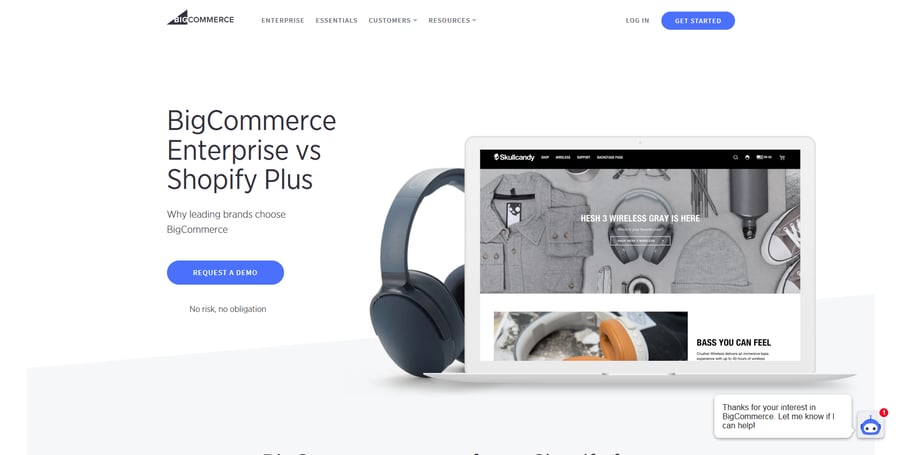 Of all of Shopify's competitors, BigCommerce Enterprise is the most similar and easily comparable. Many of its features are roughly equal, as BigCommerce Enterprise successfully matches Shopify's ease of use. Both platforms are ready to use as soon as you pay for them, and most features are more or less locked down. However, BigCommerce Enterprise has somewhat more customization features, such as the lovely Stencil Theme Editor.
You have many attractive styles to choose from, intuitive editing tools, and some ability to dive into HTML and CSS and customize it further. On the other hand, Shopify has an almost immeasurably larger pool of third-party apps and much more external support. If you're willing to pay, then you can get a superior product quite easily.
Both shopping carts are highly similar, but BigCommerce Enterprise can provide better value and comes with more built-in features. It poses the most direct challenge as a Shopify Plus alternative, while 3dcart Enterprise, Magento, and other alternatives fill somewhat separate niches.
3. Salesforce Commerce Cloud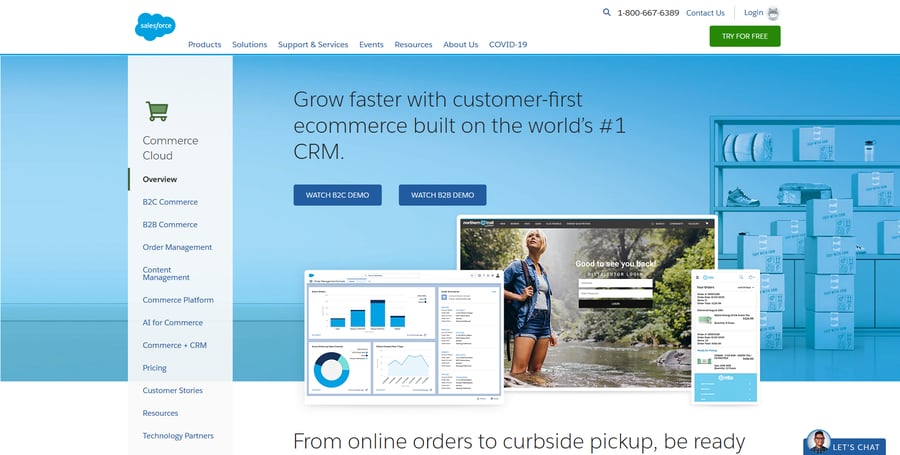 Salesforce Commerce Cloud is infinitely scalable and an excellent international eCommerce solution, with the ability to run multiple storefronts as a single administrator. Additionally, multi-currency features and multilingual options are some of the best in the industry.
Contrary to most eCommerce providers and their revenue tiers, Salesforce runs a unique pricing model based on a 2%-4% commission on your sales. This can be an advantage or a disadvantage, as small and medium-sized businesses will pay less or similar amounts when using Salesforce. On the other hand, large businesses that use the most powerful versions of Shopify Plus will spend far less.
Salesforce gains an advantage with powerful marketing features that enable deep personalization of advertising campaigns, as well as personalization of user experiences with your website. While Shopify Plus has many more apps, Salesforce certifies all of its apps and enjoys greater average quality. Overall, Salesforce is an excellent eCommerce option if you aren't expecting to grow to the point where it becomes highly expensive or if that expense doesn't bother you.
4. Magento Enterprise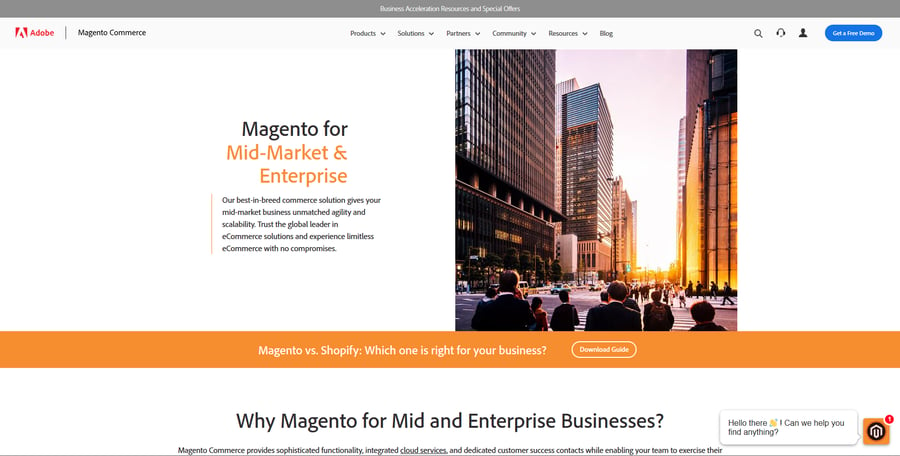 Magento Enterprise is an excellent Shopify Plus alternative if you're ready to sacrifice ease of use for great functionality. Compared to options like BigCommerce Enterprise which seek to compete directly with Shopify Plus, Magento carves out its own niche by being highly different.
On the plus side, Magento has too many extra features to list. It may be the most powerful, feature-rich option in the eCommerce market, which has made it a winner with many Top 1000 Internet Retailers. As an open-source website, it fills a niche thanks to the transparency inherent in such a platform. You also have the choice of either diving into the code for your Magento platform or using more intuitive customization tools to tailor everything to your preferences. Finally, Magento has one of the most seamless multi-store management systems in the industry. However, all of this freedom and functionality comes with a cost.
The first cost of the extremely high customization of Magento Enterprise is simply how much it seeks to do. While there are retailers who will fall in love with this platform, there are many more who will find most features superfluous. Greater complexity means that website development will be slower and more expensive, and the licensing fees already start out at a fairly high point. Magento doesn't give you the ability to get up and rolling quickly, which is the fundamental compromise at the heart of its high-customization strategy.
Wrapping Up

Choosing the right eCommerce software is a tough decision, and it's even harder when the stakes are higher. Every platform has its pros and cons. Enterprise eCommerce software is so specialized that many business owners don't realize they have multiple options. If your business is just reaching enterprise scale, it's likely a stressful time for you as well. But the first step toward making the right decision is to understand what's available, how they're similar, and how they are different. Hopefully, we've made that a bit easier for you!