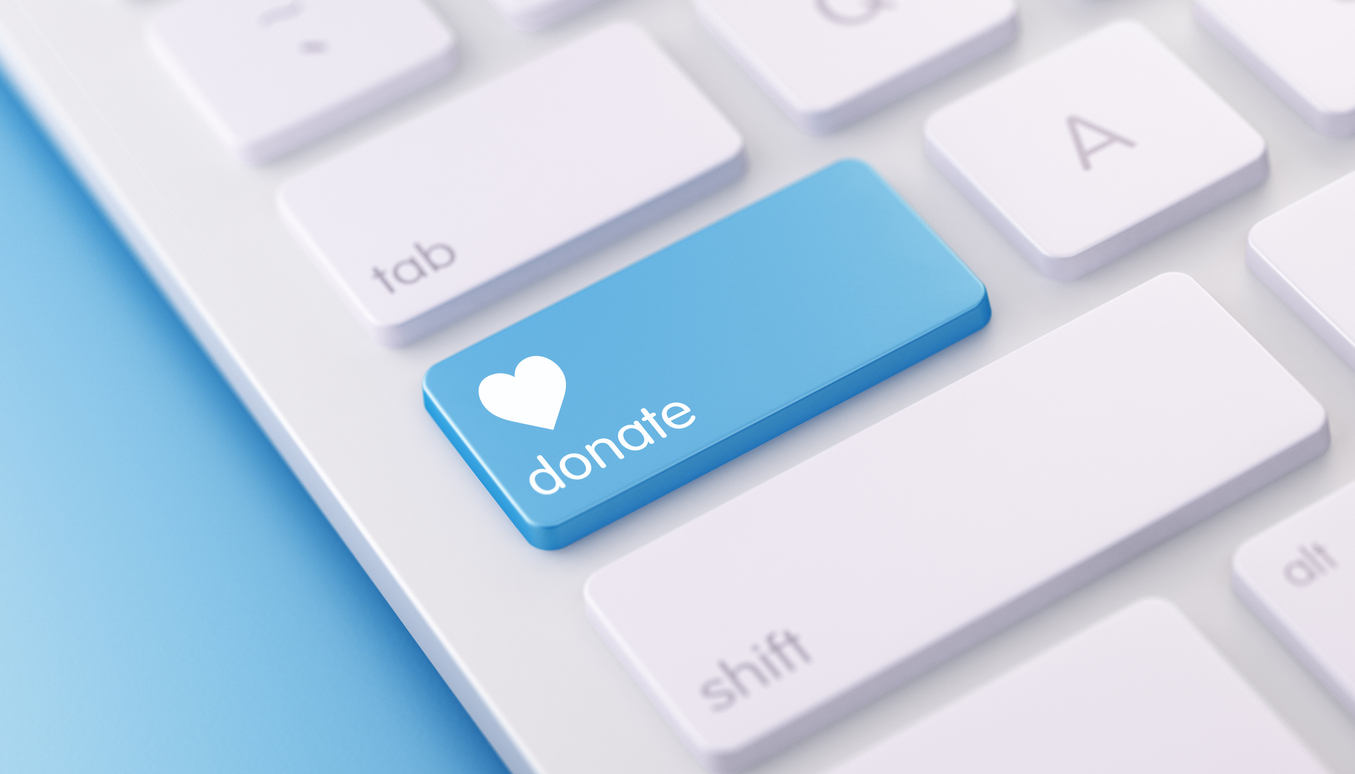 When customers choose a business to shop with, they don't just compare prices or browse product selections. They also want to see responsible social practices.
In fact, they'll even pay more for a product if the business selling it is aligned with a charitable cause – especially if they personally support it.
Businesses that get involved in supporting a cause not only make a difference in the lives of those in need, but they also get recognized for that effort by their audience. So, how can your business support a cause and foster goodwill among your customers while also making a smart financial decision?
In this article, we'll explain how cause marketing can help to give your business a higher purpose beyond pure profits, giving your customers even more reason to come back. Let's get started…
What is Cause Marketing?
Cause marketing is a program launched by a business that supports a social cause, typically bringing awareness and funds to a specific nonprofit organization.
Businesses engaged in cause marketing can partner up with a nonprofit of their choice to support a cause that aligns with their brand values and the values of their customers. Whether it's solving homelessness, helping save the environment, or curing childhood cancer, a cause marketing campaign is meant to support something philanthropic.
Why Should You Use Cause Marketing for Your Business?
Cause marketing is a mutually beneficial effort. Naturally, a nonprofit organization partnering with a company can gain exposure, more donations, awareness, etc.
But how exactly does cause marketing benefit a for-profit business? Let's dive into the major benefits you'd see from launching your own cause marketing campaign.
Drive More Sales to Your Business
Now more than ever, customers are looking for brands that match their values. Whether or not you make a sale goes beyond your pricing or product offering – the way your brand makes a difference in the world matters, too. Studies even show that 72% of Americans feel that it's more important than ever for the companies they buy from to reflect their own personal values.
In this way, the cause you support and your mission statement become a USP (unique selling point) for your business. So, just like any other USP, marketing it will set you apart from the competition and bring in sales. Your target audience, in regards to cause marketing efforts, is customers that are looking to support brands with a real dedication to promoting public goodwill in some way.
In fact, customers are willing to try new products solely because they're connected to a cause. Millennials are even willing to buy more than they usually would if your business is doing good for others – especially if it's a cause that they believe in personally. You may even reach new customers that never would have encountered your brand without connecting it to a cause that they care about. This can attract more eyes to your brand and bring in new customers, resulting in more sales.
While at first glance it may not seem like cause marketing is a functional marketing strategy, as it relies on emotion to drive sales, if you look closer anyone can see that it is still one of the most powerful strategies a brand can employ and is a big win for everyone involved.
Boost Customer Loyalty to Your Brand
Bringing in new customers is vital to growing your business, but sustaining it is just as important – if not more so. Luckily, cause marketing doesn't just help to bring in new sales, as it also helps retain current customers and encourage them to be loyal to your brand.
Shared values are becoming increasingly important to customers when they choose to come back to a business. Customers notice and prefer when businesses show that they care about more than just profits and marketing products. One study even shows that 93% of customers will be more loyal to a company that practices CSR, or corporate social responsibility.
If brands have a larger cause that they're promoting and supporting, customers are more likely to feel a sense of loyalty to the brand. This is especially true if it's a cause that they personally care about in their own life. If customers perceive that your business cares about the same things that they do, and that their money goes directly to benefiting that cause when they shop with you, then they'll keep coming back.
Improve Employee Satisfaction
The other half of the equation, when it comes to running a successful business, is the people within your organization making the gears turn. So, it's vital that you think of your employees when you launch any new marketing effort, including a cause marketing campaign.
Getting involved in a cause and marketing your support not only encourages new hires to apply to work for you, but it also keeps existing employees satisfied. In fact, surveys show that more than 70% of respondents feel that it's very important to work for an employer with a mission and values that align with theirs.
Aligning your business with a cause can also serve as a motivating factor for your employees. They may see it as a reason to work harder in their position or simply promote the business in their own lives.
How to Implement Cause Marketing Into Your Business's Strategy
Have you decided to start using cause marketing to your business's advantage? If so, let's go through each step necessary to implement a successful cause marketing campaign strategy.
Step 1: Pick the cause that best fits your brand's mission.
Once you've decided that you want to pursue a cause marketing campaign, your first step is to choose the cause that you'd like to align your business with.
If the cause you choose relates to your business in some way, then that's even better. For example, a clothing business may want to partner up with a nonprofit organization that donates clothing to those in need. Because the business and nonprofit both deal in similar circles, the collaboration seems much more natural and existing audiences may already overlap.
However, you don't strictly need to choose a cause that matches your business practices. The organization you choose can simply match your brand's values, or be a cause that both you and your employees believe in.
Step 2: Choose a nonprofit partner to work with.
After choosing your cause, the next step you'll need to take is to choose a non-profit organization to partner with. This step is vital because you'll want to choose a reputable organization that also matches your business's values. It takes some scrutiny to find the perfect partner – unfortunately, many organizations exist under the nonprofit moniker that engage in misleading practices. So, be sure to do the due diligence necessary to find a trustworthy nonprofit organization worthy of your partnership.
With your partner chosen, you may need to reach out to the organization to discuss the partnership. Develop a plan that works for both the nonprofit organization and your business's needs. Determine what they need out of a partnership and how your business can help accomplish their mission. After all, the purpose of your efforts is to aid a cause with your business' resources.
Step 3: Plan out how you'll contribute to your chosen cause.
Next, you'll want to determine how your business will actually contribute to your cause. At this stage, it's important to understand what your nonprofit partner wants and needs from a business like yours. Some organizations prefer monetary donations, while others prefer product donations. Figure out what your business can do to best support your chosen cause within your means.
Step 4: Promote what you're doing for your cause.
Now it's time for the marketing piece of the puzzle. No one will know that you're partnering with a nonprofit organization to support a cause if you don't promote it. Simply adding a line of text to your website isn't enough. You can use SMS for nonprofit organizations, SEO, social media, and more to generate demand.
On your website, you could create a CTA that brings attention to your new partnership. This CTA can drive traffic to a page on your website with details about how customers can get involved, outlining exact instructions to make things as easy as possible.
You should also take advantage of the channels outside of your website, namely social media. Take the time to develop marketing materials, schedule out social media posts, and craft authentic messaging to share with your followers. Reinforce the fact that this partnership was born out of a commitment to your brand's purpose and encourage engagement.
Step 5: Get your customers involved.
Without your audience and customers participating in your new cause marketing campaign, you won't see the results that you may have hoped for. So, work to engage with your audience and get them involved so that they're motivated to support your chosen cause through your business.
Social media is integral here – it even has social in the name. When you post on social media, encourage customers to post about their experience with your brand and the partnership you've launched. Customers can post about how much they've donated or what this collaboration means to them. These posts can become UGC, or user-generated content, that you can use to further promote your cause and your business.
Successful Examples of Cause Marketing Campaigns
Cause marketing comes in all shapes and sizes, from small donations at checkout to massive sales percentage donations. To help you choose the model that's right for your business's goals and needs, we've gathered a few examples of cause marketing campaigns and how they've been successfully implemented.
1. St. Jude Donation App for Shift4Shop (Checkout Donations)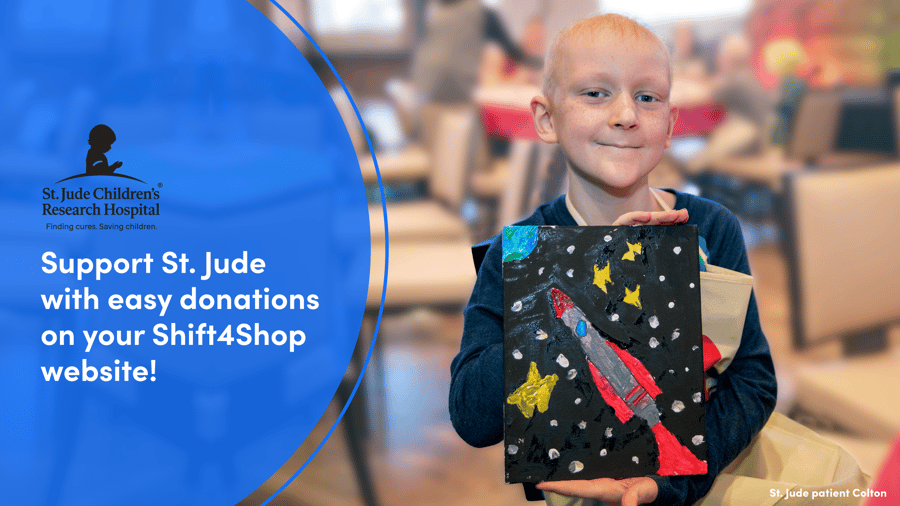 Checkout donations are some of the most popular and successful types of cause marketing. Not only is it easy to implement for most businesses, but it's convenient for customers to participate, as it doesn't ask them for too much effort. According to Accelerist, 86% of customers have donated to a charity in-store or online checkout in the past year.
At Shift4Shop, we've launched our own checkout donation campaign in collaboration with St. Jude Children's Research Hospital®. We've partnered with the St. Jude team to develop a donation app that merchants can easily add to their store to help to support the St. Jude mission to lead the way the world understands, treats, and defeats childhood cancer and other life-threatening illnesses. With this app enabled, customers on a Shift4Shop store will be prompted to donate to St. Jude after checkout has been completed. Here's a look at how it works:
The St. Jude Donation App for Shift4Shop is unique in that it enables small businesses to participate in cause marketing with one of the largest nonprofit organizations in the world with just a few lines of simple code. With the app, a business of any size using Shift4Shop can participate in their own cause marketing campaign.
While the campaign is the newest on this list, it has already brought in some big results. Over 30 businesses have already enabled the app on their stores and are bringing in high average donation amounts.
2. Ford's Project Apollo (Product Donations)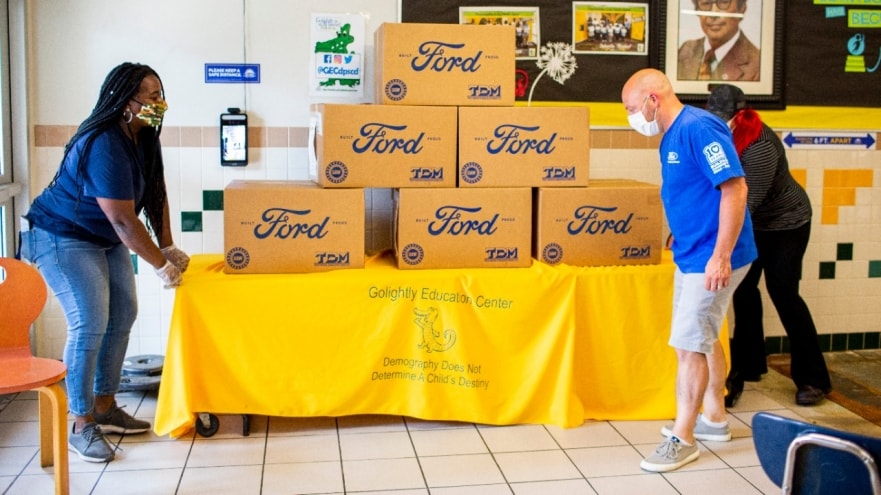 Source: Ford
Rather than donate money to a cause, some businesses and organizations prefer product or resource donations to accomplish their missions. If your business has the resources to do this, you may want to consider this model.
Motivated by the need for respirators during the COVID-19 pandemic, Ford partnered with 3M and GE Healthcare to produce needed equipment for first responders and essential workers. Under the name Project Apollo, Ford worked to donate time, labor, innovation, and product parts to this cause.
Using their donated parts and resources, Ford was able to help scale the production of powered-air purifying respirators. They were able to combine Ford parts with 3M parts at their advanced manufacturing center in Michigan. Ford also worked to develop a simplified respirator design using seat-cooling fans from the Ford F-150 pickup model.
3. EyeBuyDirect's Vision for Life (Buy 1 Give 1)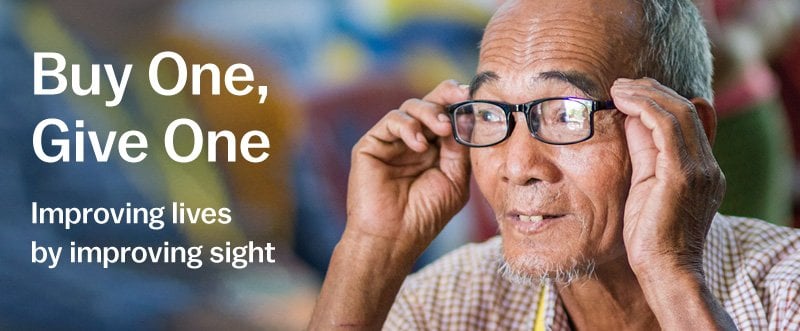 Source: Essilor
Another popular cause marketing strategy is the "Buy 1 Give 1" model, which infers that every purchase of a specific product leads to that same product being donated to someone in need. Because of the nature of this strategy, many businesses who choose this model partner with organizations that directly relate to their product offering.
EyeBuyDirect, a company specializing in prescription glasses, has launched its own Buy 1 Give 1 campaign as part of the Vision for Life program. Launched by the Essilor group, Vision for Life is a global strategic giving program that works to provide underserved communities with access to vision care.
For every order placed with EyeBuyDirect, they will donate one pair of prescription glasses to a country of the buyer's choosing. The program has definitely been successful thus far, resulting in over 1.6 million pairs of glasses being donated to those in need of vision assistance.
4. Patagonia's 1% for the Planet (Percentage of Sales)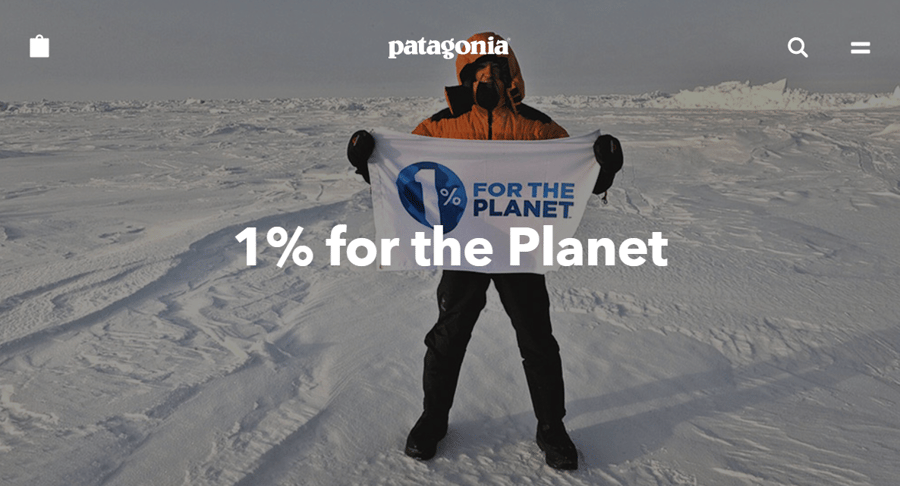 Source: Patagonia
A common long-term cause marketing strategy, many companies may choose to continually donate a set percentage of their sales to a specific charity or nonprofit organization that they believe in.
Patagonia, an outdoor gear retailer, frequently aligns itself with activist causes and has made that a core value of their business. In fact, they've been participating in a cause marketing campaign since 1985. As a part of the 1% for the Planet campaign, Patagonia has pledged 1% of their sales to environmental preservation and restoration. Because 1% for the Planet is an alliance of businesses, any business owner can apply to join.
So far, Patagonia has awarded over $140 million to grassroots environmental groups across the globe. Other well-known businesses, such as OXO and Boxed Water, have also joined in the effort to donate through 1% for the Planet.
Wrapping Up
It should be clear at this point just how beneficial cause marketing can be for any business. To serve as a reminder, cause marketing can:
Bring more sales and new customers into your business
Increase the brand loyalty of your customers and retain them for longer
Boost the satisfaction of your employees and encourage them to produce great work
As a marketing strategy, it's entirely customizable and effective at getting the word out about your brand's mission. As a form of supporting a social good, it's the perfect way to leverage your business's resources and audience to make a difference in this world. No matter the size, any business can get involved and commit to a cause that amplifies its own mission.