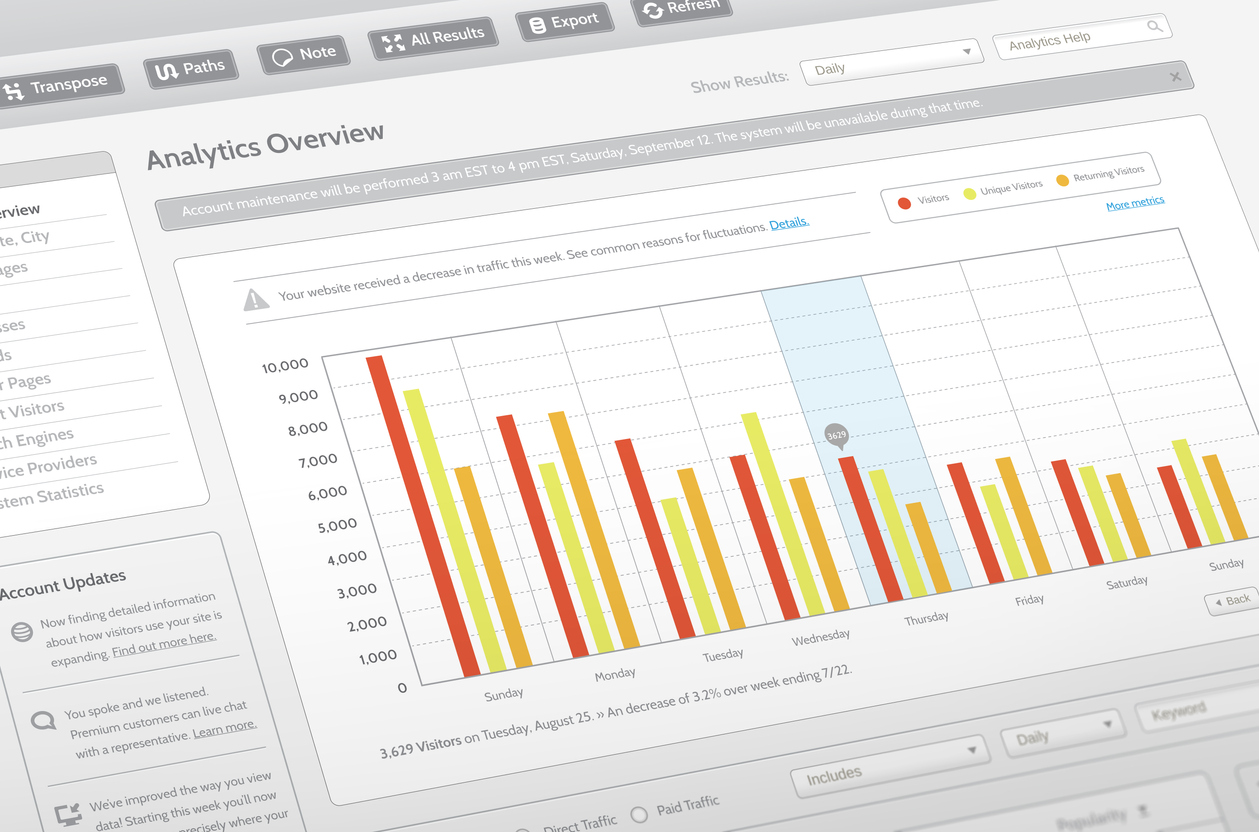 It's not easy to get website traffic. Both paid ads and organic search engine marketing need to be fully optimized. Search engine optimization is the more crucial of the two, with a much higher potential return on investment.
SEO takes a lot of work, and a significant amount of time, to see results. Whether you're sticking solely to SEO or using paid advertisement alongside it, once your business has arrived at a great strategy that starts pulling in the visitors, you want to keep it that way.
However, if you're considering switching to Shopify, you should know your traffic will take a serious hit. And not just traffic — your conversions can also be affected. This means the traffic you do attract can be less valuable.
In this article, we'll discuss how switching to Shopify can harm your traffic and conversions, and why it happens.
SEO Limitations in Shopify
There are many online stores out there doing steady business on Shopify, and with good rankings in search engine results. So why are we saying that Shopify is bad for SEO?
Just like with any other business, reaching this level of success takes a lot of investment in time and hard work. It's possible for a website to rank decently without the best possible SEO, but it takes a lot longer. And a site with a better eCommerce SEO setup will always outperform one in the long run.
Jeff Moriarty is the Marketing Manager for Moriarty's Gem Art, a custom jewelry creator in the business for over 40 years. We asked him about his experience moving to Shopify.
"Our company switched from Magento to Shopify about two years ago. About 3-4 weeks after the move, we noticed an overall drop in positioning that was sitewide. Not a huge drop, but a few 3-4 positions on average," he says.
"We had all the redirects set up correctly (even images), the same content, and all user-generated content was moved. The navigational structure did change, as well as the language used for interlinking. The only thing I could chalk it up to was a change in the design/layout/speed of the website. We have never gained that positioning back, though we are still doing better than when we were on Magento. While less visitors, a much higher conversion rate than before. We are happy with that, but would love to get that original positioning back."
In short, Moriarty's Gem Art got an increase in conversions because they moved from Magento, which is notorious for poor performance. However, the migration to Shopify hurt their SEO, and they still haven't recovered their previous rankings.
Travis Nagle, co-founder of Medley, a furniture company, had a similar issue. "We were on Magento for many years and migrated to Shopify in Q 2 of 2019. We hired a company that specializes in these transitions to help with any errors, site structure, indexing, SEO strategy, etc. but we still lost about 35% in traffic and sales for the first two months."
To recover, Medley needed to allocate more of their budget to paid advertising, which may not be possible for some businesses. Their traffic still had not fully recovered after a year, even with these extra efforts and increased ad spend. However, they did see an increase in the quality and value of the traffic they did receive — again, a side effect of leaving Magento.
So what happened to cause the drop in traffic, and what's wrong with Shopify's SEO?
Sure, Shopify has a lot of built-in SEO tools, but they don't do their job very well. The biggest problems with Shopify SEO come from limitations in the software. These limitations affect how effective the built-in tools can be.
Duplicate Content and Canonical URLs
Search engines hate duplicate content — i.e. multiple webpages with very similar text. There are a few ways your website can experience this problem, like if you have categories that stretch across multiple pages. Canonical URLs designate an "official" page so search engines will understand which is the most important of the duplicates, like page 1 of the category.
Unfortunately, Shopify organizes pages in ways that create tons of redundant duplicate content, and it handles canonical URLs poorly. You'll have to do some technical work to fix the problem, and most businesses simply aren't aware of this.
Shopify also creates duplicate breadcrumb URLs representing multiple ways to reach the same pages, which all conflict with each other.
Access to Robots.txt File
Shopify also doesn't allow you to edit robots.txt, an important file that instructs search engines how to crawl your website's pages. The biggest problem here is that Shopify's preconfigured robots.txt has some errors. It automatically blocks URLs with certain symbols in them from being crawled. Unfortunately, some of those symbols are used in legitimate URLs that you would want search engines to crawl.
For example, Shopify's robots.txt instructs search engines to ignore any URL that contains a space or a plus sign (+). However, if you have a product or manufacturer name that's more than one word, the URL automatically adds a plus or the HTML code for a space in between the words. This means those pages are being ignored by search engines, and you can't edit the file to fix it.
Website Speed
The ultimate goal of a search engine is to bring the most useful websites to the top. Mostly, usefulness is "guessed" by the presence of keywords, the length and quality of the content, and the number of backlinks leading to the website. Backlinks are by far the best indicator of quality, because they show that other websites find the content useful enough to link to it.
But another factor of website usefulness is the speed at which it loads and works. Faster websites are preferred by all users, so Google and other search engines favor them over slower websites.
Shopify websites simply don't load as quickly as sites on some other platforms do, including Shift4Shop. So, a Shopify store is at a disadvantage for SEO because of this slower speed. When you put this together with the other disadvantages we've covered, the problem gets even larger.
Web Design
Search engines favor responsive web design. This means a website's layout changes to match the device the customer is using. So, a website visited on a smartphone will adjust to fit the format. This is better than using a separate theme for different devices because it offers a more consistent experience. It also means only one theme needs to be built and customized.
Shopify uses responsive design, but they've overlooked some areas for improvement. This is in contrast to Shift4Shop's Core Template Engine, which is also responsive, but also adds additional features to improve SEO and the customer experience.
For example, Shift4Shop integrates Google AMP across several types of pages, ensuring instant loading on mobile — and the SEO boost that goes with it.
Other features in Core templates are geared toward fast loading (which again helps SEO) and the user experience. And while SEO is vital for getting traffic to your site, your site still needs to turn that traffic into customers. That's where user experience comes in.
Let's take a look at a few more factors that relate to whether customers enjoy and trust your website.
Other Factors That Decrease Sales When Moving to Shopify
All experienced business owners know traffic isn't the only factor in making a sale. Naturally, the more traffic you have, the more potential customers are visiting. More traffic means you have more overall opportunity to make conversions.
But not every visitor is going to convert.
In fact, conversion rates in eCommerce are startlingly low. While they vary by industry, location, and the device used while shopping, the average conversion rate worldwide is only 2.86%. This means that less than 3 out of every 100 visitors will convert to customers.
So, obviously, you need all the traffic you can get. But your website still has a lot of work to do to turn a visitor into a customer. This is why we say traffic isn't the only factor.
Your website still needs to appeal to customers enough to convince them to make a purchase. Part of that is site speed, and user experience, which we already touched on briefly. A slow or inconvenient website will turn customers away after they arrive.
There are also many promotions you can't run on Shopify, thanks to the limitations built into their software. So that further reduces your options for converting more customers, since you won't have as much control over the promotions you create to entice them.
But what about your existing customers, from before you moved to Shopify?
Loss of Trust from Existing Customers
Switching to Shopify won't just hurt your SEO and reduce your organic traffic. It can also cause many of your existing customers to stop doing business with you.
Face it: it's nearly impossible to completely duplicate an existing website onto the Shopify platform. This somewhat depends on the differences between your previous eCommerce software and Shopify. Generally, the more customizable your previous website was, the harder it will be to duplicate. You won't be able to carry over all your customizations, so your site won't look exactly the same.
Moving to Shopify reduces the amount of customization you can do. Your site may look different enough, and act different enough, to cause customers not to trust it anymore. They may even think your business has been sold to new owners, and you won't be able to reassure everyone.
The biggest issue here is the checkout. Shopify doesn't allow you to customize your checkout pages unless you use their enterprise solution, Shopify Plus. Costs for Shopify Plus usually start at around $2,000 per month.
Unless you shell out for Shopify Plus so you can customize your checkout, it's going to look different than before. Even if you get the rest of your website to be extremely close to your site on the old platform, your checkout is still likely to be significantly different. Some customers may even wonder if your site has been hacked.
Feliks Dudek used to run a custom graphic T-shirt store on Etsy which would generate anywhere between $2,000 and $5,000 in monthly revenue. "In an attempt to scale up and take more control of my business, I set up a Shopify store and listed the same products as my Etsy store. It offered greater storefront customization and the ability to use a custom domain (as opposed to simply implementing domain redirects to my Etsy shop)," he explains.
However, his sales on Shopify were much lower than they had been on Etsy, and the conversion rate of his Facebook ads suffered as well. "I have a hunch that the Etsy shop was converting better than the Shopify store because visitors have more trust in Etsy than independent Shopify stores. This might have been compounded by the fact many Facebook users have had bad experiences with poorly run AliExpress dropshipping Shopify stores in the past."
It's true that Shopify has gained a reputation for low-quality dropshipping stores and fake products, as well as outright scams. This isn't a reputation any business wants for itself.
Feliks says, "I abandoned the Shopify store, but I reckon I could have remedied its poor conversion with a killer storefront design and inclusion of trust signals like customer reviews and social media widgets." While this strategy may have worked, Feliks's insight points directly to another problem with Shopify's checkout: the inability to customize means no capability to place trust badges on your site.
The different appearance won't be the only problem with your new checkout. Shopify's checkout limitations mean you can't carry over other types of adjustments, like extra fields. These may be things you needed for your business.
The promotion limitations can hurt your relationship with existing customers as well, since you may no longer be able to offer familiar sales or coupons. Your customers will not be happy to see these go.
Growing Expenses on Shopify
In moving to Shopify, you're also going to face additional expenses.
If Shopify integrates with your current payment provider, and you decide to keep using it, you'll start paying an extra transaction fee. You can only avoid this fee by switching to Shopify Payments, which may not be permitted for your business. Shopify Payments can only be used by certain industries in specific countries.
You may also end up paying more for apps and services to add functionality that was built into your previous eCommerce platform. According to our analysis on the Real Cost of Shopify, a merchant using the Basic Shopify plan ($29/month) would need to pay about $80 per month for the plan plus apps to have the essential features. A Shopify merchant would need to pay hundreds of dollars per month to get similar functionality to Shift4Shop's free, unlimited eCommerce plan.
Using Shopify means you'll have less of a budget to use for marketing and other endeavors to increase traffic and conversions.
The Cumulative Effect of Shopify's Limitations
No eCommerce platform is perfect. The best you can get is a guarantee that a software provider will continue to improve and expand their platform. Shift4Shop has been doing so since 1997, adding hundreds of features over the course of over 2 decades.
But Shopify is more than just "not perfect." It's just not a good platform for SEO or traffic. And depending on the software you were using before, it might also be inferior for conversions.
So, let's recap all the issues:
Shopify has flaws in crucial SEO tools.
Shopify's website speed and design are not the best.
Businesses routinely experience significant traffic loss when migrating to Shopify.
Changes in your website platform can deter some existing customers.
These changes include alterations to checkout, and Shopify doesn't allow checkout customization unless you use Shopify Plus (starting at about $2,000 per month).
Overall, moving to Shopify can lower your traffic but also harm trust in your business.
Moving to Shopify will also increase your expenses.
As the top Shopify alternative, Shift4Shop has none of these problems. Our SEO is much more advanced, including access to robots.txt, correct usage and easy setup of canonical URLs, and much more. Plus our site design is superior and offers a better experience to customers. And you can customize your checkout, including the option to switch to a single-page checkout, which Shopify doesn't have. We also don't charge transaction fees on any payment processor.
Every business wants to improve their bottom line and increase revenue to build success. It's easy to get caught up wondering which eCommerce software has the most potential to help your business grow. But the answer is right here: Shift4Shop.