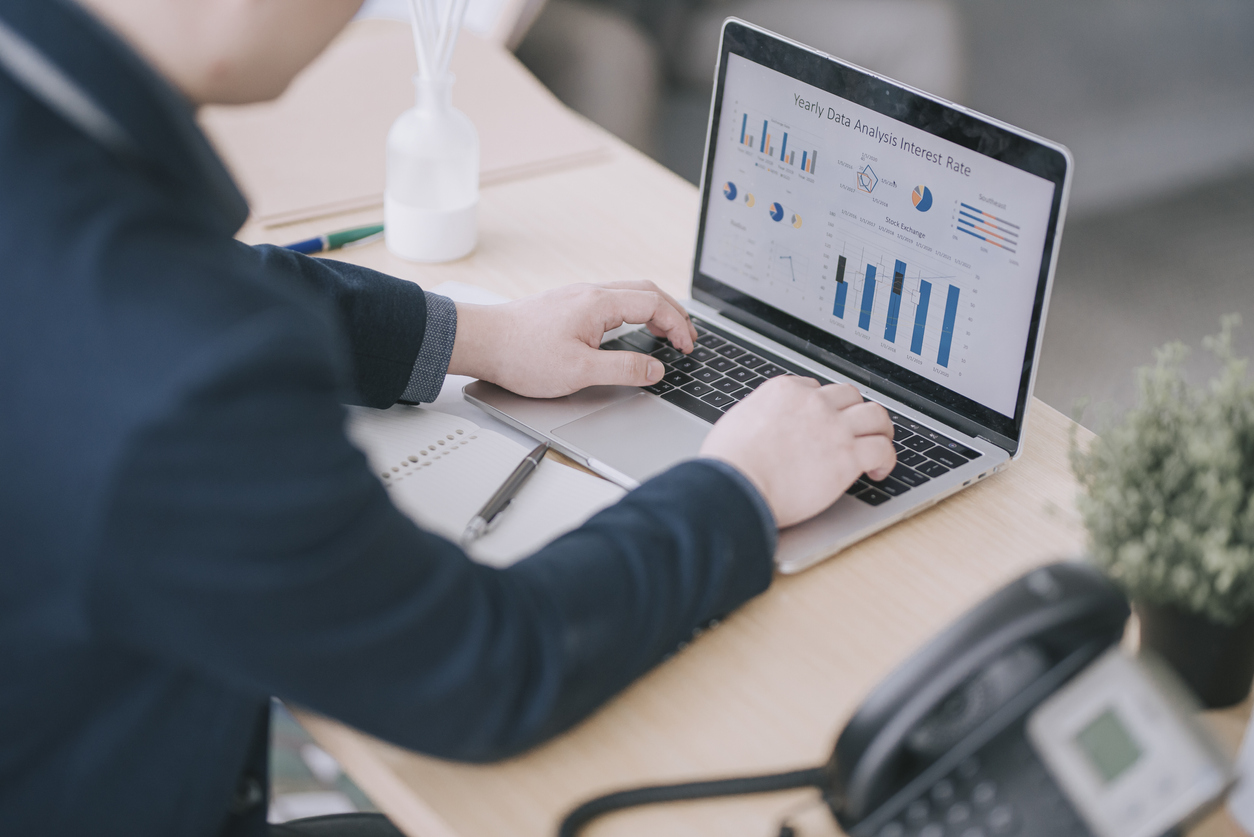 Getting leads is one thing, but closing those leads is something entirely different. While it can feel great to have request after request come in for work, the only way you and your business can actually survive is if those requests turn into sales. Whether you're the one pitching a project or responding to a customer's need, the better your sales proposal, the better the chances are that you'll get a "yes" at the end of the day.
Having a fantastic portfolio is essential, but your proposals are what get you noticed before potential clients can even consider working with you.
While sales proposals were once bland and boring, today's templates and software allow for tons of creativity and customization. And that's a great thing when you're wanting your pitch to stand out from the rest. But more than just design and aesthetics, the smartest online software for creating sales proposals actually integrates with your business's current systems, making sure that creating proposals (and closing sales) is simple and streamlined. And that no work ever gets lost in the shuffle along the way.
If you're still spending hours every week creating proposals to send out, then there's a better way.
You can absolutely save time while still creating effective sales proposals thanks to the latest online software available today. And when time is of the essence in regards to getting your proposal seen before another pitch is chosen, then being able to quickly create impressive proposals is everything.
So, if proposals and pitches are part of your business's day-to-day operations, then upgrading how (and where) you create them is a total game-changer. The dozen online software listed below provide you with everything you need to upgrade your proposal process, and without you needing to reinvent the wheel — or the systems you already use in your daily operations.
The 12 Best Software for Creating Sales Proposals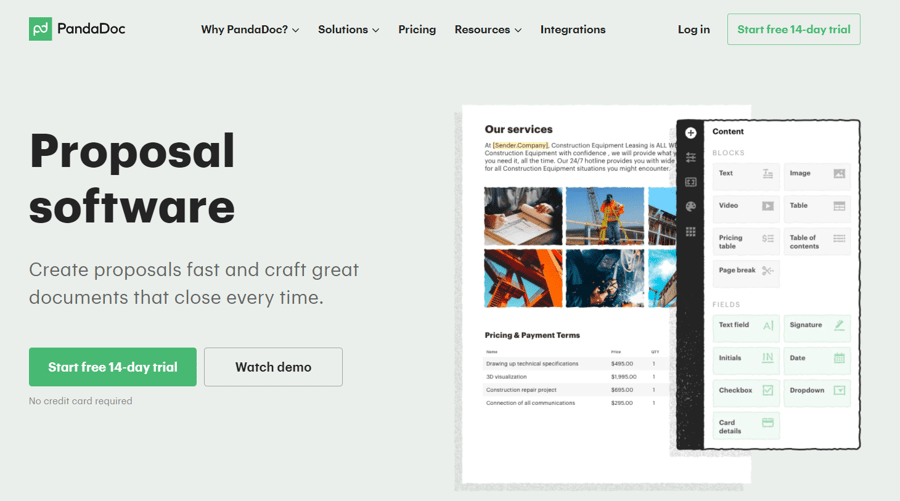 Available on desktop and as a mobile app on Android and iOS, PandaDoc gives any business the ability to create customized proposals complete with all of your own branding. Fast and easy to use, PandaDoc will integrate seamlessly with most of the major CRMs, which means you can streamline the proposal process and ensure that everything happens on time.
One of the coolest features offered by PandaDoc is that it actually allows you to track when your proposal is opened, which means you no longer have to wonder when and if your proposal was seen. Other useful statistics offered by PandaDoc, like knowing how much time was spent reviewing your proposal and when a proposal was officially signed, make it one of the most popular online software for sales proposals today.
Getting access to PandaDoc starts for free with their Free eSign plan, which only allows you to upload documents send them for eSignature, take payments, and access their mobile app. Their Essentials plan, at $29/month per user, allows you to create documents with templates, edit with the drag and drop editor, use pricing tables, document analytics, and contact support. For CRM and Zapier integration, you'll need to upgrade to the Business plan at $59/month per user. To test out their software, you can sign up for their 14-day free trial.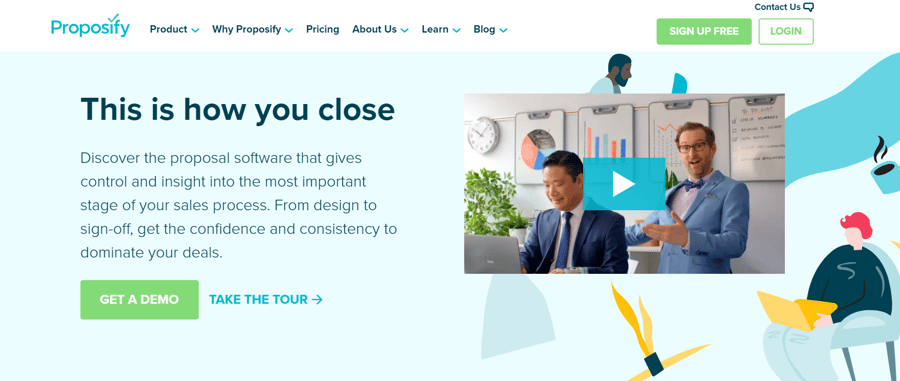 A convenient software option for creating proposals and pitches, Proposify has several functional and attractive templates ready for you to use. Like other top proposal software, Proposify gives you the ability to track the status of your proposals, as well as to customize them with your business's branding. Proposify also provides document templates, support for electronic signatures, and sales metrics.
And if you're looking for integration with other systems you use in your business, Proposify has you covered. The software integrates with more than thirty of the most popular CRM systems, as well as Zapier and Slack.
You can try out Proposify with a 14-day free trial to see if its features and functionality are right for your needs. If you continue using Proposify, you can sign up for their Free plan, which limits you to 1 user and 5 active documents. Upgrading to the $49/month Team Plan gives you access to unlimited documents, standard integrations, chat support, and more.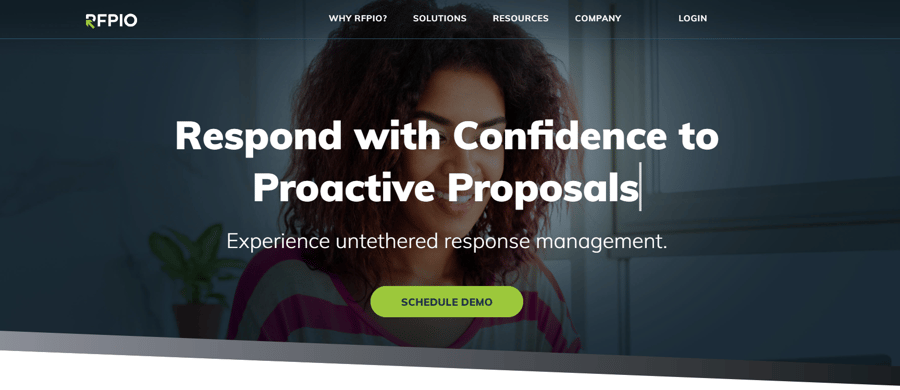 If you work with a large team that thrives on collaboration, then RFPIO might be a great software choice. Powered by AI, RFPIO is designed to simplify the proposal process, making it easy to organize which proposals need to be sent out and how ones reviewed need to be responded to. Customization is easy with RFPIO, including how you export your final document.
RFPIO also functions as a great project management tool, allowing everyone on a project the ability to see what's happening and what needs to be done next. And thanks to AI, a lot of the RFP and proposal creation process is done for you, with artificial intelligence receiving requests and then the best proposal automatically being drafted with your preset specifications.
RFPIO will integrate with several commonly used business communication systems, including Google Drive and Slack. Pricing for RFPIO is not publically available, so you will need to schedule a demo with their team to find out pricing for your business.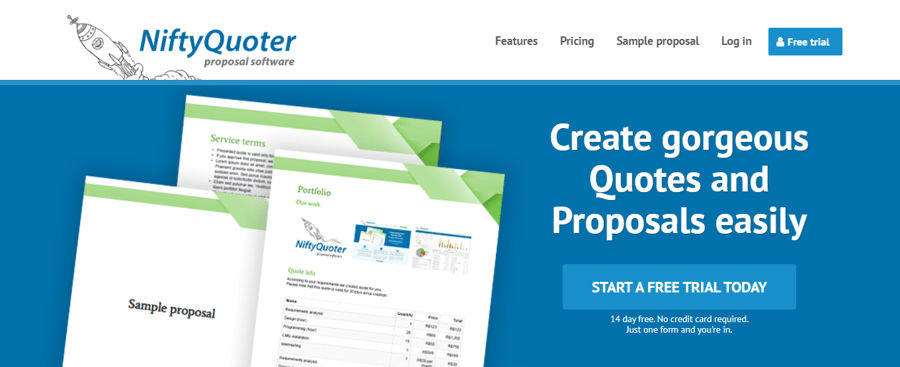 While not as easy to integrate with some popular business tools, like Salesforce, NiftyQuoter is still one of the best online software available for creating sales proposals because it offers a comprehensive dashboard that's simple to use. And despite some of its integration issues, it still is compatible with major players like PayPal, Zapier, QuickBooks, Zoho, Stripe, and Xero to name a few. NiftyQuoter comes with several useful features, including a metrics dashboard, drag and drop design tools, document templates, and more.
Starting at $29 each month for 1 user, NiftyQuoter is an affordable option that definitely elevates your current proposal process.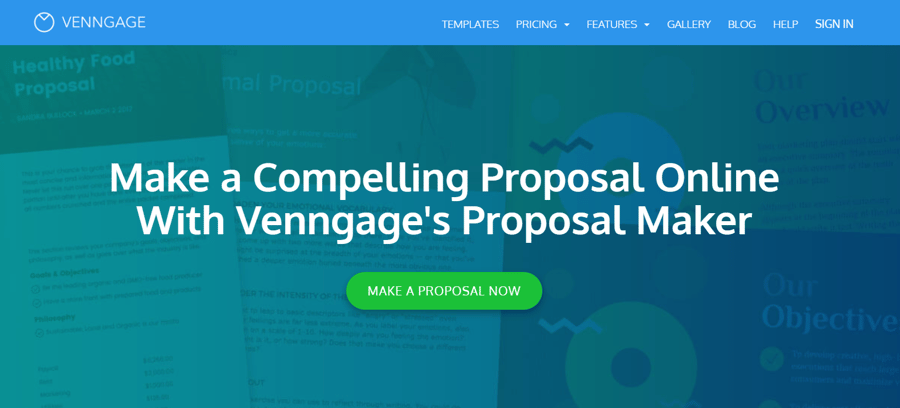 Making proposals is fun and simple with Venngage, a tool that has been used by many businesses in the past because of its ability to quickly create beautiful and effective infographics. With a library filled with professionally designed proposal templates, there are plenty to choose from depending on your business's needs. And once you select a template, building a proposal is simple thanks to an intuitive editor that just asks you to drag and drop.
Operating 100% in your browser, Venngage is free to use, which is another huge perk. For unlimited designs and more advanced options, Venngage does offer paid plans starting at $19 per month.
With 50 proposal templates to choose from, Qwilr is a great option for businesses looking to create custom proposals quickly. What makes Qwilr unique is its interactive Qwilr Pages, which are dynamic and can include videos, Google Maps, calendars, and more. And thanks to its responsive support, you can fix any issues you might be having fast so that you can get your proposals to your prospective clients on time.
Starting at $75 each month for a business plan that supports three users, Qwilr is a solid choice. You can test out their software and see if it's right for your business with their 14-day free trial.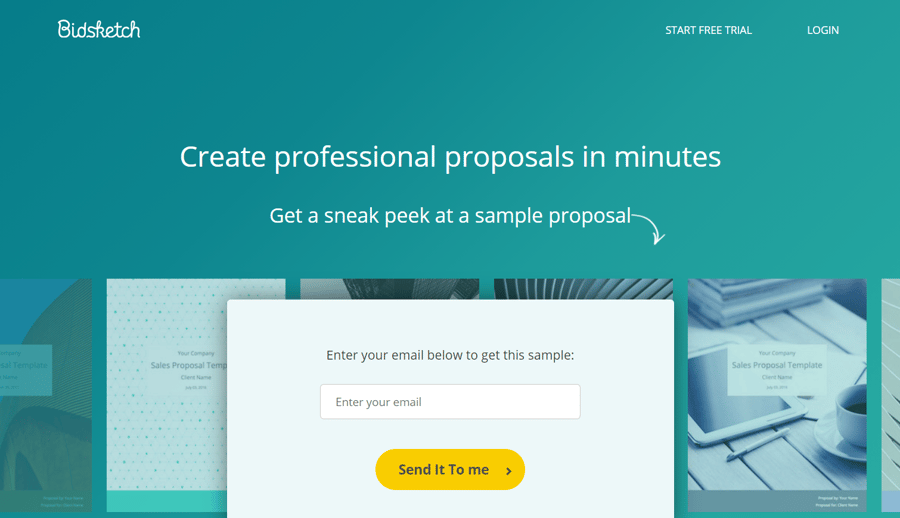 If creating proposals is your business's bread and butter, then there are a lot of advantages to choosing Bidsketch. One of the biggest benefits customers talk about is the fact that the software allows you to build your own templates and then quickly customize for individual proposals without losing formatting, styling, brand language, branding, etc. Another benefit to using Bidsketch is that it has built-in features that allow you to effectively upsell prospective clients with "optional fees." Like other popular proposal software, Bidsketch also lets you know as soon as your proposal has been viewed.
Pricing for Bidsketch ranges from $29 per month up to $149 per month depending on how many users and features you need.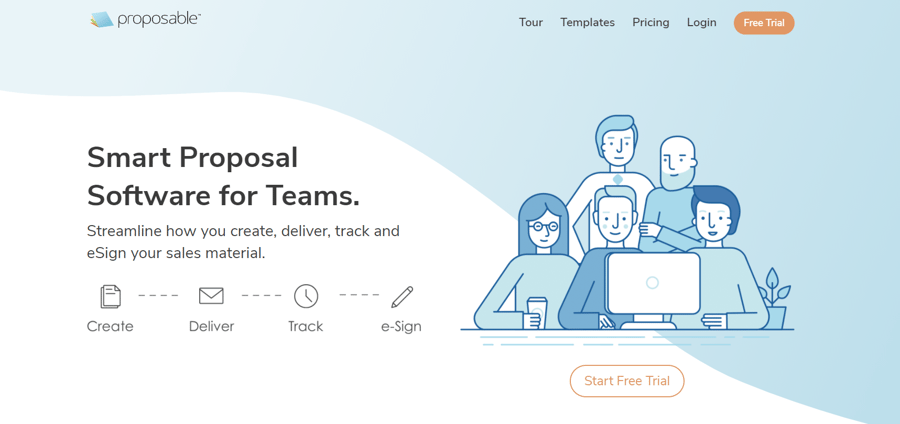 Proposable is easy to use, making it a great option for businesses looking to improve their proposals quickly and without a big learning curve. While the proposals don't look as nice on mobile devices, they still convey the information needed. Proposable does integrate with other business tools, including Zapier, Salesforce, and HubSpot.
To gain access to Proposable, you'll pay $19 each month for each user. Businesses that need unlimited proposals and advanced features, on the other hand, will need to pay $39 each month for a Team plan. If you're a larger business needing to have a big team using the software, then Proposable gives you the option to sign up for their Enterprise plan for $500+ each month.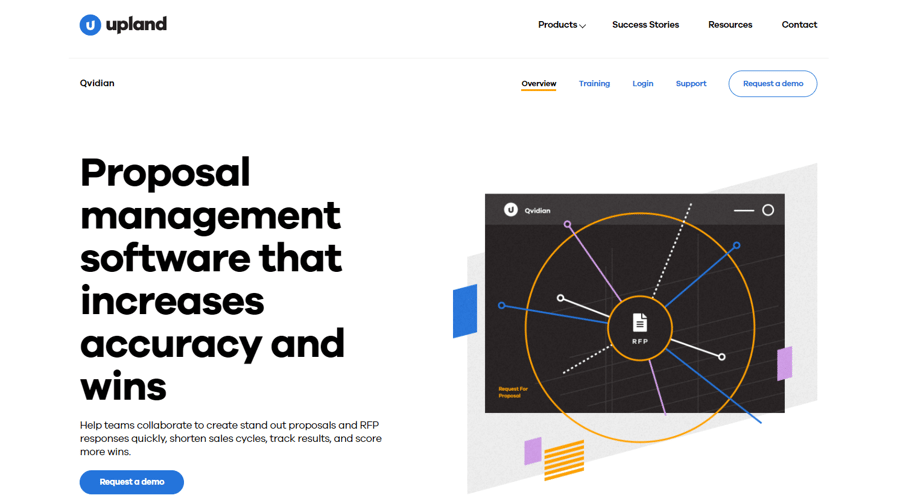 Designed for "enterprise-level" corporations, Qvidian can easily support more than 1,000 different users. Excellent for creating proposals, some of the disadvantages to using the software is that it doesn't provide engagement analytics, which means you won't know when and if your proposal was ever viewed. Qvidian is designed to integrate easily with Microsoft Office, Office 365, Microsoft Dynamics, and Salesforce.
Qvidian is a solution provided by Upland Software, which specializes in Enterprise software. For pricing details, you'll need to contact Upland to request a demo.

Ideal for small businesses, Prospero isn't as functional as other software, but it does offer templates that are mobile responsive, which can be a huge advantage when proposals are viewed on smartphones. Prospero offers several integrations, including FreshBooks, QuickBooks, Stripe, Hotjar, Zapier, and more. While there is a lack of integration with popular CRM software, that may not be an issue for smaller businesses.
Starting as low as $8 each month, Prospero is a great place to begin for startups and other businesses not ready to make a big investment in proposal software. They offer a 21-day trial for $1 if you'd like to test out their software without committing to a monthly payment.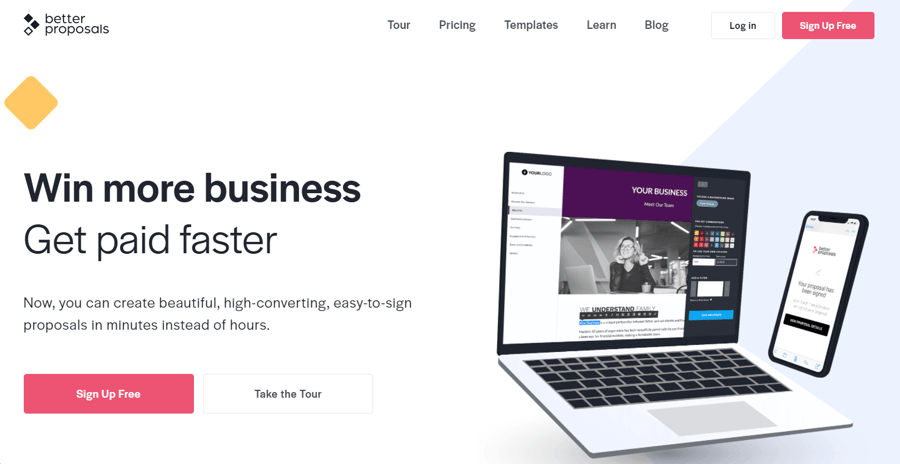 As their name suggests, Better Proposals aims to help you create a better proposal than you would with any other solution. They provide over 160 design templates that are fully responsive on all devices, cover pages for great first impressions, and an easy template builder for custom designs. Better Proposals integrates with a long list of software, including Zapeir, Stripe, PayPal, Trello, HubSpot, Salesforce, Basecamp, and more.
Pricing for Better Proposals starts at $19 per month for each user on their Starter plan, which is ideal for freelancers that need 10 or fewer proposals each month. For more features and unlimited proposals, you can pay as much as $49 per month for each user on their Enterprise plan. Before committing, you can sign up for their 14-day free trial to test out their software.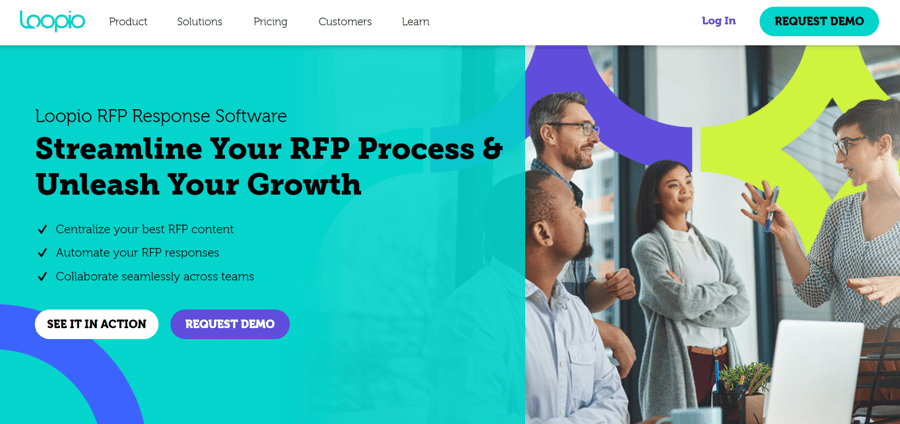 Fast proposal creation is the name of the game for Loopio. Capable of auto-populating proposals based on custom content libraries created by users, Loopio offers unique features that make sense for certain businesses. For example, if your business relies on several different experts in several different industries, Loopio understands who needs to be looped in so that a proposal is created correctly the first time.
Integrating with Slack, Salesforce, Google Drive, and other popular tools, you can receive a free demo of how Loopio can work for your business by visiting their website. Loopio offers multiple plans, but you will need to contact their sales team to get pricing information.
Conclusion
Creating proposals in traditional software, like Microsoft Word or InDesign, can be tedious and time-consuming. At the end of it, your final product may not even look appealing. To create sales proposals that are both effective and aesthetically pleasing to the eye, look for an online solution that best fits your needs. You may come out of it winning more sales as a result.