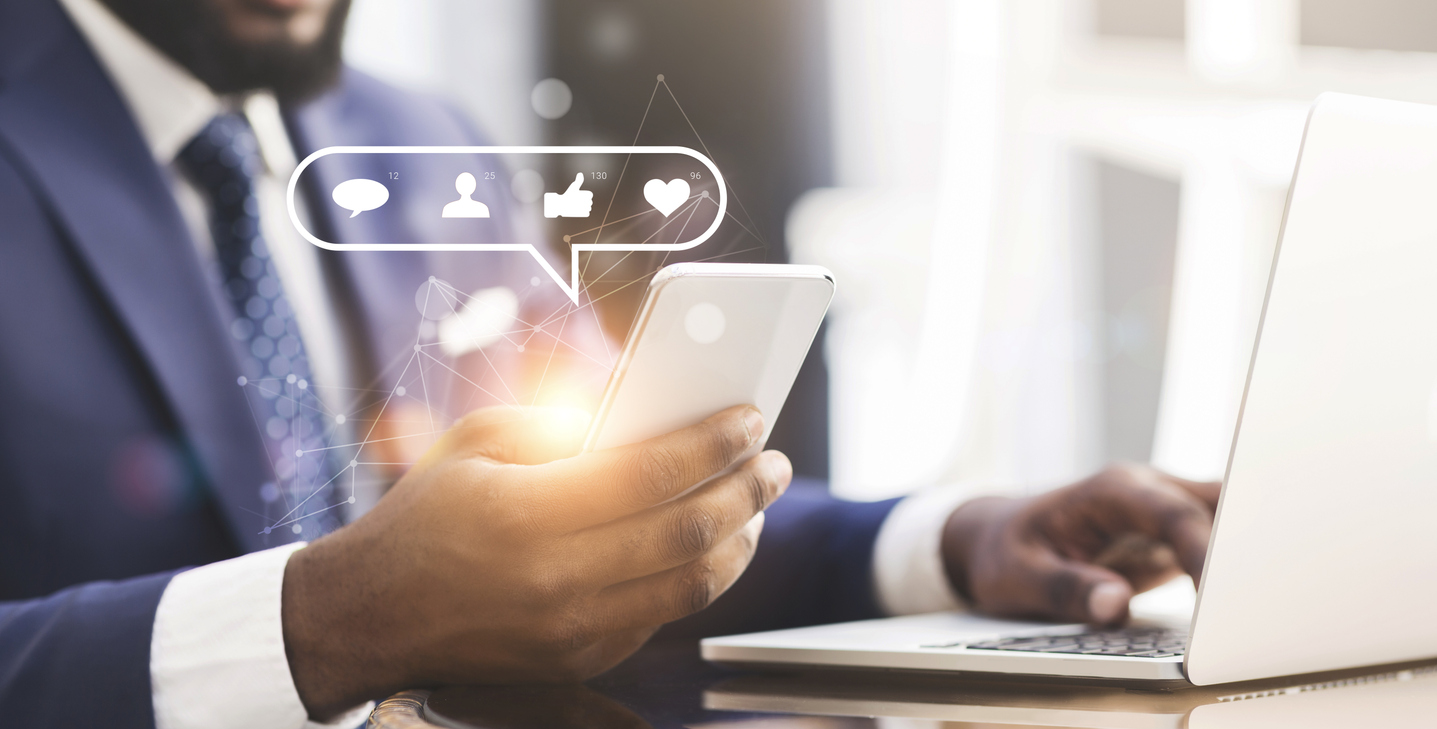 How many channels are you using to advertise your online business? If you're only using one, you may be missing out on conversions. Let's take a look at the numbers.
When they looked into it, Omnisend found that campaigns across several channels lead to almost a 5x higher order rate than single-channel campaigns. So if you want to compete with the top brands in your industry, marketing across multiple channels is a must.
Plus, email and social media users are set to grow in the coming years. By 2025, researchers expect email users to grow by 600 million and social media users to grow by 800 million (compared to 2020).
The good news is combining email and social media into a cohesive campaign isn't difficult. But you must use effective strategies to ensure effective cross-promotion between each channel.
Benefits of Combining Email Marketing and Social Media
Some people worry that they'll annoy their customers and prospects if they engage with them over multiple channels.
But this fear couldn't be further from the truth.
Combining email marketing and social media channels can help you:
Create a community where customers, prospects, and brand ambassadors can interact. Plus, it gives people a different way to contact your business if they need it.
Diversify your customer acquisition channels to avoid relying on social platforms and their algorithm changes. If a negative change happens, you can use email to continue the customer relationship.
Increase touchpoints to deepen familiarity with your brand and help your messaging stick in peoples' minds.
Cross-promote content to increase reach because not every follower and subscriber will see your initial posts.
Cross-promotion can become confusing when you're dealing with tons of content on multiple platforms. So it's a good idea to map out your campaigns with a social media content calendar and an email scheduler to avoid posting on the fly and really get the most from your marketing.
How To Add Social Media to Emails
In the beginning, it's good to focus on simple (but effective) cross-promotion strategies.
Here are some of our favorites:
Share UGC
User-Generated Content (UGC) is an excellent way to encourage subscribers to follow you on social platforms. On top of this, sharing UGC:
Increases trust through social proof. If many customers interact with your brand, prospects will find it easier to trust you.
Builds deeper connections with your community through interactions.
May encourage more customers to share content related to your brand, keeping the content wheel turning.
Here's an example from AWAI, a copywriting community. They featured user-generated content in a recent email that:
Uses UGC to give credit to a helpful community member
Elicits stories from other community members
Cross-promotes their Facebook group
Sheesh, talk about a digital marketing triple threat.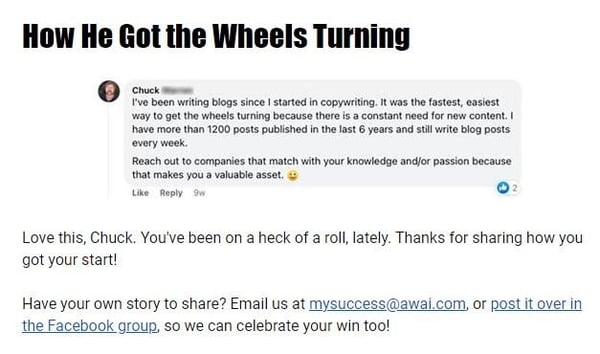 Source: AWAI
Promote a Social Media Contest
Contests help drive engagement and increase the chances of your brand going viral.
Social media contests help to:
Generate UGC for future marketing campaigns
Get your best customers to promote your brand
Deepen respect for your brand because you're giving back to your community
Canva hosts some tremendous social media contests across Twitter and Instagram. They ask users to create designs using their platform and then share them with the #CanvaDesignChallenge hashtag.
The community gets the chance of Canva sharing their work with thousands of people. And Canva generates buzz for its brand. Everyone wins.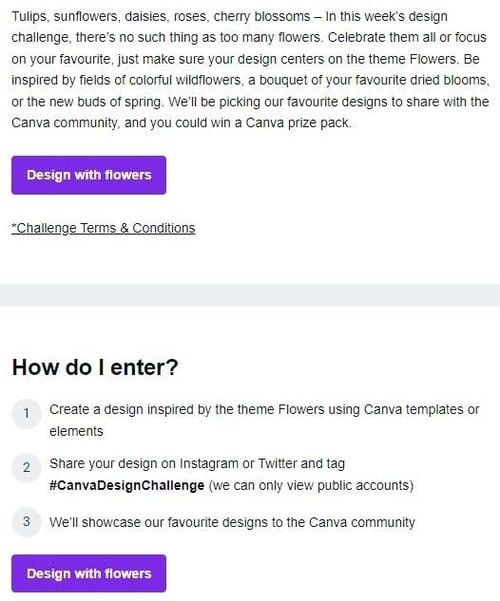 Source: Canva
Add Social Media Links
Social links are a quick and easy way to increase your social media followers, and there are two main ways to do it:
Sharing direct links or buttons at the top or bottom of your emails
Adding social links to your content
Ship 30 for 30, a community that teaches brand-building through writing, uses both strategies in their emails. They share links to their social content so that readers can see examples of what they're talking about. And they add links in the footer of their email.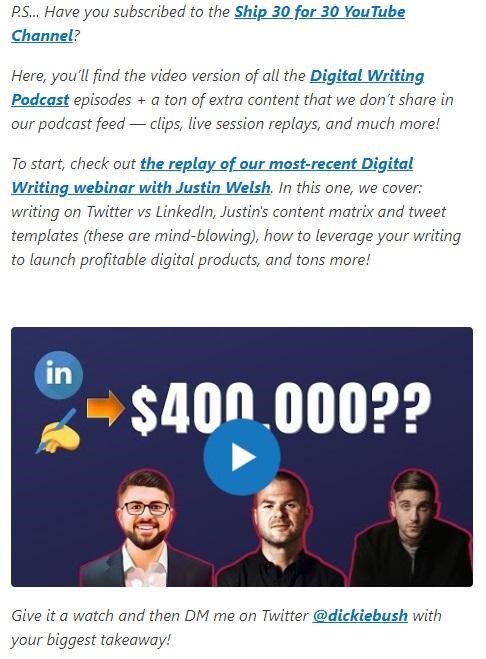 Source: Ship 30 for 30
How To Promote Email Subscriptions via Social Media
While social media platforms are perfect for building audiences from scratch, it's also crucial to own your audience. When you own your audience, algorithm and platform updates don't affect your reach.
Here's how to use social media to get more email subscribers:
Share Email Content as a Teaser
Teaser posts are excellent for social media as you often can't tackle deeper topics because of character limits.
These posts also save you tons of content creation time as they can be carbon-copy or re-worded snippets from existing content.
You'll also keep your branding consistent since posting about the same topic across different channels builds trust in your business.
It's also good to create a content calendar and batch-create your posts to improve productivity. And when you're done, you can schedule these posts in advance with social media management software, so you're free to focus on other things.
Alan Aragon provides a perfect example of sharing email content as a teaser.
His Instagram post highlights four topics he'll be covering in his newsletter. So if his followers are interested, there's a decent chance they'll subscribe to his emails.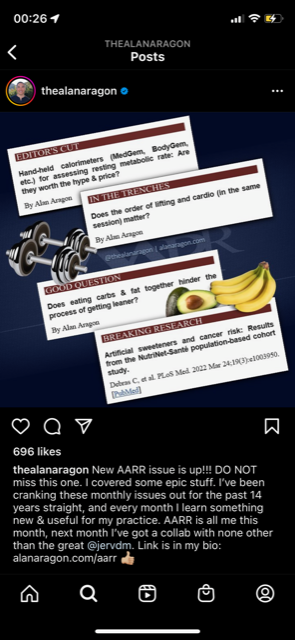 Source: Alan Aragon
Put a "Join Our Email List" Link in Your Bio
One of the simplest ways to promote your email list is a simple link in your social bios.
Gritcapital over on Instagram is an example of how it's done.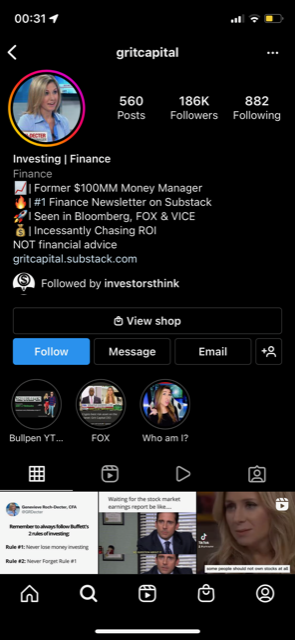 Source: Gritcapital
There's nothing complicated about this strategy, but it's vital that you share high-quality content that leaves your followers wanting more. One way to keep your followers engaged is through educational content, but funny social content also goes a long way.
Overall, make sure all your posts follow a similar theme and double down on what's engaging your followers. Over time, people will naturally want to subscribe to your emails for in-depth content.
Promote Email-Exclusive Deals to Create FOMO
If you want prospects to give you their emails, it's good to give them something in return.
Sometimes that could be access to an eBook or guide, and other times it could be exclusive deals on products and services.
All you need to do is share a post about the exclusive deal and add a link to a seamless lead generation funnel that captures their emails. To increase urgency, you can also mention the time limit for the deal.
Tips for Combining Email Marketing and Social Media
Now that you know a few strategies for cross-promoting your marketing channels, here's how to put them together:
1. Recycle Content Between Platforms
Recycling content is crucial to avoiding burnout and the need to always come up with fresh ideas.
Some effective ways to recycle content include:
Changing it into a new medium (blog post for video, for example)
User-generated content
Platform-specific contests
Turning it into a digital brochure or eBook
Turning it into a poster with a poster maker like Piktochart
To recycle content correctly, you must have a system. For example, if we wanted to share this post in our next newsletter, we could turn the introduction of this tip into a social snippet. Then all that's left is adding a Call-To-Action (CTA) to subscribe to our emails to learn more about combining email and social media marketing.
On top of this, recycled content can help your message reach more people because not everyone will see your content every time you post.
In his emails, entrepreneur Austin L Church subtly shares links to his LinkedIn posts. But he also shares links to other peoples' social posts based on the topics he discusses in his newsletter.
This strategy gives him extra content to talk about while also showing readers that he's not only about self-promotion, but also helping his readers in any way he can.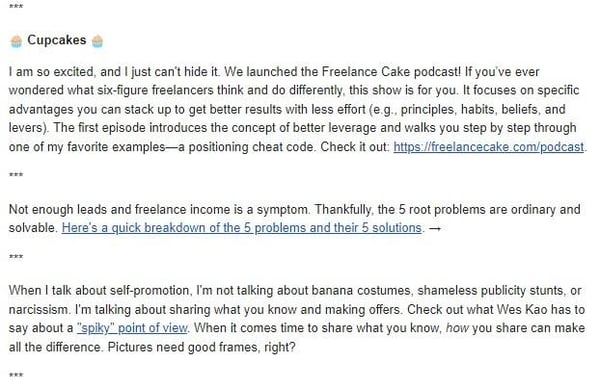 Source: Austin L Church
Another example comes from Alex Cattoni, whose email features a story about iconic TV characters. At the end of the email is a link to her existing YouTube video about 11 TV Show Characters That Secretly Inspired Your Writing Career.
So rather than adding the link to an email that covers several diverse topics, she recycled her YouTube content for the email.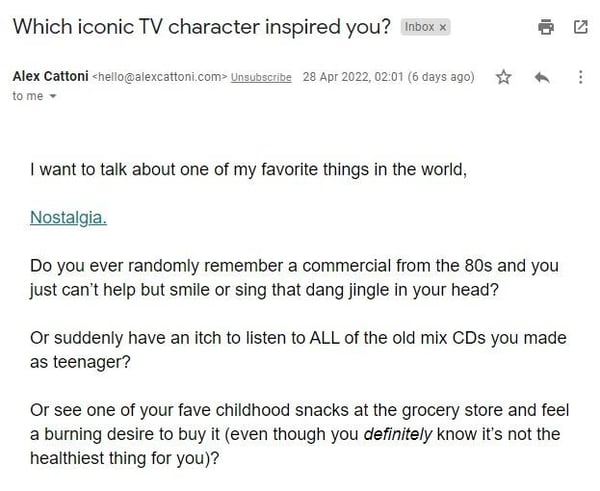 Source: Alex Cattoni
2. Test Ad Ideas Via Email Marketing
Paid advertising costs are up, so here's a cost-effective opportunity to maximize your returns.
Your email subscribers will likely be your ideal customers as they resonate with your brand enough to give you their personal details. So instead of iterating on your paid ads until something clicks, why not test your copy on your subscribers for free?
With this strategy, no budget constraints are holding you back, so you can let your creativity run free. After all, in marketing, it's often the counterintuitive copy that strikes a chord with your audience, so it's important to use data analytics for your decisions.
You can use emails to test:
Product and service offers
Topics
Creative elements
New or redesigned logos (This would work especially well if you asked people to vote on their favorite!)
You can also go as far as performing split testing on different demographics to take your paid advertising to the next level. Or use conversion tools to see what makes people click your CTA.
But ad testing is often an afterthought, a nice to have that's forgotten when the team is busy. To ensure you fit it into your schedule, you can use time management software to optimize your working hours.
You'll be shocked at how much productive time you can add to your day!
3. Use Your Email Data for Tailored Social Media Marketing
Data is gold in our technological age, and you can use your email list to improve your social media marketing.
You can take your email data and upload it to social platforms like Twitter, Facebook, and LinkedIn. These platforms will then match the data with existing users so you can reach the exact people on your list or target lookalike audiences.
Twitter Tailored Audiences
Twitter lets you use your email data to reach users with previous brand interactions. You can re-target previous customers and share valuable content with subscribers who haven't bought yet. It's also possible to track interaction numbers so you can target these people with paid ads once they reach a threshold.
Facebook Custom Audiences
Facebook's dynamic advertising lets you target potential customers with products they're most interested in. For example, the platform can re-target prospects with abandoned cart reminders depending on the data you provide it.
LinkedIn Matched Audiences
LinkedIn lets you base your business target lookalike audiences on your current ideal customers. On top of this, you can segment your audience and target prospects depending on how many interactions they have with your brand.
You can also put your email data to good use by assessing customer health scores. These scores tell you everything you need to know about a customer, including the likelihood of them continuing to be a customer.
With this information, you can target customers at every stage of the buying journey with relevant content. For example, if you identify a customer that might not be getting the most out of your product (someone with a low health score), you could share helpful content through social media to address their problems.
On the other hand, you can re-target high-scoring customers with further products, services, and deals.
Now's the Perfect Time to Implement Multi-Channel Marketing
With the strategies above, you'll be ready to craft killer multi-channel marketing campaigns in no time.
To recap, you should:
Share and recycle UGC and teaser content across each channel
Run social media contests to generate hype and UGC
Add social media links in your emails and email links in your social bios
Cross-promote exclusive deals for subscribers and followers
Use email to test ad ideas and use email data to improve your paid marketing