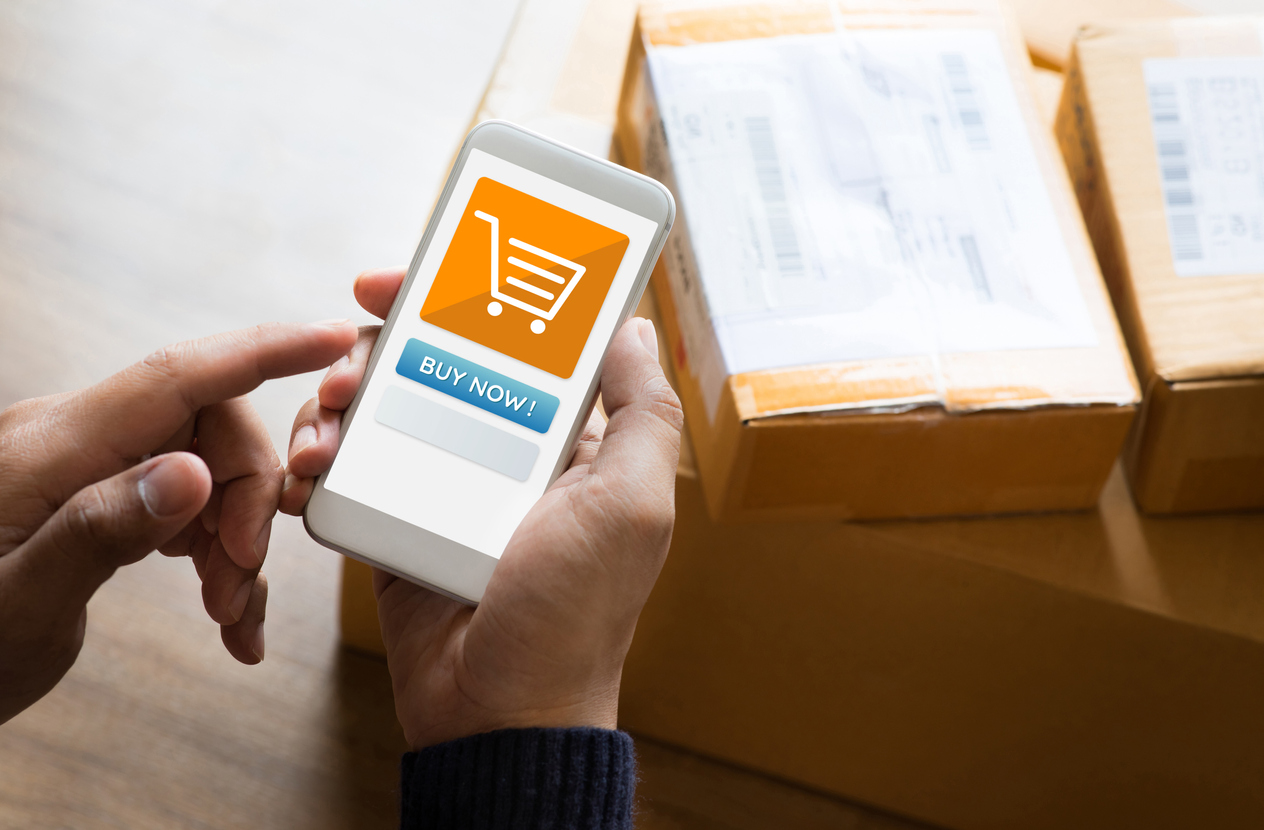 The direct-to-consumer model has taken the spotlight in the last half of the decade, with new DTC eCommerce stores inundating the market weekly. Now, entrepreneurs have more control than ever over how they communicate, how they manufacture their products, and what customers say about their brand.
The DTC consumer model was like a rescue boat for many small businesses that had to shut down their brick-and-mortar stores during the COVID-19 pandemic. Why? It's a cost-efficient way to gain market share and expand your customer base without leaving your house.
But if you've never heard of DTC before, it may seem confusing. Read on, and you'll learn everything you need to know to master DTC in your online store.
Why You Should Embrace Direct-to-Consumer Retail
Direct-to-Consumer retail is cutting across industries. You name it, and there's most likely a DTC brand that's killing the game. Clothing, accessories, pet apparel, snacks, cleaning supplies. You name it, and there's a DTC brand selling it.
Why? DTC retail is fantastic because:
It Saves You and Your Customers Money
If rapid store closings in 2020 are any indicator, stores are costly to maintain without daily visitors.
With no brick-and-mortar stores to stock and manage, store staff to hire, and salespeople taking a commission on each sale, DTC cuts out the intermediates altogether. It helps you save on the enormous costs of running and operating stores while helping you offer products at a lower price to customers.
It Helps You Build Relationships with Customers
There's only one thing that most customers love just as much as cost-savings: being appreciated and valued by brands they love.
Brands selling products to customers are building relationships directly with them.
In a traditional setup, you're forced to rely on salespeople to do the talking for you — promoting new products and deals to customers, treating them with care, and demonstrating your products as intended. In a digital world, you can perform these tasks through your eCommerce store and focus instead on building long-term customer relationships that pay off.
8 Direct-To-Consumer Trends to Embrace Now
Now, those benefits may have you convinced that DTC is for you. But how do you actually implement DTC into your everyday operations? Here are eight suggestions to try:
1. Offer Multiple Payment Options
For a generation that has rarely dealt in cash, convenience is an essential differentiator between you and any other DTC retailer. Brands offering a wide selection of digital payment options like the following are more likely to boost customer retention compared to those that don't:
Interest-free monthly payment plans
PayPal
Cryptocurrency
Loyalty-based credit card programs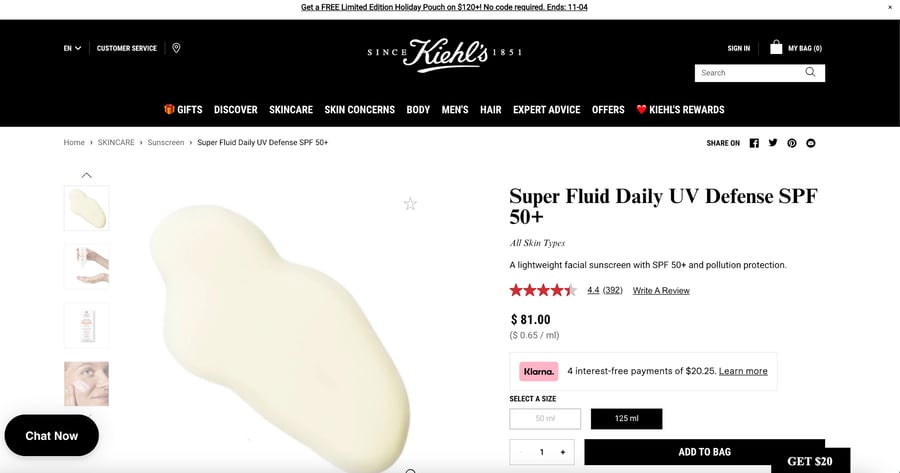 Source: Kiehls
For best results, track how your customers pay to gain valuable insights into their behavior. Is Apple Pay being used significantly more? Visibly display it over others to encourage people to use it.
2. Carve Out a Niche
If you go back in time, you'll find brands aimed at market domination across product categories.
Procter & Gamble has so many product lines that you are left wondering, "what do they do again?" Fast-forward to 2021, and niches have bounced back better than ever. In a #shopsmall world, small businesses are giving stiff competition to established brands by providing a specialized selection of products backed by expert-led development teams.
Take Ahimsa, for example. Ahimsa is a pediatrician-led company that sells steel utensils for babies, toddlers, and children under the age of twelve. Their mission is to provide safer feeding options to parents in North America.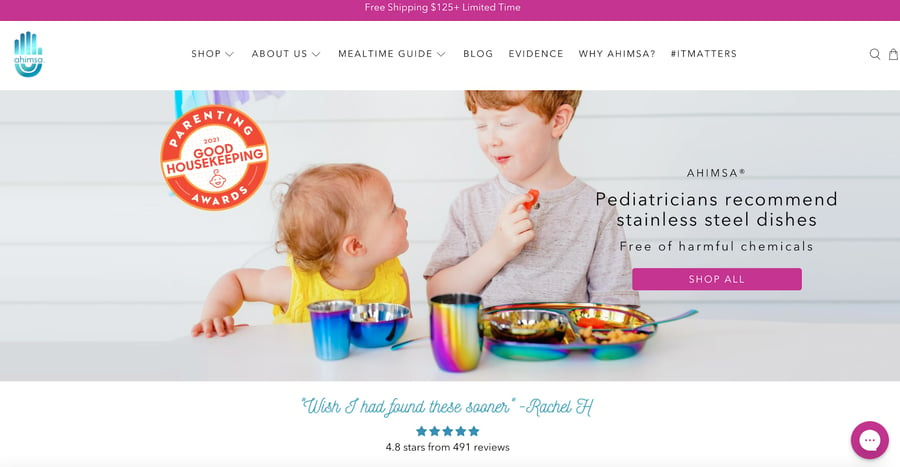 Source: Ahimsa
Today, many brands are successful because they have established a presence in niche categories (like skincare, vegan foods, sustainable clothing, soy-wax candles, handwoven blankets, etc.).
SOJA&CO is a Montreal-based candlemaker that sells 100% soy-wax candles and plants a tree for every purchase. Brands like SOJA&CO hone in on a remarkable characteristic of the new generations – they care about the environment more than any generation that came before them.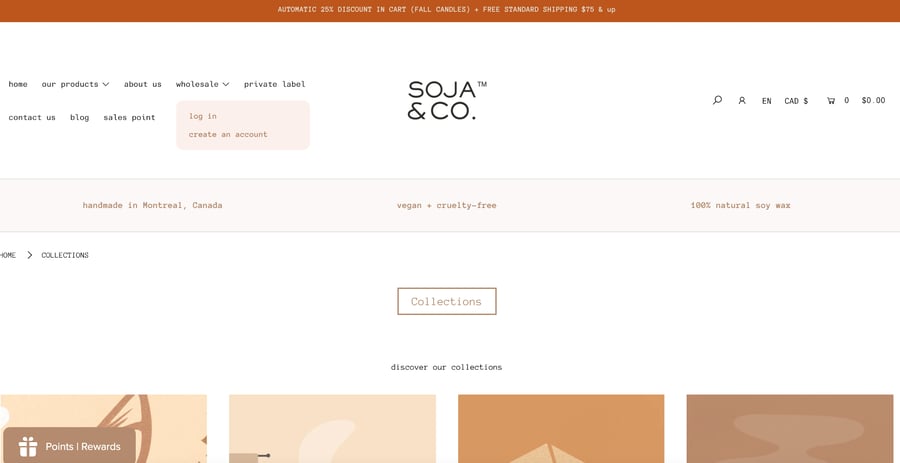 Source: SOJA&CO
There are a few hacks to finding your niche. Identify characteristics of the new market and explore ways your brand can serve it. Is it ethically sourced chocolate, study-productivity apps, or cute journal stationery subscriptions? No matter which one, there's a demand you can turn into a niche brand.
3. Get Creative with Your Branding
With more and more DTC brands flooding the market by the day, standing out among a crowd becomes more complicated than usual. TV advertising dollars only go so far when more than half the world lives online.
Brands need to go above and beyond to shine by drawing attention to what makes them unique and worthy of attention.
Take Hubman and Chubgirl, for example. Hubman and Chuggirl is a Toronto-based stationery brand owned by a couple who have built a following for their brand with digital comic illustrations about them on their slice-of-life Instagram page. Their logo and icons are customized and include comic characters that represent their brand authentically. It feeds into their sales — as their followers are most likely to buy their products and bundles once they have a personal connection with the creators.
Hubman and Chubgirl has also scaled by using strategic channels like email marketing and monthly subscription programs. Sneak a peek at their website below for some much-needed DTC inspiration: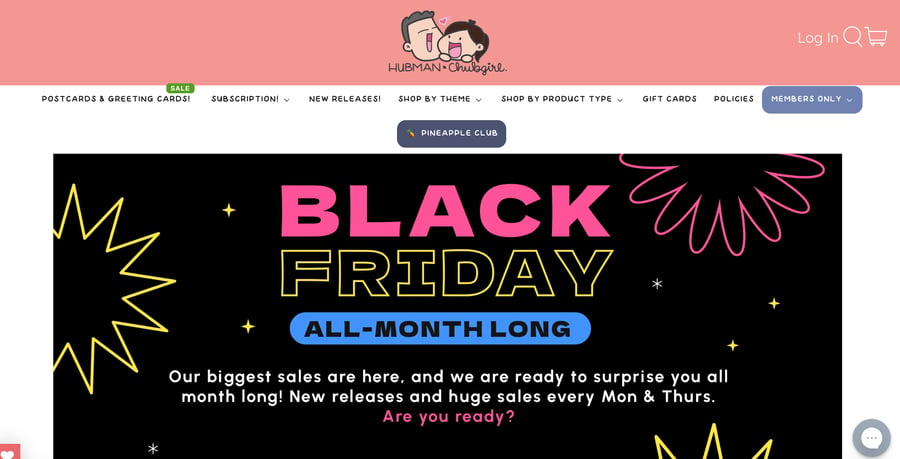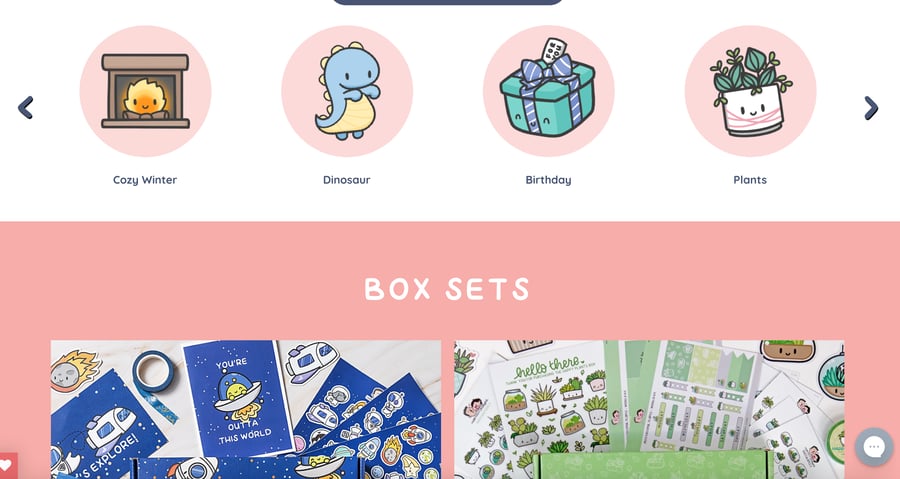 Source: hubmanchubgirl
When looking at their website, you'll notice that logos and graphics play a key role. There's a valuable lesson here: designers who take the time to understand your brand values and the underlying ideas are vital to showcasing creativity within your branding.
4. Sell Through Multiple Channels
You've set up an eCommerce store and now feel like you can put your feet up, sit back, and relax. DTC goes beyond eCommerce websites. How do you feature your product in places where people are most likely to shop, like Walmart, for example?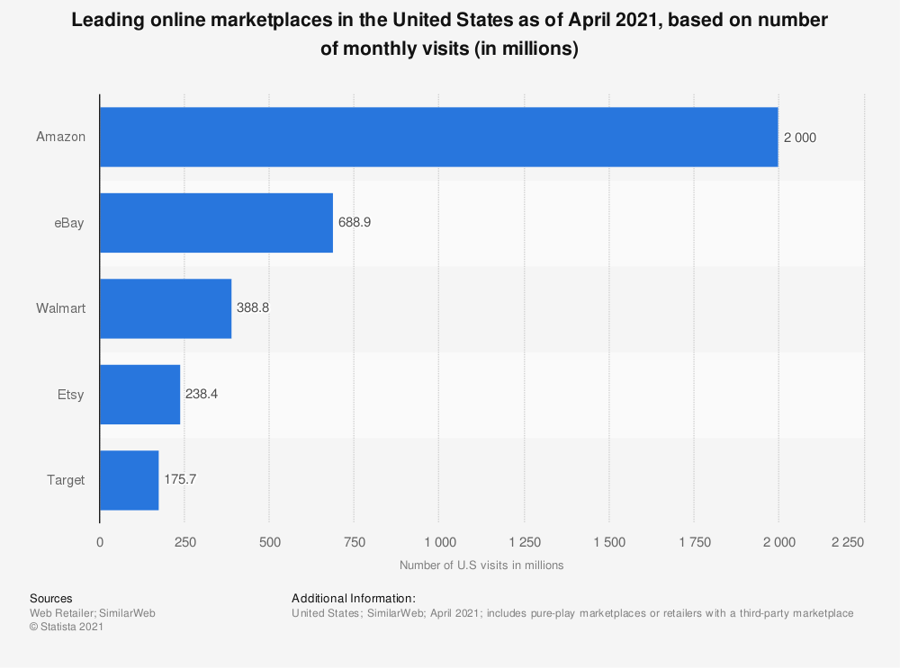 Source: Statista
Various marketplace platforms like Amazon, eBay, Etsy, and Walmart provide access to built-in audiences. All they need in return is a small cut of your sales revenue.
To be noticeable, you'll need to build store pages and optimize them based on popular product searches, your store sales, and algorithmic changes. Of course, you might be at the mercy of policy changes of these platforms, but once you scale up, there's plenty of opportunities to build a loyal customer base that will eventually follow you back to your website.
And when they follow back to your website, offer them a discount on their first purchase if they drop their email. Use an online form builder tool to create a sleek and attractive e-newsletter subscription form for best results.
Email marketing is another time-tested revenue-making channel that helps you speak to your customers directly. Or, you could use a more radical approach: YouTube marketing.
5. Enhance Your Customer Experience with Chatbots
Brands have been playing with live chat functions on their website for over half a decade now. Why? Using a chatbot adds a heavy dose of personalization to an otherwise robotic customer experience (especially if you're using live chat for sales).
Amika, a beauty brand that sells through elite retailers like Sephora, added a chatbot to its website to shift a humorless exchange to a regular customer shopping experience. Investing in boosting the customer experience on your website and other channels with chatbots can help you bridge gaps where your service may have previously fallen short.
For someone in their shopping journey, a gentle nudge from someone who knows about the product they are selling (like the Sleep Experts on Casper's online store) can motivate a user to buy.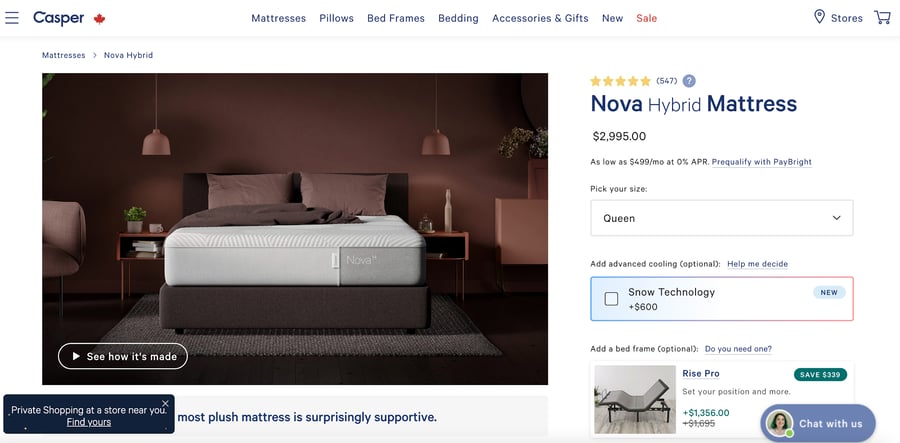 Source: Casper
6. Sell Through Social Media
As 50% of the world's population uses social media, your eCommerce store is not the only place you can make sales. Many brands have transformed their social media platforms into digital stores by curating themed feeds, building communities, and turning their pages into conversion funnels.
They are also pushing social media companies to pivot towards creators and develop tools that help them grow communities and monetize their skills.
Small and medium-sized businesses can similarly leverage business and marketing tools offered by social media platforms to diversify their revenue-making channels. For example, over 130 million users click Instagram eCommerce ads to learn more about the products and services offered in the ads.
Make your social media posts shoppable by taking advantage of the Instagram Shop feature. It lets you tag products, build curated category pages, set up product recommendations, and create guides.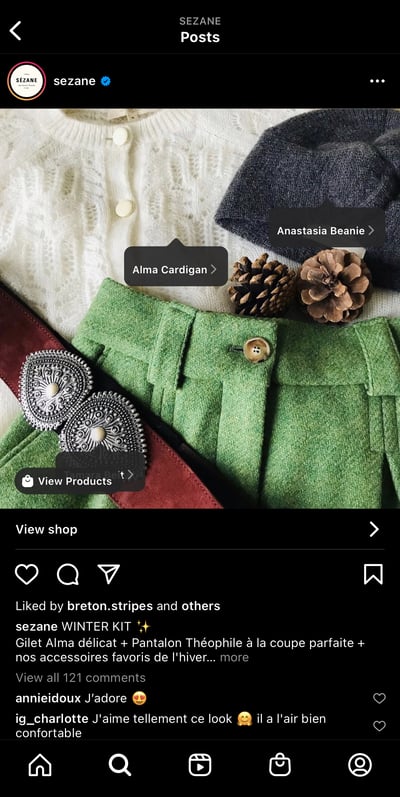 Source: Sezane
Moreover, social media shops like Instagram Shop and Facebook Marketplace let you add products to your cart directly from posts and ads — reducing friction to purchase and cart abandonment rates. Or, if you have any charismatic salespeople on staff, you can also use webinar software to sell live.
7. Market to Gen-Z
As a generation that lives online, Gen-Z is impacted by businesses they see on social media — whether it is on feeds of influencers, ads, or brands' social media feeds. For small and medium-sized DTC businesses, Gen-Z is not just a new market to tap into but a generation of strong brand advocates.
Gen-Z doesn't hesitate to show off their love for a brand from the minute they like it. Their social media feeds are mini-communities that can help drive customers to your DTC brand.
Engage them where they are — Instagram and TikTok — by creating content with the following main elements:
Connection
Influencer collaboration
Authenticity
Showcase your product by pushing out content that engages followers by being entertaining, centered around cultural moments, and most of all, authentic. You can also use infographics to encapsulate what your brand is about and your product lines.
Alternatively, you can focus on the environment. A recent McKinsey survey found that nine out of ten Gen-Z consumers felt some level of responsibility towards the environment. Companies like Frank and Oak focused on this feeling and built their entire brand around it.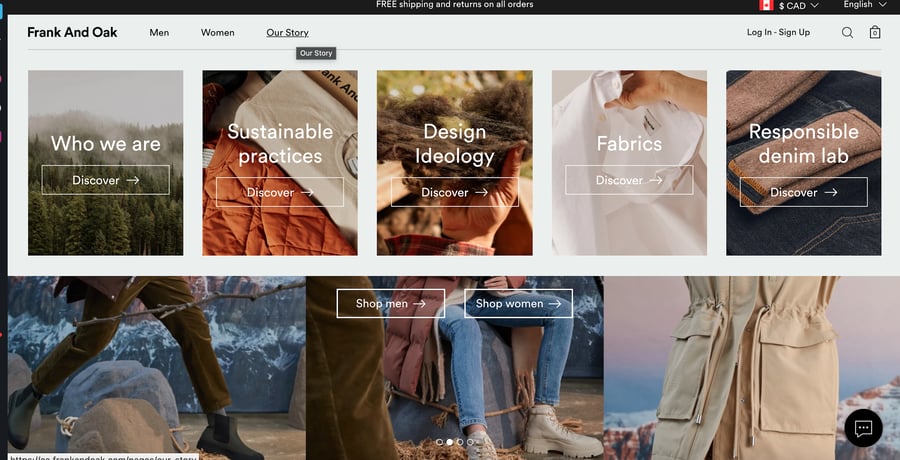 Source: Frankandoak
Frank and Oak's eCommerce store underscores transparency at every step of the purchase journey, not only on the 'Our Story' page. Each product page highlights features centered around sustainability. Using easy-to-understand terminology, they share where the materials came from and whether it's organic, recycled, cruelty-free, etc.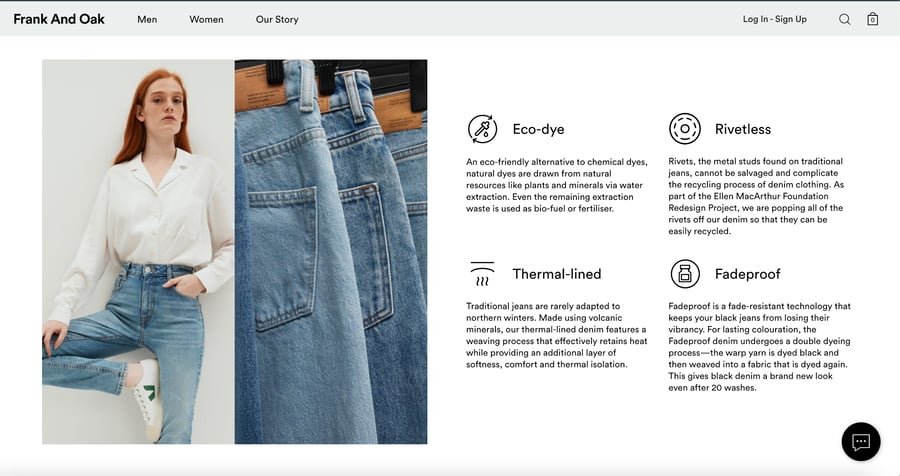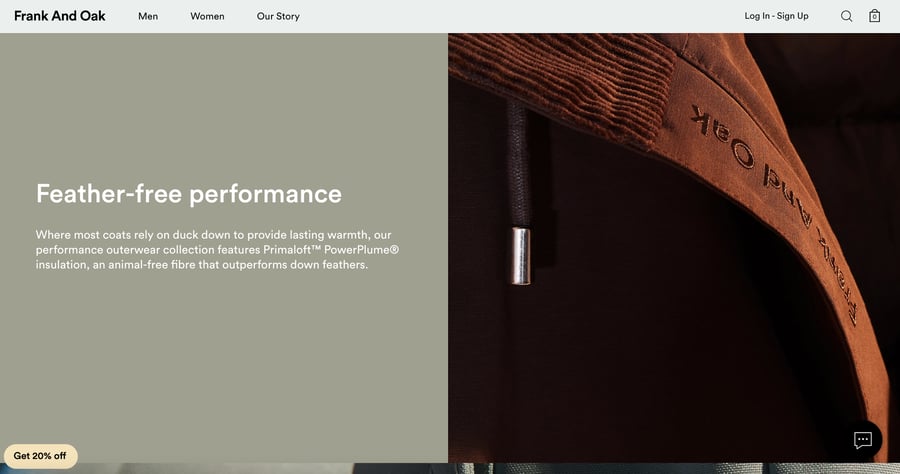 They also host virtual open houses and in-store style appointments to showcase their products and grow brand loyalty by providing an immersive customer experience.
Gen-Z has repeatedly expressed a preference for brands that stand for something and have a strong value system. DTC brands need to communicate every step of the purchase journey to attract and retain this new generation of consumers.
8. Offer Complimentary Products to Boost Customer Loyalty
Recommending related products to customers even before they checkout, for instance, on a product page, can help maximize revenue-per-transaction and boost customer loyalty. Here's an example from Knix: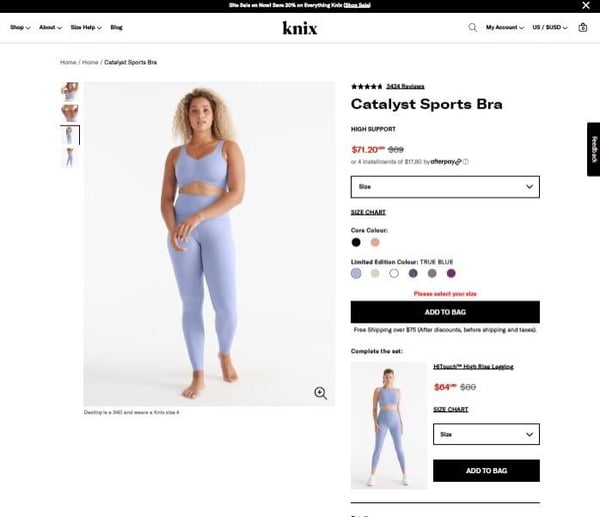 Source: Knix
You don't need a sophisticated Amazon-esque recommendation engine to offer complementary products on your eCommerce store. Start by researching which products go together and which people are most likely to buy. Then on your website, highlight them in a way that catches people's attention before they checkout. For example, you could use the classic line: "people who bought this also bought…."
This technique improves the product discovery experience for customers while enhancing the visibility of new products for you.
A seamless customer experience is where DTC brands can anticipate customer needs accurately and make evident that the brand cares about them, not sales.
Successful DTC Brands Constantly Adapt and Reinvent
Traditional retail channels like TV, brick-and-mortar stores, and newspapers do not cater to the growing needs of the new generation of customers.
Naturally, DTC brands can swoop in and take the lion's share of the new market by showcasing authenticity backed by an enriching customer experience. Be willing to stand by your value system when challenged while still leaving room to adapt to the changing cultural psyche of customers.
Brands that are keen on adopting new aspects of the online shopping experience — subscription-based revenue models, social media shops, influencer marketing — will remain ahead of the curve, and so will their sales. These sales will translate into profits very efficiently, as eliminating intermediaries helps significantly reduce operational costs.