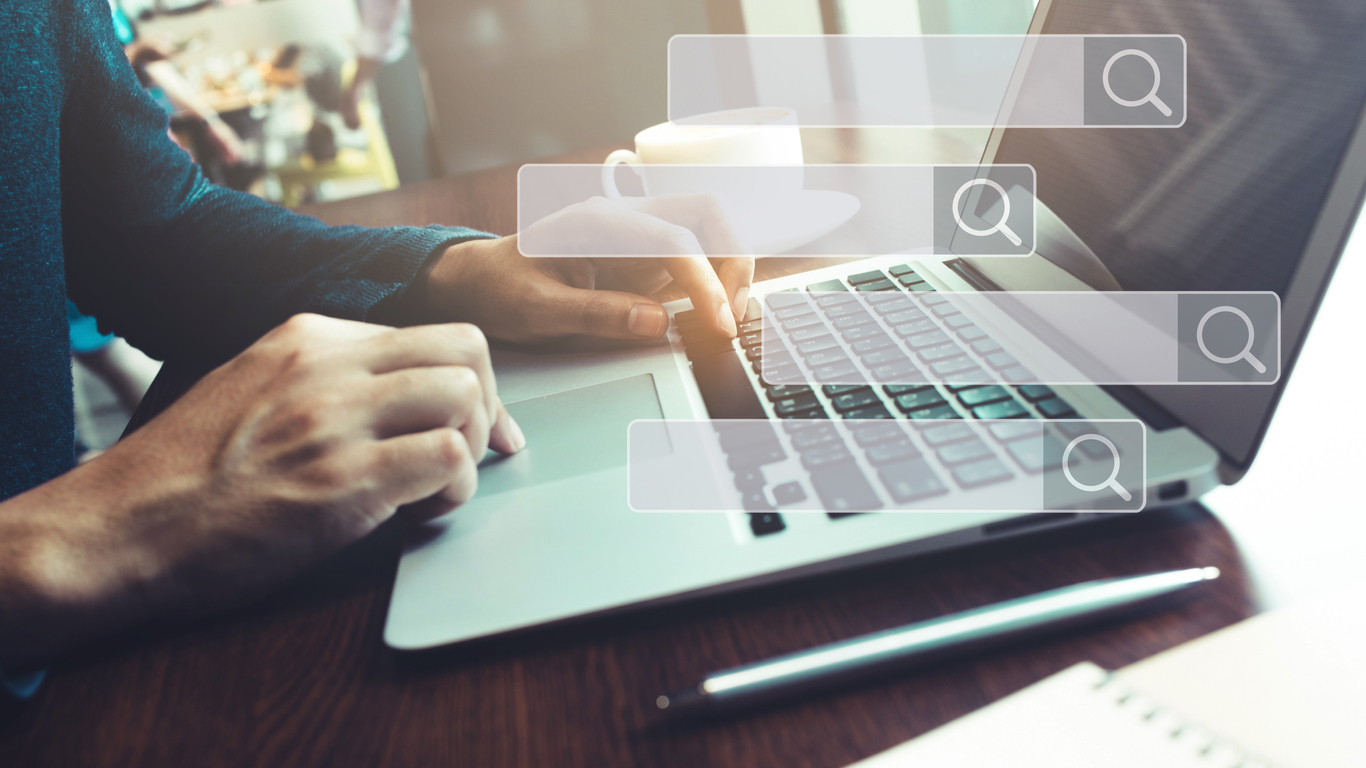 It should go without saying that no eCommerce marketing strategy would be successful without Google ads. The key is using the right Google ad types for eCommerce and having the optimization tools to tweak them to peak performance.
This may sound simple enough, but even the most experienced eCommerce entrepreneurs struggle to create a winning Google marketing strategy with the right campaigns and adjust to ensure they are driving highly targeted traffic to online stores within their budget - AKA ensuring excellent ROAS (return on ad spend).
This post will help you achieve just that by taking you through the Google ad types every online seller should be testing and giving you expert optimization tips to get all your Google campaigns to peak performance.
The Best eCommerce Google Ad Types You Should Be Using
1. Google Shopping Ads

One of the most powerful Google ad types for eCommerce is Shopping ads. There are many benefits of integrating Google Shopping into your marketing strategy, but the top advantage is that Google Shopping has the potential, when optimized and structured for success, to offer you the best ROAS.
Why?
Because Google matches your product ads to searchers who are actively searching for precisely the kind of products you are selling. And their other top benefits? Increased highly targeted traffic, broader potential reach, easier optimization and management, and improved data and reporting.
On their own, targeting high-intent potential shoppers improves your chances of conversions in a big way. However, combining them with remarketing so that you are targeting high-intent shoppers who already know your brand can be a game-changer.
Google Shopping Ad Campaign Types to Test
Google currently offers online store marketers five types of Google Shopping campaign types. All are worth testing for your online store but differ in placement, costs, and/or specifications. Here is a breakdown of each.
Product Shopping Ads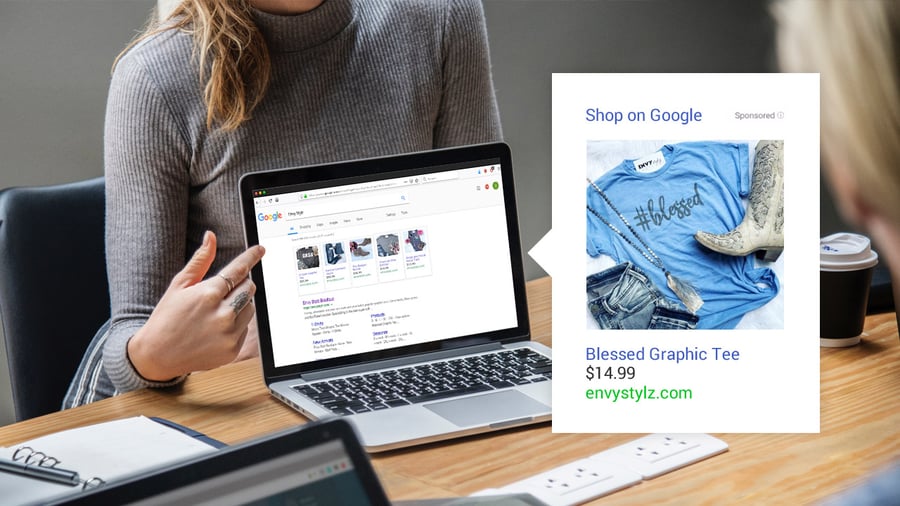 These are the traditional Shopping campaigns that you can create in Google Ads, but are linked to your Merchant Center account where your product data is stored. These ads appear in the Shopping tab on Google Search in select countries, in Google search result pages, and next to search results (separate from text ads).
Pro Tip: You can enhance your Google Product Shopping ads by including product ratings to build trust. You can use Google's free Customer Reviews service to collect valuable feedback and data used for product rating eligibility.
TrueView for Shopping (YouTube)

Connecting YouTube video viewers (who have shown interest in the products you're selling) to Shopping cards (of your products), TrueView for Shopping has become a highly effective eCommerce Google ad type. These ads can be created by selecting the 'Product & brand consideration' campaign goal, 'Video' campaign type, and 'Shopping' campaign subtype.
Showcase Shopping Ads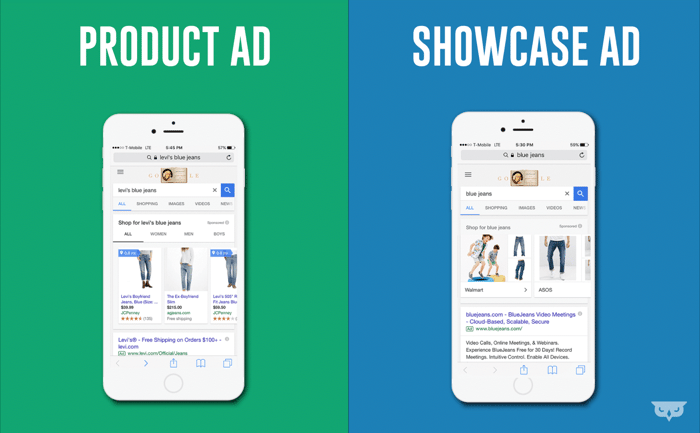 Source: AdHawk
One of Google's newest Shopping ad types is Showcase Shopping ads. These ads group related products together into one display with a lifestyle image, targeting more general searches.
Google recently made some changes to Showcase ads, including grouping carousel products by brand; clicks from Google Search Showcase ads now take the browser directly to the brand's website, and each of these clicks is charged as engagement.
Smart Shopping Ads
Smart Google Shopping campaigns are placed on Google's Search, Display, YouTube, and Gmail networks and are a combination of Product Shopping and Display remarketing campaigns that use machine learning to choose the best ad elements for your Shopping ads. In short, Google tests product image and ad text variations to determine the ad combination most likely to get a potential shopper to engage.
LCAs (Local Catalog Ads)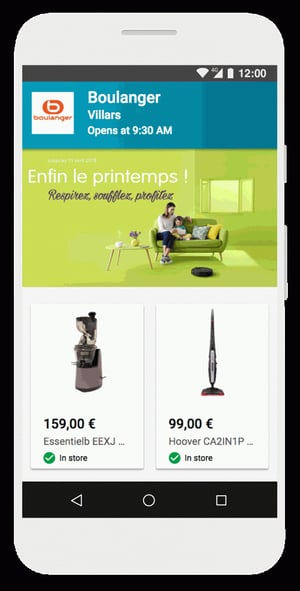 Lastly, if you are an omnichannel eCommerce business owner who sells both off- and on-line, then LCAs are another effective Shopping ad type to test. Placed on the Google Display Network, these Shopping ads are highly visual and specifically designed to bring online browsers to your brick-and-mortar location.
3 Expert Google Shopping Product Feed Optimization Tips
Google Shopping optimization starts with your product feed. If you don't use parameters to tweak and optimize your feeds, you will not get the results you need. Like with any eCommerce Google Ads optimization, this may feel like a full-time job. However, if you want to win at Shopping, it's worth the time investment.
1. Make Use of Custom Labels for Feed Management
Firstly, make use of Google Shopping custom labels from the start. These allow you to group and filter products with the same labels. This makes reporting, optimization, and management so much easier for advertisers. Additionally, with feed rules, you can automatically assign custom labels based on values.
2. Manage Product Types

Product Types is an optional product feed field that can be very useful for helping Google better understand the product you're selling, thus boosting ad performance.
3. Optimize Google Product Categories
Generally speaking, your products will need to fit into Google's extensive taxonomy; this is done automatically, for the most part. However, there is an override option for products that have been incorrectly matched to a category. For example, you can use this if you need to change US product classifications for tax purposes or want to reassign products within your campaign structure.
You can read more about these and other top product listing best practices here.
2) Google Search Ads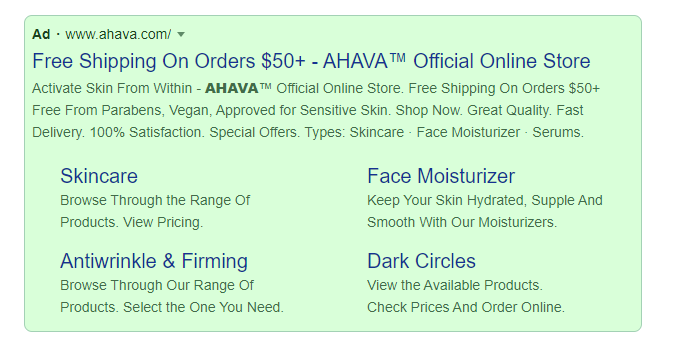 Next on the list of must-use Google ad types for eCommerce are Search ads. Think of Search ads as the bread and butter of your marketing strategy, bringing a steady stream of traffic when used as part of the right campaign strategy and optimized to their fullest potential. Here are four top Search ad campaign strategies we recommend online sellers test.
Branded Search Campaigns: These are campaigns where you bid on your own branded keywords to target people who are actively searching for your brand. They cost less as there is less competition, while also helping you dominate search pages to increase visibility, improve messaging, and prevent your biggest competitors from bidding on your brand.
Competitor Search Campaigns: Bidding on your closest competitors' brand terms can be beneficial for attracting potential customers who don't know your brand yet. However, this is only recommended for more established eCommerce brands that have the budget. This is because it can result in high CPCs if the brand term isn't relevant to your products or competitors are already bidding on their own brand names.
Non-Branded Generic Search Ads: These campaigns are your most common Google Search campaign type and designed to convert qualifying internet-based traffic. When created with a more segmented focus on keywords, they are very scalable and highly effective for attracting new potential shoppers to your store.
Non-Branded Niche Search Ads: The last Search campaign strategy we recommend testing is niche category campaigns. Examples for an apparel brand may include 'women's sundresses' or 'fall scarfs.'
3) Google DSAs (Dynamic Search Ads)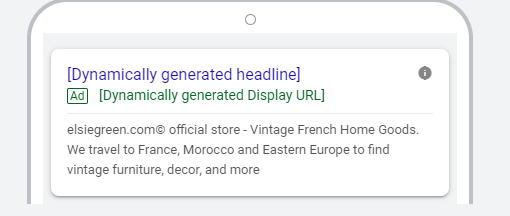 For those of you with more extensive product inventories, we recommend Google's Dynamic Search Ads, which will help boost your PPC efforts in a big way. DSAs offer all the benefits of Google Search ads while also helping you save on campaign management time, giving you more comprehensive keyword coverage and access to well-performing keywords, and ensuring any website or product changes or edits are automatically updated in your ads.
Pro Tip: The most significant benefit of DSAs is that they give you access to high-performing keywords that you may have not thought of. You can then use these keywords to create Search and remarketing campaigns for big ROAS payoffs.
4) Google Display Ads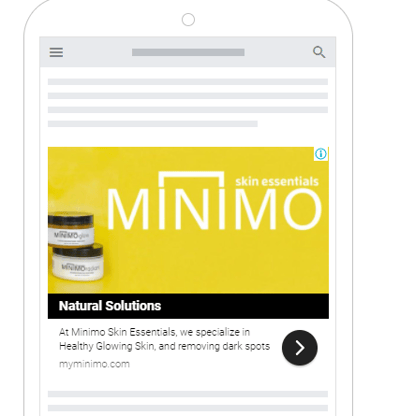 Let's talk about Google Display ads. These can be a very significant element of your overall marketing strategy if used for building awareness or remarketing. They are generally better suited for those online stores with visually appealing products and/or when matched with very niche-specific content. Here are three top Display campaign strategies we recommend online sellers test.
Managed Placement Campaign Targeting: Creating Display ads with placement targets enables you, with the assistance of Google's targeting methods, to choose the type of third-party content you want your ads to be displayed on. This gives you more control over the relevancy of the content to your brand, niche, or products.
Contextual Campaign Targeting: Particularly useful for driving eCommerce brand awareness, creating campaigns using contextual targeting allows you to add content keywords or topics to ad groups. Here's an example from Google of how this targeting works:

Dynamic Remarketing Display Ads: Using the dynamic retargeting feature of Google ads, you will be able to create Display ads that are personalized for browsers, based on their previous interactions with your store.
5) YouTube Ads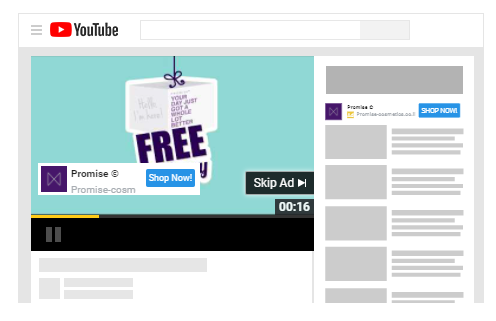 YouTube Google ads are a must for any successful marketing strategy. This PPC platform offers a wide range of ad types to choose from depending on your budget and/or target audience. These include:
TrueView Ads: These can increase video engagement and drive traffic to your store.
Discovery TrueView Ads: This type displays your brand's video content in search results, making them ideal for bigger brands that do a lot of product-related video content marketing.
Short Bumper Ads: These are six-second video ads ideal for brands investing in good quality video ads.
Traditional YouTube Ads: This type of ad is 15-20 seconds long and plays before relevant video content.
Third-Party Outstream Ads: These get your video ads onto partner websites and apps for broader brand reach.
6) Google Remarketing Ads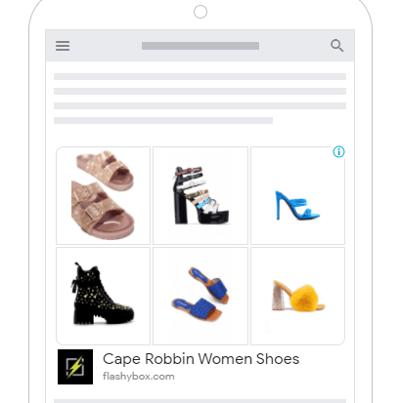 Last, but by no means least, are Google remarketing ads. The success of your remarketing campaigns is very dependent on the remarketing lists you create. This includes RLSAs (Remarketing Lists for Search Ads), Shopping remarketing lists, and remarketing lists for dynamic retargeting for Display ads.
As of August this year, Google began to phase out one of its newer ad types, Gallery ads. Instead, they will be focusing on image extensions whereby images are added to text ads; these are still in beta testing.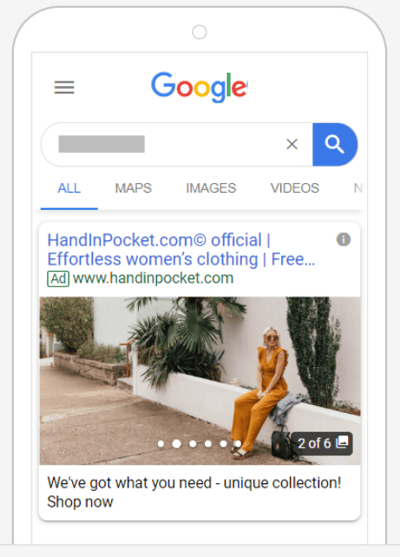 Google Ads Optimization Tips for eCommerce
There is no beating around the bush: when it comes to Google ads, the only way to ensure success is to test, tweak, and optimize. This does feel like a full-time job because, in essence, it is. But, as cumbersome as it seems, the payoffs can be huge.
Therefore, as an eCommerce entrepreneur, you have three options available for driving marketing strategy success.
You can hire a dedicated PPC agency to handle all your campaigns for you, which can be hugely beneficial. However, this tends to also be costly in time and money – having to search for the right agency and push up your ad budget with hefty management fees.
Suppose you want all the benefits of a dedicated Google Ads account manager and agency, but you don't want to spend all your advertising budget on agency fees. In that case, we suggest testing out StoreYa's Traffic Booster app and service. With no additional fees, Traffic Booster will set up, manage, and optimize your Google campaigns for you – ensuring you get the best ROAS while freeing you up to work on other aspects of your business.
Alternatively, you can DIY your Google optimization. This will take some tweaking and testing, but it's not unattainable. To that end, we've compiled a list of four expert Google optimization hacks for eCommerce to help you achieve your ROAS goals, as well as a list of the most common Google ad problems and how to fix them.
4 Expert Google Ads Optimization Tips for eCommerce
1. Take Full Advantage of Google's Budget and Bidding Automation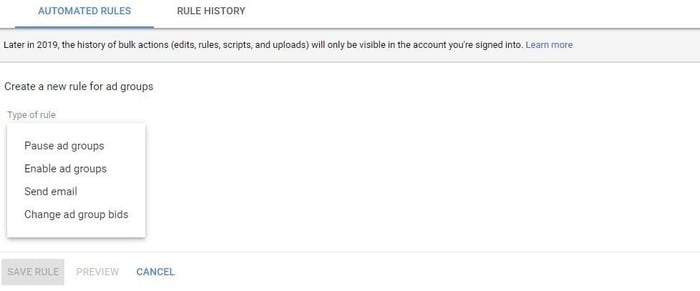 If you're not already doing so, you should be taking advantage of Google's automated rules for budgets and bids. Here, you can input controls that will automatically adjust bids or pause campaigns when certain thresholds are reached. This means changes to prevent over- or under-spending can be made in real-time, without the need for you to watch those bids and budgets every minute of the day.
2. First Split Test, Then A/B Test
Split testing allows you to test entirely different ad versions to find the winning combination. For instance, you could run a split test of two campaigns using different destination URLs or headings. On the other hand, A/B testing lets advertisers test similar variations in a campaign, such as testing two different headlines for one ad with the same video or destination URL. Ideally, you will want to split test first to find the ad content that is the highest performer, and then A/B test headings and CTAs within the best-performing campaign.
3. Test Similar Audience Campaigns
Like Facebook Lookalike Audiences, Similar Audiences are designed to help you reach more potential shoppers that match your current ones. These audiences can be tested with Display, Search, and YouTube ads for eCommerce, as well as Gmail and Customer Match ads. We recommend that these ads be tested in conjunction with interest-based targeting, rather than instead of it, and are better suited for those of you with a lot of Google Ads experience.

4. Push Google Ad Results With Facebook Campaigns
Lastly, if you really want to optimize your Google ads at a professional level, you need to understand that they don't work in a vacuum. By integrating them into your overall PPC strategy and optimizing them in conjunction with other platforms, you have a better chance of success.
One such example would be to take headlines that have worked on Facebook and implement them in your Search campaigns. Alternatively, harness the power of Facebook's interest-based targeting to reach a broad audience of brand-new customers that you could then remarket on Google Search with branded keywords.
4 of the Biggest Google Ad Problems & How To Fix Them
Lastly, let's look at the most significant issues eCommerce marketers face with Google ads and how you can optimize them for better success.
1. Your Impressions Are High, but CTRs Are Low
There are two main reasons why your impressions are high, but your clicks are low. This can either mean your keyword is well-searched but not relevant to your ad or, if it is relevant, your ad copy needs work. Therefore, in this scenario, what you want to do is test alternative headlines, descriptions, and CTAs to see whether this improves your CTRs.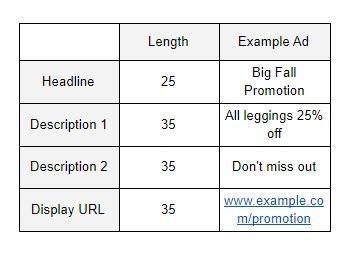 2. Your CTRs Are High, but Conversions Rates Are Low
If your impressions are good and CTRs are on goal, but searchers are leaving your site shortly after landing on your destination URLs, or spending some time browsing but not buying, then the first place you want to optimize isn't your ad, but your URL. In this case, you need to make sure that your product pages are created to convert. You also want to ensure that your destination category or promotional pages align with your ad in terms of relevance. In other words, is the potential shopper seeing what they expect to see when they click your Google ad?
3. Your Clicks Are Expensive and Sporadic
What if you're getting clicks, but they are few and far between, and the ones you do get are too expensive? If you have low CTRs and high CPCs, it is almost certainly because your Google Quality Score is too low, which increases your CPCs and decreases your reach. To fix this, you want to make sure that you have included keywords relevant to your ads and destination URL, ensure your URL pages are optimized for the shopping experience, exclude any misleading copy, and update your negative keyword lists.
If you're brand new to Google Ads, negative keywords are those terms you tell Google not to show your ads for.
For example, let's say you are selling sunglasses. You may tell Google to exclude 'glasses' by adding it as a negative keyword. This prevents people who may be searching for glasses (either reading glasses or kitchenware) from seeing and clicking your ads. These people clicking your ads will make your ads irrelevant and hurt your bounce rates – both of which will play a role in your overall Quality Score. It will also hurt your budgets, as you will be spending valuable money on totally irrelevant clicks.
4. Your Clicks Are Bringing Untargeted Traffic
The most common issue eCommerce Google marketers face is that they are getting high CTRs, but the traffic is not targeted. In other words, you get eyes and clicks for your ads, but they're the wrong eyes and clicks – they're people who aren't actively searching for what you're selling.
Just because a keyword offers a high search volume doesn't mean you should use it if it isn't highly relevant to your store, product, or destination URL. The best way to fix this is to review your keywords, ensure your keyword match type isn't too broad, and add relevant negative keywords.
Final Thoughts
There you have it: our top optimization hacks for eCommerce campaigns and the types of Google ads you should be testing. Yes, testing, as every brand, niche, and market will be different and respond differently. And like all marketing, when it comes to Google PPC strategies, there is no 'one size fits all' approach. You will need to test each type to find the campaigns that work for your brand and then test, tweak, and optimize these campaigns until you are reaching your goal ROAS.