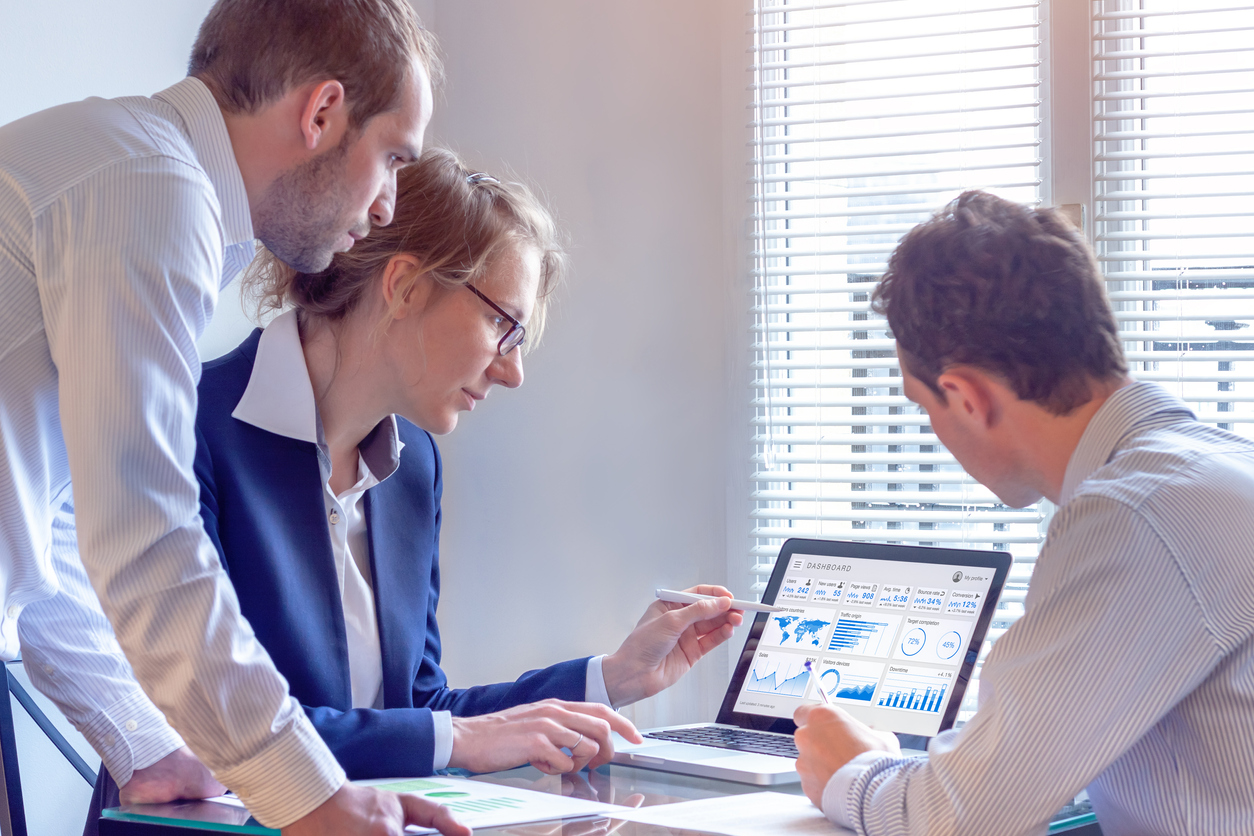 Cost-per-click inflation is forcing businesses to spend more to maintain their position on search engines. The growing competition, ads getting bigger, and less ad space to compete for are among the top factors driving CPC up. So, businesses are looking to SEO and conversion rate optimization (CRO) to get more clicks that pay for themselves.
Effective CRO lowers customer acquisition costs by getting more value from your existing visitors. As a result, it can increase revenue per visitor and boost your sales, taking your business to the next level.
SEO, in turn, attracts qualified visitors to your website, transforming it into a conversion machine. Regardless of the industry segment, SEO traffic generation revolves around assisting search engines in understanding a website better and making it easy to rank a website in the SERPs. Therefore, SEO and CRO are a match made in heaven.
Let's learn about some valuable SEO tactics that can help you convert more visitors into paying customers.
6 Essential SEO Elements That Can Boost CRO
Besides making your website rank higher, SEO can boost your conversion rate. So, let's look at the top SEO elements that can improve your CRO.
1. Mobile-Friendliness
Mobile friendliness is a critical Google ranking factor because people spend more time accessing the internet on their mobile devices. Statista confirms that more than half of the internet traffic comes from mobile.
Getting a customer to make a buying decision is tough; hence, reducing the friction they may experience when deciding to buy is critical. So, making your website mobile-friendly can make it easy for them to complete the transaction.
Here are a few quick tips to improve your site's mobile friendliness.
Run a mobile SEO audit using Google's mobile website speed testing tool to understand how your website performs. An audit will help gauge your site's touchscreen readiness, mobile page speed, content legibility, and compatibility across browsers.
Get rid of the clutter and simplify site navigation. Mobile sites have limited spaces and a different layout than desktop versions. Make sure you keep the navigation simple and without distractions, leading visitors towards your end goal (conversions). For instance, hiding the sidebar in mobile view will reduce the visual clutter on your mobile website.
Improve your site speed to convert visitors into customers as soon as possible. Google recommends switching to Accelerated Mobile Pages (AMP) that use a simple version of your HTML code to reduce the load time.
2. Site Navigation
Site navigation is critical not just from the UX perspective but also in helping search engines discover and index new pages. Links help users understand the content on your page and assist them in making a buying decision.
So, coming across a broken link on your website can negatively affect UX and make it challenging for users to act.
Here are a few practices to improve your site's navigation and conversions.
Prioritize usability over design.
One of the most common mistakes businesses make is to get carried away with creativity and place standard navigation elements in the most unusual places. Though this looks attractive and makes your website stand out from the competition, it will negatively affect your usability.
Make sure your site offers familiar and intuitive navigation that visitors recognize. For instance, on eCommerce sites:

Source: Walmart
The main navigation bar is always on the top of the page.
The shopping cart is at the top right
The company logo is on the top left
The "Contact Us" section is in the footer
Organize the categories and subcategories.
Make sure your home page isn't cluttered with hundreds of links. This can distract visitors from making a decision. Keep it simple by using a minimalist design.
Notice how Build.com has applied a simple design with top-level menu labels, helping visitors with minimal scope for distractions.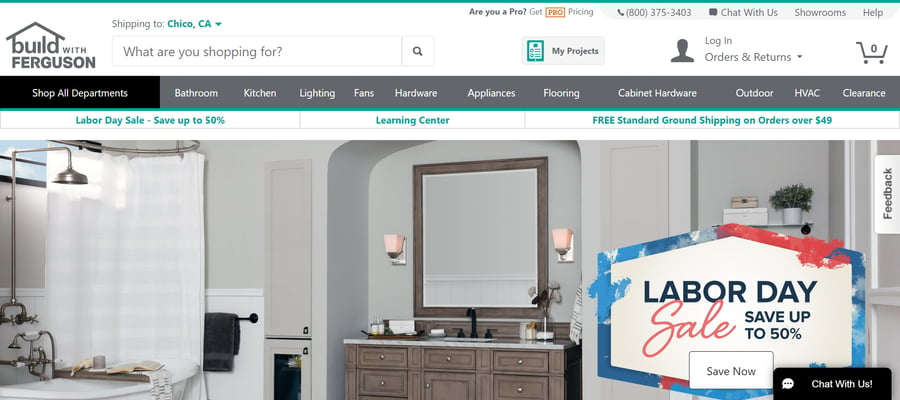 Source: Build.com
Focus on customer experience.
Make it easy for visitors to browse your website, find what they are looking for, and convert.
For instance, on an eCommerce website, enabling filtered navigation can improve the product browsing and navigation experience. Similarly, introducing product labels and product recommendation blocks can assist shoppers in making a decision, thereby boosting the conversion rate.
3. Content Quality
Without a doubt, informative, helpful, easy-to-understand content is critical to improving your online ranking and encouraging website visitors to convert. Therefore, businesses should prioritize creating relevant content that matches the search intent of the target audience and the funnel stage. The shared content should answer their questions and provide them with the necessary information.
Quality content is essential to SEO and conversion rate optimization because it ensures people stay longer on your website. It reduces the bounce rate and encourages visitors to decide in your favor.
Look for high-intent keyword phrases.
Match your content with searchable phrases that circle the audience's search intent. Ahrefs' Keyword Explorer is an excellent tool for keyword ideas. If you type the term 'shop for shoes,' check out the number of phrases it shares containing this term.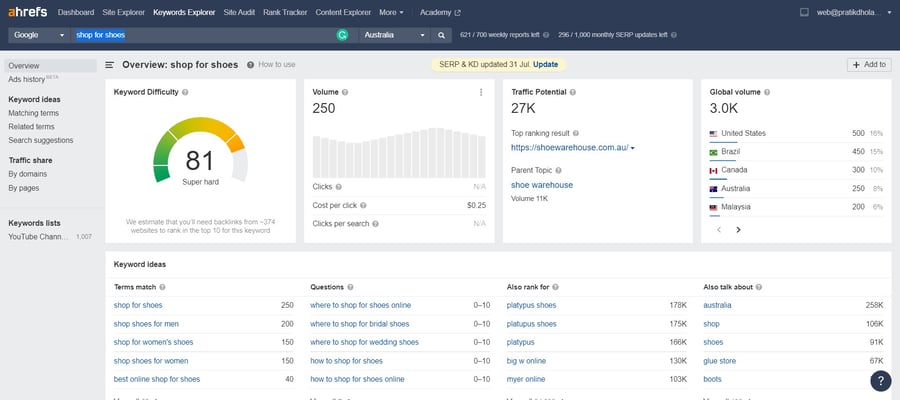 Source: Ahrefs
Add keywords in the right places.
Target keywords should be placed in prominent places on the page without sacrificing the quality or flow of your copy. That way, when the user lands on your page, they will find the terms they were looking for, encouraging them to stay longer on the page.
So, your keywords should appear in the page title, the page URL slug, the first paragraph, the page subheading, and the image alt text.
Use long-tail keywords.
Optimizing for long-tail keywords can generate large volumes of qualified traffic to your site and boost conversions. Tools like Semrush, Ahrefs, Moz Keyword Explorer, and Google Keyword Planner can help identify your competitors' ranking keywords.
Leverage semantic analytics.
In semantic analysis, you need to cluster each query into related concepts, making your content in-depth and relevant to your target audience.
Text Optimizer is a valuable tool that picks Google's search snippets for a query and applies semantic analysis to it. It can be used to analyze content and identify areas for improvement.

Source: Text Optimizer
4. HTTPS Security
HTTPS protects the integrity and confidentiality of customer data. When a user visits a website, they submit an HTTP request to the server to download data for browsing. However, the usage of HTTP is so common that browsers automatically assume the protocol. HTTPS encrypts the transmitted data to protect it from online attackers and phishing scams.
Customers visiting websites want to feel secure when sharing their information. Online security boosts customer confidence, encouraging them to stay on the page and act in your favor. Plus, Google promotes websites that use HTTPS.
Here are a few best practices for leveraging HTTPS to improve conversion rates.
Get the right SSL certificate for your website.
An SSL certificate signals that your website is secured, adding HTTPS to your URL. Choose the right one for your website from the three main types:
Standard Validation: This type of SSL is an affordable option that allows you to enable HTTPS protocol and include a lock icon near your URL. It offers a basic level of security and is recommended for websites that do not deal with sensitive data like financial transactions.
Extended Validation: This type verifies domain ownership and is more expensive than the previous option. It shows the lock icon and the business name in a green bar on the left of the URL.
Organization Validated: This SSL is similar to the Extended Validation type, but additional efforts are involved in vetting that the organization owns the domain.
Invest in Page Speed Optimization.
With HTTPS comes additional security layers. This potentially increases the loading time. Use Google's PageSpeed Insights tool to assess your site's health and find opportunities to improve its speed.
Manually test your website for errors.
Navigate your HTTPS version to check for broken links or links to outdated page versions. Test filters, forms, and checkout pages to ensure that customers can do their business with minimal interruptions.
5. Internal Links
Internal links are not just important for SEO. They are also unsung heroes when it comes to crafting extraordinary experiences and conversion funnels. These links help visitors find what they are looking for, improve the time on site, and reduce the bounce rate — thus boosting conversions.
Here are a few internal linking tactics websites must use to improve their site's user-friendliness and conversion rate.
Link to important categories and product pages in the main menu.
Your website's main menu should contain links to your most important pages, like categories and product pages. Not only does this improve the internal authority of these pages, but it also gives search engines a clear idea of your site's content.
A word of caution here — avoid over-stuffing your site-wide menu with too many pages. Having between five and seven dropdown menus is ideal.
Leverage breadcrumbs in your category and product pages.
Breadcrumbs can improve navigation and help search engines understand the relationship between your site's category, subcategory, and product pages.
Once breadcrumbs are implemented, you can use the breadcrumbs schema to improve your visibility in the SERPs.

Add links to your subcategories.
Another way to improve navigation on your site is by including subcategory links in your category pages. This allows users and search bots to navigate through the site easily.
Use attribute links on product pages.
If breadcrumbs are tough to implement on your website, adding attributes on product pages may be more feasible. Attribute linking or deep links include a reference to a category page to which the products belong.
Add a "Customers also liked/bought" section with internal links.
This type of section is a popular feature on eCommerce websites, as shoppers find it easy to browse through products tailored to their needs.
Notice how ASOS leverages this feature on its website.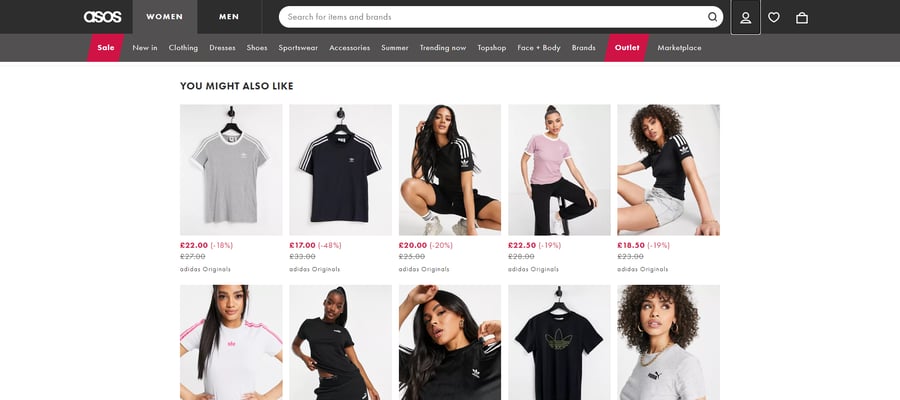 Source: ASOS
Link from your blog to product pages and back.
Blogs can be highly beneficial when it comes to boosting SEO. If your blog contains handy guides relating to your products, it's wise to include links to individual product or category pages on those posts.
6. Use of Visuals
Varying your content format and mixing it with images, infographics, videos, and interactive elements is a surefire way to improve the average time spent on the page. These visual elements drive a deeper level of engagement. They not only offer visitors the information they seek but also entertain them.
Images break up huge blocks of text and help simplify complicated bits of information. Simply put, visuals make a website less boring and encourage visitors to spend more time browsing the pages. No wonder visuals are the most important content form for modern content marketers.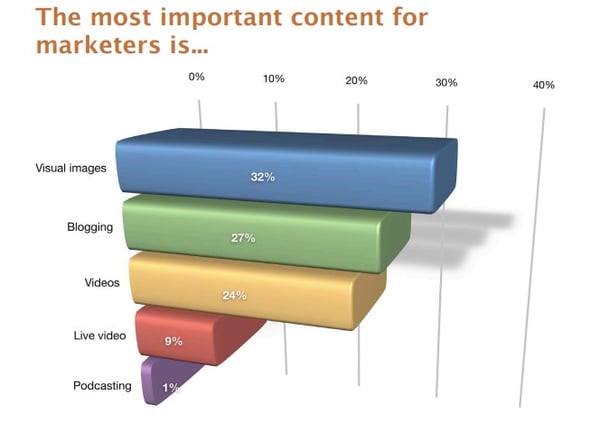 Source: 60 Second Marketer
Here's how you can use the power of visual marketing to boost your website's engagement and conversions.
Include relevant, valuable visuals in your blog and social posts. Make sure you custom-design ample visuals that help visitors as they make a decision.
Share product videos, interactive visuals, and animated images. This type of content can be especially useful when you need to break up long text and convince your visitors to purchase your products. Make sure you upload these videos on popular video channels like YouTube.
Leverage user-generated content to boost conversion rate. UGC speaks of real customer experiences and testimonials. Therefore, they have a huge impact on conversions.
Use images and videos to show your business's human side. Sharing behind-the-scenes videos and live stories can help you connect with your audience. Moreover, it gives your followers a sneak peek into your workplace and the culture you uphold. All this significantly affects brand image and conversions.
Summing Up
The pointers shared above are critical for attracting relevant traffic to your website and encouraging visitors to stay on your page. They are also vital for boosting your ranking and visibility in the SERPs. With the information shared in this article, you can get a jumpstart on attracting more visitors and converting them into paying customers.