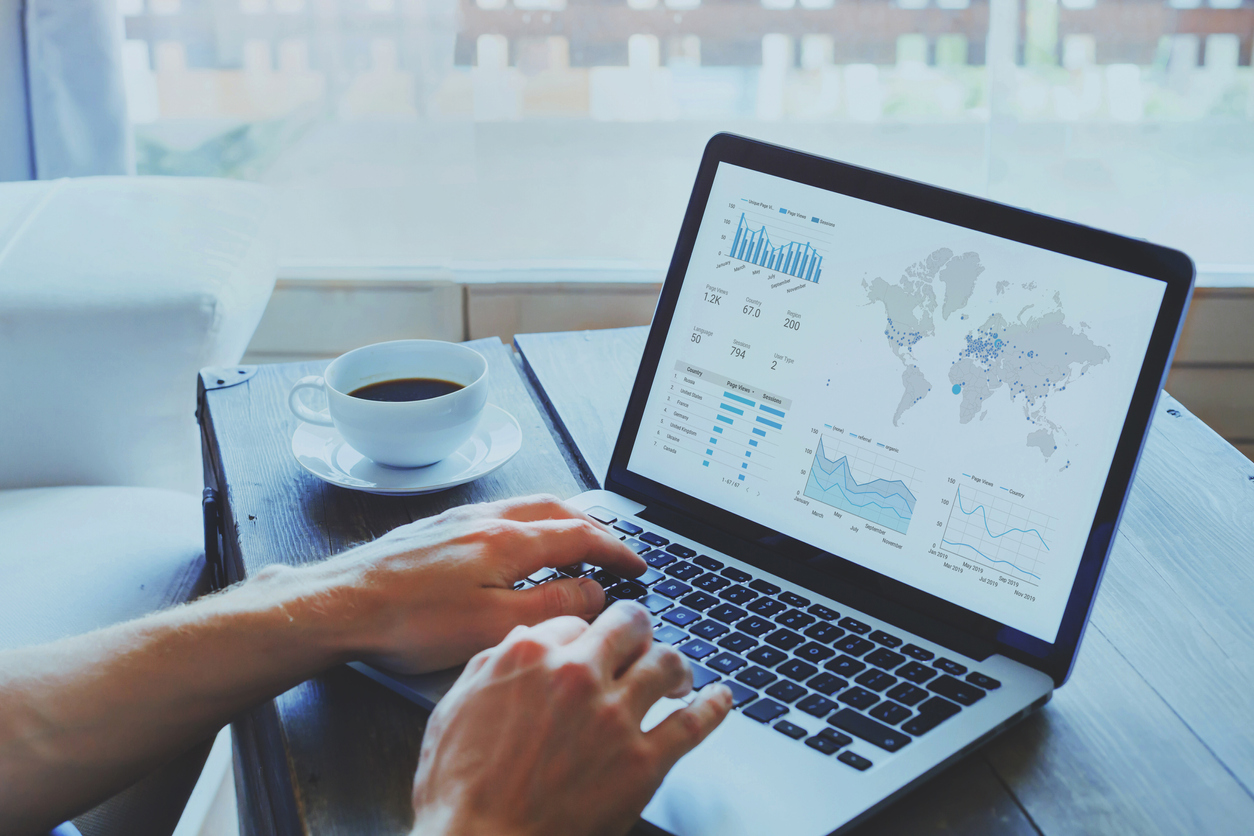 Bounce rate is a metric showing how many visitors leave a website after landing on a page. Why do people leave websites without taking any action? First, bounce rates may differ from page to page, even on the same website. For example, blogs generally have higher bounce rates than product pages. Why? Because visitors land on the blog articles to find information, not to convert.
They read an article, get the needed insights, and close the page. They didn't intend to buy something or open other pages from the beginning. But what if you notice skyrocketing bounce rates on pages created to convert visitors? Let's dive into why you should take bounce rate seriously and how to decrease it.
What Is Bounce Rate?
A bounce rate encompasses several types of consumer behavior:
A person lands on the website and closes it immediately.
A visitor spends several minutes on the page and closes it without converting or clicking on other links on the website.
These cases differ from one another. The second one may mean higher interest in a purchase. The more time prospects study the page, the closer they are to converting. People may open numerous tabs with similar content and compare what you and your competitors offer.
Prospects study product descriptions, prices, reviews, trust badges, etc. Nevertheless, they don't take any action except to click on the "Back" arrow. So the statistics will illustrate an increase in the bounce rate, regardless of the session duration.
Why Should You Monitor Bounce Rate?
High bounce rates generally imply poor user experience (except for the cases we'll outline further). It means your website fails to retain visitors or provide the needed content. If visitors don't convert or buy anything, you lose the money invested in attracting traffic to your store.
Besides, it signals for Google to downgrade your website in search results. You'll see a decline in visitors and sales, putting the business at risk. What should your website include to prevent users from closing it? A pleasing user experience includes product search that works, easy navigation, tackling customer issues, rapid site load speed, etc.
What Is the Ideal Bounce Rate?
An appropriate bounce rate varies depending on the industry. The most general picture looks like this:
More than 80%: This is the most urgent alert for you to reconsider retention strategies and website performance.
70-80%: Your website requires improvement to deliver a better user experience.
50-70%: This is an average indicator for most websites.
30-50%: Your website performance is excellent, and most visitors stay on the resource.
Lower than 20%: While you may dream of having such a number, this is rare in real life. Such numbers may indicate a tracking problem.
Look at the below screenshot of a Google Analytics report on bounce rate. The tool shows the average percentage for the website and a detailed breakdown of the bounce rate for separate pages.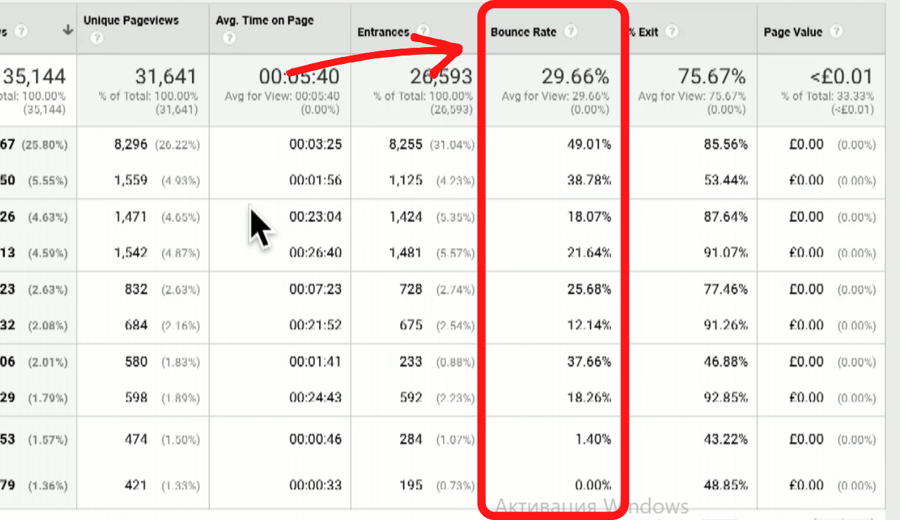 Source: Google Analytics
Is a High Bounce Rate Cause for Concern?
To begin with, a high bounce rate is not always a bad thing. As mentioned above, people may leave the website satisfied with what they received. For example, it usually happens with recipes when people see the list of ingredients and steps to prepare the meal. They may bookmark the website to return to it next time. But for now, their decision to close the resource will be a bounce for Google.
The same applies to the situation when prospects convert outside the website. It may happen on the phone or via email. They see the contact information on the page but close it to continue their journey on other channels. Google considers these actions as a bounce. So you'll see the devastating figures, but conversions and revenue won't be so troubling.
Note that these are specific cases. They don't cover most websites, especially online stores where every visitor is your chance to sell goods. You expect people to add products to their carts and proceed to the checkout, so you should deal with a high bounce rate as soon as possible. What should you change on the website to take bounce rates down? Let's look at five ways to do it.
Bounce Rate: 5 Tips To Optimize Your eCommerce Website
1. Enhance Product Pages
When searching for a specific product, prospects will land on your product page rather than the home page or blog. You should add all essential features to achieve a better product page UX and convert visitors. These include:
Abundant images to show the product from all angles
Visible calls to action with a sense of urgency or scarcity
Comprehensive product descriptions
Customer reviews (negative and positive)
Other social proof, such as social media widgets, to show the brand's popularity
Cross-selling sections and personalized suggestions to increase order value or invite people to other pages
Check how Reebok implements all these tips on their product page.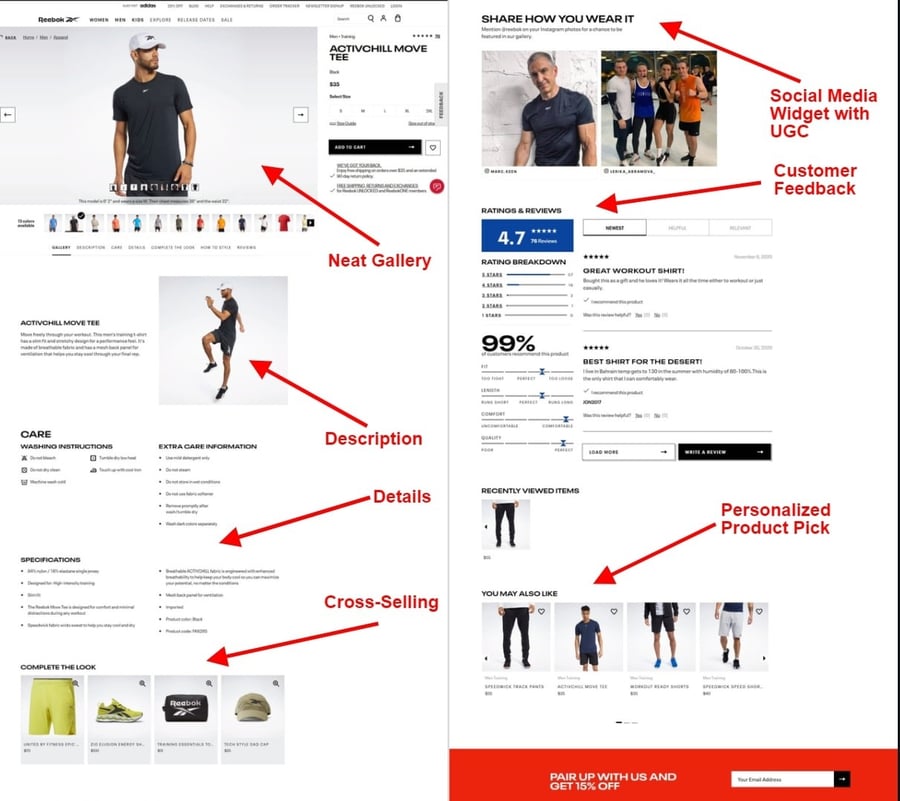 Source: Reebok
Since online shoppers can't physically feel what they're buying users to touch goods, eCommerce websites need to provide full details on product features to reduce returns. The online store above contains images, specifications, care instructions, and descriptions with keywords to attract targeted customers.
But even the most informative descriptions need strengthening with real-life experience. Is the product true to size? Does it stretch, wrinkle, or cause discomfort? Thus, customer feedback is crucial to building trust.
Are you afraid of negative reviews? Remember that it's better to resolve the issue and show it to others rather than delete unpleasant comments. This transparency is crucial for building loyal customer relationships. To add credibility, include social media widgets, share user-generated content, and manage publications with a social media management tool.
2. Compose Relevant Content
One of the reasons people leave websites is the irrelevant content. For example, they type their request, but Google returns something unrelated. As a result, visitors close the tab failing to receive the needed information.
Why does Google sometimes have trouble matching a search query with page content? One reason is that users insert fuzzy or rare keywords in the search bar. As a result, Google shows the closest articles, which might not be relevant. This means that there isn't enough data available to answer the question. In this case, a high bounce rate may indicate problems not with your content but with an external request.
But it shouldn't mislead you and distract you from optimizing your website. Analyze your keywords in copy, landing pages, and ads. Do they attract targeted traffic? The same goes for creating content in line with your strategy. While you may be eager to experiment with content types, your loyal readers may not be interested in other topics. For example, writing about software development on a fashion blog is not a good idea. Why? Because these topics represent different interests, catering to various audiences.
Readers will likely not click on other links on the website if they don't supplement one another. A consistent content strategy will allow you to group articles, interlink them, and encourage visitors to click on other pages, lowering the bounce rate.
Below is a screenshot from the blog "A Broken Backpack." The author dwells on various topics, but there is a common theme: "How many days in X city is enough?"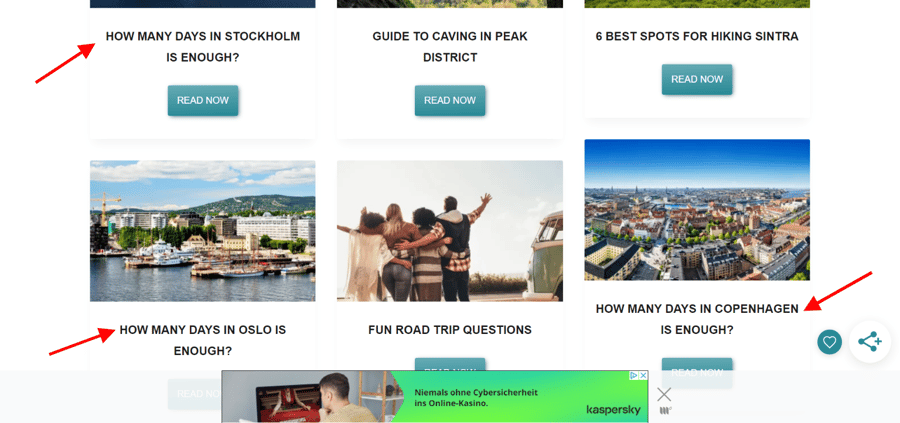 Source: A Broken Backpack
3. Configure a Site Search Functionality
A user will be less likely to leave a page if it provides them with an opportunity to find their desired item. Suppose you arrive at a busy supermarket knowing what you want particularly. Will you wander through the aisles or ask an employee to show you what you're looking for? The second option will undoubtedly save you time. That's how eCommerce site search works in the digital world.
Configure the search bar on your website with site search best practices in mind. For example, avoid 0-results pages. These pages appear when a user misspells words and the system cannot interpret them. You can list possible errors to connect them with the right product the website should return.
You can also use artificial intelligence and natural language processing to mimic human cognitive processes and discern mistyped queries. As an example, I mistyped both words on the Adidas online store (see the screenshot below). Nevertheless, the website displays numerous relevant products. To narrow the search, I can filter the results according to gender, product type, size, etc.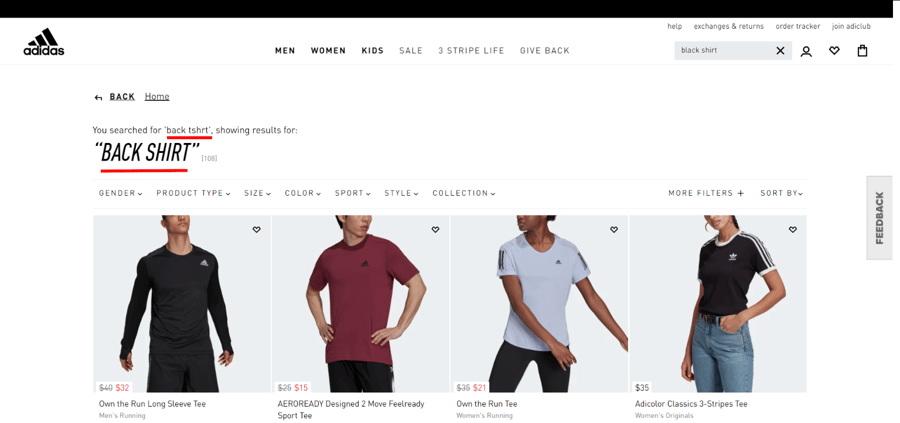 Source: Adidas
AI also helps consumers by auto-completing their queries. It tries to guess what they're looking for and streamlines the process. Visitors don't have to write the whole phrase. Instead, they can click on the link after inserting several letters.
Suppose people are trying to find products that you don't sell. Don't leave customers at a dead end — try to suggest anything close to the request. Better World Books follows this principle, which you can check in the screenshot below.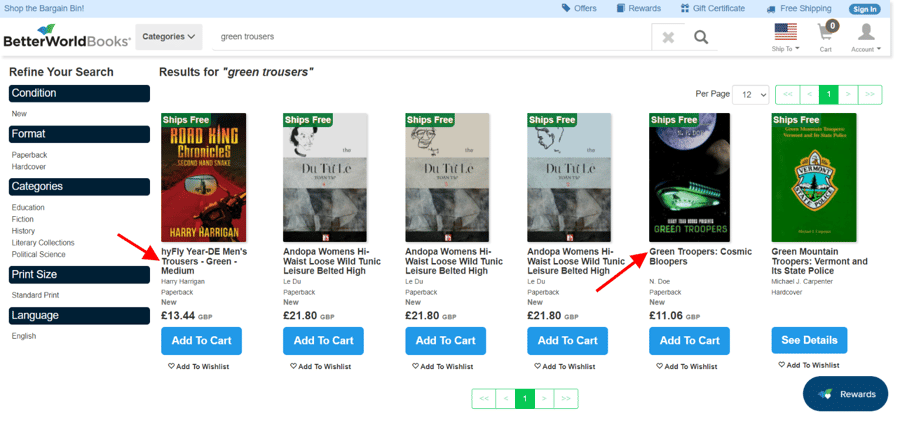 Source: Better World Books
4. Improve Your Content Readability
The explanation for a high bounce rate may lie in how you arrange your content on the page. Is it easy to flick through the page? Large chunks of the content may scare off even the most diligent reader. To improve the user experience, your content should be easy to read. What steps can you take to make your material more readable?
Use short sentences and paragraphs.
Remember to highlight findings in bold, italics, and underline.
Organize items into bulleted lists.
Readers want entertainment and fast results. Keep the tone conversational and engage visitors with images, videos, and interactive elements.
For example, gamify the experience with quizzes. Quizzes help gain insights into consumers to offer goods, discounts, and services. You can understand whether they're satisfied with the website, what products they prefer, and how likely they are to buy.
How can you retain visitors and lower your bounce rate? Include videos to accompany your written materials. Video marketing is a powerful way to educate, entertain, and increase time spent on-page on the website. They also provide an alternative to reading guides.
Below is a screenshot from Neil Patel's blog illustrating how he includes his YouTube videos in the article.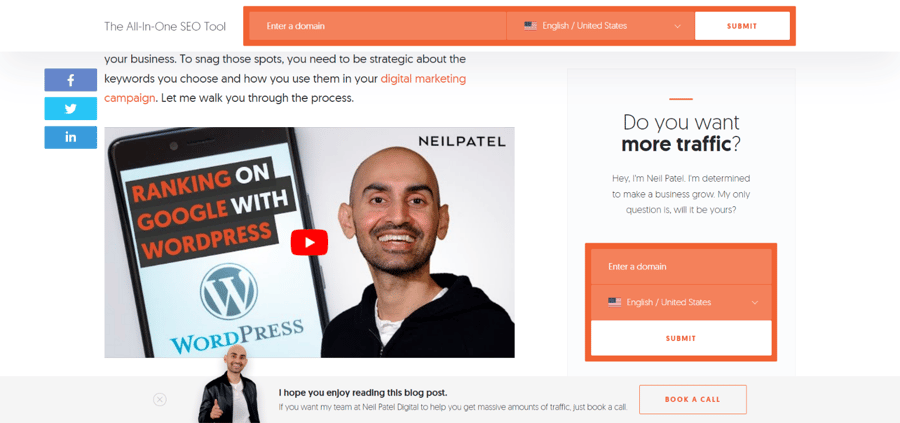 Source: Neil Patel
5. Show Exit-Intent Pop-Ups
Using exit-intent technology is another strategy to slice your bounce rate. Exit-intent pop-ups appear when a user moves the cursor to the upper part of the page on the desktop. When visitors scroll the page upwards on mobile too fast, it may trigger the exit intent pop-up. Both actions imply the user's desire to close the page.
This system triggers a pop-up to encourage the visitor to complete a particular action, such as:
Subscribing to a newsletter
Downloading educational materials
Signing up for a webinar, call, or course
Completing their order (including time-sensitive discounts that may speed up the decision-making process)
Leaving feedback (including questions asking why they left, helping you remove obstacles and convert more people in the future)
Misen displays an exit-intent pop-up if you add something to the cart and leave without purchasing. You can express your thoughts by selecting one of the offered buttons.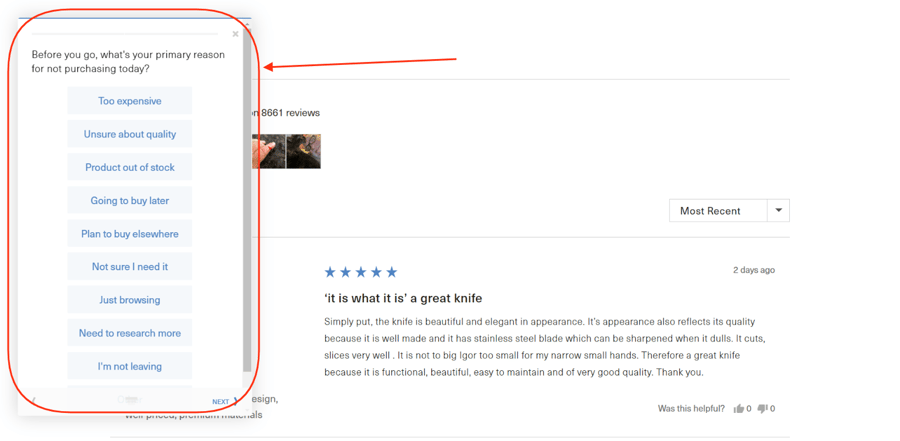 Source: Misen
Wrapping Up
A skyrocketing bounce rate can be a major concern for eCommerce business owners — it shows that visitors aren't spending enough time on their website to convert.
How can you improve your bounce rate? Work on the user experience and satisfaction. Also, remember that lowering your website's bounce rate is a never-ending process. Engage readers, create professional content, and attract targeted traffic. Good practices for online stores to keep in mind include adding site search and fine-tuning product pages.
Decreasing your bounce rate will boost other metrics, such as conversions, time spent on pages, and the number of pages per session. Overall, these metrics can be a positive indicator for Google to promote your website in search results.