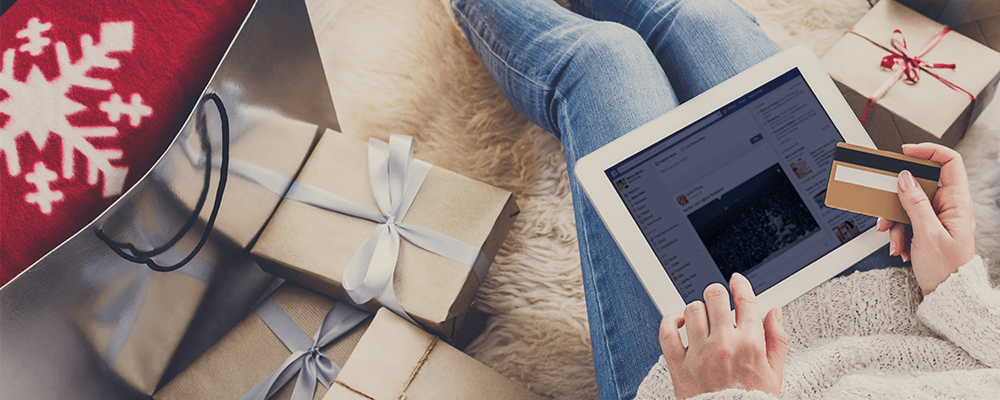 Any smart merchant knows that using social media to promote their products is key to a well-rounded marketing strategy, especially during the holidays when consumers are spending more of their hard-earned money.
Last year, mobile sales accounted for $7 billion on Black Friday and Cyber Monday alone. While putting your products on social media platforms like Facebook and Instagram lets you put your products in front of a wide audience, it isn't the only way to help drive sales.
Logging onto these platforms to let customers know you've created a shopping experience that is personal to them and their needs, whether that be through more payment options like instant financing or innovative technology like virtual dressing rooms that make purchasing decisions easier, tells the story of a smooth shopping experience that will attract shoppers who want to spend their cash on your goods.
Showcasing and promote your products on your Instagram or Facebook feed is only part of the puzzle; it's an entirely new ballgame once you make those products shoppable. Taking advantage of the social tools that are already out there will give you a leg up this holiday season.
Don't know where to start? We're helping you connect your e-commerce site with social media apps to achieve a truly dynamic multi-channel marketing approach.

Effective Social Media Marketing For Better Holiday Sales
Merchants using an ecommerce platform have a wealth of resources at their disposal to implement social media marketing to generate more sales. The first step is to make sure your platforms can easily integrate with each other. Consumers are already engaging with brands across multiple channels, but the key to making those outlets lucrative boils down to how you market your brand's story and shopping experience.
Deliver an Authentic, Personalized Shopping Experience
This is where tools like Facebook Shop, Facebook Messenger and Instagram are useful. For merchants who want to connect with customers more authentically, Facebook Shop provides interactive storytelling, including photos and video to showcase your products and services. To better engage with your customers, Facebook Messenger allows 1:1 communication between shoppers and retailers so you can answer questions in real time — a tool that encourages more sales.
Instagram knows what their 800 million users want, and that's more content that speaks to them. That's why even the Explore section is becoming more personalized, with topic channels featuring a mix of different posts based on specific interests, like art, travel, and shopping. Shopping-tagged posts from businesses that users follow - and ones they might like based on the posts they engage with frequently - will appear in a dedicated shopping space on the Instagram app. This algorithm has created an authentic user experience, putting relatable and relevant products in front of an audience that can use them most.
Instagram has also rolled out a shopping feature in Instagram Stories, creating an immediate and authentic brand experience. Tagging products with Instagram Story Stickers have allowed companies to share new content with their followers that they can update their story as quickly as trends arise, creating a real-time stream that consumers can engage with and share.
Let Customers Buy Where they Want to Buy
Consumers spend an average of 3.3 hours per day on their mobile device, and 2 hours on social media alone. Putting products in front of the right audience on social media, whether through ads or shoppable catalogs, is an excellent way for you to showcase your company's inventory this holiday season.
Social shopping influences consumers' purchasing habits, driving product discovery and purchases more than ever before. Mary Meeker's 2018 Internet Trends report found that 78% of users have discovered products on Facebook, while 59% have on Instagram. Of those users, more than half ended up purchasing the product at some point afterwards, and 11% of consumers did so immediately after viewing it on social media.
Merchants see increased conversions on social platforms like Facebook and Instagram because they have created the ultimate user experience. By allowing shoppers to make purchases without ever leaving their social apps, merchants have made the checkout experience seamless.
Take Instagram for example. They recently rolled out a native payment feature, allowing shoppers to buy items without ever leaving the platform. Gone are the days of having multiple tabs open and losing your way in the crowd. Now you can pay in one place and go back to browsing your feed after you checkout.
Facebook has also hopped on the social commerce trend and instituted Buy Buttons, allowing customers to check out faster by directly connecting them to product pages. As a merchant, utilizing these social commerce tools will benefit your overall marketing strategy, especially this holiday season when your products need to stand out from your competitors' options.
Promote the Features that Set You Apart
Sixty-two percent of shoppers want a quick and easy experience that allows them to use a convenient payment method. Consumers want more payment options and traditional payment methods don't always match up with their needs. The simple shopping experience consumers get in-store is also what they look for when shopping online.
Instant financing is one of the many payment options you can offer your customers alongside credit and debit cards. And it's what shoppers want. Seventy-two percent of consumers said they would consider ordering goods and paying for them later. Different flexible financing options give your customer the choice to pay for an item on their terms, whether that be through fixed month-to-month payments, promotional interest rates, or the chance to delay a payment at no extra cost.
Try Before You Buy is another unique payment choice. One in 3 fashion shoppers opts for a "pay later" option when it's available at checkout because it alleviates risk. Shoppers no longer need to worry about paying for an item they don't like or a piece of clothing that doesn't fit. Now they can see goods before parting with their cash. Not only does this create a better customer relationship, but it also puts the customer back in charge.
These are just a few examples of how merchants are creating a better experience for customers. But offering these payment options is only half of the battle. You need to let your growing audience know that you are putting the choice back in their hands with just one click.
With so many consumers making purchasing decisions that are influenced by a brand's social media, it's important to use these platforms to promote features that make for a better shopping experience. Not only will spreading the word help increase conversions, but it will also help you stand out from competitors.
More and more people are spending their days plugged into their social media accounts, so it makes sense for merchants to jump on board. Businesses that integrate social media into their e-commerce landscape will have a leg up this holiday season, but it starts with developing a strong brand story and experience that you can share with your followers.
Make sure that your e-comm platform is unique and personal before you take to social and try to outshine the competition. At the end of the day, the one thing that will draw shoppers to your store is an integrative platform with the options they want.
---