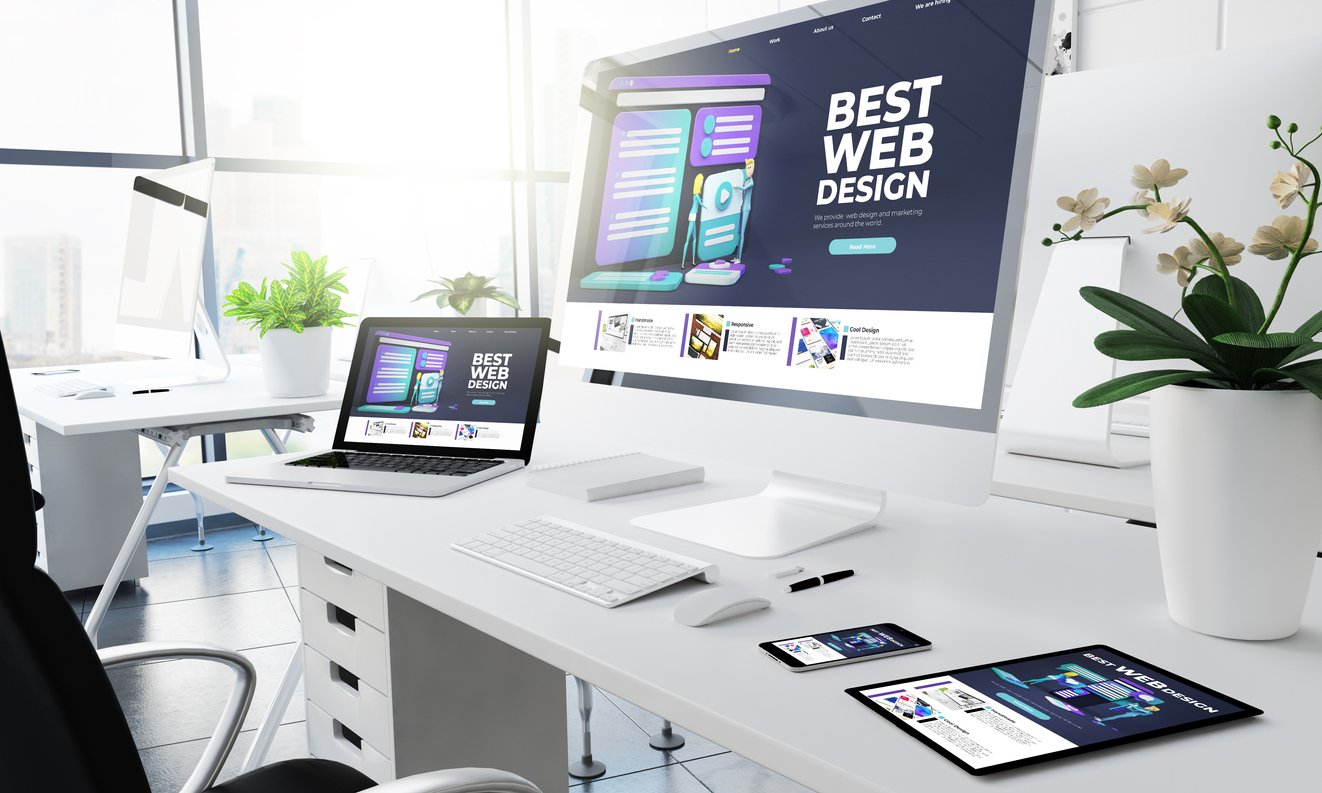 Has the lack of profit you are making on your online business left you scratching your head? Time to get a custom web design to help expand your business.
Growing your online presence is a top priority if you want to maximize your profit. In today's world, people spend more time peering into their phones and computers than on the outside world. If you're going to make more profit, you need a solid foundation for your business online.
Sometimes, even after having an attractive landing page or a social media presence, a business might fail to generate the profit they expect. Or you might have a business website, but you can find a thousand other similar sites online.
Want to attract more traffic to your page? You need to stand out. Here are several reasons why you need a custom web design to grow your business.
Standing Out
How is your business website different from the twenty other similar businesses available on the market? If your website is just the same as every other business website, what reasons are you giving your consumers to choose yours over the others?
A custom website makes you stand out. If your website has a unique design that gives you the "x-factor," you will attract more customers to your website.
Standing out is vital if you want to grow your business and you can hire a custom web designer to give you the unique website you desire. If you opt for an experienced website design company, like Denver Web Design, the vision you have for your great website can become a reality.
You Get Exactly What You Want
Using an online site-building platform to build your website means that there will be a particular format. Most come with some features that you do not need.
Not only are you paying for these unnecessary features, but they are making your website heavy. They might increase your loading time, resulting in dissatisfied people leaving the site before they make a purchase.
With a custom web design and the right eCommerce software, you get exactly what you want. The web designer will be making you a site that caters to what you want to provide your clients with. Instead of getting an ordinary site with features you don't need, you will get one that meets your needs precisely.
Branding
What will your target audience remember you by? There are so many businesses worldwide selling the same kind of products that being memorable to your audience is difficult.
Branding will always be a great marketing strategy, especially when building an image and identity for your business. How do you build and uphold that image?
From your office and packaging to your website and your social media accounts, your brand image should burn brightly to the world.
The logo, the color, and the theme should remain the same everywhere to learn to associate and remember.
Your custom website will contribute to brand reputation. Every visitor stumbling on your website will leave impressed, knowing, and remembering your brand.
Growth & Change
Custom web designers understand that a business is a growing entity. A business will grow and expand, and the future development of both business and the surrounding technology will require adaptation to change.
With a custom web design, you will find plenty of space for change. Most businesses offer the space for changing as needed if you ask for it. Also, they build your website hoping for a profitable future, hence making sure that your website can handle a higher inflow of traffic.
With a custom design, you get the flexibility to change as needed and the space to cater to a broader audience if needed. Some web designers may even offer you free or discounted site maintenance for some time.
Security & Speed
The problem with a ready-made platform to build your website is that if one page attracts a security threat, the entire platform might be compromised. Hence, while using an open-source CMS platform, you are exposing your website to unnecessary hazards.
Security is a crucial reason why custom web design and hosted eCommerce platforms are better than open-source CMS websites. With your website's design and software managed by experts, you get a more secure online presence.
Speed is another problem with some CMS platforms. They have millions of users using their platforms to make pages — making the platform itself content-heavy and slow. Traffic will not linger on a slow website, and they will leave before your business can convert them to paying consumers.
SEO Supportive Website
Search Engine Optimization is crucial if you want to get more traffic and conversions on your website. Without SEO, clients will not find you when browsing their search engines for your business's products and services.
Professional and experienced custom website designers can provide you with an online page that is search engine optimized.
If you are building your website from easy software or a platform, you have to create the SEO content. If you are bad at generating SEO content, you are pushing your online business towards failure.
Investing in a custom web design can give you an SEO optimized website, helping you get more profit from traffic and conversion.
Competitors Will Find It Harder to Copy
When you enter a market, you make yourself vulnerable to copying. A lot of existing or new competitors in the market will try to copy what you do. Starting from a similar brand logo and advertisement to even packaging and the product itself, they will copy everything.
A ready-made web template will make your web design very easy to copy. Sometimes competitors use similar names and websites to lure your clients to their business.
Having a competitive advantage over them will make you even more of a target. However, a unique website is difficult to copy. Even if they try to imitate everything, they won't be able to do it with every single component that sets you apart.
Impressed at First Sight
No matter how unique your products are or how good the quality of the service you provide, first impressions mean everything. If the traffic appearing on your page finds your website messy and challenging to maneuver, they will leave and not return — because first impressions mean everything.
A client once scared off by your website will not return, and you will lose the chance of a successful conversion. A custom web design catering to your business is "dressed to impress." Your website designer is getting paid to make your website look impressive, catering to your business needs.
Impress and hold your clients from the first visit with your custom web design and keep them coming back as repeat customers.
Your Competitors Have Custom Websites
To stay relevant in the market, you have to keep an eye on the competitors. If you do some research on the market, you will see that more and more businesses rely on custom web design. Companies who are looking for a competitive advantage know that this initial investment is worth it.
If all your competitors have custom websites and you opt for an easy solution website, you won't attract many clients in a market. Your website becomes the face of the quality of your product and customer service.
People will find your ordinary and lacking website less reliable. People like to see the effort, and when they see that your website looks lacking, it gives you negative points.
Making the Consumer Experience Worth Their Time
Imagine a prospective client appearing on your landing page looking for something they need. They need the proper guidance to be gently nudged to their desired destination. However, they come in and get "lost." They roam about the website fruitlessly, and getting frustrated, they leave.
This scenario is the kind of business operation disaster that keeps an entrepreneur up all night. As mentioned before, clients hate websites that are difficult to navigate. You want to make the consumer experience worth their time. Therefore, your website needs to be easy to navigate.
Customers who found their desired product quickly on your website are more likely to stay and browse, looking for other products they might like.
Growing A Community for Your Business
If you check the websites for big successful businesses such as The Body Shop, Lush, etc., you will find that they effectively use their custom websites to communicate with clients and promote their business.
Your business can be that too. Big companies know that the business website should look as exciting, inviting, alluring, and comforting as a real-life shop. Just as shops are designed to attract passersby inside, your website should also do the same.
Your custom website can become an inviting place that effectively communicates your business style and customer service to the clients. Build a consumer community with your website, where there is space for clients to communicate, which will make clients feel more involved with your business.
Adaptable Design
Know that your clients will access your website through various mediums. Your custom website can cater to these various mediums, making it a more adaptable design.
People not only use their computers, phones, tablets, but many people go as far as using their smart televisions or their home devices to make purchases.
If your clients fail to access your website through their desired medium, they will likely try for another similar business. You want to keep the competitive advantage of giving clients what they are looking for.
Building Your Website Around Your Product
Are you starting a new business or launching a new product and want your website to aid the launching? Getting your online presence simultaneously as the start of a business or product launch is an excellent idea.
Good custom web designers don't just give you an attractive website, but they often come with a team that will help you reach your success goals.
If you are launching a product, they can help build your website in such a way that it will aid the product launch. Your new product gets highlighted in the right way, helping your business meet its product launch goals.
Final Thoughts
If you choose to base your online presence on an ordinary, ready solution website, you are dooming your business to become less profitable. Investing in a custom website can help you grow your business.
Your unique, custom-built website will help your brand image and be a more secure base for your online business. It is an investment that will help you provide a secure and beautiful eCommerce experience for your clients, who will keep coming back as repeat customers.
You can build and grow your business on your SEO optimized custom web design, paving a way towards success.