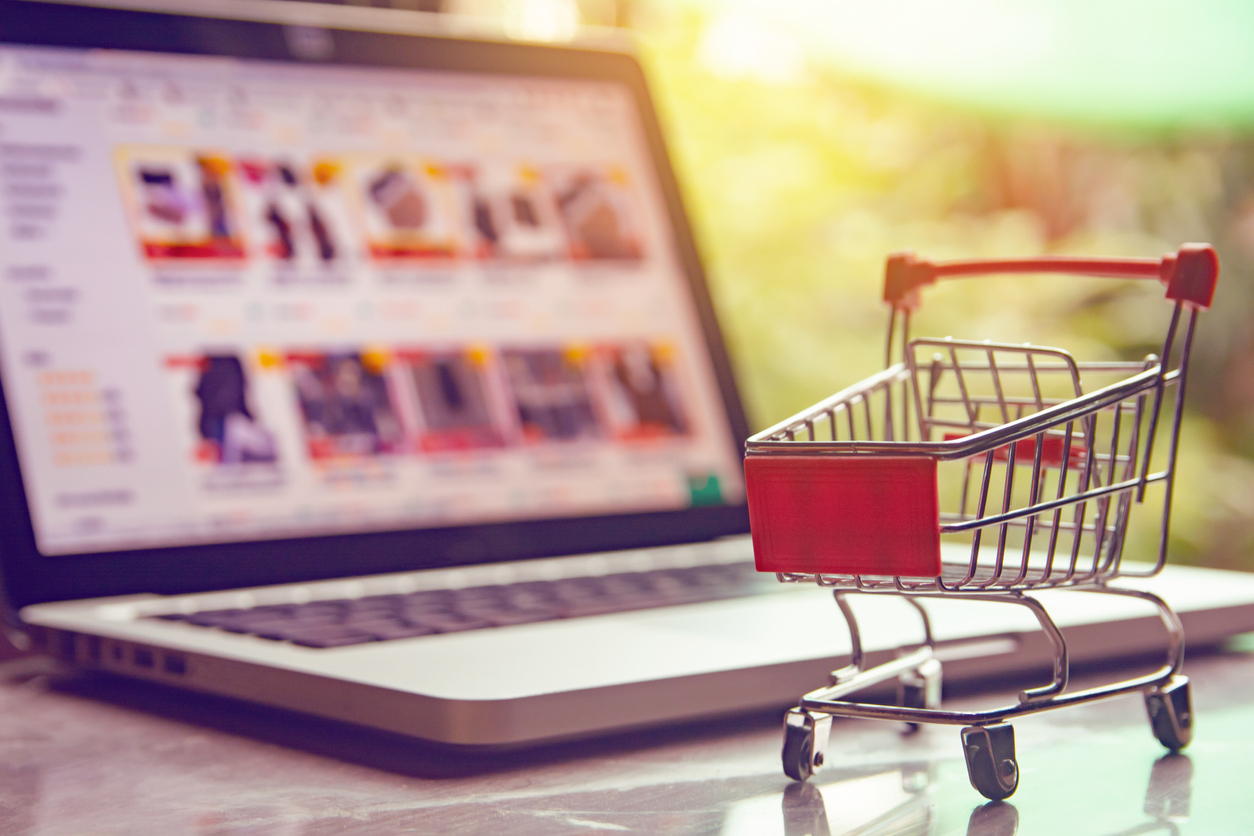 Creating awesome products and content is only half of the battle. To get your customers to actually buy your products, you need to share them with your audience on their preferred platform at exactly the right time.
But what can you do if your emails, social media, or SMS messages are getting lost in the sea of marketing promotions lying unread in your customer's inbox? Well, there's another option that you can try — web push notifications.
What is an Automated Web Push Notification?
Automated web push notifications are delivered directly to your customer's browser. These notifications can be triggered, meaning they're automatically sent whenever a customer completes a specific action. Alternatively, they can be scheduled as a one-off notification or as part of an automated drip campaign.
Just like all eCommerce marketing automation strategies, push notifications are incredibly efficient. They improve your internal workflows and enable you to deliver highly curated, personalized messages directly to your customers' screens.
"But isn't that a little intrusive?" I hear you ask. "What if consumers don't want push notifications?"
The great thing about push notifications is that they're exclusively permission-based, so you can only send them to customers who opt-in. And it seems that the people who do opt-in are incredibly responsive to them, as targeted push campaigns have a click-through rate (CTR) of 30% — this is more than the average email CTR.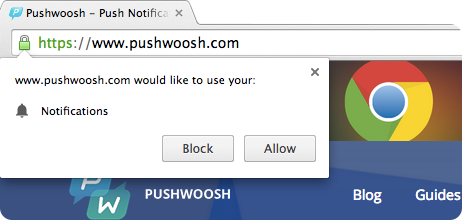 Not only that, but businesses are driving over 20% user engagement each month with personalized push notification campaigns.
If that's not convincing enough, there are a bunch of other reasons why using web push notifications is a good idea for your eCommerce business.
Why Use Automated Web Push Notifications?
We have established that customers are more likely to click on your push notifications, but what other advantages do push notifications have?
Customer retention and loyalty
If you plan on scaling your business, you want to curate a dedicated following of high-value customers. One way to do this is to deliver personalized customer experiences that keep your audience in the know about your new content, sales, and promotions. Web push notifications help you do this.
Increased traffic and conversions
Speaking of your sales and promotions, a web push notification is the perfect way to inform customers about your deals. Promotions hugely influence purchasing decisions, and with web notifications boasting high open rates, using them to deliver promotional information is bound to result in lightning-speed conversions.
Convenient and nonintrusive
Web notifications appear in the corner of your customer's screen. Because they're designed to be short and sweet, they're not as distracting as emails and can be interacted with in a single click. This also makes them easy for you to create and manage — a high-quality web push notification can be created in minutes.
Data analysis
Use AI data monitoring and analysis tools to track the success of your push notification campaigns. These insights can be leveraged to not only optimize your campaigns for maximum results, but to fine-tune the nuances of your content marketing and customer service strategies. There are plenty of other ways that you can use AI for content marketing strategies, too.
9 Automated Web Push Notifications That Increase Sales
You can get started with push notifications by connecting your website to a push service like Sales Pop. Before you dive in though, you should have a clear idea of what kind of web push notifications you want to send your customers.
Here are nine examples of automated web push notifications that are great for boosting eCommerce revenue.
1. Welcome Notification
One of the best things about marketing automation technology is how we now have the ability to welcome each and every one of our new subscribers. It's a small gesture that goes a long way in curating positive customer experiences.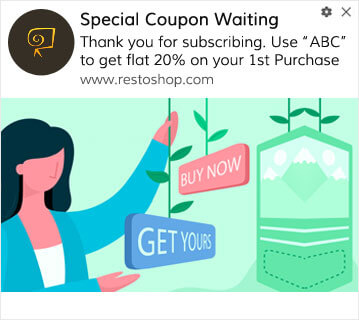 Like the example above, you should always include something of value in your welcome notification. It could be a discount to say thank you for joining or a link to an interesting article on your blog. Not only does this increase your engagement levels right off the bat, but it establishes a very clear message from the outset — that you're dedicated to delivering consistent value with every communication.
2. Price Drop Alerts
As you consistently refine your pricing strategy, you may decide to lower the price of specific items. Price drop alerts are used to inform customers that an item they were interested in has just gone down in price.
Whether it's an item in their cart, on their wishlist, or one that your customer has specifically selected to be price-tracked, price drop notifications ensure that your customer is automatically alerted.
Price drop alerts target a variety of your customers which immediately gives them high conversion potential. They target your habitually price-conscious customers (e.g. those who use third-party price drop services or only buy products on sale), as well as customers who experienced financial barriers when they initially considered your product.
And of course, they target your impulsive buyers too!
Implementing personalized price drop alerts increases customer loyalty, re-engages inactive customers, and enforces your brand's customer-centric values.
3. Sale/Promotion Alerts
Forever a classic FOMO marketing device, alerting customers whenever you have a sale or promotion is a powerful revenue-boosting tactic — especially if it's a limited-time only deal.
Here are some interesting statistics for you: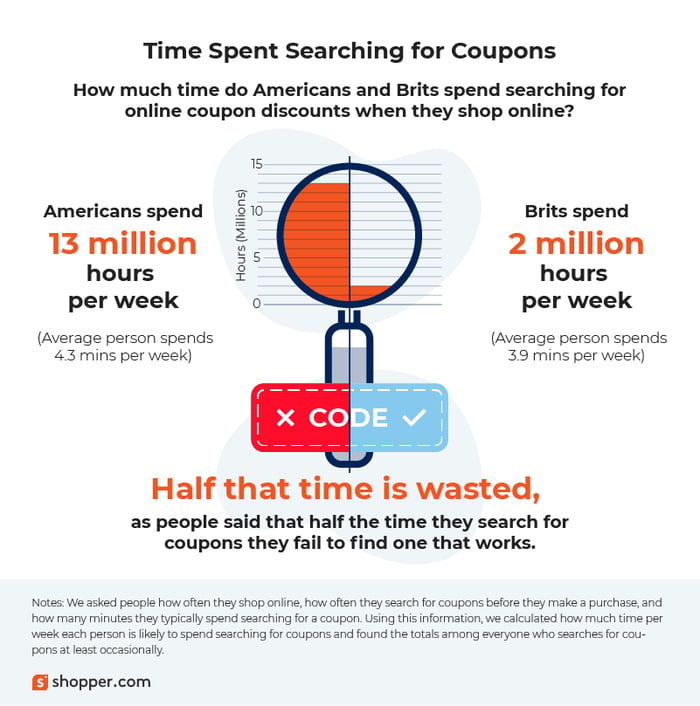 Push notifications can deliver your sales information directly to your customer's web browser, eliminating the stress that shoppers feel when searching for (or missing out on) discounts and promotions.
4. Back-in-Stock Alerts
Imagine that your customer has been browsing the internet for hours and has finally found the perfect item on your website.
Imagine that a customer adds an item to their wishlist, excited at the prospect of buying it on payday.
And then imagine their disappointment when they go to click on the 'add to cart' button only to find that the item is out of stock.
It's going to happen from time to time — but you don't need to lose customers over it. Why not remedy the situation by ensuring that customers are immediately notified as soon as the out-of-stock product becomes available?
Because a web push notification is delivered straight to your customer's browser, they get a real-time update on stock replenishment. If you time it right, they'll get this information when it matters to you most: while they're online and, hopefully, ready to shop.
5. Personalized Re-Engagement Notifications
Retaining existing customers is more profitable than acquiring new ones, so why not start a re-engagement campaign?
Using push notifications to re-engage customers is a bit like re-engaging a dead email list. Just like your email subject line, the amount of text you can use in a web push notification is limited, but it still needs to be enticing, unique, and personalized to your customer's preferences.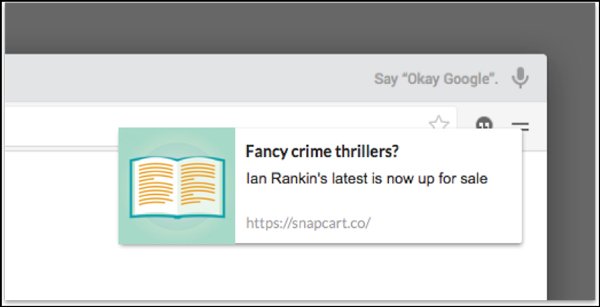 This is where your segmentation strategy is really important. You should only be targeting existing customers with content that relates to them, especially if you're trying to engage a currently inactive customer. You can do this by observing any available demographic or psychographic information, as well as their unique browsing habits and behaviors like purchase history, pages visited, wishlist items, etc.
6. Social Media Invitations
You already know how essential a social media presence is for your eCommerce business's growth. With 43% of shoppers using social media to research products online, the more customers that follow and engage with your social platforms, the more profits you'll see coming in.
Using push notifications, you can invite your customers to check you out on social media. Make sure to hint at the exclusive deals or perks that come with becoming a follower — perhaps they can get exclusive insights into new products?
It should be noted that customers aren't just discovering new products on social media — they're purchasing them too. 36% of customers report that an increase in their social media use has led them to make more purchases through a brand's social media platform. So, if you're into social commerce (i.e. selling directly through your social media platforms), you can use a web push notification to point your customers to another one of your profitable channels.
7. Personalized Recommendations
Of all the customer service techniques and retention strategies, personalization is one of the most effective tools that you can leverage. 72% of consumers will only engage with personalized marketing messages, and 59% of consumers say that personalized engagement based on past interactions is highly influential to their purchasing decisions.
It's unsurprising then that an overwhelming 91% of consumers prefer to shop with brands that provide personalized recommendations.
Use a web push notification to deliver personalized recommendations to your customer's browsers. For example, you might recommend accessories that complement past purchases or suggest a newly-stocked item in your customer's favorite range.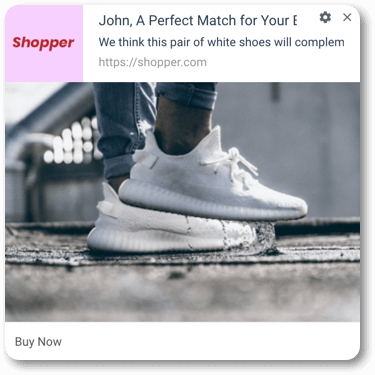 The key to getting this step right is to intricately categorize your customer segments and analyze their preferences and behaviors. This will help you make authentic, valuable recommendations that more organically increase your customer's engagement and loyalty.
You can also try product recommendation quizzes, which can be a great way to deliver personalized recommendations with a much higher conversion rate since the customer is choosing to answer the quiz.
8. Browse Abandonment Notifications
Targeting customers with browse abandonment push notifications is a tricky campaign to execute. However, it has the potential to significantly increase your eCommerce conversion rate by reeling those customers you almost lost back into the sales funnel.
Because web push notifications are opt-in, you can assume that those who subscribe to your notifications are more than one-off browsers. They've obviously found some value in your website's content, but if they leave without adding anything to their cart, they may never come back. This is where you come in, to remind them of the value that they're missing out on.
You might target customers who:
Repeatedly viewed a product page
Stayed on your website for a specific amount of time before bouncing
Viewed a high number of products
Didn't finish a blog article they were reading
A web push notification with a link to the product or page that caught your customer's attention can rekindle those lost conversations.
9. Abandoned Cart Notifications
On average, almost 70% of shoppers abandon their carts. That's seven out of ten people — a pretty worrying statistic for eCommerce businesses.
Reasons for cart abandonment vary. By far the most prevalent reasons are high shipping costs and the reluctance to create an account, but it shouldn't be forgotten that some shoppers simply save products in their cart with the intention of buying them later.
And then they forget!
Push notifications are a popular and effective way to reduce your abandoned cart rate. A simple pop-up on your customer's screen can re-ignite their interest and entice them into completing their purchase. The example below does a good job of creating a sense of urgency.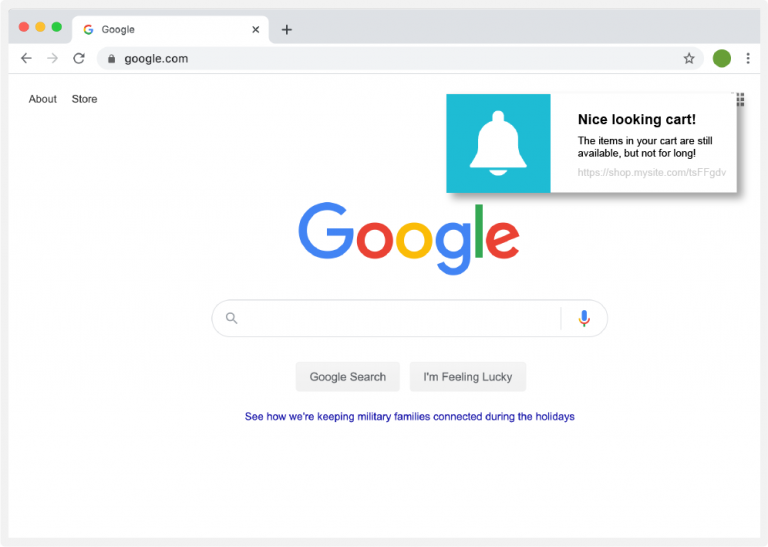 Including discount codes is also an option if you suspect that your shipping costs are the cause of your high abandonment rates.
Wrapping Up
Automation is a revolutionary tool for business growth — automated marketing notifications are only the beginning. With the help of automation technology, there are a bunch of exciting ways to satisfy your customers while boosting your eCommerce revenue. Why not invest in AI technology to deliver 24/7 customer service options, for example, or integrate your CRM for hyper-accessible customer insights?
When it comes down to it though, the beauty of marketing automation lies in its simplicity.
Automated web push notifications are serenely straightforward, possessing an easily-digestible structure that sets them apart from the long-form nature of email marketing. If you're looking for a painless, but effectual, way to enhance your eCommerce marketing and customer retention strategies, you should definitely try using web push notifications.