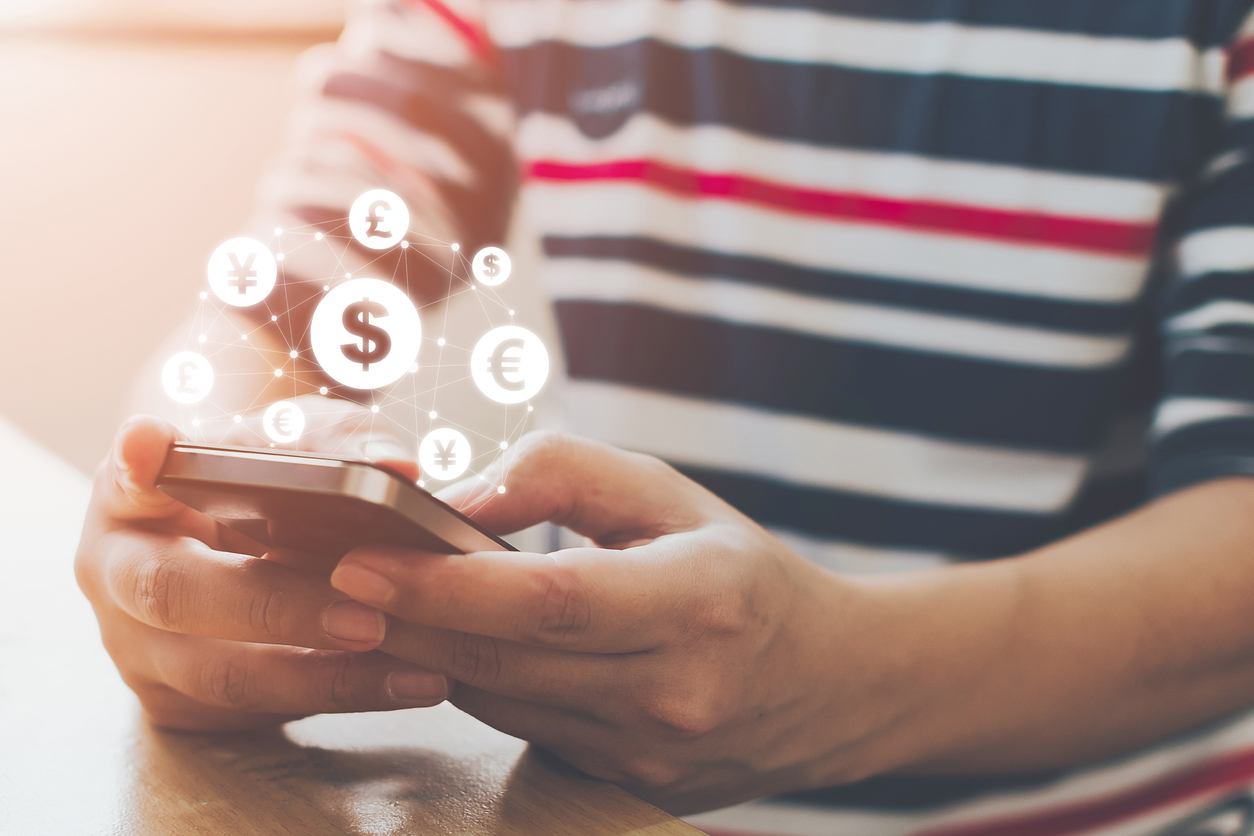 With everyone and their best friend opening an eCommerce store to sell anything from home-cooked vegan snacks to soy-based candles and everything in-between, price is the numero uno differentiator in helping consumers decide.
You could provide the best online shopping experience, but people are not paying for how trendy your banners are or which latest chatbot software it has. Instead, consumers tie price to the quality of your product and services (which is why 86% of consumers will pay more for good customer service).
Setting product prices might sound like a walk in the park, but several factors influence which eCommerce pricing strategy you should choose when you're in a niche industry. We'll cover them in this article.
Why Your eCommerce Pricing Strategy Matters
If you want to get what your brand is worth in the market, you'll need to choose your pricing strategy carefully.
Your pricing strategy tells consumers critical pieces of information about your brand, including your product's value, how other consumers value it, and what it's made from. Case in point: luxury and designer brands price their goods higher because their products convey a sense of prestige and taste that fast fashion brands aim only to imitate.
Determining the right pricing strategy for your business will ensure you maximize your sales, pit your product against competitors, and avoid underselling yourself. It will also help you hit your sales objectives.
Here are some pricing strategies to try.
8 eCommerce Pricing Strategies to Try
1. Competition-Based Pricing
Targeting a cost-conscious customer base like the 18 to 25 age group means being competitive with your pricing. If your brand is in a competitive market like apparel, beauty, and outdoor, it pays to opt for a competitive pricing strategy.
Take the example of internet service providers Rogers and Telus in a city with 60,000 people.
To Roger's loyal customers, the only motivator to switch to Telus would be how your service is priced compared to their existing provider. Both Rogers and Telus have priced their internet bundles competitively, but Telus goes a step ahead to offer promotional pricing with an extra $50 bill credit on online sign-ups.
Realistically, there's no reliable way for them to tell the quality of your service apart from what they are already using, except maybe if their neighbor told them it was the best one they've used. To get them to try your service, you need to give them an offer they can't refuse.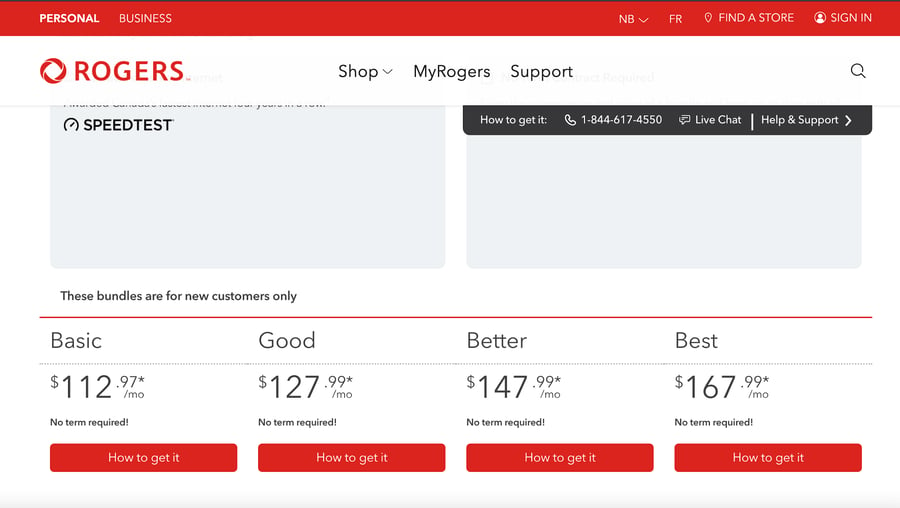 Source: Rogers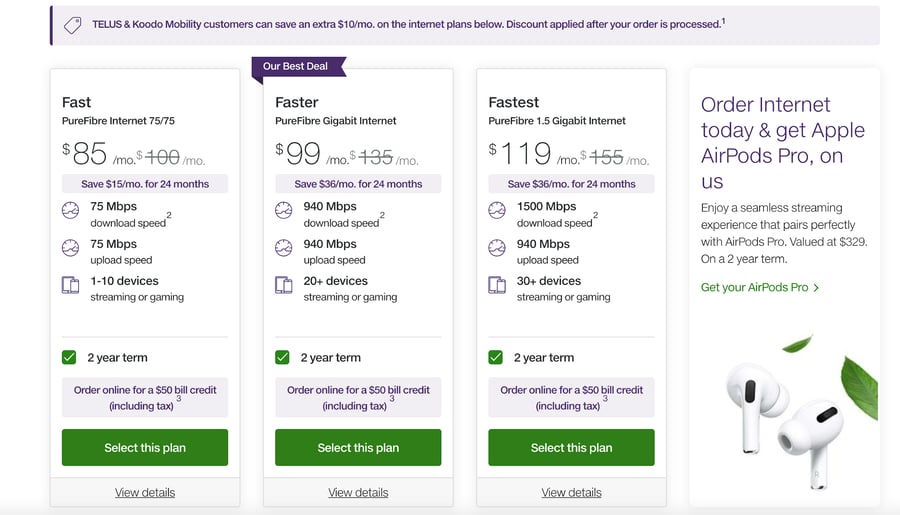 Source: Telus
2. Dynamic Pricing
Ever wondered why airfares for a specific route go up when you revisit the airline's website only a few hours after you first viewed them? Dynamic pricing is a staple of the travel industry when selling airline tickets, hotel fares, or ride-hailing services.
To put it simply, it is the dynamic or automated adjustment of your selling price. Large eCommerce retail giants like Amazon and AliExpress can adjust prices for millions of items within a minute.
You don't need thousands of software engineers on your team to build a dynamic pricing algorithm or an uber-sophisticated software to do it for you. Many traditional retailers are slowly adopting data-driven algorithms supported by merchants that use Artificial Intelligence (AI) to change prices at a comfortable frequency.
Consider consumer expectations before deciding which prices to change and which should remain the same.
For example, 44% of people now work from home. The rapid shift to remote work meant many people are looking into setting up a robust work-from-home setup complete with the latest HD webcams, headphones, ring lights, etc. Additionally, many workers and companies have embraced new forms of remote work software, including time clock software, remote monitoring software, and video conferencing software.
Tech resellers will benefit from increasing the prices of these products as they can take advantage of the demand surge. Basics such as HDMI cables and USBs should remain the same as they rarely face variable demand.
Bring your merchants into your discussions before implementing a dynamic pricing model. It might do more harm to your relationship than good to change prices without running it by them first.
And, of course, stay away from price-gouging during crises like a flood or a power outage. Instead, have a business continuity plan ready to tide over low-activity periods during a natural disaster.
3. Product Bundle Pricing
Product bundling is a widely adopted way to offer multiple related products as a bundle. Telecom industry, restaurants, and SaaS products use it to offer attractively priced deals to customers with a high lifetime value.
If you're setting up residence at a large house, you'll need to get a cable TV connection, landline, Wi-Fi, and most likely a subscription to multiple streaming services. One retailer could sell you all those items.
Let's go back to the example of Rogers and Telus.
Rogers is offering a TV and internet bundle for $139.99/month along with a free 12-month subscription to Disney+. Very appealing, isn't it? This is an affordable deal for a family of four with children that won't break the bank.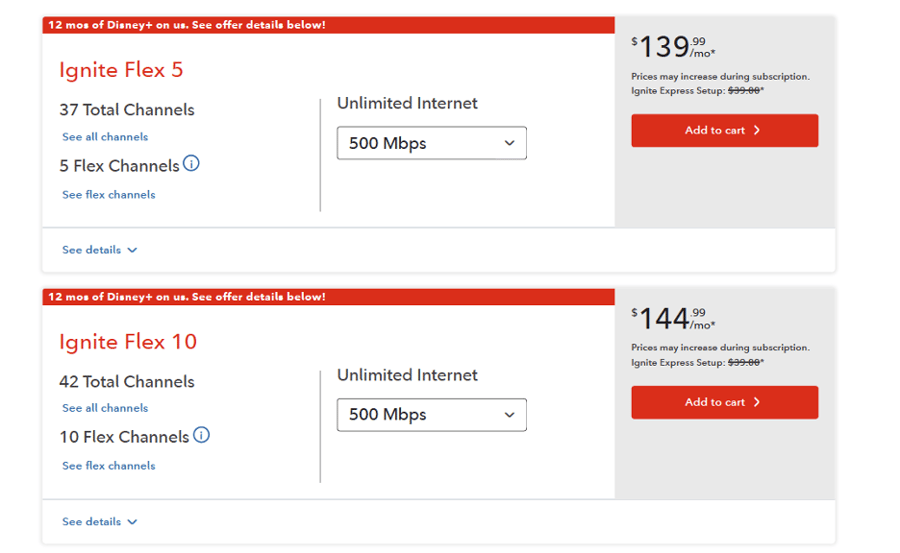 Source: Rogers
On the other hand, Telus offers more channels but a lower internet speed, and no extra offers like a free subscription service thrown in. Their next bundle is priced at $22 more than the lowest price but comes with Netflix, Crave, and HBO+.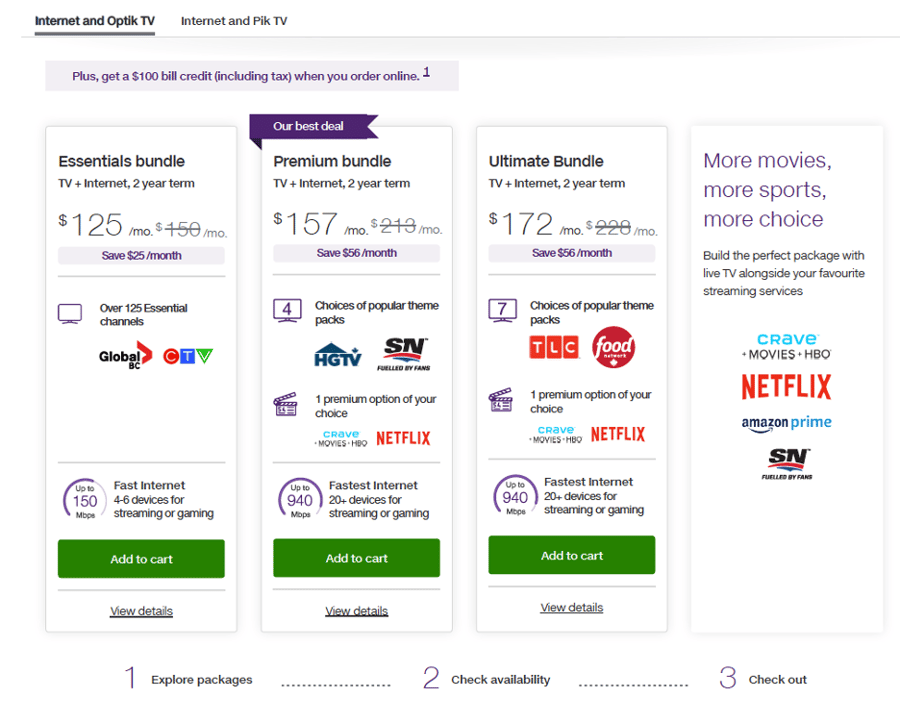 Source: Telus
Make it easier for customers to choose by using a clean, uncluttered layout to highlight bundles on your eCommerce store. Some online stores are decimating well-known brands in their niches by laying out product selections in that way.
You can have as many as five bundles to offer something to customers with every budget size, but don't go overboard (as that might not be cost-effective in the long term).
Product bundling allows businesses to upsell certain products that otherwise wouldn't have sold because customers are not usually looking for them.
Businesses aren't the only ones who benefit from service bundling, as gig workers often use bundling as part of their freelancer toolkit.
Ideally, you should strategically bundle products so customers don't feel forced to buy something they don't want. You want to guide them with incentives, but not force their hand.
The products in your bundle should be available as individual items too.
4. Odd Number Pricing
Most common among retail and eCommerce players, businesses use the odd number pricing strategy to give customers the impression that an item or service is cheaper than it is. It's the difference between something priced at $99.97 vs. $99.99. Amazon Marketplace sellers deploy this pricing model widely across product segments.
For example, consider the Winter Wellness page on Amazon. The products listed are priced oddly at decimals of $17.07 and 14.09 to give an illusion to consumers that they are getting a bargain. It's a proven tactic that helps you reach value-conscious customers looking for the best value for each buck.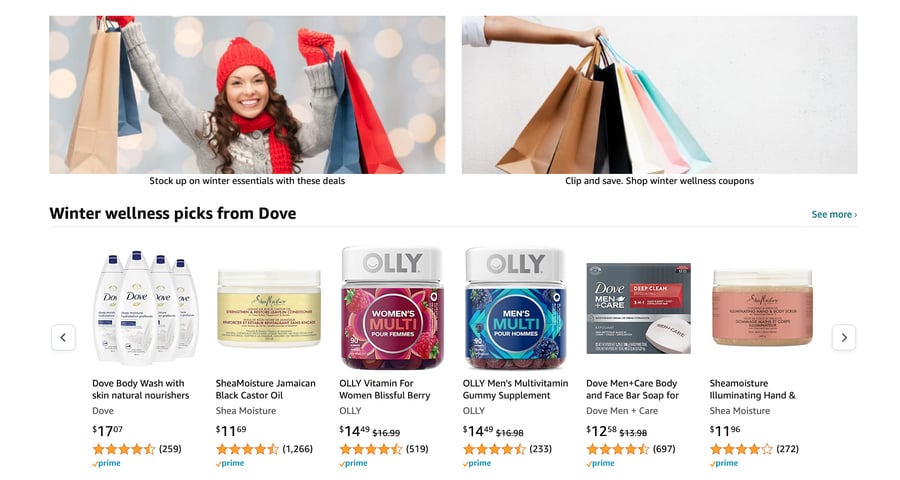 Source: Amazon
5. Price Skimming
When businesses launch a new product line, they price goods the highest price customers are willing to pay.
Take Arc'teryx's new collection of Insulated jackets for men, for example. Most jackets from other retailers are priced at $300 - $1,200.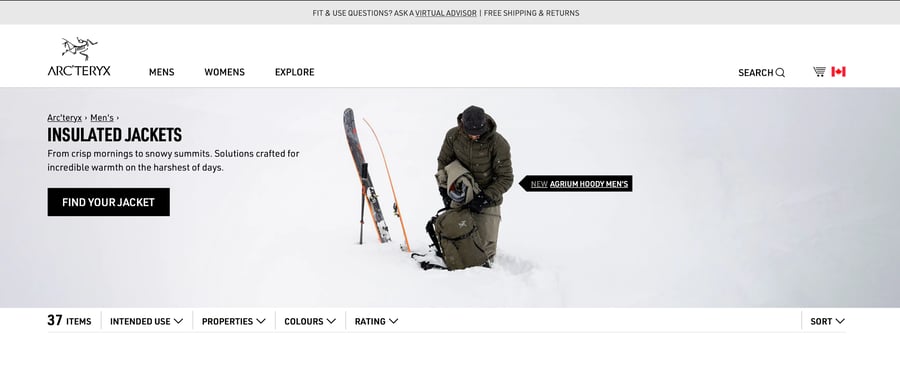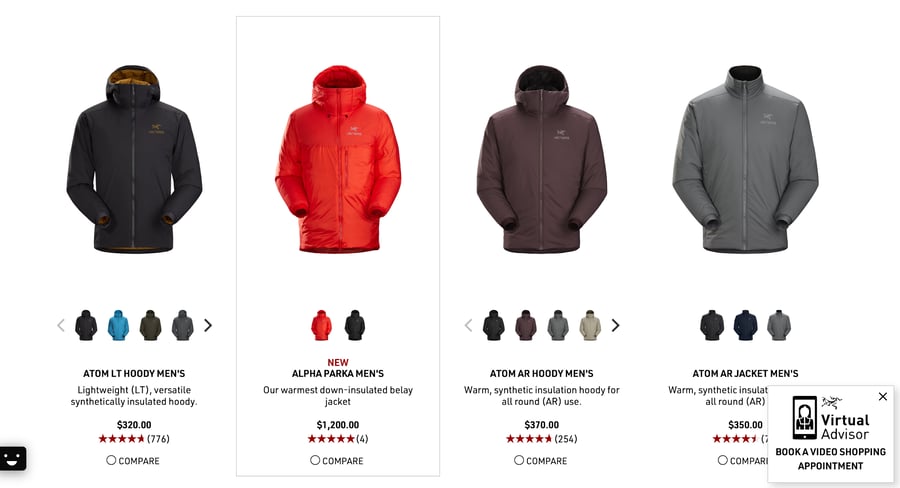 Source: Arc'teryx
When the time to roll out the Spring/Summer collection comes around, this collection's prices will be slashed and moved to the sale section of their online store.
Loyal customers and staunch advocates of Arc'teryx will get their hands on this collection as soon as the promo email is delivered to their inbox. Price-sensitive yet brand-conscious customers will wait till Black Friday sales, search for deals, compare prices across sellers from similarly valued jackets, and then decide which one they want to purchase.
By starting high, you allow yourself to maximize sales revenue while still leaving a lot of room to adjust prices if you don't make sales right off the bat.
Inevitably, the price of new jackets will come down as soon as the initial buzz dies down. You can turn this around with a customer acquisition campaign that serves social media ads to people who frequently browse your products.
Later, track the conversion funnel from these ads and measure how many ended up buying discounted items, then target later with promo coupon emails. One drawback of the price skimming strategy is that people can catch on quickly if you've been in the business for more than a couple of years.
6. Loss-Leader Pricing
Commonly used by grocery retailers to entice people to spend more on impulse buys, the loss-leader pricing strategy requires you to sell products at a loss.
Newly launched brands looking to break into a saturated market or an established brand trying to break into a different product segment can massively benefit from loss-leader pricing tactics. If you're an aggregate seller, pricing items at a loss can increase footfalls and help boost customer acquisition rates.
Prime Video is a well-known loss leader for Amazon. It's bundled with the Prime membership, which includes a music streaming service and free shipping on Prime products at almost $9.99/month. Compare that to Netflix's subscription fee at $20.99, and you'll understand that their objective is solely customer acquisition.
7. Anchor Pricing
Let's look at the Amazon Winter Wellness example again. One of the products has its price slashed at a lower rate, giving the impression that the product's value is higher than it is.
The gist of an anchor pricing strategy is that you put the original price on the product and then slash the price. This way, you "anchor" the initial price as a reference point for the new lowered price. You've essentially given them a benchmark for comparison.
One of the most common ways to anchor price is bracketing. Let's take Loomly's pricing plans for its social media management tool as an example.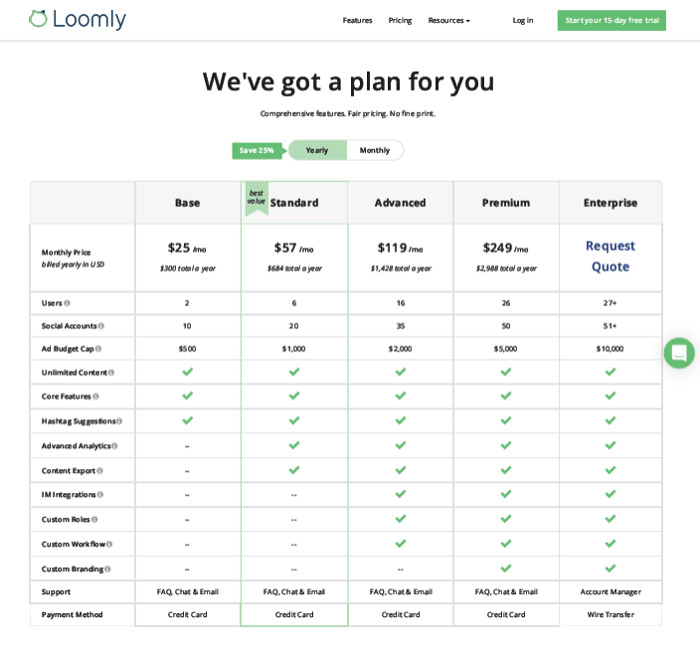 Source: Loomly
Loomly leads prospects to the preferred plan by offering five options and anchoring the Standard option as the one providing the best value.
It utilizes a consumer behavior methodology known as extreme aversion — the human tendency to avoid extreme options in favor of moderate options that only partially fulfill a person's needs.
In the Loomly example, the Standard option is priced almost 50% less than the Advanced plan while offering 70% of the same features. They also use a competitive comparison technique to list features of competitors (like Hootsuite).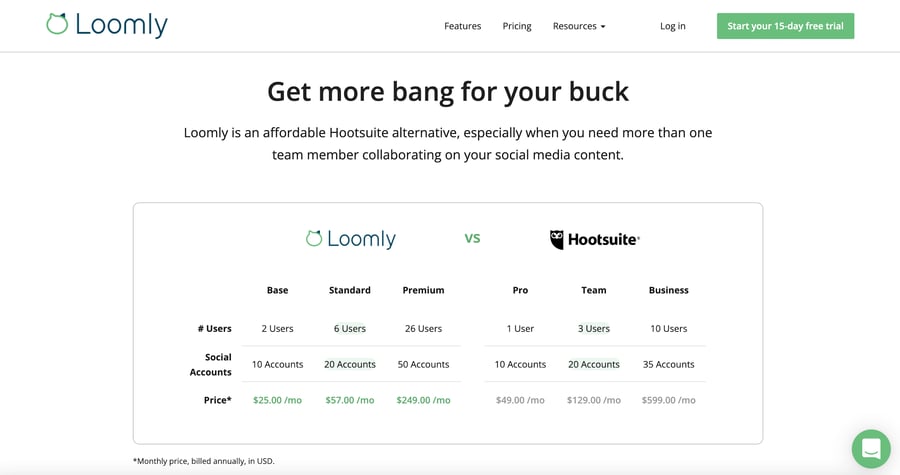 Source: Loomly
The takeaway? When you start an online store, ensure it has a pricing adjustment feature to show how much you've slashed prices.
You could also try shoppable Instagram posts. Instagram lets you show discounted prices to show customers they are getting great value.
8. Geographic Pricing
Depending on where your business is physically located, the markets you serve will vary widely in geography, income, and purchasing power.
Tapping into multiple geographical markets means expanding your business and allowing yourself the opportunity to recover shipping costs.
Popular methods of fixing pricing on a geographic basis are:
Free on Board (FOB)
Zone pricing
Freight absorption
You can adapt your pricing for domestic and international customers, too. If you're a multinational brand like Netflix, you can adjust subscription plans based on buying power of the countries you're operating in. Netflix India, for example, offers mobile-only daily plans because of high mobile adoption rates in the country. In contrast, Netflix offers customers in US and Canada monthly and annual plans limited to four devices.
When launching in a new market, you need to consider the customers' affinity to purchase. Even if Netflix was one of the first streaming platforms to launch in the country, they would still price their services in a way that underscored the price-consciousness of a typical Indian consumer.
Things to Consider When Choosing a Pricing Strategy
Your Costs
Asking yourself what kind of costs you're trying to recoup will be vital in identifying which pricing strategy will best fit your needs. A competitive pricing strategy, for instance, considers the cost incurred in packaging, production, and overheads.
The stage your business is at also matters. Startup businesses have higher marketing costs as they spend as much as 20% of their revenue on marketing and promotions.
What Consumers Are Willing to Pay
Like in the case of Netflix's pricing strategy across several geographical markets, it pays to research what a typical consumer is willing to pay for a service like yours.
Price skimming has a similar underlying psychological tactic, as brands can charge the highest amount customers are willing to pay for an item. Large brands like musician Drake, NBA teams, and Star Wars use this strategy to capitalize their fans' loyalty and devotion to their favorite teams.
You can also alter what customers are willing to pay through design. We see some color schemes (like monochromatic colors) as "rich" and other colors (like pastels) as "childlike").
What Your Pricing Tells Customers About Your Brand
Pricing also conveys a lot about your overall brand value. For example, dollar store products might be similar in quality to IKEA ones, but the perceived value of the latter is significantly higher than the former.
H&M – an affordable fast-fashion retailer – uses this tactic by pricing their designer collaboration collection at an expensive price tag. FOMO (fear-of-missing-out) is real, and loyal customers lap the collection up within the first few hours of launch. By pricing it higher than their regular collection, H&M makes it evident that their designer collaboration is as luxurious as the designer's in-house collection.
There are many simple ways to increase the perceived value of your product through marketing, including curating your social media, using a professional email signature (like one of these), and adjusting your product packaging.
Costs dictate what pricing strategy you choose.
The cost of producing, packaging, and promoting your product or service will be the major deciding factor in your pricing strategy. As your brand evolves, you'll need to reconsider your costs, your brand goals, profit margins, and the price your now loyal customers are willing to pay.
Once you've got them hooked on your products, it's easier to slightly hike the price by making a case for offering better customer service, enhanced buying experience, and overall improved quality of products.
In the meantime, choose your pricing strategy carefully.