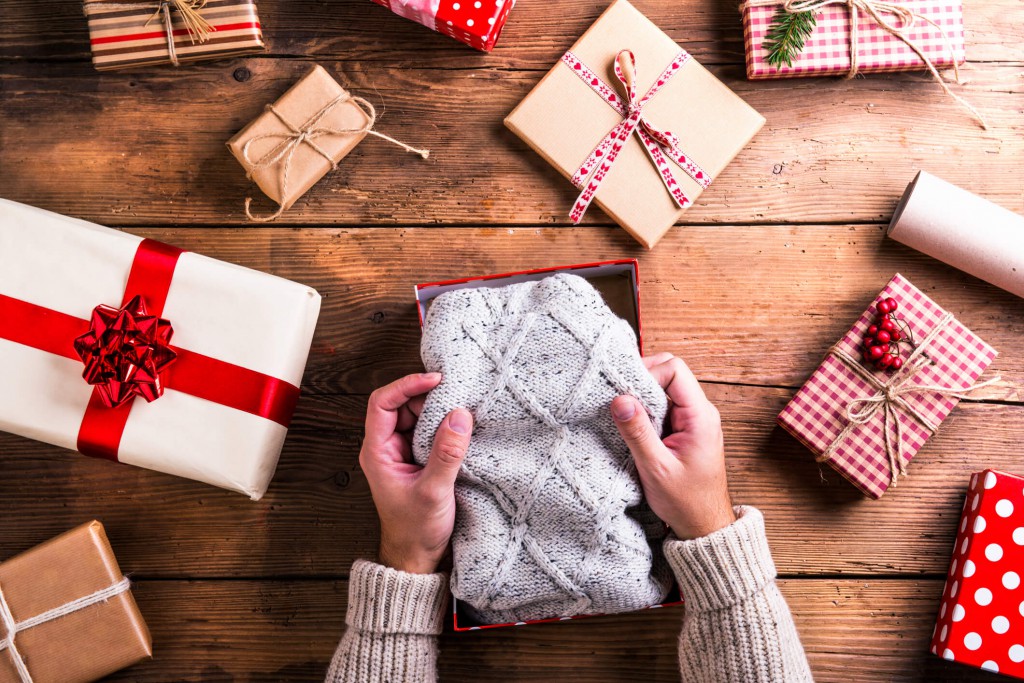 When someone mentions "the holidays," images of the Big Three winter holidays, in all their tinsel wrapped notoriety, likely come to mind. Of course, we all understand the importance of Thanksgiving, Christmas, and New Years on sales for eCommerce stores.
According to this study from Statista, the market share for eCommerce businesses during the major winter celebration season is only growing. It's also a great time to generate leads, foster brand notoriety, and show off any big releases you've been working on throughout the year.
However, if you stick to only those three dates to drive customers to your business with holiday sales, you are doing yourself a huge disservice. In fact, there are 23 major days of celebration in the US alone. If you sell internationally, that gives you the opportunity to utilize the festive days of a variety of countries and cultures. You don't even have to relegate yourself to well-known "sales holidays," like Memorial Day.
With that being said, it's important that you still have a set strategy for these promotions. Issues like not completely understanding what a celebration is about or simply getting a date/dates wrong can impede your sales. Too much exposure to a sale or promotion can cause "deal blindness" to your customer and eventually result in diminishing returns. Depending on your industry/holiday, certain dates may also be an inappropriate time to promote your products or services. For instance, most people won't purchase Christmas decorations during a Fourth of July promotion event.
Now that you fully grasp how beneficial holiday promotions can be, let's dive into the best ways to execute eCommerce holiday marketing (and how easy it is to accomplish with built-in tools from Shift4Shop).
How to Successfully Run eCommerce Holiday Sales
With some handy tools (such as 3dboost), and a bit of savvy, you can make sure that your eCommerce business takes advantage of the prosperity that festive times of year bring for everyone. Let's get started.
1. Understand What Works
Holiday sales and marketing campaigns are especially crucial for a variety of businesses because it is a time that many shoppers may decide to seek you out for the first time.
The cornerstone of any successful holiday sales campaign is understanding what works for your business. That means looking at important metrics to determine what is really selling and where people are buying from.
One method that you can use to determine what campaigns are working or not is with A/B testing. This simply means making two versions of the same content and seeing what your audience responds to. For instance, if you're running paid ads to promote your sale, you can have one ad that appeals to emotion and another that focuses on practicality.
Once you get a better handle on what your audience responds to, you can slowly adjust your campaigns to be more effective.
2. Know Who You Are Selling To
Part of getting a handle on what is going to work in your marketing campaigns is understanding your audience. After all, an important part of selling to people is understanding who they are. Simple facts, such as the city they live in, can be important data that will determine your strategies.
Here are some additional questions you may want to ask yourself about your audience's demographic:
Socioeconomic status
Religious affiliation
Typical social circle
Age
Career
Relationship status
By understanding these factors, you will get a better grasp on not only what holidays they might celebrate and value, but what they would be willing to buy for themselves and their loved ones. It will also help you determine which campaigns to put more resources into.
3. Offer Limited Promotions
If you're attempting to promote your business during a time of year that you typically ignore, it may just be a great opportunity for you to run promotions that have worked for your business in the past. Giveaways, flash sales, special promotions, and charity donations are all a great place to start when developing your holiday strategy. You can even customize your holiday ads to fit in more with the theming.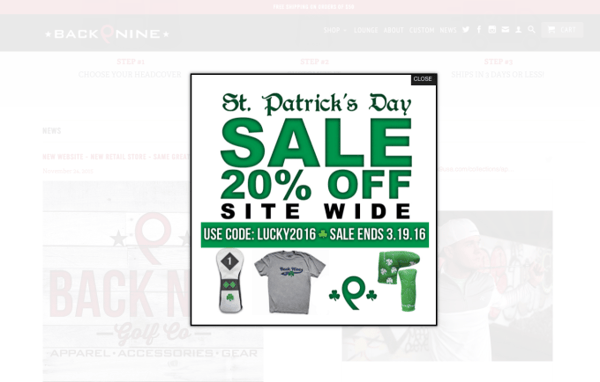 Source: reallygoodpopups.com
With a promotion tool like 3dboost, you can quickly customize pop-ups on your site to fit any offer you'd like to run, editing its dimensions, colors, or even adding a background overlay effect to captivate potential buyers. While this tool is great for combatting cart abandonment, it can also serve as a huge asset towards any seasonal campaign you'd like to run.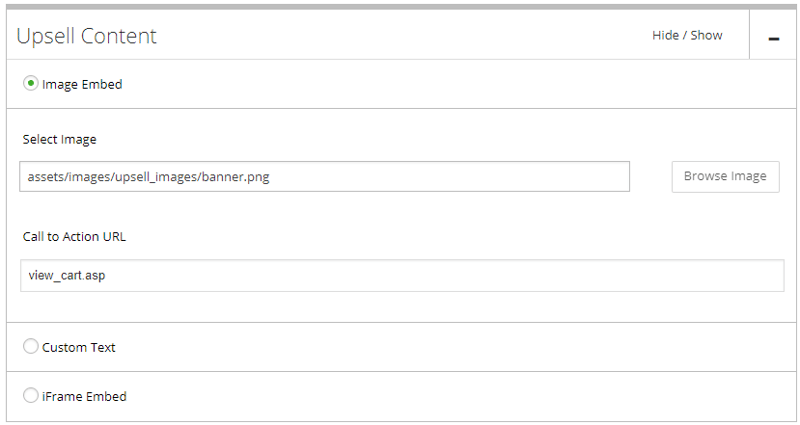 3dboost is versatile enough that you can use it to create a promotion for every holiday you want to target. You can include all the important shopping days, as well as the days which retailers often structure sales around throughout the year.
By consistently running these annual campaigns, your customers not only have incentive to purchase what you have, but to return. You will see that as customers build up trust in your brand and purchase more things from you, they will become more excited about special offers that you run, and will come back for each iteration.
4. Create Relevant Holiday Offers
Your customers deserve holiday offers that are relevant to both their interests and the date being celebrated. That means using customer data such as previous purchases to provide custom promotions. Fortunately, this is easier than ever with built-in promotion tools like 3dboost.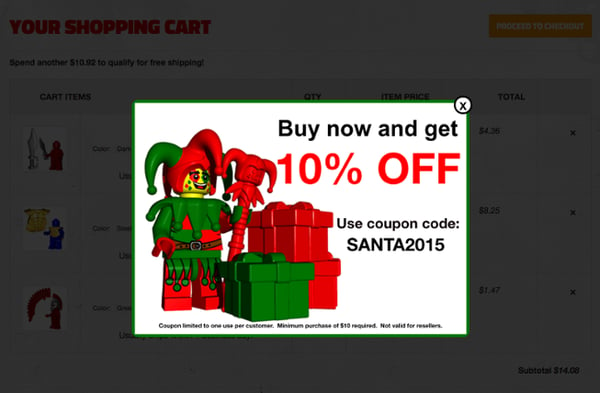 As previously mentioned, you can completely change the appearance of your ad, down to the buttons. You can even decide where and how you want your ad to be seen. For instance, you can choose to display an ad in the center of a page, or keep it to the site where it won't obstruct the viewer. The ad can even be edited to pop up once the shopper indicates that they are about to leave — making them aware of a deal they may be missing out on.
5. Customize Your Image for the Holidays
Naturally, when trying to increase sales for your eCommerce shop, you are going to need to look the part. That means adjusting the look and feel of your website as needed. Whether you make your website candy-striped for Christmas or star-spangled for the Fourth of July, make sure that your visuals clearly communicate what holiday is coming up — and that you might have some cool deals in store for the occasion.
You also have a variety of options to change up your branding off-site. For instance, you can lean into your holiday promotion with an email newsletter that also includes the holiday promotion you're planning to run.
Social media is also a great way to communicate to your audience that you're feeling festive. Changing social media profile pictures, banners, and other visual indicators is a go-to strategy for many brands, big and small. Social media can be an invaluable tool for communicating any promotions you may be running, as well. There is, of course, the element of visibility that only social media channels can bring. Certain strategies, such as generating hype by making posts leading up to a huge holiday sale, can be excellent ways to drive conversions.
6. Share Gift Guides and Other Goodies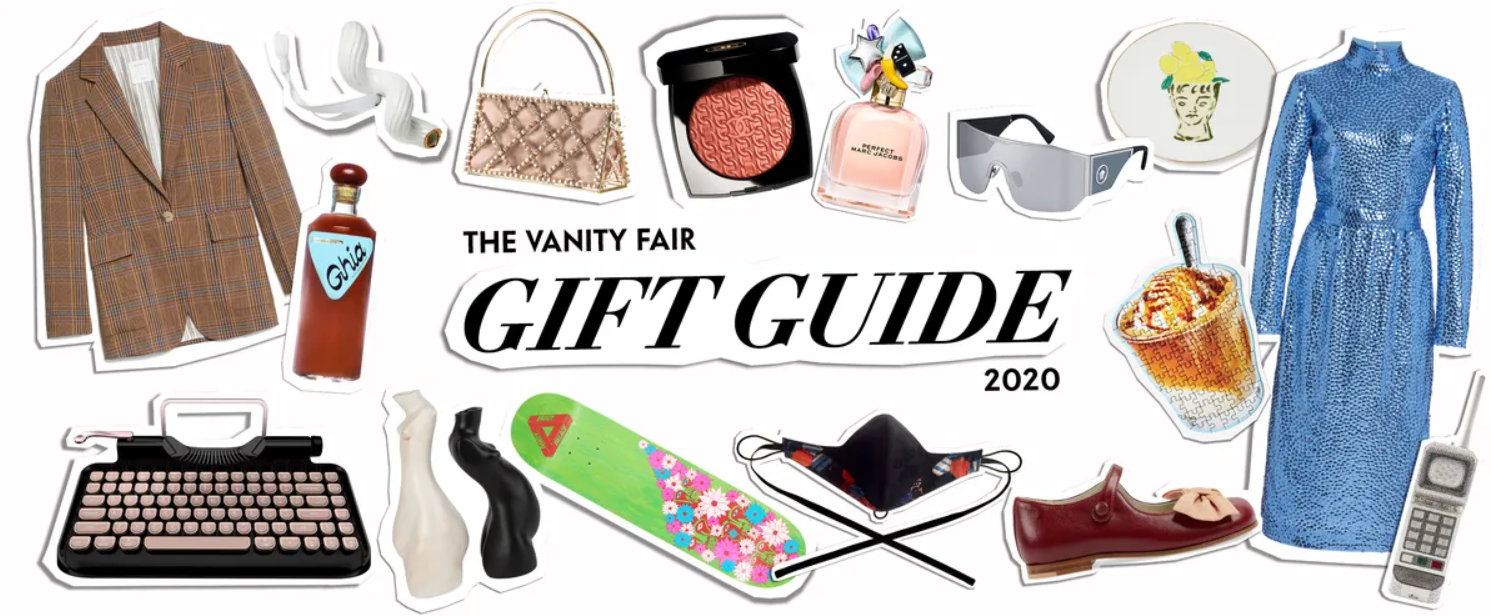 Source: vanityfair.com
The holidays are a great time to spoil your customers. After all, holidays (shopping holidays especially), can be tough, and showing your shoppers that you care can mean a lot. While this does include special sales and promotions, there are a variety of ways that you can make your customer base feel special.
Holiday gift guides and other helpful materials are great ways to start. During holidays such as Valentine's Day and Christmas, a lot of your customers may be stuck on trying to find the perfect gift for their loved ones. Gift guides are an excellent solution to this. Not only do they conveniently list your products in one easy-to-navigate place, but they can also be curated to list items by theme and price. For instance, you can customize your list to show gifts that are perfect for your teacher separate from the ones meant to woo your significant other.
This is also an excellent opportunity to promote any gift wrapping service that your business may offer.
Another excellent way to make your customers feel valued is to provide the best customer service you can — especially around busier times of the year. As mentioned before, things can get hectic during a shopping rush. Having a well-staffed, knowledgeable customer support team will go a long way towards making everyone's lives easier.
The eCommerce Holiday Calendar for Promotions in North America
Depending on who you are as an entrepreneur and the nature of your business, you may decide to have one large sale for a big season, or have a variety of smaller promotions throughout the year. Naturally, you can also have a combination of the two.
Whatever you choose, it would still be prudent to keep a holiday calendar easily available to you. With this, you will not only be able to easily find certain dates on a dime, but have a place to strategize and take notes on what you want to do.
To help you get started, here is a quick list of most major holidays in North America. As mentioned before, you may also need to keep in mind holidays that are celebrated in other continents depending on your customer base.
United States Holidays
New Year's Day (Jan. 1st)
Valentine's Day (Feb. 14th)
Presidents Day (third Monday in February)
St. Patrick's Day (Mar. 17th)
Easter (variable date in late March or early to mid-April)
Mother's Day (second Sunday in May)
Memorial Day (final Monday in May)
Father's Day (third Sunday in June)
Independence Day (July 4th)
Labor Day (first Monday in September)
Columbus Day (second Monday in October)
Halloween (Oct. 31st)
Veteran's Day (Nov. 11th)
Thanksgiving (fourth Thursday of November)
Black Friday (the day after Thanksgiving)
Small Business Saturday (the day after Black Friday)
Cyber Monday (the Monday following Black Friday)
Free Shipping Day (mid-December)
Green Monday (the final Monday with at least 10 days until Christmas)
Hanukkah (8 days long, variable throughout November and December)
Christmas Eve (Dec. 24th)
Christmas Day (Dec. 25th)
New Year's Eve (Dec. 31st)
Canadian Holidays
Family Day (third Monday in February)
Victoria Day (last Monday on or before May 24th)
Canada Day (July 1st)
Canadian Thanksgiving (second Monday in October)
Boxing Day (December 26th)
Mexican Holidays
Constitution Day (first Monday in February)
Benito Juarez's Birthday (third Monday of March)
Labor Day (May 1st)
Independence Day (September 16th)
Revolution Day (third Monday in November)
Conclusion
Sales holidays all throughout the year are an excellent opportunity to drive sales and increase your customer base. If you neglect certain days, you may be missing out on huge opportunities for your business. However, with a well planned strategy, you can increase your sales an unprecedented amount, even during the smaller holidays.
If you do see that your campaign isn't working out the way you planned, don't fear. Any promotion needs a little bit of time to work its magic, and you may just need to adjust your approach to see its full potential.
Tell us what you think. What holidays throughout the year drive the most business to your shop? Did we miss any major holidays that you would add to your own calendar?