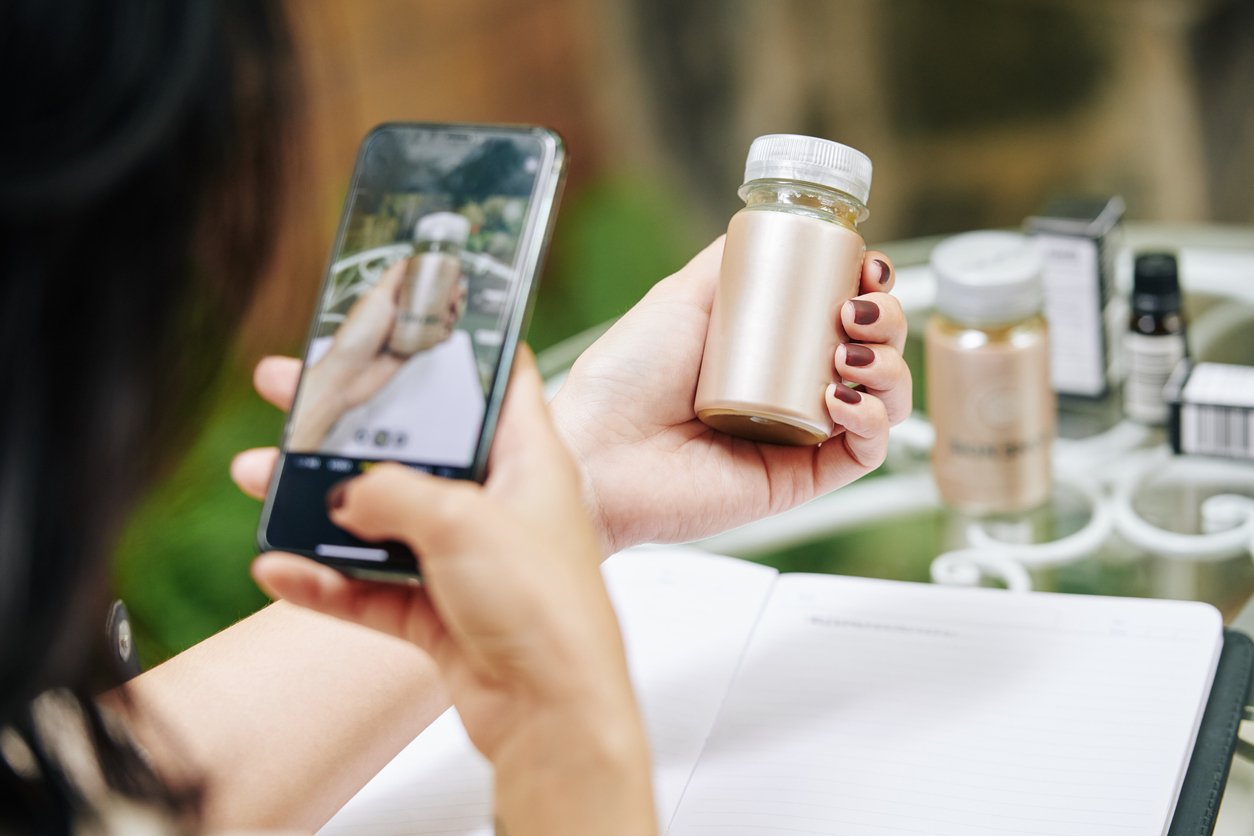 As most of us tech enthusiasts are already aware, Google has been working on transitioning from basic text and voice search functionalities to advanced image search features for some years now. In keeping with this direction, Google Lens is one of the most remarkable tools the internet technology juggernaut has put out in recent years.
This multifaceted AI-powered tool has undergone several iterations and updates since its initial launch in 2017. It has recently proven itself to be an incredibly nifty tool for online shopping.
If you are an eCommerce business owner, read on to find out how you can optimize your online shop to get the best results in sales through Google Lens.
The Basics of Google Lens
Google Lens was first introduced for public use in 2017 as a standalone app, but has since been integrated into the camera app on most Android devices. The current OS requirements are Android 6.0 and up.
Through complex AI, Google Lens draws information from its enormous online database to deliver relevant and accurate results to mobile users after they 'point and shoot' their camera at any object they wish to investigate online. Google Lens then allows them to examine comparable objects found in various places on the internet.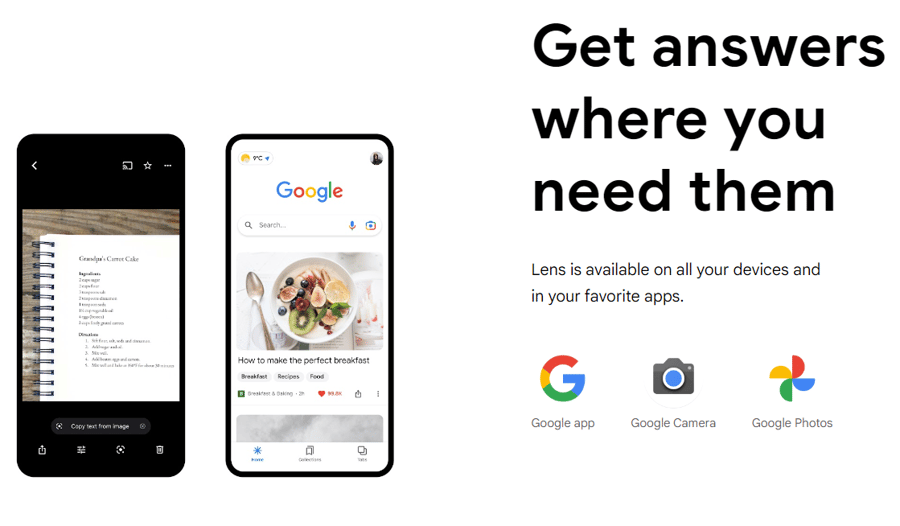 Source: Google Lens
As with other things AI, Google Lens continuously learns to recognize things with increasing accuracy just by being used worldwide by people that feed more data into it.
For example, a pop-up window containing reviews, address information, and working hours will appear when Google Lens detects a restaurant, club, tourist attraction, comic book shop, or clothing store. Amusingly, it will also recognize a hand and offer the corresponding emoji, such as a palm or a thumbs up. If you aim it at a drink, it will attempt to identify what it is.
At present, Lens can provide users with translation, image-to-text copying, dining information, mathematical problem-solving, and shopping services instantly and with astounding precision.
Benefits of Google Lens for eCommerce
Since the start of the pandemic, online sales in all sorts of niches have skyrocketed due to people suddenly flocking to the internet to purchase anything from workout equipment to home decorations. Google caught on to this sudden influx of consumers and aptly started adapting its AI-powered product to help deliver a more seamless virtual shopping experience.
However, eCommerce businesses, albeit effective at giving customers what they already know they want, still struggle with obtaining actionable customer insights that would emulate the real-life experience of discovering new products. Online stores still rely heavily on SEO to reach new customers and convince them to buy something they might not have previously thought about.
Next-Level Virtual Shopping
Google Lens has been evolving into a win-win tool for eCommerce business owners and consumers by helping the latter deviate from fixed shopping lists and engage in online shopping more casually. This is achieved by providing users with the ability to look up products, shapes, patterns, or colors they come across in their everyday lives and by offering identical or similar items that can be found for purchase online.
Google has recently stated that 60% of shoppers can get inspired to buy something even when they aren't actively shopping and that 48% have taken a screenshot of a product they liked (with 70% of them searching for and buying it later on).

Source: Google Lens
Android users can activate Google Lens to get ideas for aesthetically similar items. If you see a set of curtains you like and point your phone's camera at it, for example, Google Lens can show you similar designs and relevant information such as product reviews and pricing.
These features and burgeoning user habits related to virtual shopping can ultimately drive more traffic to eCommerce websites if they can cater to this new generation of visual searchers. Indeed, eCommerce often comes down to being a numbers game; to continue to thrive in the industry, online business owners should stay ahead of the curve and utilize the features and products that could make their (work) lives more manageable. Aside from keeping track of customer insights through products such as Google Analytics 4, optimizing their websites and marketing strategies for people using other Google products such as Google Lens can help achieve this goal.
Google as an eCommerce Marketplace
Unlike the most popular eCommerce marketplaces we are used to, such as Amazon and eBay, Google has an extraordinary advantage. If you're running campaigns with Google Shopping for your eCommerce business, then you may already be aware of this. It already contains the world's largest database, refined algorithms, and highly developed AI, which tracks customer behavior and predicts search intent.
Think about using Google Lens search as a new-age SEO strategy. Only, instead of keywords, you are using visual features of your product. Thanks to its reverse image search, customers can find you easily, with minimum effort.
Optimizing Your Online Store & Digital Marketing for Google Lens
There are several ways that Google Lens can contribute to bolstering your eCommerce store's sales — we've listed some of the most practical ones below.
Smart Use of QR Codes
Something as simple as placing QR codes in ads, newsletters, and marketing emails can get information about your shop or products more efficiently to prospective customers who use Google Lens as a QR code reader. Good practice examples include:
QR codes that take users to a registration page or any other landing page on your website
QR codes that lead to your social media pages, urging people to follow them for the latest updates
QR codes used to access discounted items on your website or receive special promo codes and coupons
QR codes for online receipts
The most important thing is to include a clear CTA (call-to-action) so that users don't have to guess what your QR code is for. Perform as many tests on various devices as needed to see if the QR code is providing accurate data.
Good Quality Images and Descriptors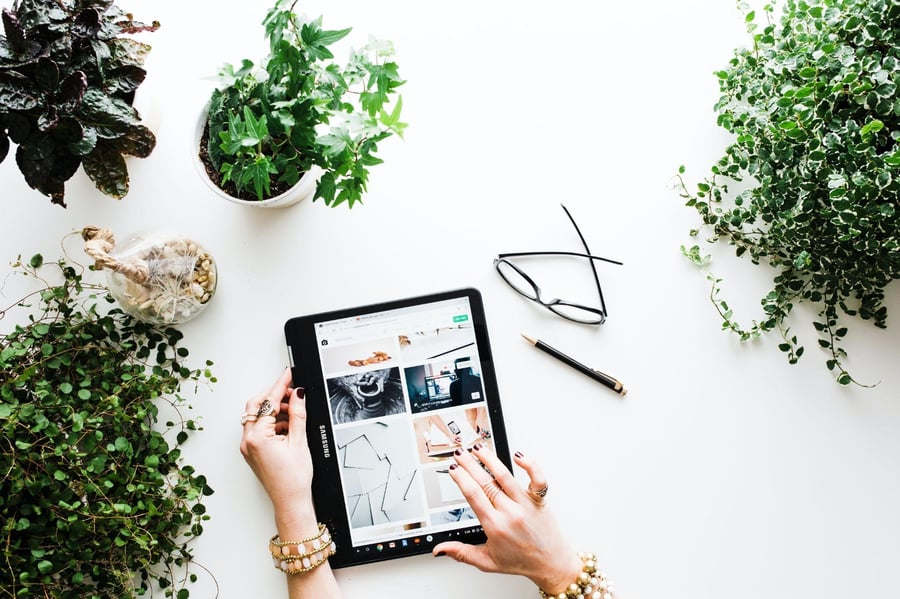 This might be obvious, but it doesn't hurt to emphasize that the product photos you use on your online store should be high quality. Grainy or pixelated images do not bode well for any online business, least of all an eCommerce one.
Moreover, failing to include enough photos might also deter users from making a purchase, as they would not be able to tell what your products are like from different angles if you only use a single front-facing photo for each of them. Adding more images also increases your chances of Google Lens using your website to provide suggestions to users looking for items similar to what you are selling.
Google will always push search results that look the best, and it will also use additional information to rank photos and pages by relevance. For instance, if you own an online clothing shop, include specific information such as what size the model in the images is wearing, materials, where they are sourced from, how to wash the garment, and so on. Not only does this help elevate your positioning in search results, but it also builds trust and confidence between you and your customer base.
Appropriate Alt Text and Meta Tags
Even though we are talking about highly developed visual search, Google's search is still based on machine learning, and it can use some boosting to help the algorithm understand your product. When we talk about helping Google help us, we are referring to the tried-and-true target keyword implementation.
Ensure that you use keywords and phrases appropriately when adding alt image tags and that your page title tags and meta descriptions align with Google's standards. This means using shorter alt text to maximize its impact because it is more likely to be efficiently indexed by Google. This also means avoiding overstuffing your alt tags with keywords, which might have the opposite effect of lowering your store's position in search rankings.
Don't place less importance on SEO deliverables like titles, interlinking, and meta descriptions in favor of alt tags — they should be emphasized exclusively for image-heavy sites with negligible textual content.
Keep in mind that well-written content, such as product descriptions and details, will help your store stand out among the crowd of competitors. Persuasive and informative content that gives genuine value to your customer base — as opposed to a bunch of generic keywords — will play an essential role in helping to prop up your products and your website as a whole in search results, even in a visual search tool such as Google Lens.
Enhanced Mobile User Experience
When it comes to improving the overall user experience on your eCommerce website, properties that are particularly relevant for better visual search results are good page loading speeds and mobile device optimization. Indeed, a growing number of internet users have come to expect a smooth mobile shopping experience, as more and more are using their smartphone devices to search for items online and complete their purchases on the go.
Google knows this, and their visual search results will favor websites with mobile-friendly versions and appropriate image and video optimization and compression that decreases loading times. To improve your online store's performance, ensure that seamless mobile navigation is in place and that your media content is loading promptly.
User experience depends significantly on how easy it is for customers to go through your sales funnel from the moment they visit your website until the checkout process. The more straightforward this journey is for them, the more conversions you will have, and the more bonus points you will get from Google.
Takeaway
The days of users immediately finding your online shop by merely entering product information into the Google search bar are quickly beginning to fade. Today, most search entries are made on mobile devices, and an increasing number of users prefer visual results supplied through search tools like Lens. Therefore, staying on top of direct visual search channels like Google Lens should be a crucial part of your SEO strategy for your eCommerce company.
Ultimately, Google Lens provides a straightforward way of finding items for purchase, at any time and place, and it is just a matter of time until this approach to shopping gains even more traction.