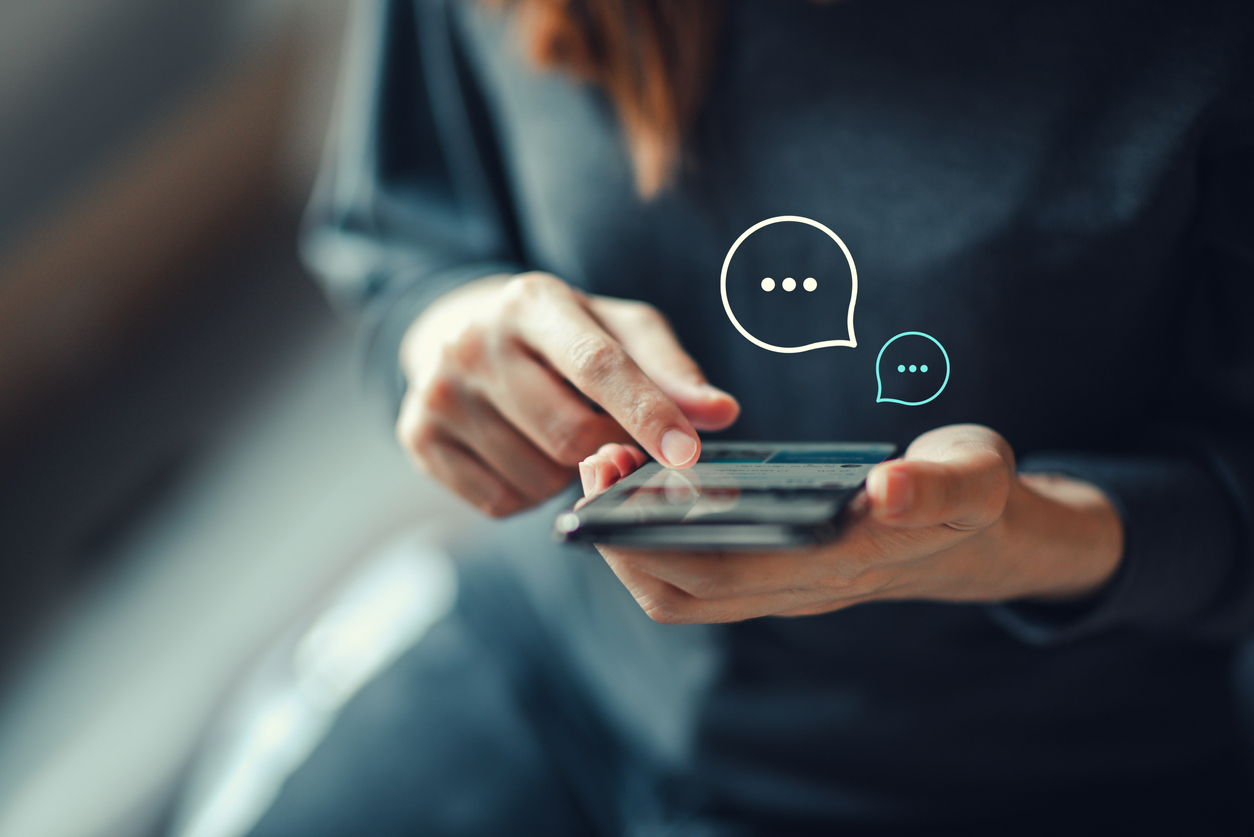 In 2020, as we were forced to fulfill our shopping needs online, personalized eCommerce customer support became increasingly important. It may actually save the day for some eCommerce businesses that are struggling.
In fact, all signs point to the future of eCommerce in 2021 being driven by customer service on a personal level.
In this article, we will discuss six ways to personalize the eCommerce customer experience to improve your sales and revenue.
The points we will cover include:
Humanizing your communication with personalized videos
Integrating customer data with a CRM
Personalizing eCommerce website experience
Automating communication at scale using chatbots
Rewarding loyal customers
Personalizing email support
Research shows that failing to personalize the shopping experience could even lose business. Let's take a look at the six elements that you should automate for a personalized customer experience.
1. Humanizing Your Communication With Personalized Videos
Did you know that 69% of customers choose to watch a video rather than talking to a customer support executive? In the same report, 41% of marketers confirmed that there are fewer customer support calls since they started using videos.
Combine this with the fact that 73% of customers fall in love with a brand thanks to friendly employees and customer service – for 36% of them, the reason was personalization.
To make these videos more engaging for your customer, you can incorporate personalization and stay ahead of the competition.
When you use a video for customer service, you can reduce the number of tedious conversations that happen between your support representatives and customers.
According to research by Gartner, 89% of businesses will compete mostly on customer experience in a few years from now. In other words, customer relationships with a company will exist with minimal human interaction. It signals the shift towards a DIY customer service concept where video marketing will play an instrumental role.
What are personalized videos?
A personalized video is made to feel as if it is tailored for each individual viewer. Using the data you have collected on the viewer, you can insert some personal elements into the video.
For example, you could personalize the recipient's name, title, company logo, gender, and so on to give viewers a personal experience.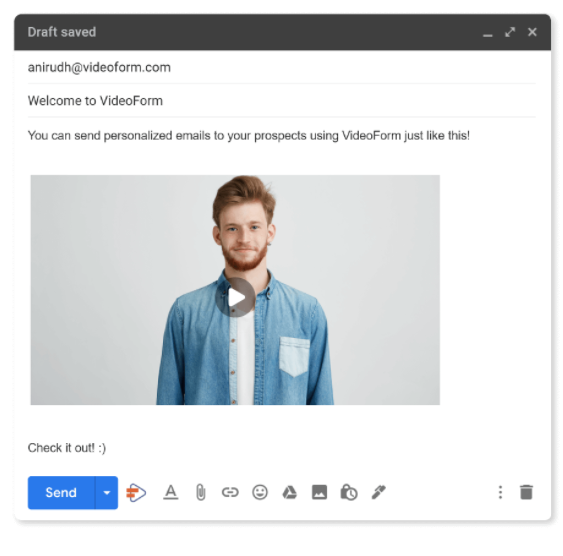 Source: Videoform
This doesn't mean that you record separate videos for each viewer. In fact, you can easily automate the same video with personalized elements of each person on your mailing list. By integrating the video with your CRM, you can make each recipient feel as if they're being contacted personally.
Tools like Rocketium, Wideo, VideoForm and Idomoo, and Pirsonal allow you to create personalized videos.
Now, where can you apply them?
In all likelihood, your website has an FAQ section, right? You should try turning the answers into personalized videos uniquely designed for every segment of your target audience. It will help cut down on the customer service costs while delivering a better experience and meeting customer demands.
You can also use these videos on social media channels to complement the customer service efforts of your brand. Video-making tools can assist you in creating such videos for email, social media, live chat, and all other digital marketing channels used by your eCommerce business.
2. Integrate Customer Data With a CRM
Consistent communication is the key to a pleasant customer experience. According to research, 84% of customers get frustrated when a customer support executive does not have the right information on their sales journey.
By integrating your customer service with CRM (customer relationship management) software, you can allow customer support executives to retrieve every minute detail about the customer's buying journey. Starting from when they became leads to the time they turned into customers and even beyond, a CRM system will show all.
All this information will allow the support professionals to provide a smooth eCommerce customer experience without any gaps in communication. An eCommerce CRM strategy using a tool like EngageBay CRM can increase the efficiency of your customer support team and improve support outcomes.
An eCommerce CRM solution will save:
Call history – to access previous calls and know what to do next.
Call and message export – to send these to other team members when needed.
Lead prospecting – to show where they are in the sales prospecting journey.
Shared inbox and shared contacts – to help when multiple representatives or departments need to be involved.
A shared dashboard – for conversations with multiple team members.
Like all other industries, even in eCommerce, customer support is often teamwork-oriented. The entire customer service team works in sync. If you are wondering how to optimize your customer service process, start with giving your support representatives the right tools they need.
Have an automated ticketing system integrated into the CRM so that you can address the concerns raised by the customer more effectively. It will let you convert normal emails into tickets and have an automated response that assures the customer that you are on it and they will receive a response in 24 hours.
Great customer service is not just about answering customer questions. It is also about maintaining ongoing communication and building a stronger rapport with them.
For instance, you can set an automation workflow that sends a message to a customer on their birthday, anniversary, or important holidays like Diwali in India and Christmas in the United States. You can also celebrate important company milestones to promote customer loyalty and enhance engagement with your brand.
Here's how Sigma Kappa does it.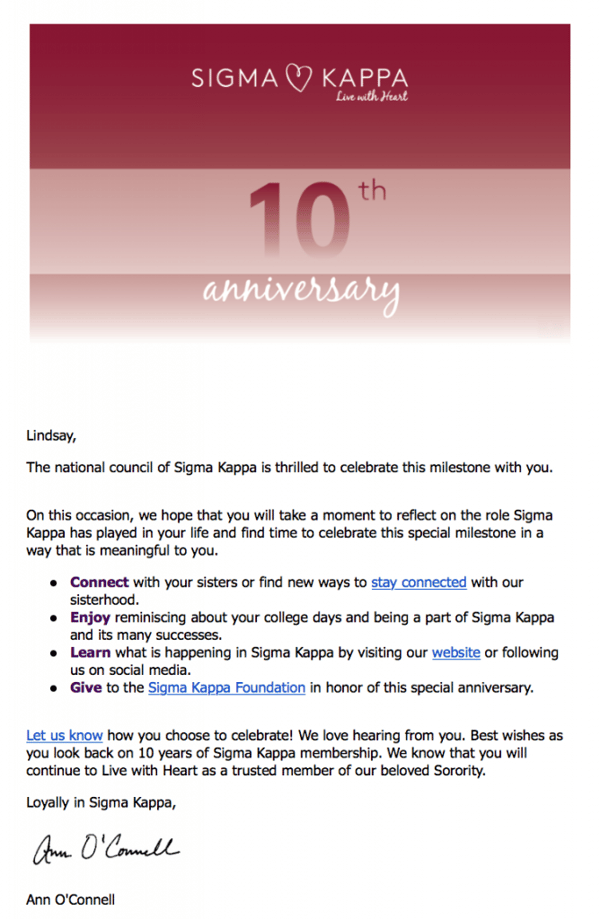 3. Personalize the eCommerce Website Experience
A staggering 89% of marketers found website personalization to increase their revenue. Additionally, it improves your website user experience.
The best part of personalized recommendations is that they are made according to the previous purchases, are easy and effective, and work equally well with mobile users. As per Google, 63% of smartphone users are more willing to purchase from mobile websites and apps that offer relevant and personalized recommendations.
Based on their earlier activity, you can send them:
Relevant offers
New product sale
Personalized discounts
Out of stock pop-ups
Cart abandonment reminders with incentives

Source: iZooto
Let's take the example of hair styling equipment the visitor browsed three days ago. As soon as the item goes on sale, let them know.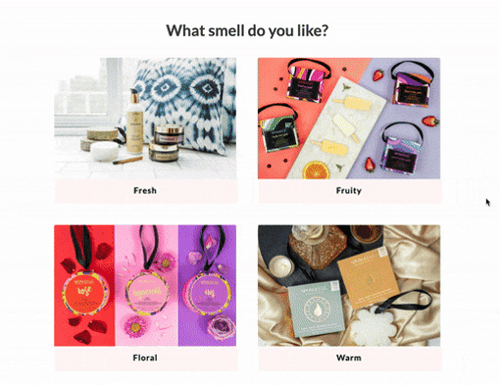 Source: Spongelle
An effective way to collect customer data is by using an eCommerce quiz. Be it a size finder, product match, personality quiz, or gift finder, each question and results page can collect detailed buyer data from your customers.
A crucial part of the eCommerce sales funnel includes personalizing website elements such as the CTAs, images, and text to increase conversions by getting an instant reaction from the audience. A HubSpot study found personalized CTAs to work up to 202% better than generic ones.
Think of it this way. When each customer gets a different and personal experience while browsing through your website, they will feel as if your offering is customized for them, thereby connecting with your eCommerce brand on a deeper level.
Further, you can make use of this data in your sales and marketing campaigns to personalize the customer interaction as per their unique needs and pain points.
4. Personalize Your Chatbots
Chatbots and live chat are amongst the most convenient channels for customer service personalization. They help to avoid any friction related to downloading other apps for contacting customer service.
Rather than expecting users to download their app, chatbots can engage with customers on the channel they prefer.
You can use data from customer demographics to personalize chatbot conversations with users and then automate them using AI.
To make your personalized customer support more effective, implement these tips:
Give the customer the option of chatting with a support executive when the conversation goes beyond the purview of the bot.
Give your chatbot a personality, be it a name, avatar, or communication style.
Introduce multiple communication channels including email, call, and phone support.
After all, eCommerce success starts with exceptional customer support and chatbots provide a timely response, even if it is in the form of a template.
5. Reward Loyal Customers
While the cost of acquiring a new customer has increased by 60% in the last six years, repeat customers represent 41% of revenue.
The truth is, existing customers are more likely to purchase from your brand because they already know what to expect and are comfortable spending for the same reason.
A great way to build customer loyalty that ultimately leads to customer retention is by rewarding your repeat customers. And the best part is, it doesn't have to cost you an arm and leg to make them feel special.
One tried and tested way to pamper customers and give them a reason to come back is using digital rewards.
A part of most loyalty programs, digital rewards are usually accumulated by customers whenever they repeatedly purchase products from your business. Naturally, the customers who spend more with your business must be rewarded for their loyalty. When they already love buying from your company, why not give them another reason to do so?
How do digital rewards influence user behavior for eCommerce brands?
The four reasons why digital rewards make for an effective customer retention strategy are:
In the form of coupons or discounts, digital rewards appeal to modern-day buyers who are used to purchasing online.
By nature, digital rewards are flexible, allowing the customer to use them to buy any product or experience of their choice.
For an eCommerce brand giving digital rewards, it is easier to track the reward usage.
There is no way you can show that a physical gift inspired a purchase. In contrast, you can know when the digital reward was used, and for what activity.
If you are looking for a digital rewards platform, Xoxoday Plum helps you create automated digital rewards. From a catalog of 2,000+ products, vouchers, and experiences, you can choose the reward budget and recipients over a single dashboard. You can also assign alerts every time a customer crosses a threshold.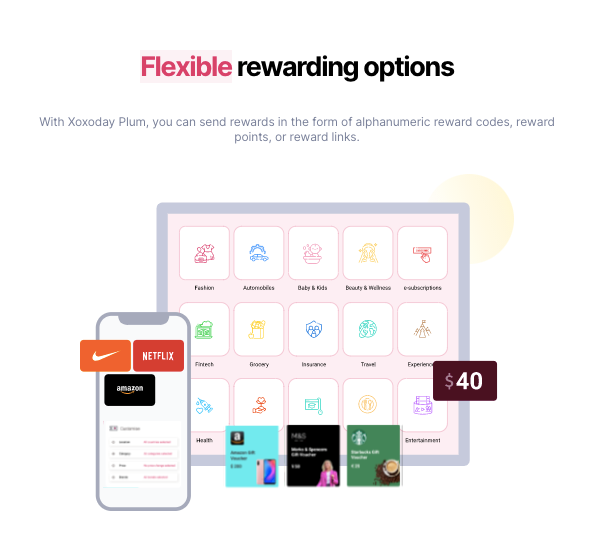 Other loyalty programs and incentives you can use are:
Early-Access – This is especially useful for sales such as Black Friday and Holiday deals. Allow repeat customers to make the first purchase. Going a step ahead, your representatives can call and inform them about the sale, along with giving them early-access codes.
MVP Release – If you are rolling out new features, customers who have been with you are the best beta testers. Along with appreciating the gesture, they will help you with valuable inputs.
Co-Partnerships – Do you know what's better than one reward? Two rewards! A co-branding rewards program takes your brand to a new set of relevant audiences while providing more value to loyal customers.
Here's an example of co-branding. For every two phone lines customers get from T-Mobile, they offer a free Netflix subscription.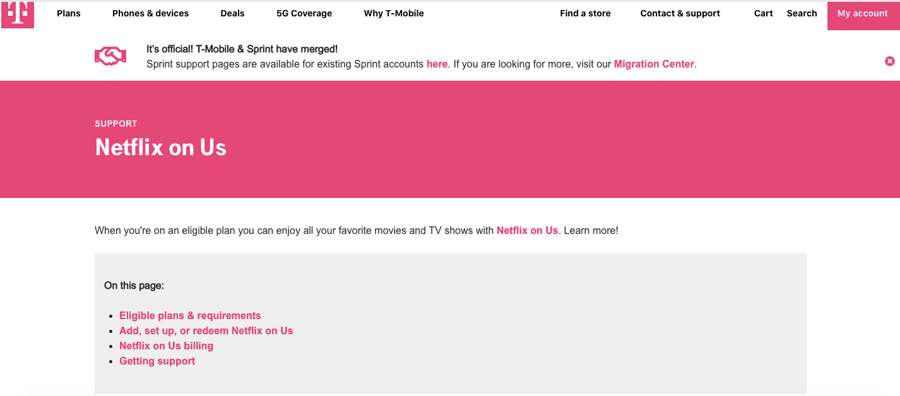 The most successful reward programs create incentives that motivate the customers to return to the eCommerce store. Lastly, it should be mutually beneficial for the customer and the company.
6. Personalize Email Customer Support
Personalized email campaigns for customer support have advanced beyond using the first name.
Now, it is more about hyper-personalizing emails, considering the customer's demographics, geographical location, past purchases, and interests. This is clear with the fact that 33% of marketers believe that personalization is the most important capability for marketers in the future. 74% of marketers say targeted personalization enhances customer engagement and personalized experiences bring an average increase of 20% in sales.
For instance, I had browsed for an elastic fitted bedsheet on Amazon, after which I ended up receiving this email in my inbox. Of course, it is an automated email, but it also prompted me to make the purchase.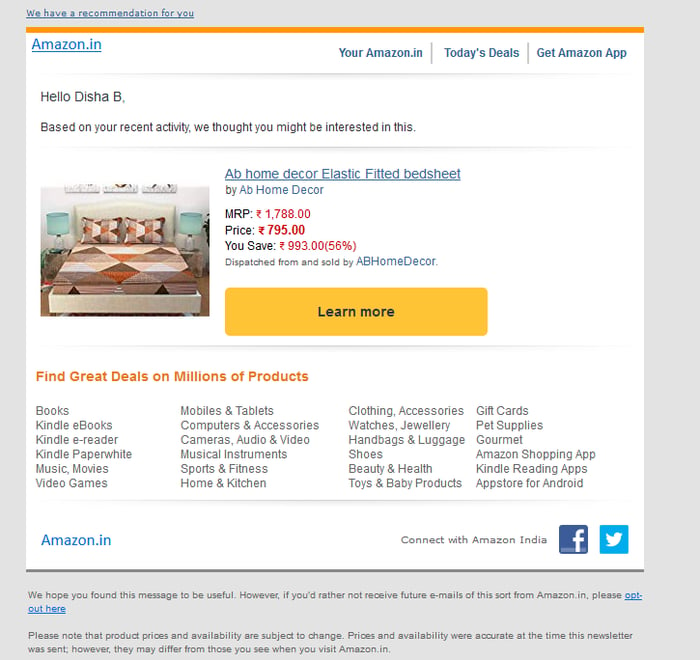 Sending personalized emails like these can help to cut through the inbox noise and draw the subscriber's attention. This improves open rates and click-through rates – which lead to more conversions. Your subscribers are more likely to trust an email that addresses them with their name and offers relevant content like recommendations based on past purchases.
Another example is this event invite from Really Good Emails. They sent me a personalized email with my name imprinted on the event ticket that made me smile and share it with my peers. (You can create such emails with the help of tools such as NiftyImages.)
Take a look.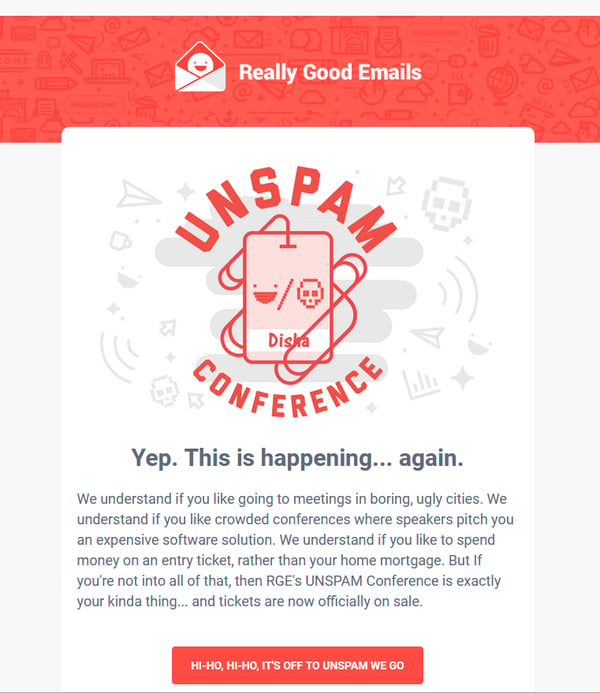 Customer service personation works like a charm on customers.
This article shows that customer service personalization is easier than you think and keeps the audience engaged. Using smart personalization tools and strategies, you can know more about your customers. Sales representatives can also use this knowledge to provide personalized support which, in turn, encourages customers to come back.
When you treat every customer in a personalized way, they are bound to return, helping your eCommerce company rise to the top.