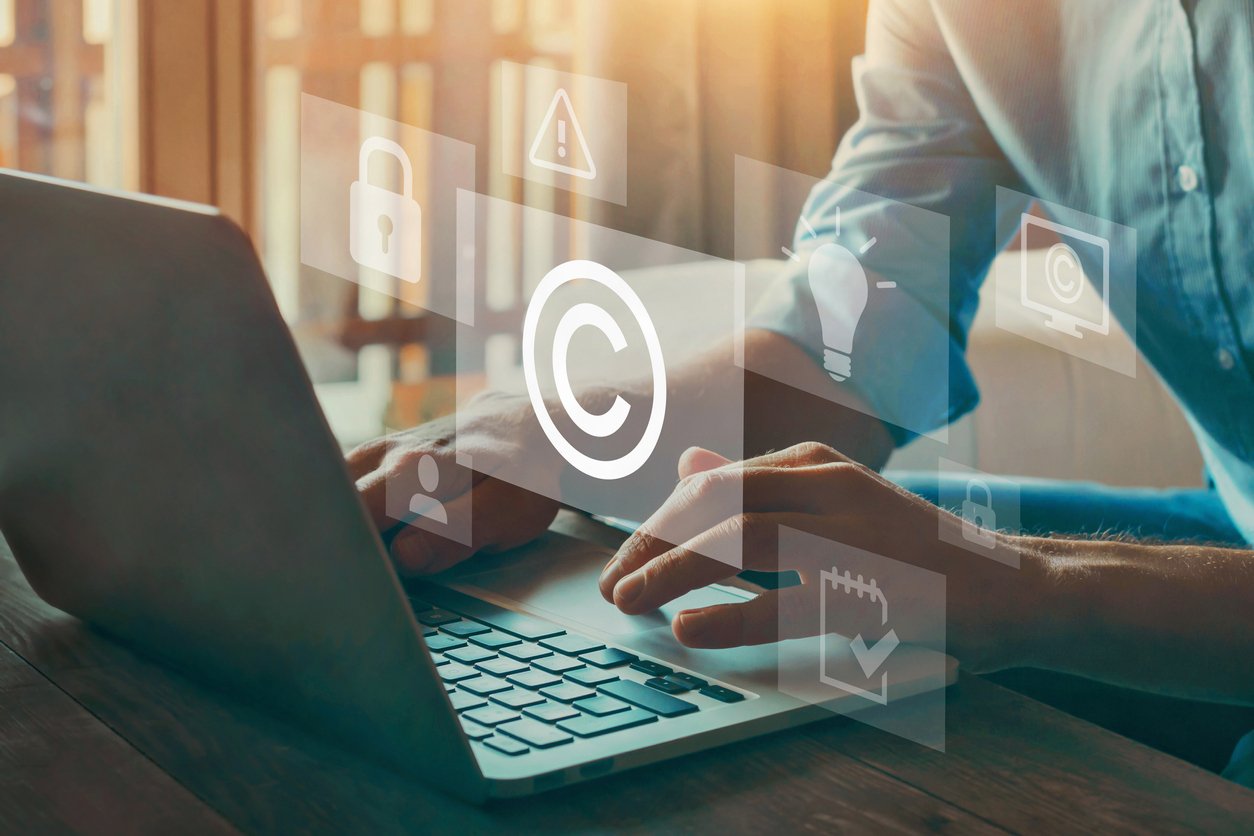 As a savvy marketer, you understand that visual elements are invaluable to your marketing campaign. With the ability to attract attention, they can get you more clicks and sales than any text ads would.
This is because consumers are visual learners. When compared with text, the information presented in the form of photos and videos is more likely to be retained longer.
It also increases the overall user experience of the website visitors and helps stimulate their instinctual desire to engage with your business.
In fact, the customer's demand for visuals is so high that some marketers find it challenging to source and share relevant content. And in their haste, they often ignore one of the most critical aspects of using images online - legal guidelines.
Laws Surrounding Image Use on the Internet
The rule is simple: You cannot just pull any picture from your internet search and use it in your branding strategy.
Every piece of content (published and unpublished) gains copyright as soon as it is created. This means that any image you come across on the World Wide Web may be backed by copyright laws. Even the selfie you took for your Instagram account is protected by copyright laws making the author (you) the sole owner of the image.
To use a copyrighted image, you will first have to seek authorization from the creator. Failure to abide by this rule can result in harsh consequences such as penalties, fines, lawsuits, and a DMCA takedown notice. In severe cases, the infringer can even face jail time.
A similar incident happened between photographer Daniel Morel and media companies Getty Images and Agence France-Presse (AFP). A picture shared by Morel on Twitter was downloaded by AFP and later distributed to Getty clients without the photographer's permission.
The photographer took notice of the violation and sued the companies. As a result, they were forced to pay $1.2 million to Morel by the federal jury.
A good rule of thumb is it's probably always a good idea to have business insurance but it doesn't hurt to know the laws thoroughly either.
The takeaway: "There are no excuses for copyright infringement", says Carolyn E. Wright, an attorney specializing in photographs. You will remain liable to the law, even if you break the rules by mistake.
How can I use a copyrighted image?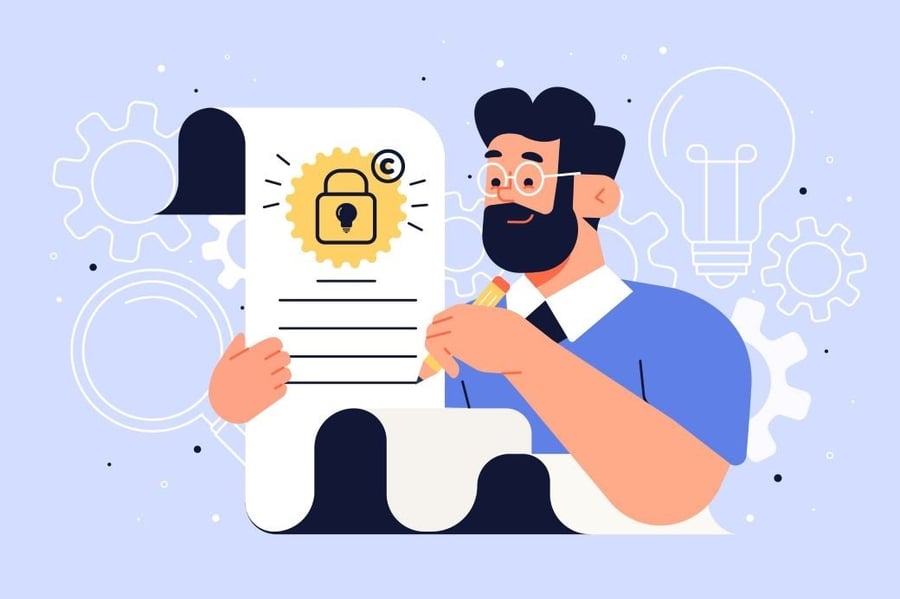 It is by no means impossible to use a copyrighted photo. All you have to do is contact the original creator and get permission. Whether the copyright owner provides 'free' use of the image, charges a fee, or draws up special limitations varies from person to person.
Getting the copyright holder's details on the internet is pretty easy. If you find the picture on a website, simply contact the site owner for information about the photos.
Alternatively, if you come across a picture via Google search, take a look at the accompanying details on the right-hand side of the screen. Here, you are most likely to see the website the image is hosted on, along with credits. Check the website to get more information about who owns the photo or where it is sourced from.
Can't find the copyright holder details? Don't use the image!
To remain protected from the law, you need to be sure that you have the proper permission before you upload someone else's work on your website. So if you have doubts in any way, just skip the picture, find another one, or look at the other options described below!
Safe Options for Using Images Online
Besides obtaining permission to use a copyrighted image, there are many alternative ways to find and use pictures legally online. Some of these sources are described below:
Public Domain
Images that come under the public domain category are not protected under any type of law. Either their copyrights have expired or they were never copyrighted in the first place. The public domain license also applies to the works of authors who died more than 70 years ago.
There are specific creators whose work is automatically entered into the public domain as well. In the USA, for example, all work created by the government is part of the public domain property. This is why the general public has the freedom to reuse photographs of the official White House or pictures submitted by NASA.
In simple words, these images are now owned by the public. The author has given up their work to the public and will no longer claim rights over it. These pictures are available for free and can be used for both commercial and personal projects. You can also copy, manipulate, distribute, and display the public domain pictures in any way you want.
The only challenge with using public domain images is the rules that differ from country to country. It is best to find out about the rules in your geographical location before proceeding with a public domain property.
Popular platforms for public domain images include Wikimedia Commons, Flickr Commons, and Public Domain Review.
Although there is no formal requirement, it is considered good ethics to credit or attribute the original source of public domain images.
Creative Commons
Creative Commons is a not-for-profit organization that allows photographers and artists to share their work for reuse. However, the creators can control the conditions over how their images are used through different types of licenses:
CC BY - Attribution
Under this license, you have the freedom to redistribute, modify, and even build upon the original work as long as you credit the author. The CC BY license allows you to use the artist's work in both personal and commercial projects.
CC BY-SA - Attribution, Share-Alike
Similar to the attribution license, you can use, edit, and adapt these images as long as you give proper attribution. The only change is that you license the new creations under identical terms. This means that any new work that uses the original photograph must be backed with the same Creative Commons license.
CC BY-ND - Attribution, NoDerivs
This type of license allows redistribution of the work in both commercial and non-commercial settings. However, you are not allowed to alter the image in any way and use it as a whole, unchanged. You are also required to credit the original owner.
CC BY-NC - Attribution, Non-commercial
As the name suggests, you can only use the pictures that fall under this license in non-commercial projects. You have the freedom to edit the pictures in any way you want, but make sure to credit the author on both original and newly modified images.
CC BY-NC-SA – Attribution, Noncommercial, Share-Alike
Images that fall under this license can be used in non-commercial projects, similar to the CC BY-NC license. However, you have to license the new creations under identical terms.
CC BY-NC-ND - Attribution, Non-commercial, NoDerivs
This is the most restrictive license of all 6 Creative Commons licenses. With this license, the images can be used in any non-commercial setting as long as proper attribution is given. However, by no means can you modify these images.
Fair Use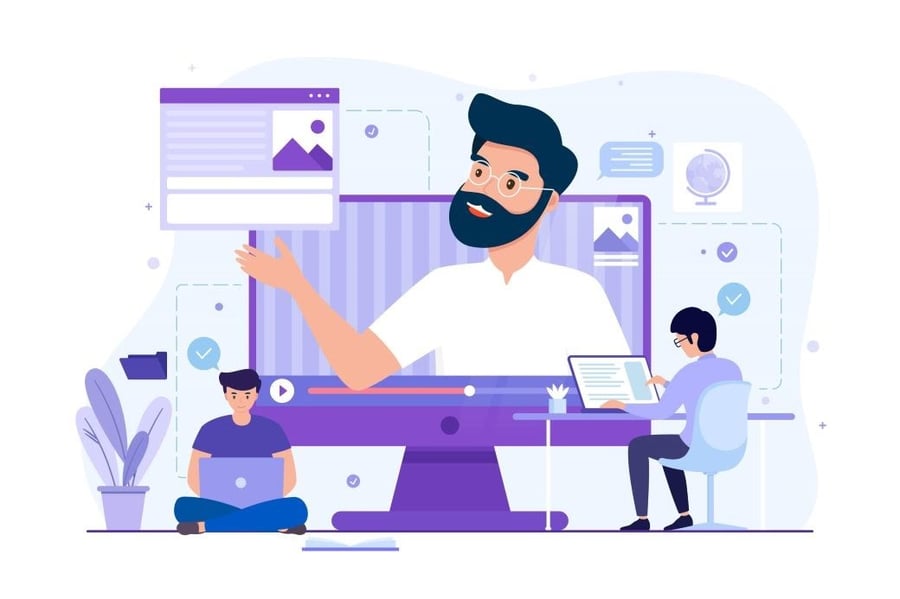 Another place to get photographs without seeking permission from the copyright holder is the fair use collection.
Under U.S. laws, fair use applies to pictures used in specific settings such as education, research, scholarship, news reporting, and parody.
To elaborate further, four main criteria determine whether the picture is 'fair' or not.
The purpose and character of the use: This determines whether the picture is used for a non-profit or commercial activity.
The nature of the work to be used: For example, the laws give more freedom to factual pieces such as biographies compared to fictional work.
The amount of the image used: The laws usually permit using a small piece of the picture or a low-resolution version.
The market effect: Using images that do not decrease the market value of the images.
As you can see, the rules regarding fair use leave a pretty large gray area for understanding. My suggestion is to only use fair use pictures when they are serving some educational or instructional purpose.
For other projects like eCommerce, websites, and blogs, there are many more options.
Stock Photos
Stock photos are photographs, vectors, and illustrations that are readily available in every niche imaginable. You can either download them for free or purchase from a reputable website. You need to keep in mind that some images from free photo websites may not be legally safe, especially for commercial usage.
The most significant advantage of using stock photographs is that they save a lot of time and effort that goes into curating new images. Since the photographers that take these pictures are pros, the photos are usually of high quality.
In most cases, stock photographs can be used in any format you prefer. You are also allowed to edit the photos, crop, and add overlays to fit your branding strategy.
However, it is important to note that you DO NOT have ownership of the image. The picture is still owned by the creator, and you have to follow the license agreement that comes with the selected image.
The most common licenses for stock photographs include:
Royalty-Free: This type of license gives you the freedom to use the picture in any way you want after paying a one-time, flat fee. This is the most affordable stock photography license and is ideal for small business owners. The only disadvantage of royalty-free images is that they are non-exclusive and often purchased by many marketers because of their low-cost.
Rights Managed: This license is tailored according to your specific needs. With this license, you are covered in terms of time frame, geographical location, audience size, and copy run. Although it is a little expensive, pictures falling under the rights managed license are exclusive and may give you the sole right to use a particular image.
Extended Use: This license is particularly available for pictures that will be used for resale products like t-shirts, cups, and calendars.
Editorial Use: This license only allows pictures to be used in news-worthy publications. Therefore, they cannot be used to promote a product or service.
Another aspect to note when using stock images is the appearance of subjects like people, private properties, landmarks, trademarks, and logos. According to the law, a 'release' form or consent is necessary to feature the specific subject in the photographs. The consent letter also specifies that the picture can be used in a commercial medium and modified according to the user's preference.
It is the responsibility of the photographer to obtain all the necessary releases for the pictures that they submit to a stock photography website. Stock photo agencies are usually proactive in this matter as well and grant images only after checking for releases.
However, do remain cautious and recheck the releases before downloading the pictures. Because even if the photographer owns the picture, the legal violation of using an image without a proper release will fall on the user - that is you!
Your Own Images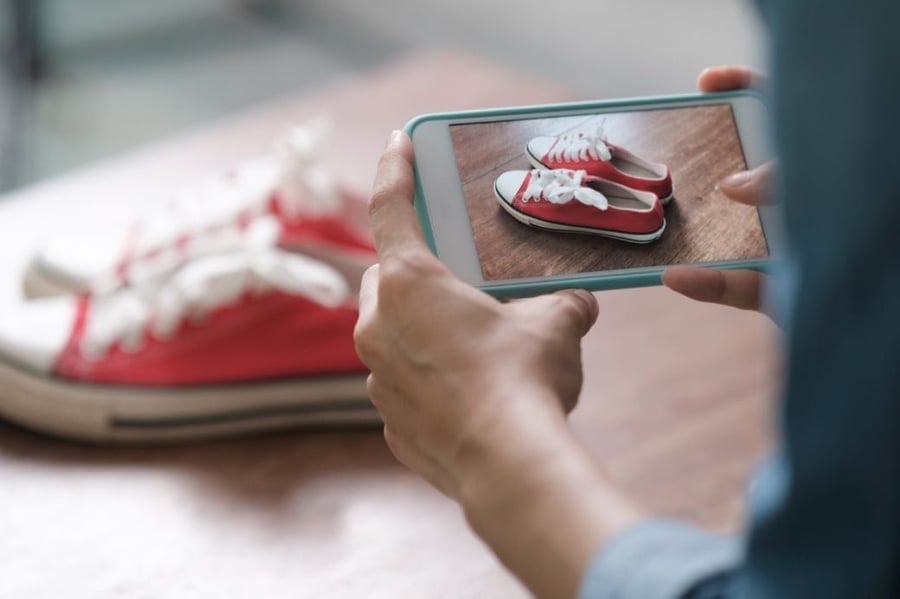 An additional and safe option is to take your own photos.
If you are a photographer, there are no copyright restrictions to deal with. They will be fresh and exclusive, appropriate according to your brand strategy.
Plus, you don't have to invest in professional equipment to shoot great pictures. The quality of cameras in smartphones is equivalent to the ones offered in DSLR and will give you some great-looking photographs without much hassle.
You can also employ a professional photographer to take customized pictures of your products if the budget permits. Just make sure you take the image rights of the photograph from the photographer.
User-Generated Content
Did you know that customers find user-generated content more impactful than influencer content? Research by Stackla shows that 79% of people find them to highly impact their purchase decision.
In short, user-generated content, such as pictures, are an effective form of social proof. They are also safe from legal wrath as they are shared with the permission of your customers.
There are many ways to encourage users to share their pictures using your products or services on social media channels and websites.
One of the best ways to acquire photos from users is by running a contest. Remember the Starbucks White Cup Contest where consumers were invited to doodle on the plain coffee cup? Well, you can mimic the same by creating a contest where people have to share pictures to enter and win fabulous prizes.
Another way to collect user-generated pictures is through a branded hashtag. Create an easy-to-remember hashtag relevant to your brand name. Then ask your customers to share their photos on social media platforms using the given hashtag.
You can also use online reviews to collect user-generated content. For instance, if you are an online apparel retailer, you can ask your buyers to share pictures wearing the clothes they purchased.
This will give the potential buyer an idea of what the product looks like in real life and give you many copyright-free images to use on your marketing platforms.
Can I use images that come up in a Google search?
As we mentioned above, you cannot use the pictures that come up in your internet search. Google, being one of the biggest content aggregators, is simply serving as a host for website content. And it does not offer licensed pictures for free use.
Picking an image via a Google search and using it without permission can be dangerous.
However, you can use the Google search engine to filter licensed stock photos. But do remember that you cannot 'right-click' and 'save' the pictures directly from Google. You will have to visit the specific website to legally purchase the image first.
Final Words
A picture is definitely worth a thousand words on the internet, as posts with pictures get 650% higher engagement than text-only ones. However, the same image can cost you thousands and millions in fines if you fail to use them responsibly.
With this guide, I hope that I was able to answer some questions regarding the legal use of images online. With these ideas in hand, I am sure you will be able to source images for your website that are professional quality and legally safe.