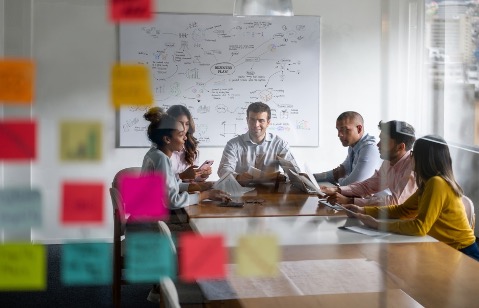 People often ask about social media marketing and whether their business needs to build an online presence. Usually, the question is posed by someone who only sees social media as an evolving fad that will eventually become tired and obsolete. This could not be further from the truth.
One of the biggest mistakes a business can make is not being serious about its social media marketing (SMM) strategy. Business owners often think they can make a few mediocre social media posts a month and draw in interest. Otherwise, they might hand their social media off to a younger employee or family member and assume someone young knows what they're doing.
In reality, social media marketing is a little more complex and requires consistency, careful planning, and following through. It can also be a numbers game. This is why, in this post, we'll cover how to create an effective social media marketing strategy to boost your business.
Why Your Business Needs a Social Media Strategy
Gone are the days when people would pick up the phone book to find a relevant listing for their needs. Today, a significant number of business leads will come from reputation, and social media is the best way to curate that reputation. This makes social media marketing an important part of your overall marketing strategy.
As with all such strategies, being in the right place at the right time and with the right message is paramount to success. While this can seem overwhelming initially, setting up a well-thought-out strategy will make it easier to find your desired audience and ensure your message gets across. This starts with knowing who that audience is and what social media platforms they use.
Selecting the best social media platforms for your business will help you get your name in front of your target audience and provide an invaluable means of staying in touch with customer wants and needs as your business grows and develops.
What Are the Main Social Media Platforms for Marketing Your Business?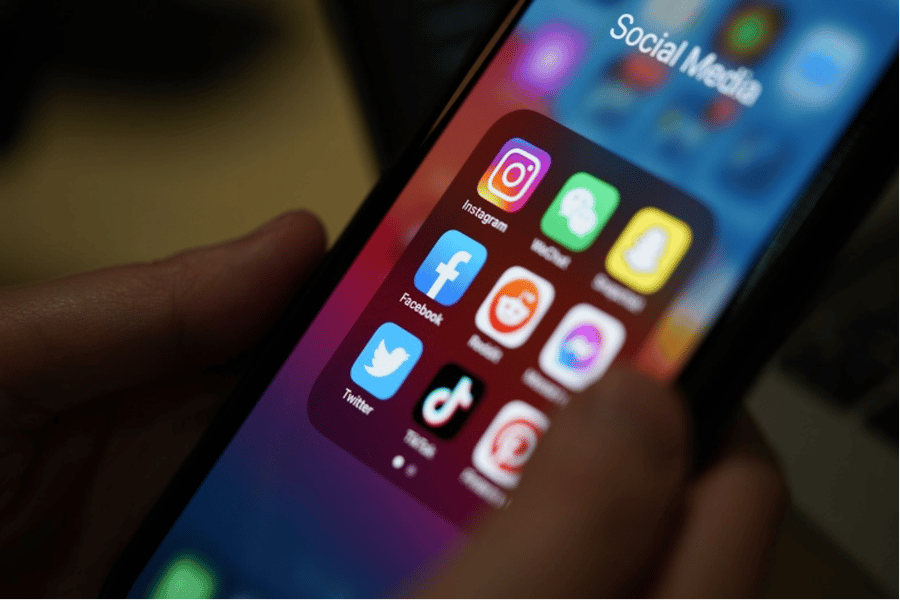 There are several popular platforms you can use for SMM. Depending on your industry and target audience, some will cater more to your business needs than others. Here's a list of the leading platforms to focus on:
Facebook
Over 60% of all social media users are on Facebook, so this is one platform you won't want to skip. The website prides itself on being home to over 80 million other businesses already, so you'll have to work hard to stand out.
The benefit of using Facebook is its visibility. The average user spends 58 minutes per day browsing their "feed," while many spend more time than that, so being seen is almost guaranteed if you play your cards right and follow the rules of engagement.
TikTok
The average TikTok user spends around an hour on the platform daily, so your chances of being seen here are increased slightly. However, you should note that TikTok generally caters to a younger audience (averaging between 16 and 24 years of age), so you'll need to consider whether a presence on this platform benefits you.
For example, if you're running a financial advisory firm that helps retirees find low-risk investing opportunities, you're unlikely to find many valuable leads on TikTok.
On the other hand, provided your target has the right age, TikTok offers a massive pool of users to engage with. With over 2.6 billion app downloads in total and the highest number of downloads in a single quarter by any app worldwide (315 million downloads in Q1 2020), even a tiny fraction of users will mean hundreds of thousands of people seeing your brand.
Reddit
About 430 million people browse Reddit every month, with over half of these viewers being from the United States and averaging in their twenties. If this sounds like your target audience, you should look to engage this community.
In business terms, Reddit shines in selling targeted ad space on popular subreddits. Subreddits are generally discussion boards dedicated to specific topics where Reddit users, called "Redditors," discuss a vast array of topics on the website. This puts your ad directly in line with those already seeking advice and recommendations in your industry.
Snapchat
Snapchat is the second most popular mobile app, and the average Snapchat user opens the app 30 times or more in a day! This is thirty opportunities for you to get your business seen per user. Also, with over 5 billion Snaps created daily, this is a great platform to host contests or promotional events. The possibilities of maximizing your visibility on Snapchat are uncountable!
LinkedIn
LinkedIn has a reputation for being the most "grown-up" social media platform and has become home to many B2B companies. This is where professionals connect with other professionals to recruit team members, talk shop, and learn about industry developments.
Over half of all college graduates have profiles on LinkedIn, and it has become a popular place for job searching, with over 95 job applications filled out per second on the website. Whether you're looking to hire talented people or get your name out in your industry, you need to be on LinkedIn!
Twitter
Twitter has a wide age range of users, with a majority being between 18 and 44 years old. It's also a trendy platform where many serious businesses (and others not so serious) post short messages with news about their business or their industry, getting their message across to the millions of people who use Twitter daily. In fact, one day's worth of tweets, on average, would result in a ten-million-page book if published on paper!
Twitter is a great place to share short bursts of text that can be accompanied by links, short videos, and photos. It's also a place to find leads for many businesses. For example, if your company sells products for children, tweeting about family and children-related topics parents can relate to will attract the right followers. You could tweet about children's tax benefits in your target country to make your outreach far more specific, or perhaps you could share short tips on child safety and child-safe home amenities.
Tweets with an image or video often perform better than those that stand alone as text, so keep this in mind.
Instagram
There are 130 million monthly clicks on commercial Instagram posts, so don't forget to add Instagram to your social media strategy. It is a slightly quieter platform with slower engagement, but visibility is high if you use it correctly. Businesses in almost any niche will find a space within Instagram. Although many celebrities are posting banal content, you'll also find all sorts of businesses creating valuable content for their potential customers.
How To Create a Social Media Strategy in 10 Steps
There are several steps involved in creating and maintaining a social media strategy. In this section, we'll tell you how to ensure your strategy is successful, engaging, and fun for your audience. This is how you will generate the much-needed "buzz" to advertise your business appropriately and develop an online presence and reputation.
Step #1: Identify your target audience, set your goals, and make rules for yourself.
Identifying whom your target audience is and developing a thorough description of this buyer persona will help you decide on your social media needs. How do you hope to engage with this audience? What will generate positive buzz for you and your business? These are some of the questions you can only answer once you know your audience.
After identifying your buyer, it's time to set goals for your SMM strategy. This means crafting specific, measurable, achievable, relevant, and time-bound goals that will guide your progress along the way. Goal setting means answering the question of what results you hope to get with your social media strategy. Examples include growing your following by a certain number of followers within the next quarter or accruing a specific number of engagements in the following month.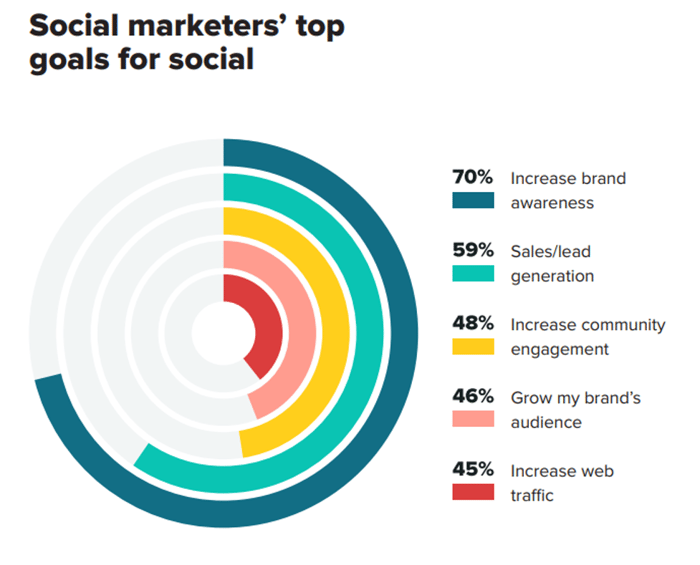 Source: Sprout Social
Finally, set rules for your social media strategy. What will/won't you post about? When will/won't you engage with? Remember that, as a general rule of thumb, it's advisable to keep personal political, religious, and social opinions separate from business unless it's something that forms a part of your business's core values. It's important to remember that your reputation on social media ultimately becomes the reputation of your business, so act accordingly.
Step #2: Determine which platform(s) to use and set them up properly.
As stated above, determining your target audience will help determine which social media platforms you should use. No set law says you have to use all of them, so if one or more don't seem like a good fit, that's fine! Focus on the ones that do.
When setting up your profiles on different platforms, it's best to use the same username across all platforms. That will make it easier for users to recognize you wherever they find you. Your username should be your brand name if it's available. If not, include your brand name and keep it as concise as possible.
Then comes choosing your profile picture and supporting imagery. Branding is a big part of any marketing strategy, so you want to be consistent with your image across all platforms, no matter how different they are from one another. For example, using the same profile picture on all social media and using the same color scheme and layout whenever possible is advisable.
Use attractive, relevant images for your profile and cohesive, grammatically correct wording in your "About" tabs and accompanying information. You might even consider developing hashtags geared toward your business on appropriate platforms.
Step #3: Check out the competition.
Look at what other businesses like yours are doing on social media. Focus on what appears to be working for them and what doesn't. Some things you want to make a note of include:
How frequently the biggest players are posting on social media
When are they posting, and what posts at what time generate more buzz
The types of posts that get more shares and generate more engagement
The kind of content those posts are about
It's also a good idea to assess all the information you can about the users interacting with other brands.
Keep in mind that you never want to copy your competition. This will only generate negative attention for you should others notice and call it out. Instead, think of ways to take what they're doing and make it unique to the personality that you hope to give your online presence.
Step #4: Determine the best times and days to post.
Having your information posted when your target audience isn't online will do you no good. Your content will still be there when your audience goes online, and your audience will still get a notification about it if they have that configured, but it's best to post precisely when they're at their computer or have their phone on their hands.
Many companies now use timed posting to ensure their posts are hitting target audiences at appropriate intervals. Some online research and algorithm studying will help you determine the best time for your posts to be seen and heard.
Step #5: Create or acquire content your target audience will love.
Once you know when to post, whom you're posting for, and what your audience loves, it's time to curate media. Remember that a post is more likely to be seen if a visual aid accompanies it, whether a graphic or a video.
Many hire the creation process out to graphic designers and web developers to maintain a professional appearance online. However, there are dozens of online tools, some of them free, that will make creating eye-catching posts a breeze.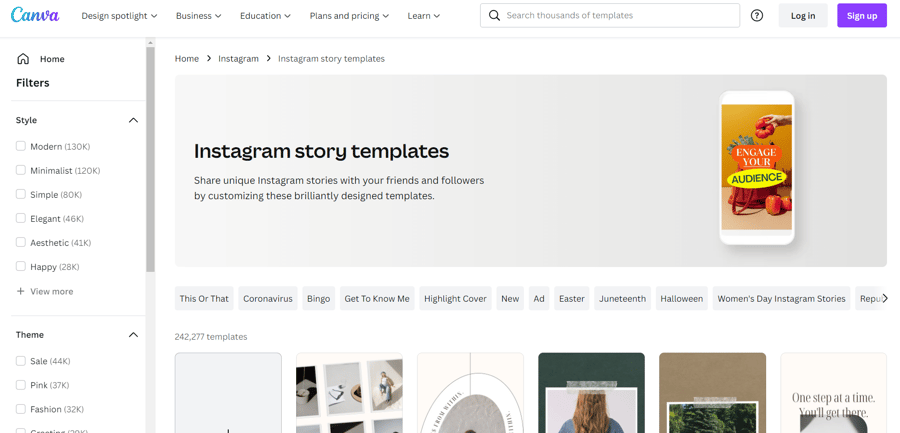 Source: Canva
Interactive content is one of the best ways to generate engagement with your audience, which, in turn, will help boost your visibility in search results. Quizzes and polls will also help present you as a leader in your field, effectively attracting new leads and gathering followers.
Step #6: Promote your social channels and engage with your audience.
Once your social channels are created, it's time to promote and engage. Make sure to add links to all your social media channels on your website. Add social media icons to mailers, business cards, and other promotional pieces to encourage your target audience's clicks, likes, and engagement.
Then, make sure you are staying on top of your engagement. Answer questions, thank users for their comments and feedback, good or bad, comment on relevant articles using your business name, and have fun with your potential customers.
A neat trick to steal your competitor's audience and promote your social media channels is to follow their followers. People who receive a notification about someone new following them on their social media will usually become curious about who you are and visit your profile to find out. After learning about you, they may even follow you in return. If you target the right set of users, this can become a rich source of leads and followers that will help you grow your channels quickly.
Step #7: Consider working with social media influencers for added visibility.
Social media influencers are here to stay. Depending on your budget, finding one that is relevant to your brand and reaching out might not be a bad idea. Often, influencers are more than happy to "plug" a product in exchange for free products or commissions.
Often, this will manifest in influencers "testing" your product on a video or creating a video review of the product. Some influencers will accept payment to guarantee a good review. In contrast, others will only guarantee an honest review, so be ready to gracefully take any negative feedback you might receive in those circumstances.
Step #8: Create cross-channel campaigns.
Assuming you are working with more than one social media channel (and you should be), a cross-channel campaign is a great way to increase your visibility and engagement.
A great way to do this is only to share the content types relevant to each platform on that platform. Then, you can encourage your audience on one platform to engage with your other media by redirecting them via a link.
For example, post an eye-catching still frame from a video on Facebook captioned, "For the full video, please visit us on TikTok!" This also moves some of your Facebook traffic to join you on TikTok, which magnifies your overall following.
Step #9: Track your results and adjust accordingly.
Using analytics tools and each platform's built-in metrics, you can track how often your content is being seen and engaged with by your audience. Following this against your revenue spent can help you understand what is and isn't working in regard to your social media strategy.
From here, it's easy to adjust. Cut out the posts that aren't generating traffic and create more of the content, that is. Also, recognize when your engagement has or has not produced good buzz for you. Have you made posts that seemed to impact your presence negatively? Figure out why and omit that mistake moving forward.
Step #10: Stay engaged, and don't give up!
It takes a while to build a social media presence. This will not instantly generate a return on investment, so don't give up.
Remember that the key to building a solid online presence is to continue engaging your audience and become a reliable source of information/entertainment. Even if it feels like a waste of time when you're just starting out, this time and effort will pay off further down the line once your presence is established and your target audience is engaging with you.
By creating a solid social media presence, you can generate buzz about business developments, stay on top of current business trends, and develop a relationship with your most active followers and target audience. This is the next best thing to face-to-face relationships and knowing your customers by name.
The Bottom Line
A solid social media presence is necessary for a business's success in today's digitized climate. By developing a strong social media strategy for your business, you are not only providing yourself with a new way to advertise to your target audience but also a way to engage.
Engaging with your target audience on social media will help develop your online reputation, which is worth its weight in gold when securing return customers and maximizing your visibility.